Publisher: National Pavilion UAE
Publication date: 2017
Pages: 333
nationalpavilionuae.org
Canvas rating:***
---
This one's for the history buffs. Laden with archival material, from newspaper clippings, journal entries, letters to diaristic photographs, this book is a compendium that reads more like record-keeping than historical narrative. Published in 2015 as a companion to the similarly titled show that was presented at the UAE National Pavilion during the Venice Biennale, the book traces the history of the UAE's contemporary art scene, featuring 15 Emirati artists, 14 of whom are male. Interestingly enough, these men have been brought together by a woman: Sheikha Hoor Al Qasimi, founder of the Sharjah Art Foundation, curator of the exhibition, and one of the book's editors.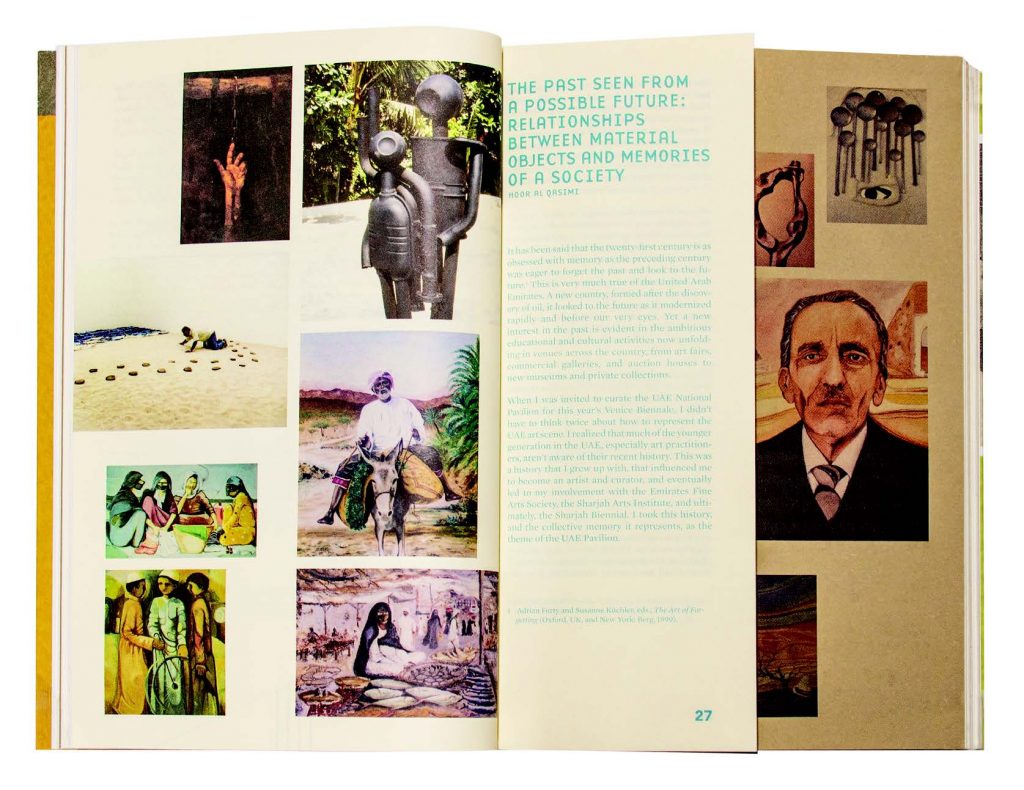 In an essay, Al Qasimi writes about showcasing the country's artistic past: "I realized that much of the younger generation in the UAE, especially art practitioners, aren't aware of their recent history." She adds, "I took this history, and the collective memory it represents, as the theme of the UAE Pavilion." The exhibition – which travelled to Sharjah after Venice – presented over 100 works by seminal artists, including Hassan Sharif, Abdul Qader Al Rais, Abdullah Al Saadi and Ahmed Al Ansari, and was structured thematically, thereby fostering a dialogue between different artistic practices.
Although this fluid aesthetic arrangement fails to translate so successfully onto the page, there are some undoubted highlights, among them an essay by the late Hassan Sharif in which he traces Emirati visual art from the 1980s. He delves into the experiments of his contemporaries, including Ahmed Rashid's Wooden Posts, Mohammed Ahmed Ibrahim's watercolour signs and symbols, Mohammed Kazem's unconventional compositions and Al Saadi'sreadymades,offering a glimpse into how each artist carved out his own space, diverging from Western influences. Overall, this book serves better as a companion to the exhibition rather than a standalone volume, but its nod to the past is a significant endeavour, especially for a place like the UAE with its focus heavily on the future. However, looking back requires the responsibility to reflect, something that the collection of documents struggles to articulate on its own.