His work is drawn from ancient Iranian heritage but created in the contemporary US, as Ala Ebtekar moves seamlessly between two worlds. Leora Lutz meets the artist.
On a sunny winter's day in Northern California, above a coffee shop in downtown Palo Alto, Ala Ebtekar's studio is bright and comfortable. The multiple rooms are carefully appointed with Persian rugs, white floors and a variety of seating arrangements. A narrow loft overlooking a community gallery is alive with stacks of papers, sketches and trial run prints, books, a hand-painted leather jacket and a rainbow of bright monochromatic cassette tapes strewn on the couch. Throughout the multi-room space are a select assortment of finished works and projects in progress.
We sit down for a chat about his art practice, in particular how he is influenced by Iranian ancient literature and folklore and the ways in which personal experiences shape one's perceptions. Ebtekar shares the story of the mystical animal simorgh (Persian for phoenix). Early writings about the bird are found in the Persian story, Conference [or Speech] of the Birds [Maqamat-ut-Tuyur] (1177), written by Abu Hamid bin Abu Bakr Ibrahim (c. 1145 –1221), also known as Farid ud-Din or Attar. In the story, 30 birds set out on a journey during tumultuous and dark times in search of guidance and light. When they reach their final destination, the birds are faced with a lake, where, upon looking at it, they see their own gazes staring back at them. The moral of the story is that during journeys, the answers to our questions can be found in looking back at ourselves.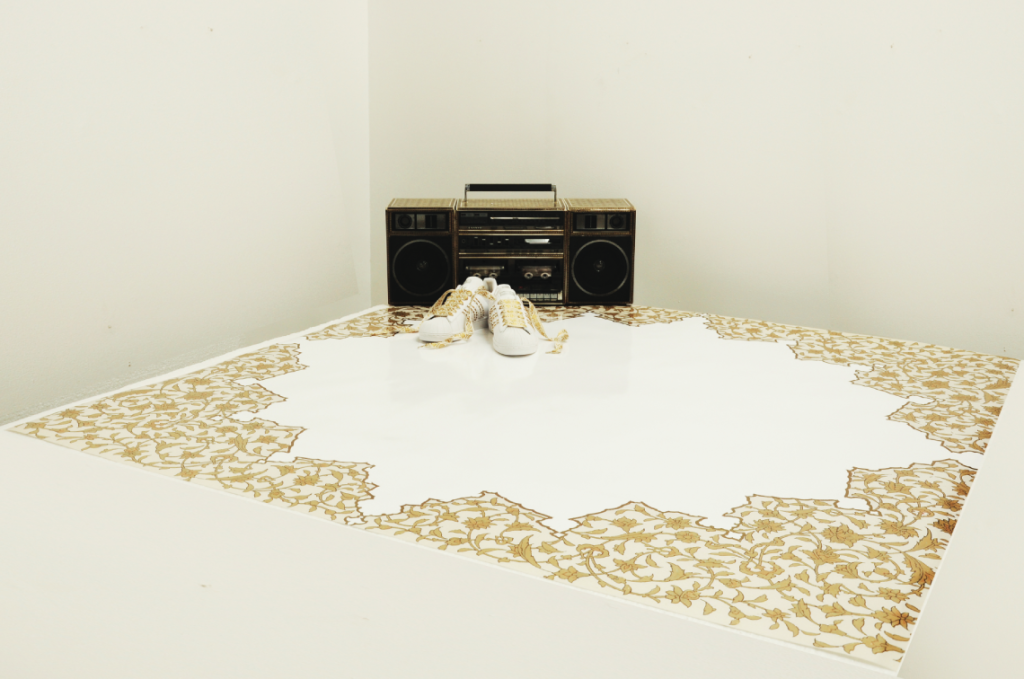 Ebtekar was born in Berkeley to Iranian parents who were pro-democracy student activists. The family returned to Iran when he was just one year old but had to quickly return to the United States just before the Iran-Iraq war erupted in 1980. Having grown up in the US, his relationship with his Iranian culture was filled with a mixture of news reports of war, Hollywood sensationalism or stereotypes, and family memories. He developed a "sensitivity towards in-between-ness, which led me to explore the spaces between the two cultures, both shared and separated," he says.
Ebtekar's interest in art began from a very young age when he became fascinated with the "great polymath Leonardo da Vinci." In later years he would become familiar with Persian philosopher and writer Shahab al-Din Yahya ibn HabashSuhrawardi (more popularly known as Suhrawardi), also revered as a polymath. Ebtekar draws a parallel between the two men and likens their constant learning as a journey toward a greater understanding of the human condition that can perhaps be described as the existential nag – a quest for understanding what contemporary German philosopher Martin Heidegger refers to as 'being-in-the-world'. "It's their ability to make connections and building blocks between things," Ebtekar says, "[something] that cannot happen unless they keep searching, discovering."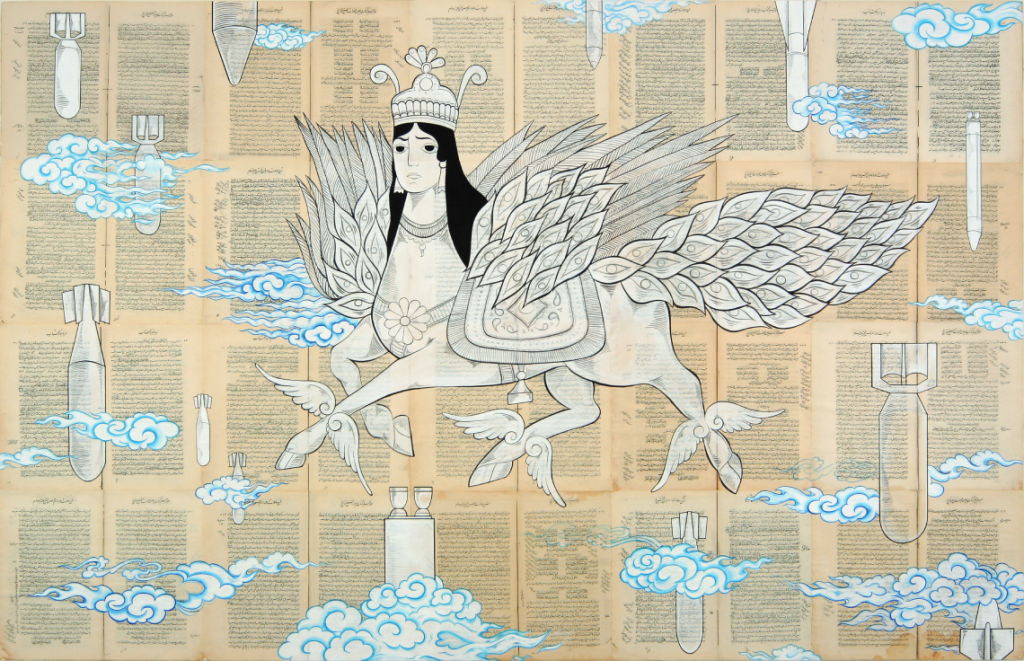 LET THERE BE LIGHT
In the vein of discovery, Ebtekar returned to Iran at the age of 19 with the intention of studying illuminated manuscripts but instead began building a relationship with his soon-to-be mentor Mohammad Farahani (1937–2012), known as Darvish. Considered to be one of the most prominent coffeehouse painters (qahvehkhanehei) of his generation, Darvish was also, sadly, among the last. "Ninety percent of the time I would just sit behind him and watch him paint," recalls Ebtekar, who, for several years, returned to Iran annually to study with Darvish. Coffeehouse paintings are traditionally based upon the Shahnameh, Ferdowsi's seminal epic poem from the tenth century. "Darvishhad this habit of whispering to the work," he says, "reiterating the story as he painted it." Similarly, the tradition with coffeehouse paintings is that a local orator recites the story depicted in the paintings to the café patrons.
For the last five years, Ebtekar's focus has been on looking at ideas of futurism in relation to these and other writings. One observation is the general reverence accorded by Iranians to mysticism and folklore, such as the writings of Jalal ad-Din Muhammad Rumi (commonly known as Rumi), Khwaja Shams-ud-Din Muhammad Hafez-e Shirazi (Hafez) and Suhrawardi. Their teachings provide a type of blueprint for ethics and morals spanning a plethora of topics from war and passion, love and nature. According to Ebtekar, speculative fiction does not really exist in Iranian culture. He also recognizes that for many Iranians there is a particular nostalgia for times prior to the 1979 revolution, as well as the ancient past – the mixture of these references becoming conflated in a cultural view of the present. When thinking about ancient Iranian literature, Ebtekar's recent investigations beg the question: 'What is the moment of now?'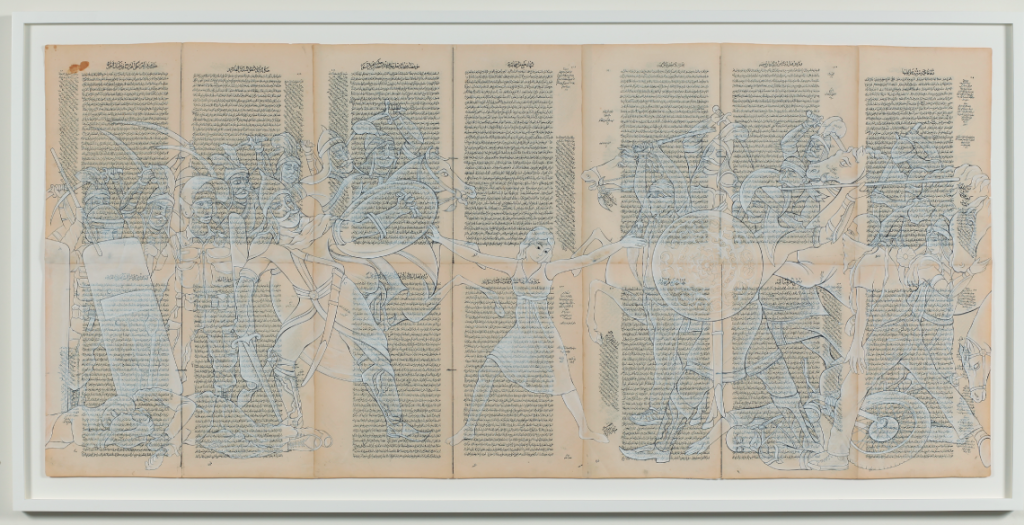 His exploration into this concept of 'now' began during a residency at the ZKM | Centre for Art and Media in Karlsruhe, Germany in 2011. For a group exhibition, The Global Contemporary: Art Worlds After 1989, curated by the artist BintaAyofemi, he presented Ayandeh-nameh, an edition of artist books and mixtapes on Persian culture from the 1970s and 80s, around the time when he was in Iran as a child. He continued these investigations at The Third Line in Dubai for two solo exhibitions, one in 2012 and another in 2015. His 2015 show, Nowheresville('na-koja,-abad) revolved around the notion of the journey. Ebtekar cites mythologist and writer Joseph Campbell (1904–87) as an important reference for the work presented in the exhibition, particularly his 1949 book The Hero with A Thousand Faces, a seminal work that formed the basis for character development trajectories of the "hero's journey".
Here, the protagonist ventures on said journey experience a tragic or life-changing event and then returns as a more learned and wise individual, better equipped with tools and insight needed to better understand and cope with life's future developments and uncertainties. "The thing that is interesting," says Ebtekar, "is that once you arrive, it opens a door to another place – one has never really arrived – there is always the next journey."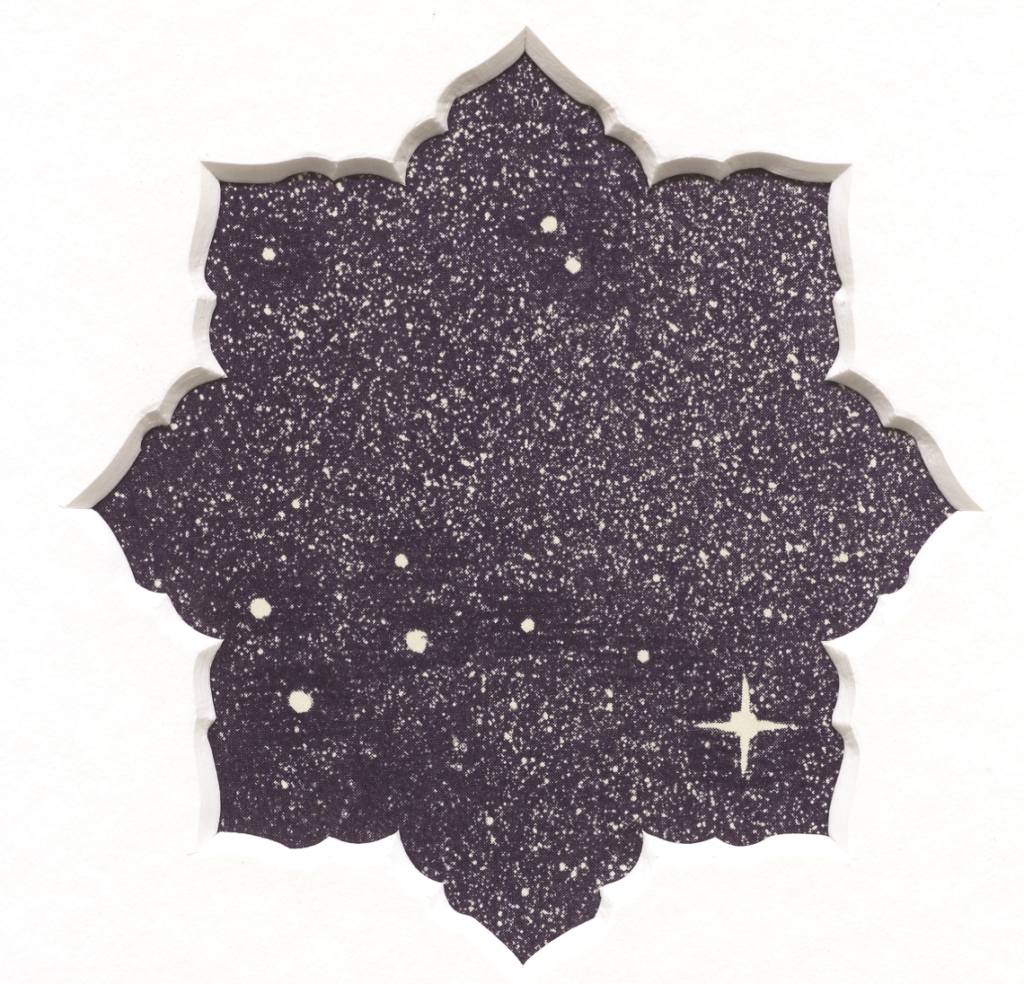 CONNECTING WINDOWS
In 2015 he worked with San Francisco's Gallery 16 on a series of limited edition pigment prints entitled Under Every Deep a Lower Deep Opens, using text from Ralph Waldo Emerson's 1841 essay Circles and Divan-e-Hafez, on the seminal writings of Hafez. It isn't common knowledge that Emerson studied Hafez, which piqued Ebtekar's interest in pursuing this project; he feels a kinship with the American philosopher pursuing ancient Persian writings, much in the same way that he has devoted so much of his own time and practice to the same. For these editions, Ebtekar carefully removed pages from vintage books and formed a grid, attaching them together in sequence, from one page to the next to complete the 76cm x 102cm surfaces. Each was then intricately hand-painted with elaborate floral motifs akin to those found in ancient manuscripts, similar to what he intended on studying back in his early days in Iran. Each composition has a pattern similar to a 16th-century ornate Esfahani-style palace window, with the center left unpainted so that the texts can be clearly read through the window's frame, which Ebtekar frequently refers to as a portal. "In my work, I am asking for a gateway or portal – a vortex – to open up a connection between the personal and the cosmic psyche," he explains.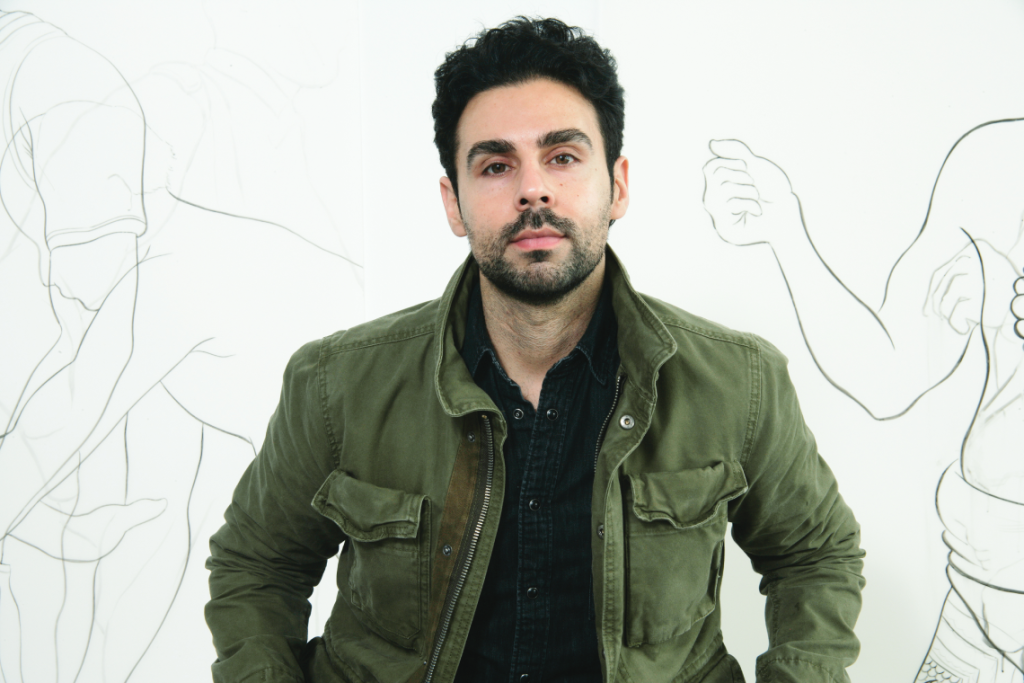 Ebtekar's vision – or some might say his fixation – is fuelled by a personal drive to examine and map a view of the world through a lens that is akin to the transcendentalists such as Emerson, to find meaning in nature that ultimately provides solutions, as well as significance, for how people psychologically navigate the world.
Ebtekar has been busy throughout the past year with a three-year academic initiative that he launched in 2016 called Art, Social Space and Discourse in Iran at Stanford University, where he now teaches. The project's objective is to find a footing for Iranian identity within the broader realm of public space. In recent weeks Ebtekar has been involved with a group show at San Francisco State University (which closes 16 March), and for a solo exhibition at Anglim Gilbert Gallery in San Francisco that is slated for later in the spring. Leaning on the wall of his studio are unfinished cyanotype linen canvases that feature constellations taken from NASA imaging. Ebtekar likens the negative space, the white canvas left behind by the printing process, to a kind of illumination. But unlike the manuscripts where gold is applied, these are "illuminated" where the sun did not touch the surface. "I am interested in that thing that you cannot touch," he says, again referencing Suhrawardi. "There is a story about a young man, who looks to an old man for guidance and asks, 'Where is 'na-koja,-abad (nowheresville)?' to which the old man replies: 'It's that place where the index finger can't point to.' I feel like, in my work, I am always trying to get to this place."