Based between Basel and Cairo, Egyptian artist Basim Magdy creates surreal, satirical landscapes in his work, where past, present and future collide, where there is hope and the inevitability of failure. In his photographs and films, images are supplemented by fragmentary, fictional narratives that exist out of time and place, lending themselves to a multi-layered, abstract feel. Heba Elkayal catches up with the artist on a New York visit.
---
It's a balmy mid-July morning in the Big Apple when I meet up with Basim Magdy, who is on holiday with his two young girls and has a few hours to catch up over lunch before picking them up from camp. The first time I encountered the artist was at Art Dubai in 2014, where he was represented by his Cairo gallery, Gypsum. I remember him appearing detached from the opening night's festivities and practically relieved when someone suggested we all grab a bite to eat off-site once the fair had closed.
Now over mac 'n' cheese (Magdy's) and a turkey sandwich (mine), a conversation about the creative process, stamp collecting and music flows. Magdy is thoughtful about why he creates art: "I'm interested in making art that provokes some emotional reaction, not saying something super-smart… It's not meant to be just an intellectual experience."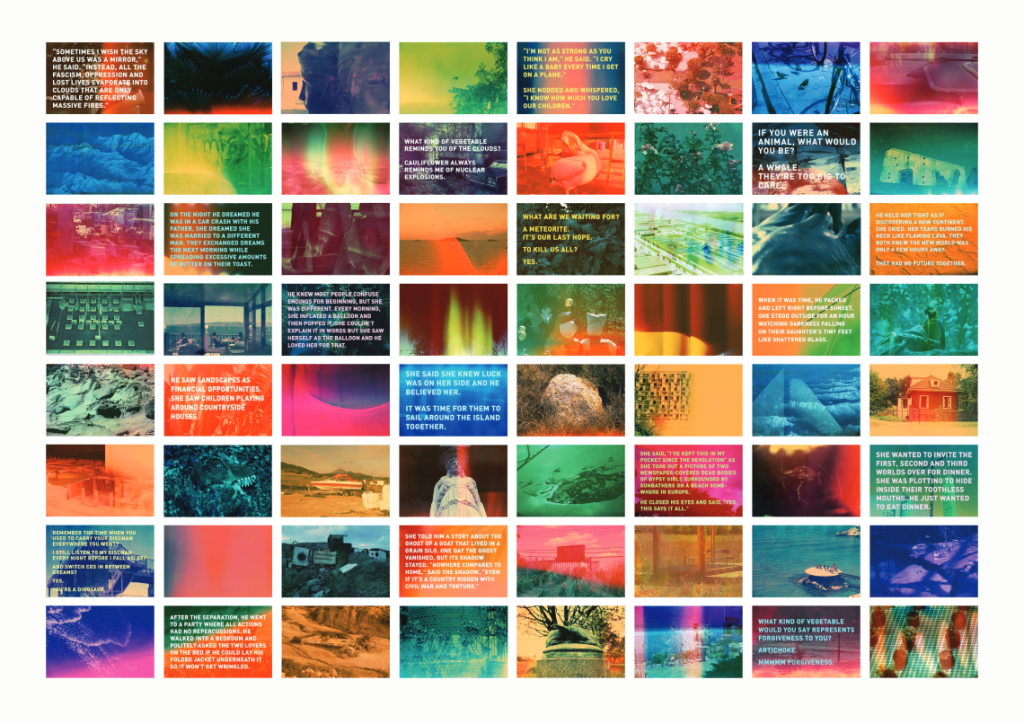 Narrative is key to his visual vocabulary of otherworldly scenes, but it is often absurd and far from linear. He gathers images that could be from anywhere and everywhere – the settings vaguely familiar, yet unidentifiable as a specific location in palimpsests of images from his travels. These often reflect on how we repeat the same errors of the past in a cycle of collective aspiration and defeat. The Dent, for example, which won the Abraaj Group Award in 2014 and was recently shown at Art Jameel's Dubai Project Space, is the fictional story of a nondescript town's ill-fated bid to host the Olympics (it includes the incubation of dinosaur eggs and a breed of zebra-striped elephants that can mine for gold, among other bizarre happenings). Shot in cities all over the world on Super 16mm film, it carries a grainy, saturated materiality that represents reality, and alternative realities, without mimicry.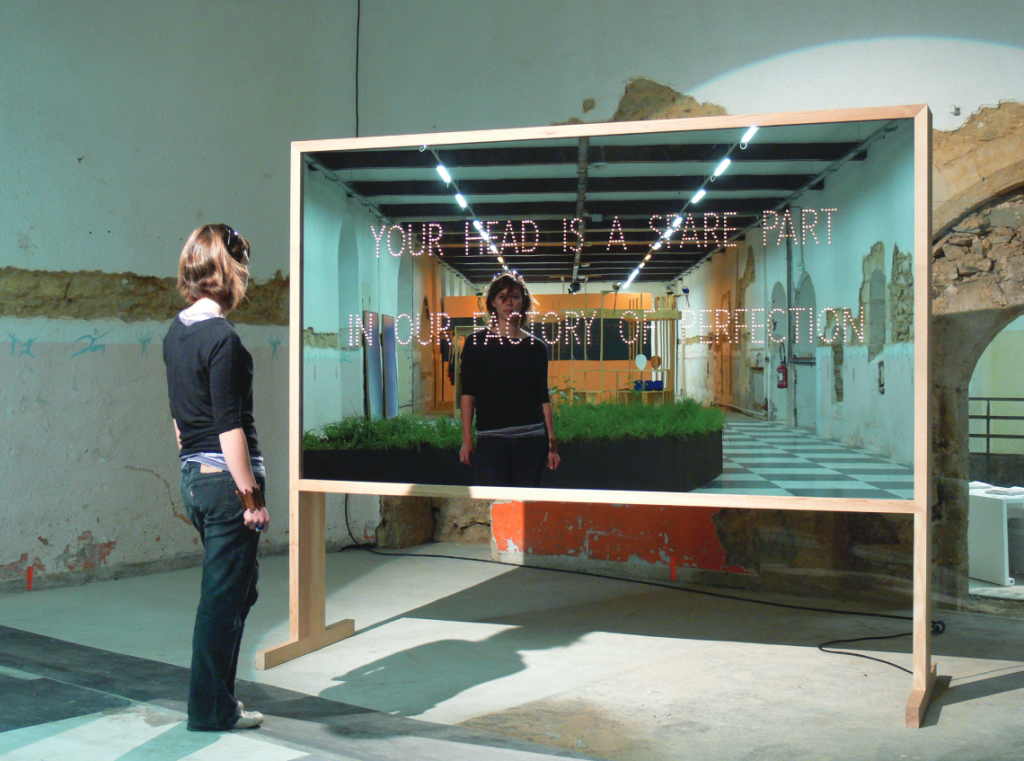 Although Magdy is primarily known for his photo assemblages, he was trained as a painter at Cairo's Faculty of Fine Arts, of which he doesn't have particularly fond memories. He recalls how he was repeatedly instructed to paint still lives: "We were expected to paint things as they existed, to create a copy of what you see, not something that has an element of imagination…" His works on paper today incorporate spray paint, watercolor, and acrylic, as well as collaged elements, and he often explains that he frames and layers the scenes of his films as he would construct a painting. "Moving image is a tool to make sense of the world around me… [especially when] understanding the concept that everything exists in layers."
The different components of his films are suggestive rather than explanatory. Image, audio and voiceover become disparate threads, presented in collage-like compositions. Although it is the textual fragments that bind the work, they ra Love Story That Crashed Into a Whale (2016). The bizarre question is posed: "What kind of vegetables remind you of the clouds? Cauliflower always reminds me of nuclear explosions." A story is told: "On the night he dreamed he was in a car crash with his father, she dreamed he was married to a different man. They exchanged dreams the next morning while spreading excessive amounts of butter on their toast."ead like stanzas of surrealist prose or the ramblings of someone's individual stream of consciousness. Evocative, the script doesn't function as a literal illustration of the image but rather intends to help guide micro-narratives.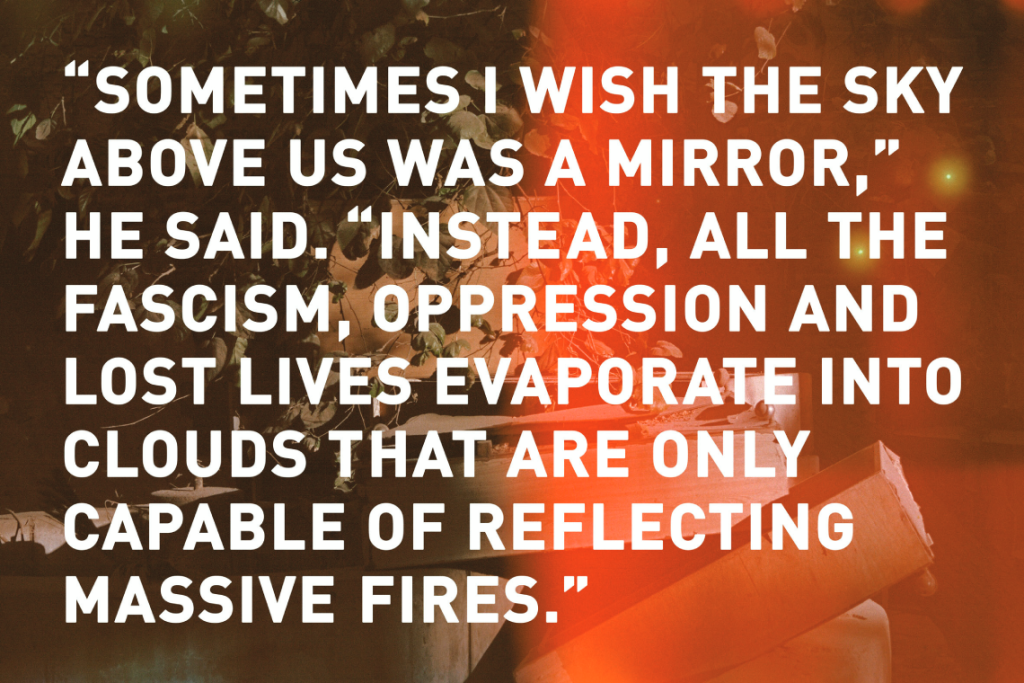 As Magdy explains, these are 'entry points' into the artwork which supplement the other elements, sometimes taking a viewer's mind in unexpected directions– as with his long, ambiguous and lyrical titles, such as An Apology to"The rewarding thing about text is how people relate to it – it's not as ambiguous as art," Magdy says. His statements hold their ground as a conduit for the viewers to engage with the work on their own terms, and not as an overarching narrative – that would defeat their charm. "I make the work to be open to interpretation," Magdy adds. In a departure from text, his latest work, We're All Victims of Our Own Adopted Fantasies Here (Reprise) is more silent. Magdy applies the principle of reprised music (music that has been looped to create another composition) by extracting moments from his films to construct a new work. The silence in the work, and lack of text, serve as a prompt for a visual dialogue with the subject.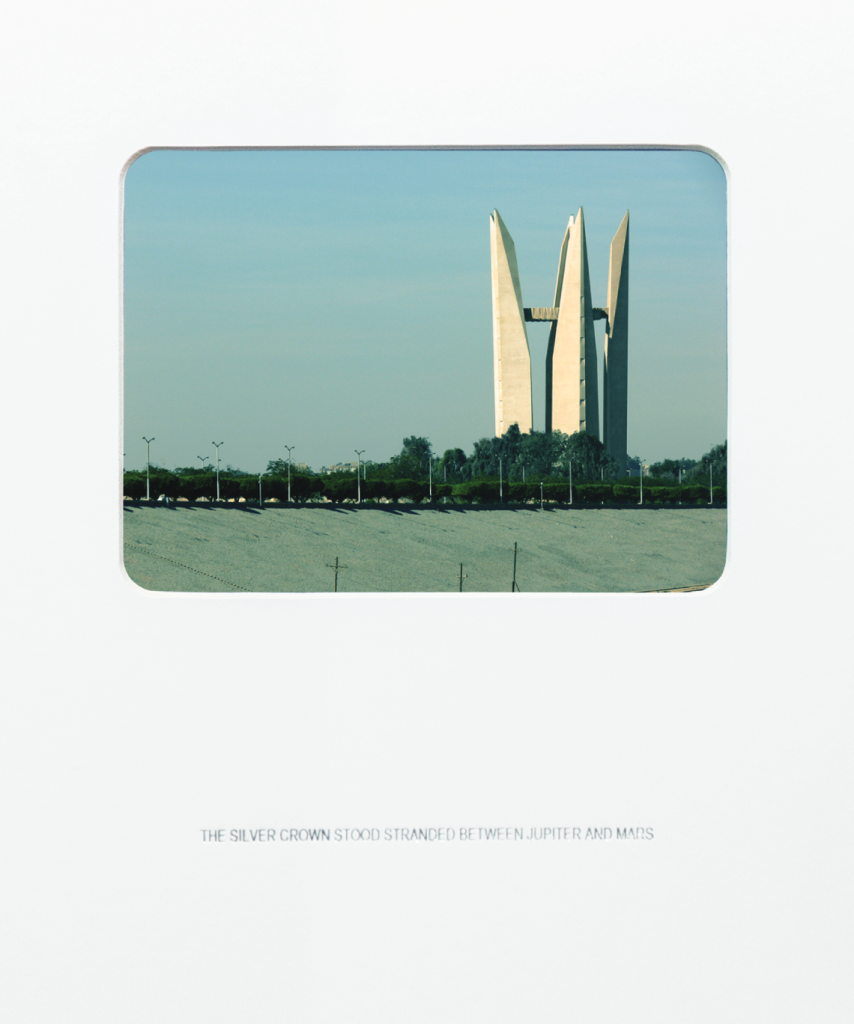 It is interesting that although Magdy is a native Arabic speaker, his texts are written in English with a virtuosity of linguistic wit, highlighting how closely many non-native English speakers identify with the English language today. This is not only a commentary on its global nature but also a rejection of some of the biases faced by Middle Eastern artists. "If I were to use Arabic text, it would get Orientalized and fetishize right away. If I felt that there was something that I could only say in Arabic, it would limit the work," the artist explains. Fundamentally, though his subjects and obsessions change, it is everyday life that inspires Magdy. "I can't stress enough that it's not just art; it's music, poetry, lyrics. It's what I see on the street, visual culture, science, mythology… It's how I process the knowledge and experiences I have and how I turn them into an artwork by questioning and trying to find answers. I don't want to limit this to the art world. Art is the way I syndicate these things. It doesn't mean they're coming from art, but they become positioned in this world as 'art stuff'."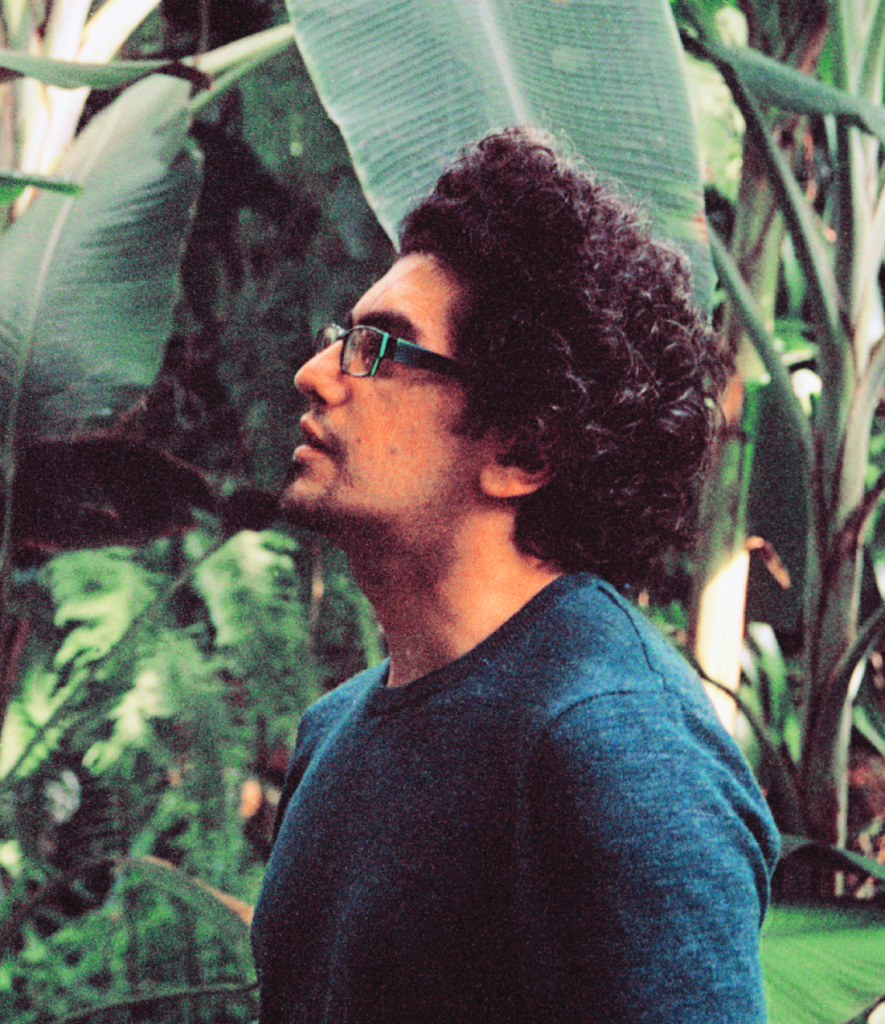 On his personal Instagram account, Magdy posts several pictures of carefully arranged dishes he has prepared; the bright greens, pinks, violets, and oranges of pastries and toppings echo the psychedelic colors of his brilliant images of buildings and landscapes – an effect achieved by placing the photos in elaborate chemical baths to produce a strongly saturated color palette that looks slightly surreal. A 240 Second Analysis of Failure and Hopefulness (With Coke, Vinegar, and other Tear Gas Remedies) marked the first time he experimented in this way in 2012, exposing his rolls of film to household substances like vinegar – also used as a home remedy for tear gas during the Arab Spring.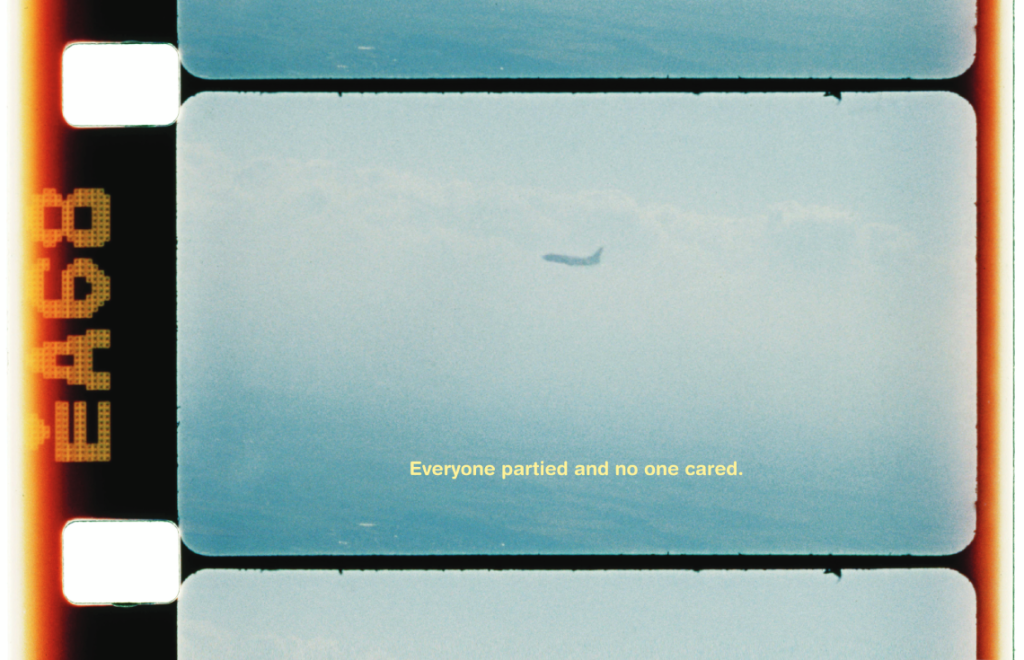 As an artist, he's quirky in a wholesome way. He is also an avid stamp collector – he tells me he has collected every Egyptian stamp produced from 1886 up to the 1952 revolution. Of all his works, his films are the most democratically positioned, as he has uploaded them all on his website for free viewing. As a result, they have been shared thousands of times. "With the films on my website, I have a level of accessibility to viewers that I can't have any other way," he adds.
I suggest to Magdy that his fascination with the potential for his films to go viral relates to his interest in stamps as small art objects that disseminate across the world. He pauses for a moment. "You're right. Stamps allowed people to talk about events in one's country such as the establishment of independence – they were the internet of their time, and very democratic, because you didn't know which stamp was going where." As we end our wide-ranging conversation, I ask him what camp his children are attending. "Gardening and cooking," he responds. Naturally.