Back in 2018, the inaugural Lahore Biennale attracted 1.5 million visitors in just two weeks, an astonishing figure. The second iteration (LB02), between the sun and the moon, which closed on 29 February, saw the historic city open up to a broader regional pool that included the Middle East and West Asia. With Hoor Al Qasimiof the Sharjah Art Foundation as curator, overseeing around 80 artists and 20 new commissions, LB02 referenced a past in which people oriented themselves towards the constellations, and reflected on how we position ourselves in a divided world.
Words by Zohreen Murtaza
---
An interest in the Global South has been a longstanding source of critical inquiry for Hoor Al Qasimi. This is evident in the multi-faceted approach underpinning many of her curatorial narratives, a prime concern being how liberation from the straitjackets of Eurocentric hegemony is essential to help understand and resolve the predicament in which the region finds itself. Many of the biennial's works therefore attempted to unpack the power structures embedded in the fabric of current socio-economic realities.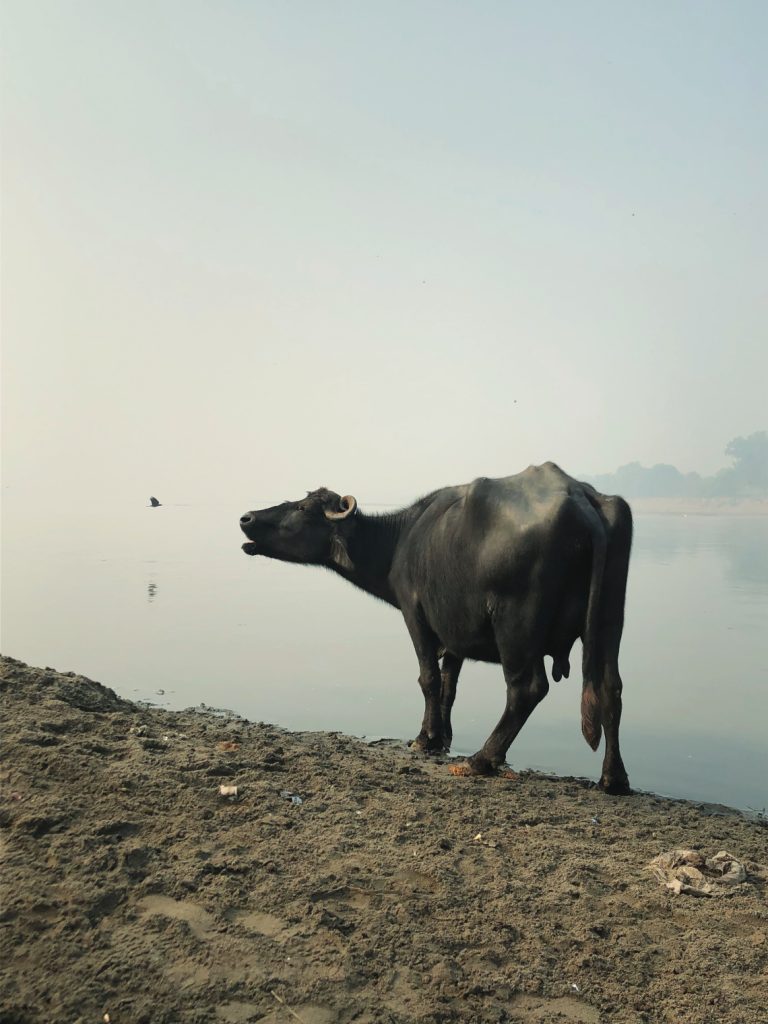 Egyptian artist Wael Shawky's epic trilogy of medieval history, Cabaret Crusades, magnificently displayed at the historic Lahore Fort, helped reorient the perspective. It retells the Crusades through a viewpoint articulated earlier by Amin Maalouf in his 1983 book, The Crusades through Arab Eyes, a narrative retelling of medieval Arab accounts on the subject. All three of Shawky's videos feature marionette puppets and richly crafted miniature sets that reveal lesser-known histories. Eerily mirroring the state of the Arab world today, including an episode set in the cities of Damascus, Homs and Aleppo, the stories reveal the roots of a divisive past overlain by profound tragedy, violence and loss.
Lost futures were also explored in Basma Al Sharif's video, We Began by Measuring Distance. Her multi-layered interweaving of sound, text and image creates a chilling montage of the mounting frustration and inertia that characterizes the every day in Gaza. Quiet images of floating iridescent sea life are interspersed with bombs falling like shimmering stars. Time is measured through metaphors, fleeting moments and growing despair, against the contradictory backdrop of former abundance and prosperity that can be gleaned from old Palestinian history books.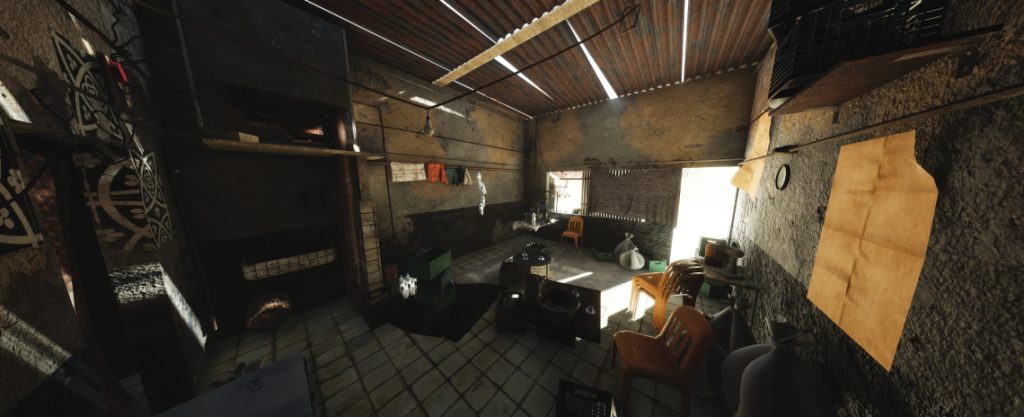 Silenced and marginalized histories were also highlighted in Hoda Afshar's two-channel video Remain, in which she looks at the contested claims to territory by stateless refugees through a critique of Australia's "Pacific Solution". Introduced in 2001, the policy saw thousands of asylum seekers shipped to special detention centers in Nauru and Papua New Guinea for assessment. Stories of death and disease among the abandoned Kurdish and Sri Lankan Tamil refugees on Manus Island, along with songs of lamentation, are juxtaposed with images of the island's idyllic tropical flora and fauna as a Christ-like figure leads us through her narrative. A moving visual essay laced with Biblical symbolism, Afshar's film decries the loss of humanity in detention facilities.
Ecological issues arose in Alia Farid's video Neeli Ravi, an exploration of the fragile relationship between man and nature on the outskirts of Lahore. Images of cattle move through land formerly irrigated by the Ravi River – a tributary of the Indus River but whose waters were allocated to India by treaty in 1960 following years of post-Partition dispute. The prosaic narrative is belied by quietly powerful observations: the banks of the Ravi have begun to shrink, signs of modernity loom in the background, and there is a sense that the river's swan song is literally and metaphorically being played out as music accompanies scenes dominated by the Ravi's receding neeli (blue) waters and herds of cattle gliding across the landscape.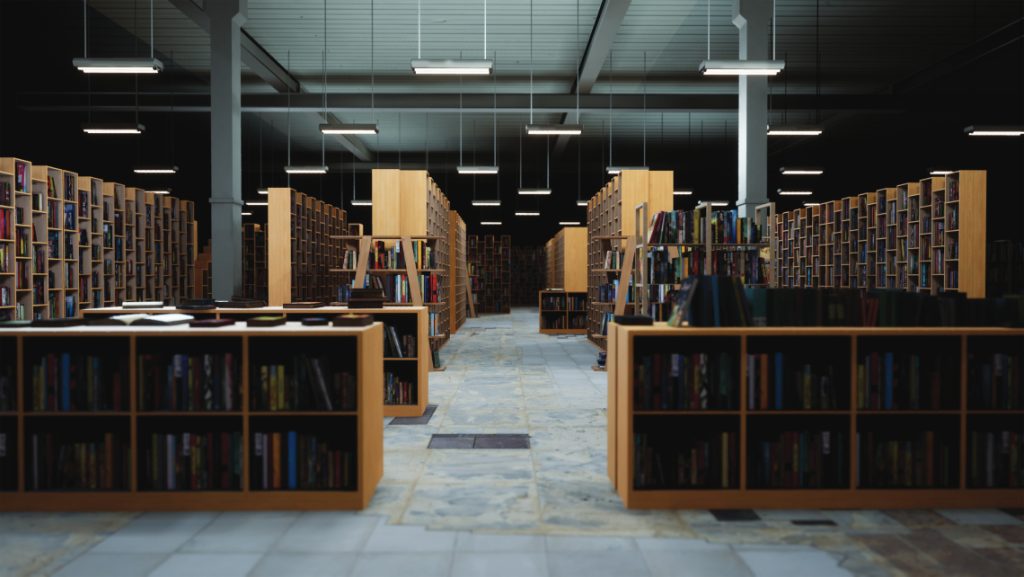 Al Qasimi has often made her mark by using heritage sites for artistic interventions. In this instance, the 1566 Lahore Fort, the 1959 Gaddafi Stadium and the 1980s PIA Planetarium (which has been out of use for some time) were all open to the public. More specifically, Shezad Dawood's Encroachments stood out for leading visitors on nostalgic walks through other heritage sites in Lahore and Karachi using virtual reality as his medium. His incorporation of terrazzo flooring, a 1950s floor design that became ubiquitous in the country (and which Pakistan spectacularly failed to export), stands as a symbol of failed utopias. A faux terrazzo wallpaper strip, installed on the upper floor of the Pak Tea House, a post-Partition literary salon, signals the oldest Urdu-language publishing house in the world, which used to be on the same street until it closed in 2017. Also displayed were Dawood's paintings of favorite book designs, serving to replace temporal reality with a voyeuristic navigation of cultural history. Through Dawood's architectural memories, we experience his reminiscence, optimism and despair in a time-splicing jaunt, emotions that mirror much of Pakistan's collective consciousness.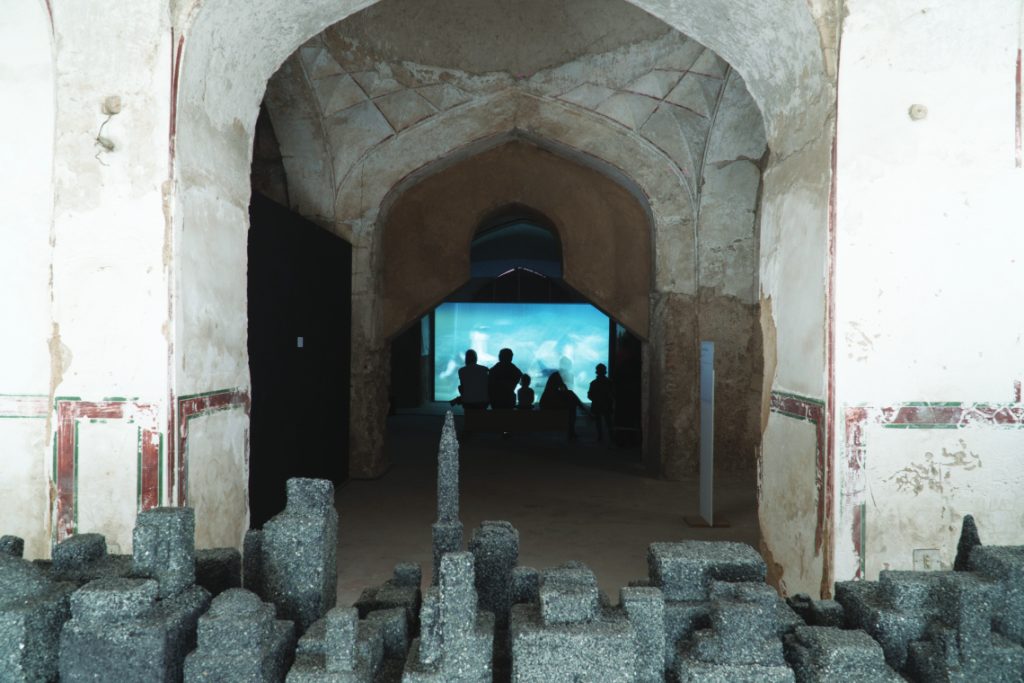 In the art world at large, an intra-regional exploration of cultural links between West Asia and South Asia has largely been neglected but a research-based publication entitled KabootarAawayJaawayby Reem Falaknaz, (Pigeons fly back and forth) recounted the passion for pigeon racing that the UAE and Pakistan share as national sports. In a world that embodies its own set rules, common codes and identity have helped forge transnational friendships. Falaknaz designates this convergence in her writing, indicating how borders and geographies become inconsequential through parallel movements: "Seven pigeons across Punjab fly up, and the seven pigeons in Punjab fly back down. Seven pigeons across the Emirates fly up, and the seven pigeons fly back down."
Perhaps the best indication of what Al Qasimi strove to achieve was Hajra Waheed's Hum, a large-scale multichannel sound installation that could be experienced only by moving among the spectacular Isfahan-influenced columns of Lahore Fort's Diwaan-i-Aam, initially conceived as a space for the public to air their grievances. The musical composition features eight songs about state oppression and resistance originating from South, Central and West Asia as well as Africa. It was a powerful call for solidarity, and firmly endorsed Al Qasimi's vision of seeking to shift cultural standpoints by delinking from Western-dominated models of center and periphery.