Curated by Maya El Khalil, 21,39 Jeddah Arts takes its cues this year from the light structures and biomimicry of Pritzker Architecture Prize winner Frei Otto, who has some of his seminal buildings in Saudi Arabia. The central program of the seventh edition, entitled I Love You, Urgently and on view until 18 April, brings together 22 local and international artists to rethink the way organisms coexist on Earth.
Words by Ruba Al-Sweel
---
Saudi lore dictates that Jeddah is the eternal bride of the Red Sea, but when the Red Sea is no cause for celebration – with plastic pollution the altar and wedding bells sounding the alarm of environmental emergency – she weeps. It's no surprise that a relationship is shot to hell when one party takes and rarely gives back, tipping the balance of what is designed to be a symbiotic arrangement. So, this year, Maya El Khalil, together with the Saudi Art Council, tapped 22 local and international artists in a sort of metaphysical intervention that explores alternative ways to co-habit Earth.
In a topic seldom explored previously by the selected artists, architect Omar Abduljawad sees a return to basics as the ultimate antidote to shifting ecologies. He views the latter as being caused by a simple misunderstanding that would naturally tear a rift between two players. In his durational participatory work Wahidah, he asks visitors to immerse their hands in damp soil sourced from a wadi in Jeddah and to then form miniature spheres in three phases across steel stations, one for each phase: formation, refinement and completion. "You can't describe what honey tastes like, but you can get people to taste it – that's what I thought about in my work. I wanted people to first understand the origin of all things and touch the soil to feel the responsibility they have towards the planet," he told me, with the sound of crickets in the background after the hullabaloo of the opening day had settled. "It's relationship-building. It asks us to connect with nature in order to connect with ourselves and those around us," he continued.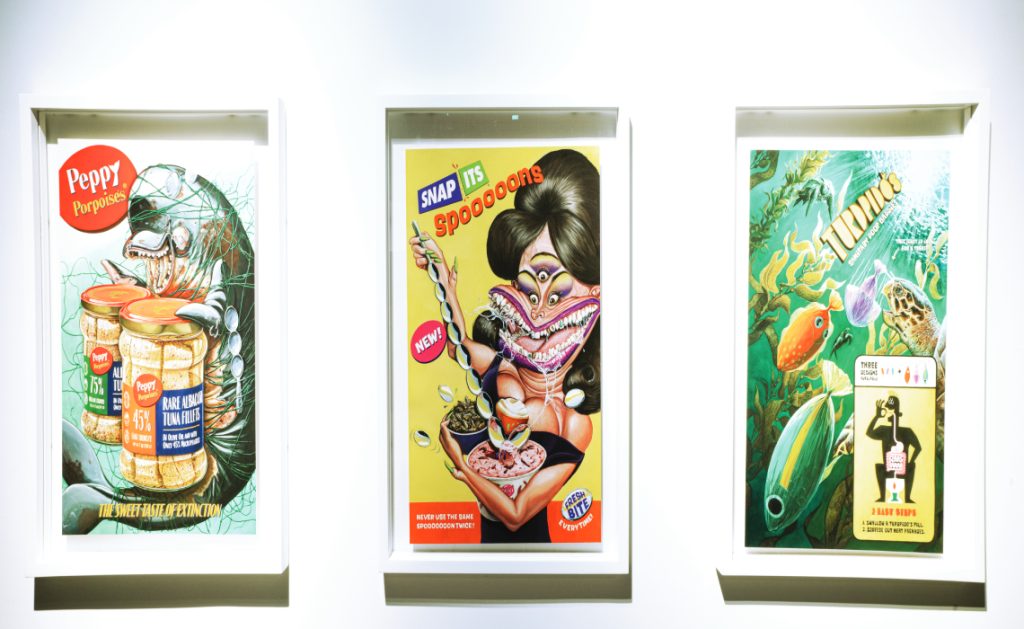 Likewise, multidisciplinary visual artist ObadahAljefri's showcase is a meditation of sorts, pleading to curb the rampant consumerism that ails modern society. In a series of slapstick posters entitled (Non-)Perishable, he parodies the multibillion-dollar industry of packaged goods and the advertisement bonanza that flourishes in their wake. "Our consumption habits are directly related to the displacement of animals and are actively tipping the balance of our ecosystem," he explained.
One poster boasts a salivating cuegle (a fictitious monster) ravenously embracing two large tubs – one of ice cream and the other of bug carcasses – with a plastic spoon sticking out, the handle of which consists of just the hollow parts. The poster, riffing on the monstrous gluttony of single-use plastics, says 'FRESH BITE, EVERY TIME'. While Aljefri's meditation is rather less subtle than that of Abduljawad, they both force a collective introspection. "In the future, bugs will be our only source of protein, because we will have killed off all the animals," Aljefri mused, also noting that if you feel repulsed, then you are paying attention. "I wanted this to be a mirror on how ugly and crazy we look consuming and advertising like this – we are the actual monsters."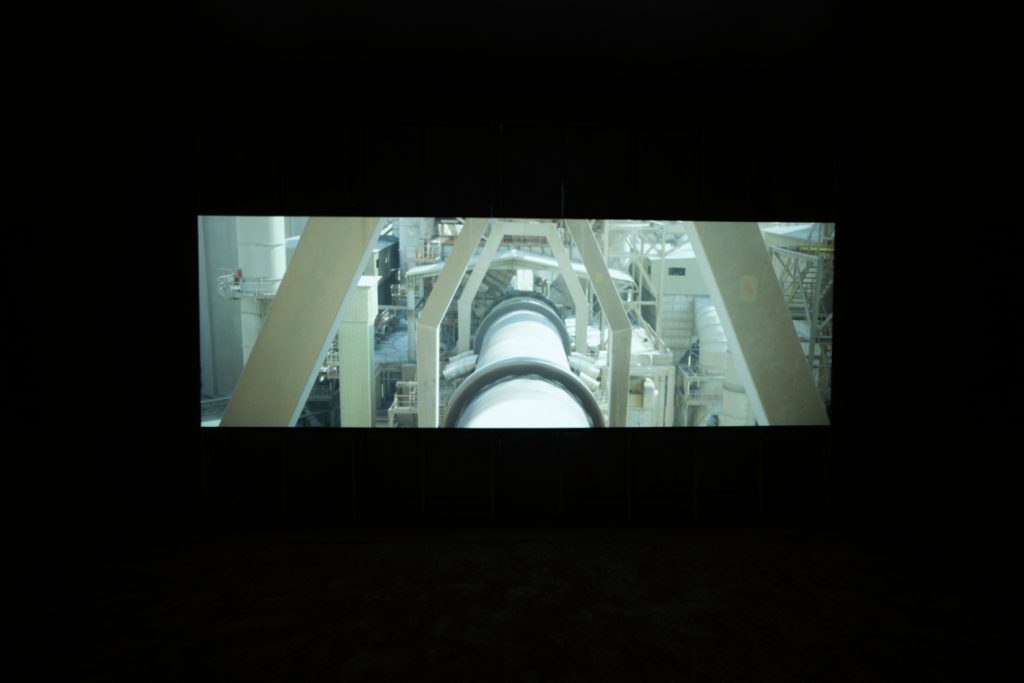 In a corner occupied by architects and artists Alaa Tarabzouni and Fahad bin Naif, related themes of disappearance arise. In Al-Manakh, You Will Be Missed, the first collaboration between the two, their installation work consists of three main components: photography, film and found objects from around the Yamamah Saudi Cement Company and Al-Manakh Park. It is a bid to look at the ramifications of the ever-expanding heterotopia that is Riyadh, where recent infrastructural developments are being celebrated yet entire ecosystems are collapsing. "This cement factory has existed forever and our feelings towards it are mixed," said bin Naif, alluding to the fact that the cement churned out by the factory has given rise to the skyscrapers we see in the city today, but its contribution to the Anthropocene cannot be ignored. "There's a bittersweetness to the work. The factory is closing down and there's a passive resistance by the inhabitants of the neighborhood," continued Tarabzouni. After all, the factory has created communities and jobs passed down from one generation to the other.
Also drawn to forms of resistance is visual artist MarwahAlMugait. In a large-scale video installation entitled I Lived Once, she draws inspiration from the reactive defence mechanism of species under threat. A performance in collaboration with choreographer LameesAlSaddique sees the shimmering of honey bees and the folding moment of a Mimosa pudicain a contemporary dance context, filmed next to a real-life mimosa tree in Riyadh. "Discovering these ancient mechanisms has been incredibly inspiring," she reveals. "How species collectively defend themselves in a systematic way makes me think of how humans are unable to protect themselves from one another, from abuse and war. We lack that perspective on survival."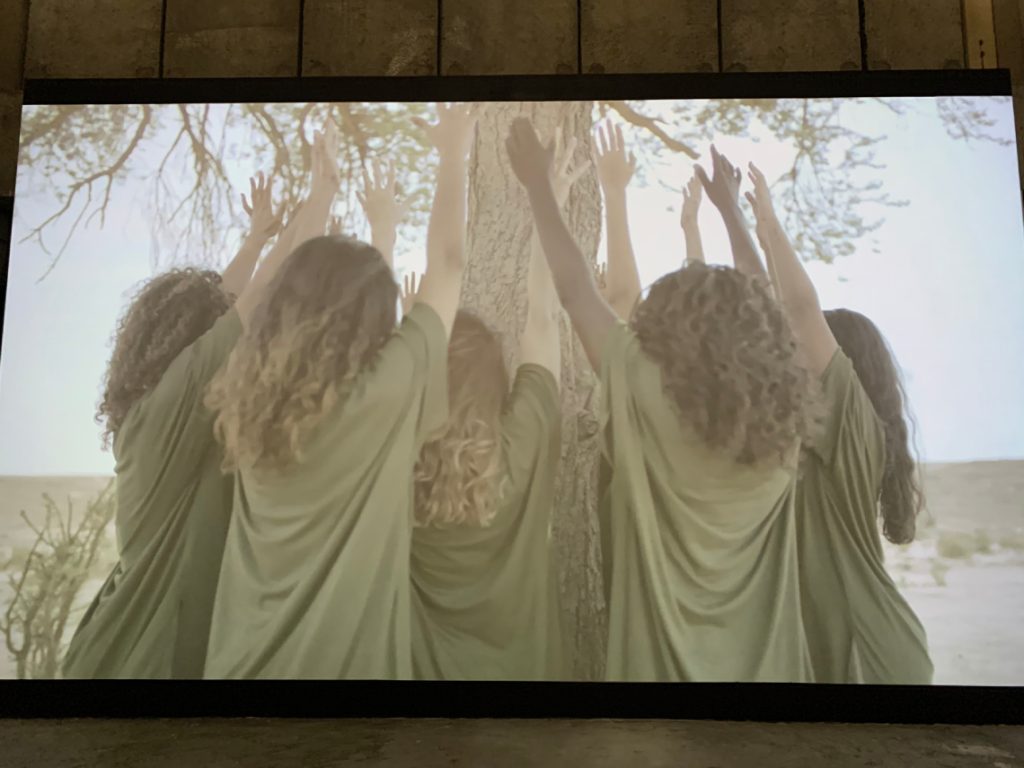 FilwaNazer, who is formally trained as a fashion designer, plays similarly with camouflage behaviors occurring in nature as a means of confronting danger. In The Fold, a moth-like textile wall hanging of fabrics varying in transparency invites visitors to slip in and then renders them partially visible but completely blind to the outside. To understand the creative possibilities of such situations, Nazer studied tomes of research on mimicry by French intellectual Roger Caillois, who posits that while some species are able to alter their appearance in response to their physical environment, this state does not necessarily have survival merits.
The bride of the Red Sea, then, cannot be blamed for showing a degree of trepidation on entering this marriage, the future of which is riddled with uncertainty. Perhaps this seventh edition of 21,39 is a timely intervention and just the sort of support and counseling this marriage needs and deserves.