Caline Aoun is a Lebanese artist to watch. Obsessed with data flows, she masterfully translates the digital into the material, accumulation into dispersal and that state of overload into vacuity. She expresses inundations of visual information in traces of colour and motion, where oversaturated images become illegible and exceed themselves. Here's a look at seeing is believing, her latest solo exhibition (ended 2 March), at Palais Populaire in Berlin as part of her 2019 Deutsche Bank Artist of the Year award.
Words by Sara Kramer
---
Even before you entered Caline Aoun's seeing is believing, you heard the soothing sound of a splashing fountain gradually intensify. Calling to mind freshwater sprinklers and lush gardens, or the drone of digital noise, the actual fountains, four of them, centrally situated in the vast exhibition space of Palais Populaire, were gushing. But instead of water, they drizzled with thick CMYK-coloured ink. Specks of yellow, magenta, cyan and black ink spilled beyond the fountains' edges, slowly forming circular patterns that became increasingly dense as they were absorbed into the surrounding beige carpet. My eyes followed the transparent tubes connecting the fountains, which collectively created a self-contained system in which the different colors of ink merged, and barely perceptible, transformed into a viscous goo. When each fountain had absorbed all the other colors, it became tar-black by the end of the exhibition. Hinting at overarching systems (political, ecological, social), the work, Infinite Energy, Finite Time (2019) is situated within a dysfunctional cycle of circulation and congestion that seemed on the verge of implosion.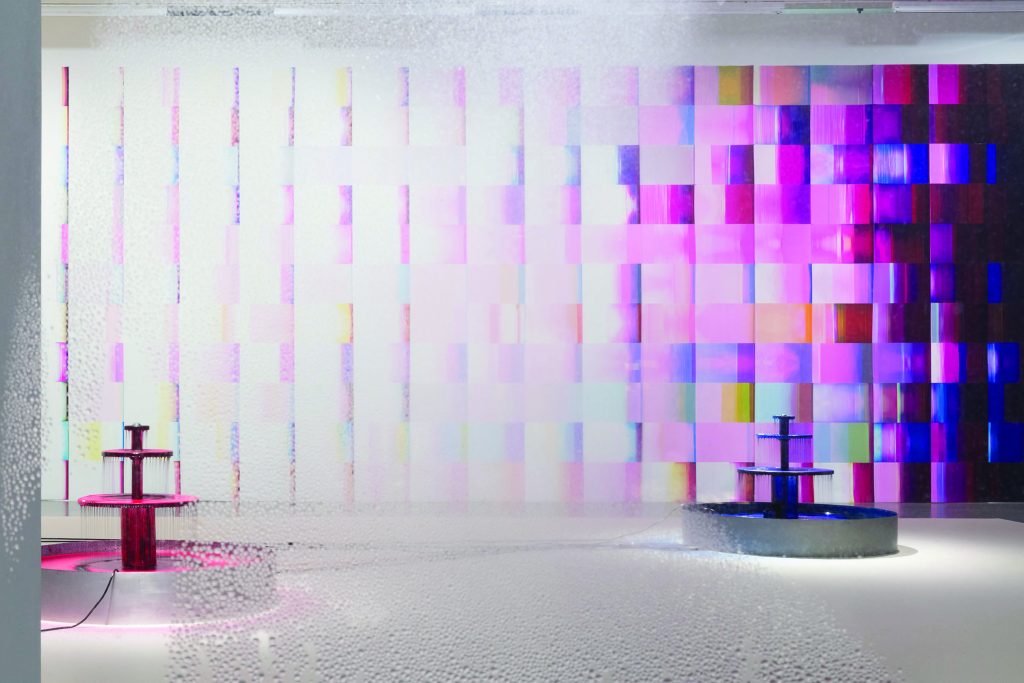 in a sense also connected to her life story. In 1983, when Aoun was just 28 days old, she and her family fled from the war in Lebanon to Saudi Arabia, and later Canada. Even though Aoun has lived between countries most of her life, Lebanon has consistently remained an underlying subject to which she returns in her artistic practice. "Lebanon has a very strong history in terms of changes, and with that comes a lot of data," she said as we walked through the exhibition.
The monumental piece, Contemplating Dispersions (2018) comprises rows of paper sheets that masked an entire wall in a series of ink runs. The first lines were heavy with an almost pitch-black sleek surface of ink, which gradually disintegrated into a gradient of kaleidoscopic, fractured rays of color – from deep blue and greyish tones to bright purple, red and yellow, through to a total absence of pigment. When executing the work, Aoun exhausts an inkjet printer with an overload of data, reducing the rate at which an image can form.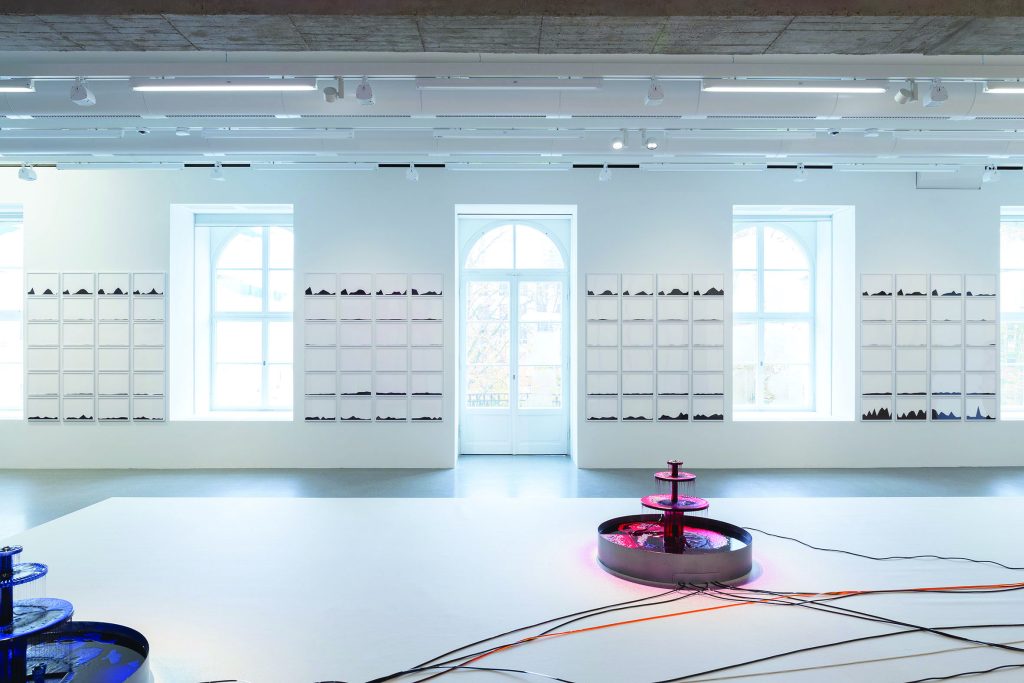 The particles of ink that flow through the printer's tubes become data carriers, transferring the color back to the surface. Yet as the cartridge slowly empties, the image begins to recede in streaks. Just as in Infinite Energy, Finite Time, Contemplating Dispersions deals with cognitive responses to the inundation of digital information by rendering it visible and material. It is a strategy for resisting the digital dematerialization of everyday life. "I am interested in the visualization of data, and I want to understand it materially to see how the content can be brought forth from the material," Aoun added. Hence, as a reflection on the overwhelming furore of data, both works seemingly shift the focus from what we are looking at to how we are looking at it – at which speed and intensity – as if trying to measure our perception of the immediate physical environment.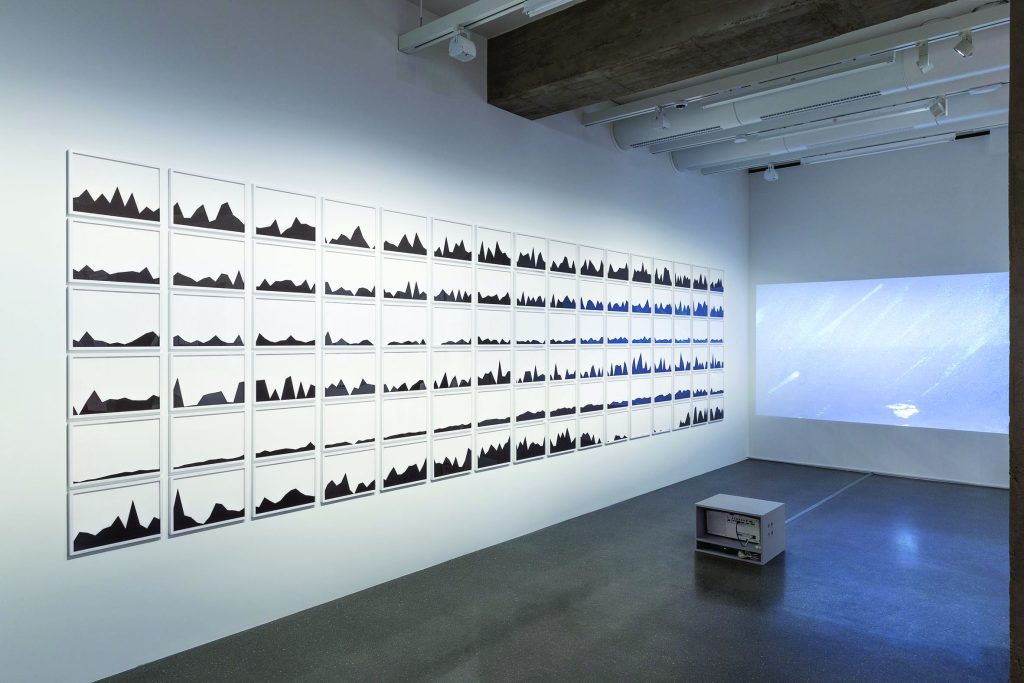 Filmed from the waterfront of Beirut, Seascape (2016) is a 24-hour Livestream. The projection immerses you into a dazzling outlook onto the Mediterranean Sea, where pixelated seagulls and cargo ships are moving in slow motion across the wobbly horizon. The almost sentimental image is juxtaposed with Aoun's interest in the sea as a place of constantly drifting goods, ideas and migrating humans, which reflects her interest in a world that's in constant motion. "Here, images are actively being formed; they have been through a process of traveling [via] data," Aoun explained. With this understanding, the invisible data of the live stream is fleeting, moving matter that is endlessly received and processed, appearing and disappearing in a continuous flow as it traverses the fiber-optic cables along the bottom of the sea. Seascape is an extension of Aoun's previous work Time Travel, shown at the Sharjah Biennial 14 in 2019, which featured four projectors spinning at a speed equivalent to 25 frames per second, live streaming the sunset from Beirut. Space and time collapse as both works focus on the distance between the source of the image (the camera's location) and its reception (in Berlin or Sharjah). The morphing of distance into time through speed thus reflects how our instantaneous state of contemporary communication affects the body/bodies moving through space.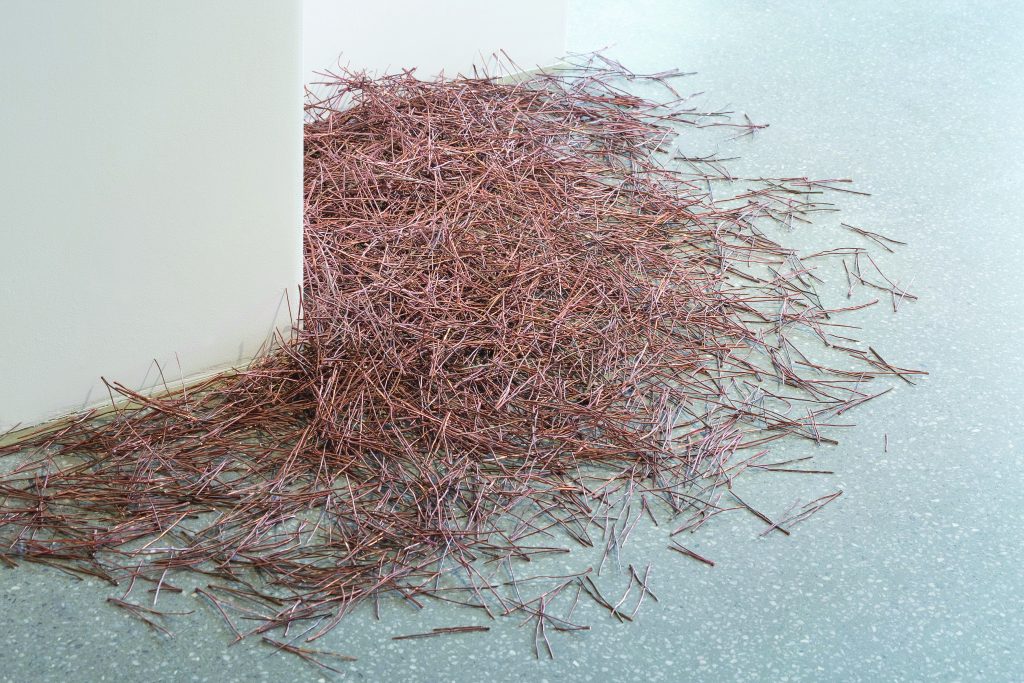 The current turmoil in Lebanon, where demonstrators are protesting against corruption and the political status quo – often resulting in violent clashes with riot police – is undeniably fuelling Aoun's practice, albeit in an abstract and subtle manner. Hinting at the recent collapse of the country's financial and political systems, Aoun is currently investigating vacant billboards along the Lebanese coastline. She says that she perceives them as substructures that underlie the advertisements governing a transactional, image-based world. "Their emptiness is more powerful than ever; they bring out much more information through nothingness than the information their surfaces once carried," she asserted. The emerging omnipresence of different forms of the architectural void has indeed become a memento of the end of Lebanon's economic upsurge, and it is this desolation that Aoun plans to process and materialize in her forthcoming work. Knowing her, she will do this in a contemplative and time-based fashion.