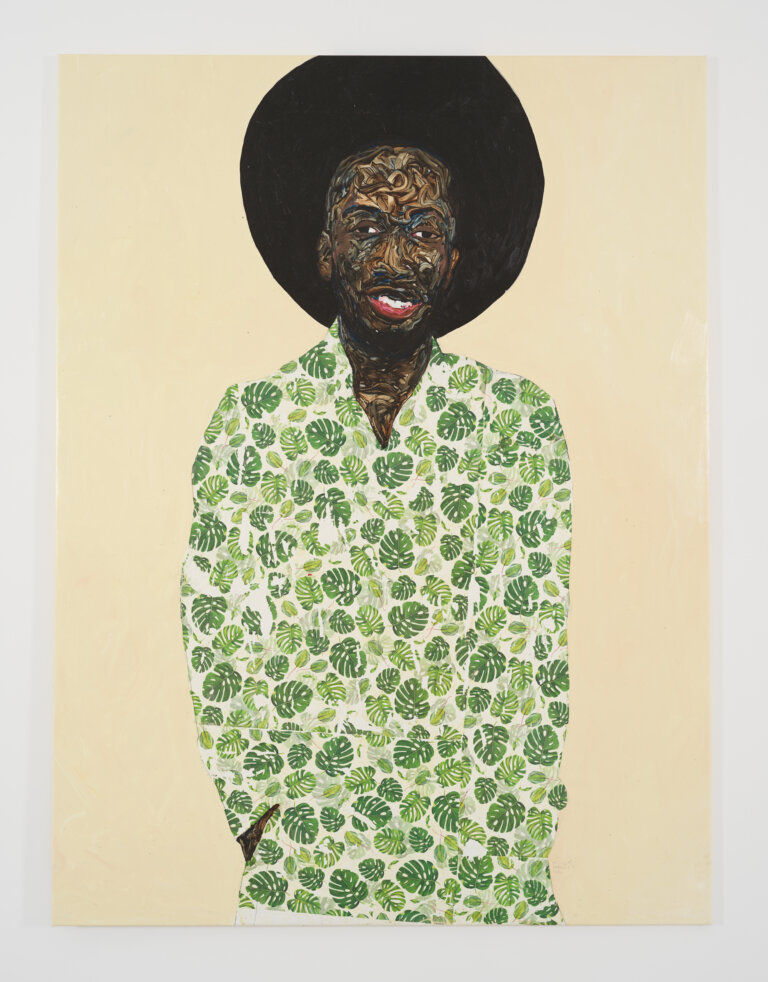 The Way We Are 3.0
Amoako Boafo, Steve Mekoudja, 2019, Miettinen Collection
The exhibition brings together more than 190 works from different eras and contexts and addresses both contentual and formal issues. Seven thematic areas formulate artistic approaches to depicting the human being, develop a current picture of Germany, engage in multifaceted play with everyday life or the medium of the book, and investigate minimalist tendencies, photographic procedures or aesthetic contradiction. Moreover, spaces devoted to Kapwani Kiwanga, Joyce Pensato, Claudia Piepenbrock and Norbert Schwontkowski offer a dense array of insights into four artistic procedures with quite diverse emphases. And with Mel Chin an artist's bar even makes an appearance.
One thematic area uses film, sculpture, audio, painting, photography or installation to formulate a polymorphic picture of Germany extending from National Socialism, atmospheres of the postwar era and migration past references to Romanticism, Brutalism and celebrity culture all the way to reunification, political power, the globalized economy and right-wing tendencies.
At another place in the exhibition, iconic positions of Minimal Art by Carl André, Richard Serra, Elsworth Kelly, Fred Sandback or Charlotte Posenenske are complemented by current works of contemporary art and are revealingly brushed against the grain. Old encounters new and enters into a dialogue that discovers historical connections in the new and surprising novelties in the familiar. For example, Amoako Boafo appropriates "white" traditions of painting for his portrait depictions of People of Color, while Kasia Fudakowski uses a mop and bucket to take on the genre in a both humorous and clever manner.
Wolfgang Tillmans, on the other hand, frees himself from the traditional representational obligation of photography when he allows dust and streaks in the developing fluid to create a fortuitous and abstract image, while Monica Bonvicini confronts visitors with the exaggerated expectations of our society.
Curated by Ingo Clauß and Janneke de Vries