Tim Cornwell visits Idris Khan in his London studio to learn more about the Pakistani-British artist's impressive vision for Abu Dhabi's Memorial Park, a stunning testament to the loss and remembrance of fallen soldiers, and one which has recently been announced as one of the winners of the 2017 American Architecture prize. At a time when Abu Dhabi is elevating its built environment with monumental museums in the form of international cultural institutions fashioned by starchitects, here's one for the nation.
---
In December 2015 the artist Idris Khan was holidaying with family in Los Angeles when a message came through the Sean Kelly Gallery in New York. It was a brief on a memorial project in Abu Dhabi, asking if he wanted to apply. Khan, then 37, had never entered competitions much, only putting in, he says – as we chat in his studio in London – if he knew that he was on the shortlist. He was flown there the following month, visiting for the first time; about seven artists from Europe and the Gulf were in serious contention.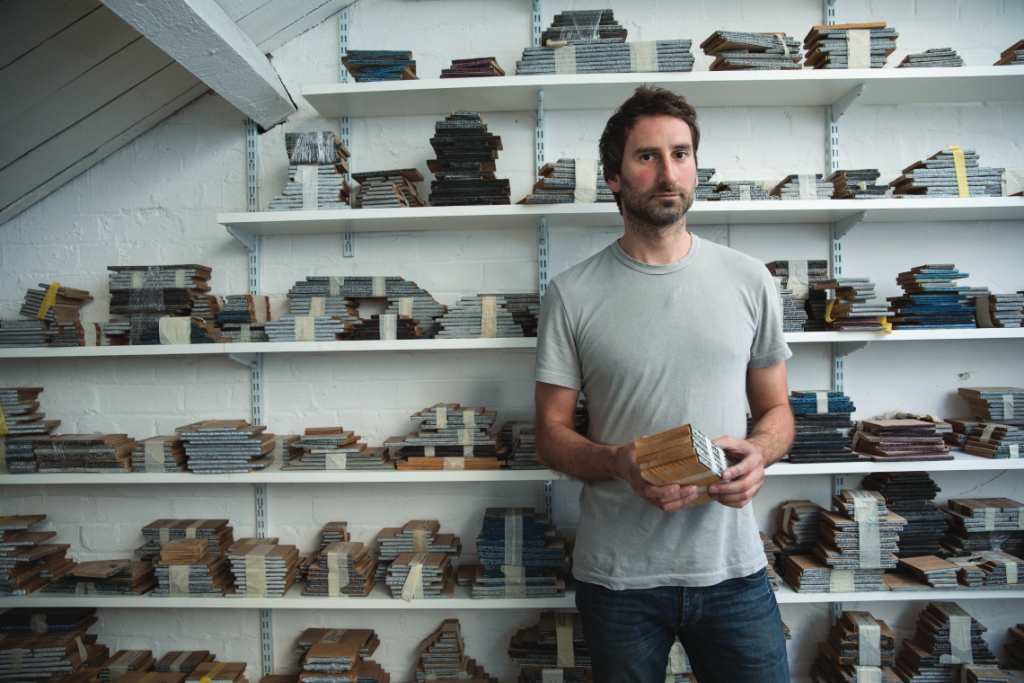 His decision to go proved to be a smart move. Less than a year later, Khan's memorial was inaugurated in the Memorial Park of Wahat Al Karama ('Oasis of Dignity'), a landscaped area of 42,000 square meters – the size of six soccer pitches. In an emotionally charged ceremony, the artist – born to a Pakistani Muslim father and a Welsh mother – lifted up the young son of a slain Emirati soldier to enable him to touch his father's name. The memorial, the first of its kind in the UAE, was opened on Martyrs Day (30 November) last year. Sheikh Mohammad bin Zayed Al Nahyan, Crown Prince of Abu Dhabi and Deputy Supreme Commander of the UAEArmed Forces, commissioned the park, symbolically located between the Sheikh Zayed Grand Mosque and the General Headquarters of the UAE Armed Forces.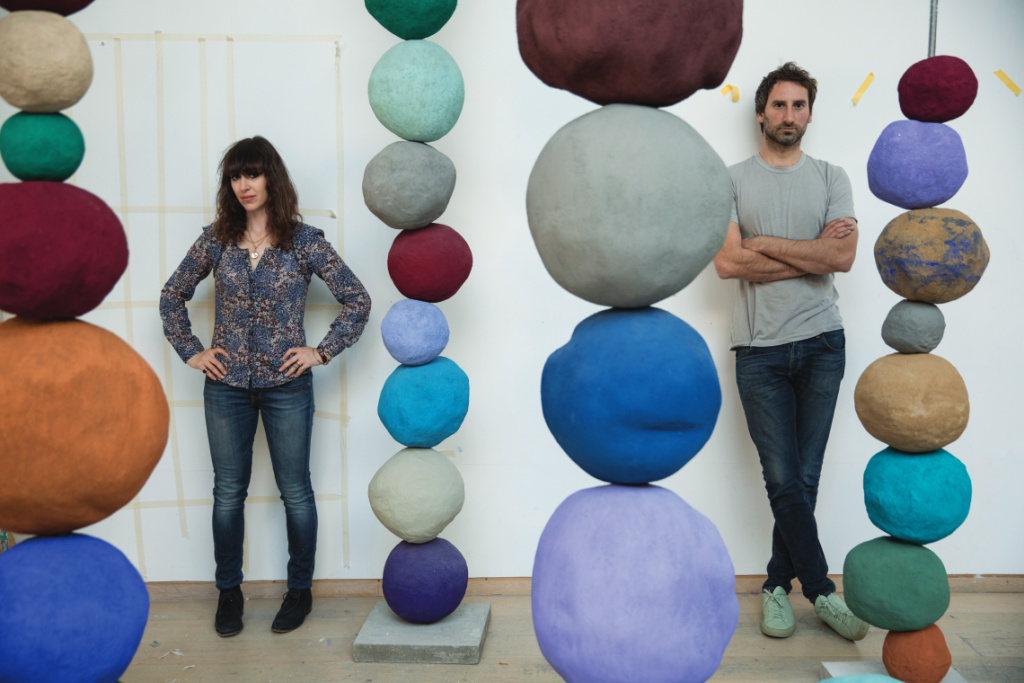 By any account, it was an extraordinary thing that Khan had achieved with Urban Art Projects (UAP), the international design studio behind unique and large-scale public artwork, such as Jürgen Mayer's installation XX Times Square with Love in New York. From commission in March to open at the end of November, the project had taken just seven months in all. The centerpiece memorial comprises 31 aluminum-clad standing tablets that tower above visitors at 23 meters in height. Propped and leaning on one another seemingly for support, they evoke weary or wounded soldiers. Made of 850 aluminum panels, the tablets were cast in UAP foundries in Brisbane and Shanghai, inscribed with Arabic poetry and sanded to shifting shades of black in the style representative of Khan's work.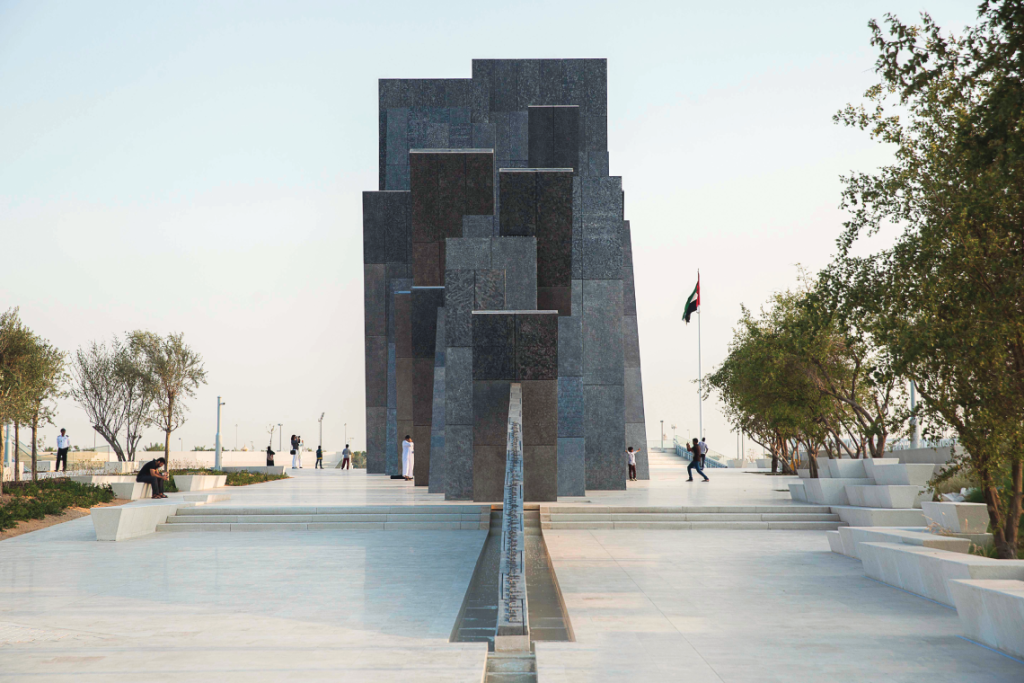 At the finale of the journey through the memorial is the Pavilion of Honourarmoured vehicles used in the Yemeni conflict zone – with Idris's sculpture of seven standing glass panels around a water feature at the heart of it. The names of the fallen (196 so far) run around the panels, their oaths etched repeatedly on the glass. Khan typically uses layered photography in paintings on metal and, lately, on glass. An integral part of the artist's practice is the repetitive action of stamping and sandblasting text, with eroded, overlayered words that appear and disappear. His subjects have varied from pages of the Koran to musical annotations – his first sculpture in 2007, Quartet for the End of Time, was based on the score that French composer Olivier Messiaen wrote in a prison camp in World War II.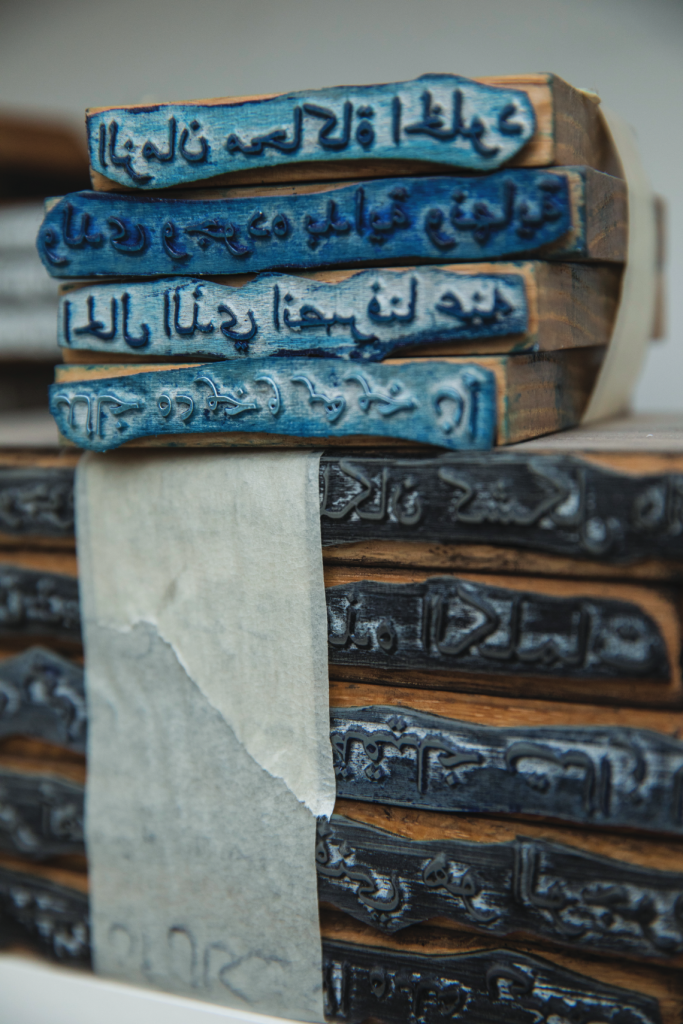 Until last year, Khan's largest installation had been Seven Times (2010), a grid of 144 black sandblasted steel cubes, mirroring the footprint of the Kaaba and currently at London's Victoria Miro Gallery (until December 20). Khan typically works with a team of about half a dozen, but the main elements of the memorial project involved a combined workforce of close to 2,000 people. "I hadn't done anything like this, on such a scale, ever," Khan explains. "I've worked with sculpture before, but nothing over two meters in height, nothing that takes on landscape in the public realm." From wooden maquettes less than 30cm high, through CGI models, shade projections for winter and summer (the tablets cast an extraordinary pattern of jagged edges) and wind tunnel tests, the final work used 300 tonnes of steel and 111 tonnes of aluminum. As an artist, Khan had to master the jargon of architecture and engineering but with a project for London's ex-2012Olympic Village now in sight, he adds, "I've got a bug for it now. I really want to do more."
Khan works from London alongside his wife and fellow artist Annie Morris, whom he met at one of her exhibition openings and proposed to a few months later – the couple balances busy professional lives with raising two young children. Morris has made her name with richly colorful sculptures, seeking out her own pigments, while Khan's work is resolutely monochrome; but they both work with repetitive motifs and will show for the first time together in India later this year. Khan's background and upbringing may have given him an entree into the Islamic world and art, though he doesn't see himself as "Islamic" artist per se. His work has always been rooted in memory and loss, from the fleeting nature of photography – capturing a moment that exists and is then gone – to the loss of his mother and, soon after, the couple's first child, in a stillbirth. The challenge, he says, is to "capture that sense of loss within the artwork."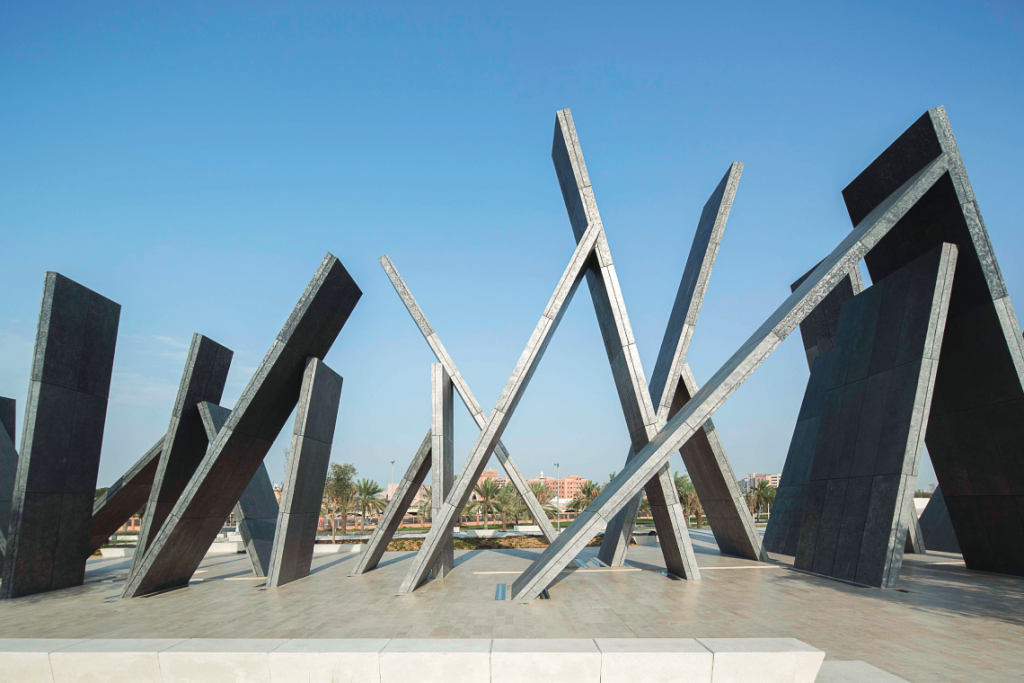 The UAE lost 45 soldiers in Yemen on a single day in September 2015, in a missile strike on an ammunition depot, described as the deadliest day for the military in the country's 44-year history. "The first idea that came to me was the idea of falling," Khan explains of the underlying concept. "Fallen soldiers, losing somebody close to you, and what you need around that time is someone to support you… I kept doing things with my hands, things that were leaning and being pushed down. There is that moment of something falling and then it's caught and pushed forward. That was, for me, really interesting to think about."
Although he neither visited other signature modern war memorials nor talked to those who have produced them, partly from a lack of time, he did research the impact of text, and particularly of names, on how memorials sit in landscapes.
"For me walking through it, amongst the panels, gives you a strange sense, because of the scale of being so much smaller," he says of his Abu Dhabi work."It's different from walking past a huge building. When you have something that's tall and very thin, you feel slightly uneasy in that central space. When you are in there, looking up, it feels weird, strange… that shock of when you have lost someone, that [sense of] uneasiness. That's what I wanted to feel." Not only does the result have just that kind of resonance, but Khan has also carved out a serene space of movement, in and around the stacked blocks, which cast shadows and conjure a spiritual journey of healing.