Without a doubt, the biggest moment for the UAE this year was the opening of the new Louvre Abu Dhabi, designed by Jean Nouvel as a stunning showcase for over 600 works, 300 of which are on loan from French museums. Encompassing over 5,000 years of history, the museum's global vision also incorporates contemporary commissions by two international heavyweights: Arte Povera star Giuseppe Penone and American word artist extraordinaire Jenny Holzer, both of whom have created site-specific works for the space. To learn more about Holzer's dedication to the Louvre, Nadine Khalil walks through with the artist.
---
I only fully comprehend the level of scale manifested in Jenny Holzer's work at the Louvre Abu Dhabi when I pass through the museum's main artery – an inside-outside walkway at the center of which rises a bronze tree with mirrored branches, Giuseppe Penone's Leaves of Light, reflecting the sun's filtered glare in streams. On the left-hand side, behind a skinny, towering 1900 Rodin sculpture, Walking Man, on a Column, Jenny Holzer is waiting for me, next to her monumental marble relief that soars up to the majestic dome glittering with star-shaped openings.
Dwarfed as she is by her own art, Holzer has become a giant of text-based works and digital displays of the word. She has emblazoned one-liners, poems and grievances on museum facades, street walls and t-shirts, making a name for herself in the 1970s in New York City, when her Truisms first entered the public realm in the form of anonymous posters. Since then, her work has appeared on LED signs, electronic billboards and building projections, ranging from the personal (PROTECT ME FROM WHAT I WANT in Times Square) to the political (testimonies lifted from reports on wars in the Middle East, including the Syrian crisis, in recent exhibitions).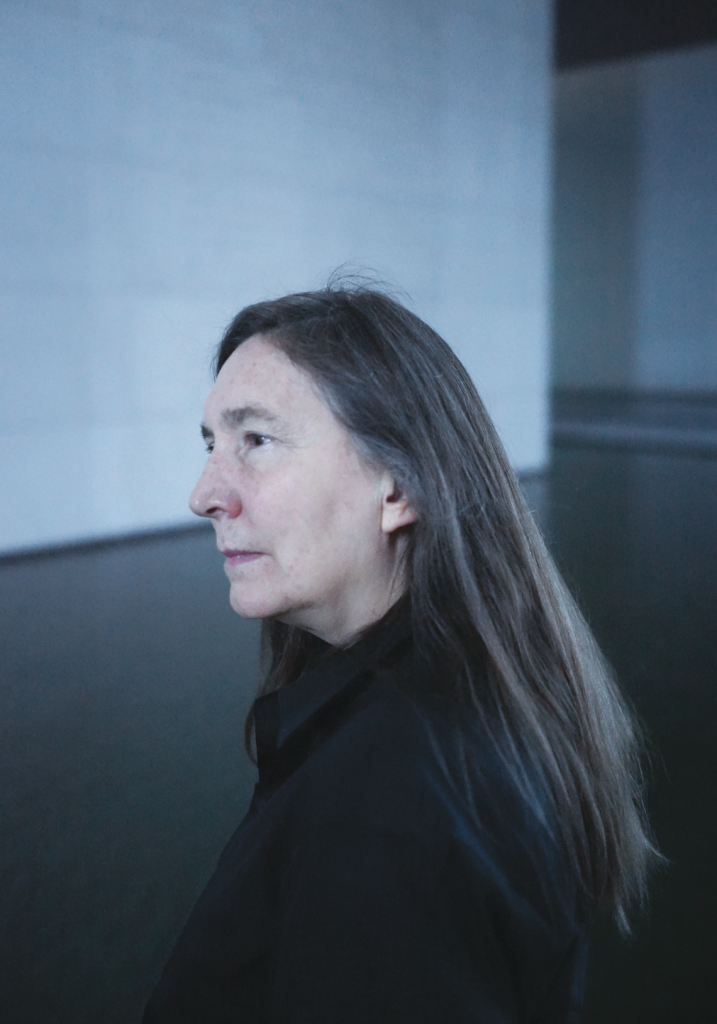 On closer examination, the deeply carved geometric inscriptions in her wall cast jagged shadows in the daylight, underscoring the perforated architecture of the roof. Given the artist's deep passion for all forms of the written word, the first part of her commission – comprising a three-part work simply entitled For the Louvre Abu Dhabi – is the oldest in age (approximately 1250BCE) and considered as the source of one of the earliest forms of writing in the world. A creation myth taken from a Mesopotamian clay tablet excavated from present-day Iraq, this wall uses cuneiform script and the texts on the left and right are in Sumerian and Akkadian. "When imagining this new and ambitious museum, I was thinking about the story of what one does at the beginning," the artist says in her soft-spoken manner, "and this particular myth mentions that, among other things, humans were created from clay and the blood of a sacrificed god. Once the gods separated heaven and earth and made them what they should be, they sat and said: 'What shall we do?' And that's what an artist constantly worries about. What shall we do?"
What Holzer did was to visit the original tablet, preserved in Berlin's Vorderasiatisches Museum. "This piece is exactly faithful to the original, other than subtle adjustments of how it should look 'normal' at this size because we had to make this once-tiny thing very big. We found that we needed to modify some facets, such as sharpening these cuts. The impression at a small scale is that the marks are very sharp, but they become softer due to the enlargement."
As you run your fingers across the cold stone, the grooves are a combination of deep incisions with curved corners. When you look beyond the script, the writing becomes form, and the form becomes abstract art, as the light moves through the space and projects shadowy figures of the cuneiform contours. We talk about the different ways of reading. "If you trace letters with your fingers on stone that's very different from how you read an electronic sign – it's a whole different thing using your body," Holzer explains. And by shifting aesthetic codes and using diverse media, she has explored different means of interpretation and modes of reading as an undercurrent in her work. "I'm always looking for the best place to hold language and that could be a poster or a t-shirt or, in this case, a carved stone wall with ancient content," she adds.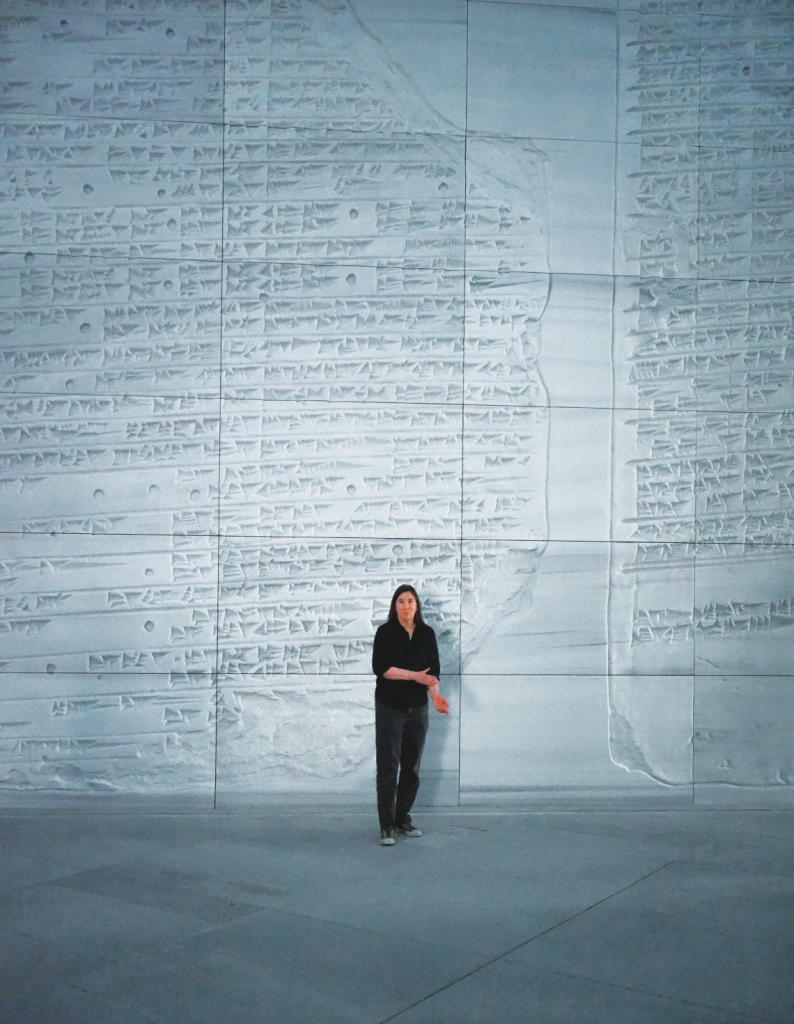 Perhaps surprisingly, Holzer's work with engravings developed at the same time as her electronic displays: "In the 80s, after a fair amount of work with posters that I would sneak around and put up on abandoned walls, I turned to electronic signs and programmed them, sometimes on my kitchen table and sometimes on Times Square – I began as a street artist and street artists respond to their environment. But not too long after, I started making benches with inscriptions because I find that in the art world, there are never enough places to sit and if I'm going to invite people to read text, the very least I can do is let them sit with the text. Or sit on the text; or sit on one bench and contemplate another; or sit on a stone bench and watch an electronic sign flash on stone." And to behold Holzer's entry point into the museum is an act of contemplation, of simultaneously encountering the monumental and the ephemeral; by re-contextualizing her transcript's source, the age-old text reads as something that is both timeless and temporal.
Embedded in her process is the enlisting of specialists who help her come up with an appropriate selection of texts. "My practice is to go to the best experts I can find in any field and then rely on their judgment to give me a wealth of possibilities," Holzer explains. "I then need to assess these based on good representations of the concept I'm thinking of, how it will look and, ultimately, the meaning itself." As our conversation progresses, I'm struck by her modesty and how, when it comes to downplaying the role she has in the making of the work, she is magnifying the chosen excerpts both literally and metaphorically as being representative of something much greater. There is a sense of the immensity of meaning set against the smallness of the individual being.
The second part of Holzer's work at the new museum floats on the water outside, seen through one of the passageways, its cursive text delicately engraved. It is in Arabic, and taken from the Tunisian Islamic scholar Abd Al-Rahman Ibn Khaldun's seminal 14th-century treatise on historiography, Muqaddimah, which is kept in Istanbul's Atif Efendi Library. "I chose these particular pages because they lay the foundations for the study of history, which I thought appropriate for this museum as it walks through history through its selection of artworks, comparing and contrasting them by their juxtapositions." It also foregrounds abstract thought, designated by Ibn Khaldun as the most elevated of human activity. Holzer says she was also particularly taken by the calligraphic poem that's included on these pages by Ibn Khaldun, originally by the Persian master Ibn al-Bawwab, as a model for the word becoming art. "This is the essence of art-making when, on a good day at least, you have your mind and your hand engaged simultaneously and you try and leave something that's both meaningful and visually coherent."
This isn't the first time that Holzer has ventured intellectually and creatively into the Arab world. "Not long after the invasion of Iraq, which I didn't understand and felt I needed to understand, I turned to a number of government documents," she explains. "I compulsively painted and made 500-plus paintings from what we found in the National Security Archive on what was happening in the Middle East; Iraqi material first, then Afghanistan and now Syria." Known as the Redaction paintings, this series began in 2005, making use of the US Freedom of Information Act, a 1966 law that allows declassified government documents to be publicly available. She paints over these censored reports in bleeding blocks of color, exaggerating the redactions and highlighting their illegibility. By taking these papers out of their context, she holds them up to public scrutiny. The results, in their merging of two very different things – painted abstractions and documented words – are both stunning and unsettling.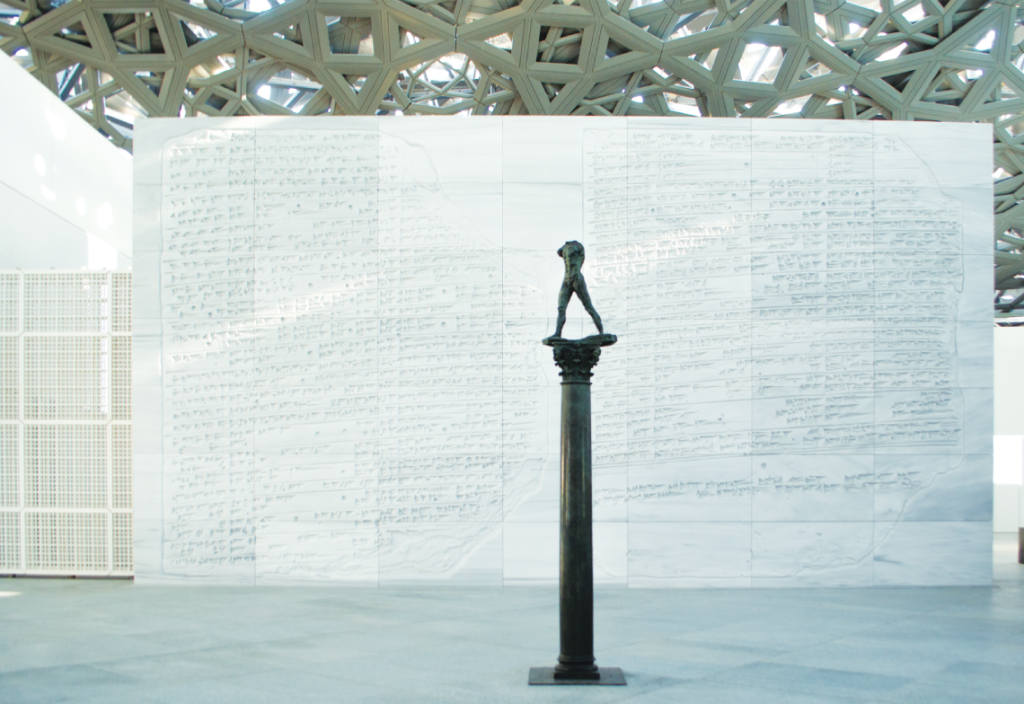 "The first redaction paintings were relatively matter-of-fact and only slightly larger than the original sources because I didn't want anyone to think that they were fake or my opinion," she recounts. "I wanted them to be convincing. Probably without being conscious of it, I followed Warhol's Death and Disaster series recipe – just silkscreen on color – and gradually, the hand has become more prominent, and the painterliness. Now I have a semi-secret watercolor practice; I paint as long as no one is looking," she jokes. Interestingly, Holzer has a troubled relationship with painting and it has taken her time to come into her own with the medium; she says she stopped for 35 years. "I studied art belatedly – first, I tried to be a normal person, I tried to be a lawyer," she laughs. "But then I wanted to be a sublime abstract painter like Rothko, which is not something you can become just by intention. So it was after I failed at being a sublime abstract painter that I turned to content, because I couldn't determine how to be a painter and work with concrete, explicit content. In my mind, these two things could not go together."
Though Holzer's sources and raw materials have changed, her starting point is still the historical document. "I'm more interested in primary source material than by what is explained or mediated, whether from statements of detainees, soldiers, officers, politicians… It's true that some of my pieces are more topical while others, as for this museum, are quieter and more peaceful."
Her tribute to French culture is a limestone wall featuring text by French philosopher Michel de Montaigne, which has its own room in the museum. Of the three, this is perhaps the noisiest work visually, but the extra space lends itself to greater literary contemplation. The three essays, selected from pages held in Bordeaux's municipal library, are about the challenges of writing, the task of criticism and the celebration of poetry, juxtaposing print with furious handwriting on the corners. "Montaigne was an energetic man," Holzer notes, "and this is from his hand-annotated autobiography, Essais[published in 1580 and subsequently expanded between 1588 and 1592], where he is rethinking his own musings. We chose him because he bridged Renaissance philosophy with modern thought, which is very representative of this institution."
Like the Ibn Khaldun Arabic reproduction, these reliefs overlook a rectangular pool of water. Montaigne's wall is a composite made of a grid of squares, matching the museum's panels. "This is a museum constructed in parts and it seemed logical to echo that here," Holzer remarks. "But while the museum walls are more free-form and varied, I thought that Montaigne's should be more subdued and regular so the content is the overriding feature. Water also adds a number of reflections during the day, we have the glorious presence of the doubling or tripling of the text and meaning – not to be too literal about a metaphor."
With gravitas conveyed by virtue of their medium, these etchings also indicate the markings of time. "I had an early fascination with writing and etching in art, before I decided to become an artist… When I was a child, I was lucky to live in Ohio, a place that had Native American artefacts carved on cliffs, in caves and on small stones you would find with symbols and markings. I thought that was the best thing in the world to see what had been left by others, sometimes figurative and sometimes abstract. And then I don't remember when or how I saw it, but it was a photo of the Rosetta Stone that I thought was the most amazing thing I had ever seen. It's a cliché to say that the Rosetta Stone or the Native American relics were the beginning for me, but it's true." This reference to the celebrated stele from 196BCE, inscribed with Ancient Egyptian and Ancient Greek in three different scripts is a strong analogy for Holzer's deciphering of a museum's ethos that traverses different civilizations, time periods and cultures and brings them together.
As we chat further, the dimming light brings out a softer ambiance and Holzer is having a moment: "When I was four or five, I thought I was an artist and I would make long, huge scrolls on my mother's shelf paper, which was used to keep the pantries clean. It was cheap paper and perfect for a child who was trying to draw the history of the world and Noah's Ark – grandiose maybe, but I was five. By the time I was six, I couldn't imagine being an artist because that seemed something utterly exotic and for people like Picasso, who was about the only artist I knew of by then."
Despite the seriousness of her subjects, Jenny Holzer comes across as incredibly humble. Using language as her primary medium, she enables other authors to speak through her work and for humanity at large, asking viewers to pay attention to the magnitude of the word and to witness how the small scale becomes larger than life. She has moved from the street-smart to the documentary and the institutional, drawing on scale, movement and light (natural and electronic) to create masterpieces of minimalist beauty that carry a deep understanding of time. Although her works at Louvre Abu Dhabi very much engage with the present moment and with what the museum stands for, there is also a powerful immutability about them – solidly inscribed in their place, the massive slabs of stone and marble appear integral to the architecture and enduringly weighty as if they have always been here.