In her foreword to the catalogue of the latest Sharjah Architecture Triennial, Hoor Al Qasimiasks what the role of architecture is – and what it can be. In a curatorial answer to her request to create an exhibition that did not shy away from the urgent issues of our time, Adrian Lahoud presented a moving exposé of the elements that govern our habitat in 35 works (32 of which are commissions). These play out a radical rethinking of power structures, environmental change and how indigeneity challenges our relationship to the natural and built environments.
Words by Troy Pieper
---
The Sharjah Architecture Triennial continued in the recent tradition of architecture exhibitions (Oslo, Chicago, Shenzhen) that have concerned themselves not with buildings per se but rather with the cultural, political and socioeconomic forces shaping life in the environments we construct. But the Sharjah iteration contained none of the customary overestimations of architecture's power. In fact, the field of architecture was hardly articulated. Instead, Rights of Future Generations, the exhibition's theme, called for alternative architectures, in contemplation of the challenges surrounding the legacies we will leave behind and the fears and hopes for our environmental future(s).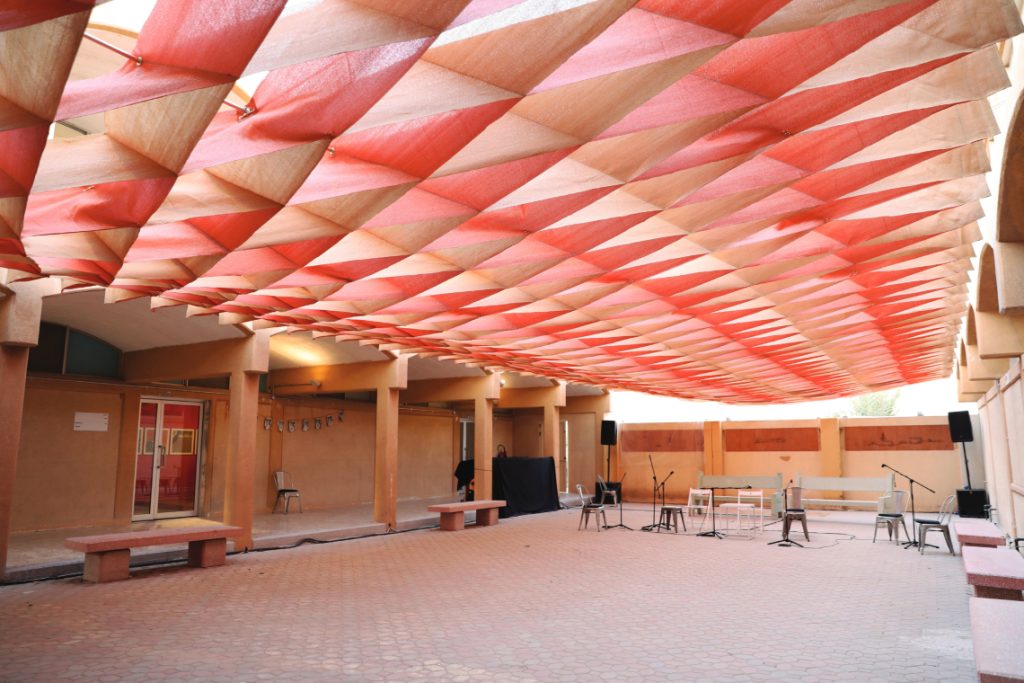 An abandoned two-storey primary school, the triennial's main exhibition space, was itself such a reflection. Faded pedagogical decals still adorned classroom doors and tattered student-made decorations were draped along walls. Rather than remaking the building, it was reimagined as a site for considering what the structures of the past might hold for the future of our interactions with the environment, be it natural or man-made.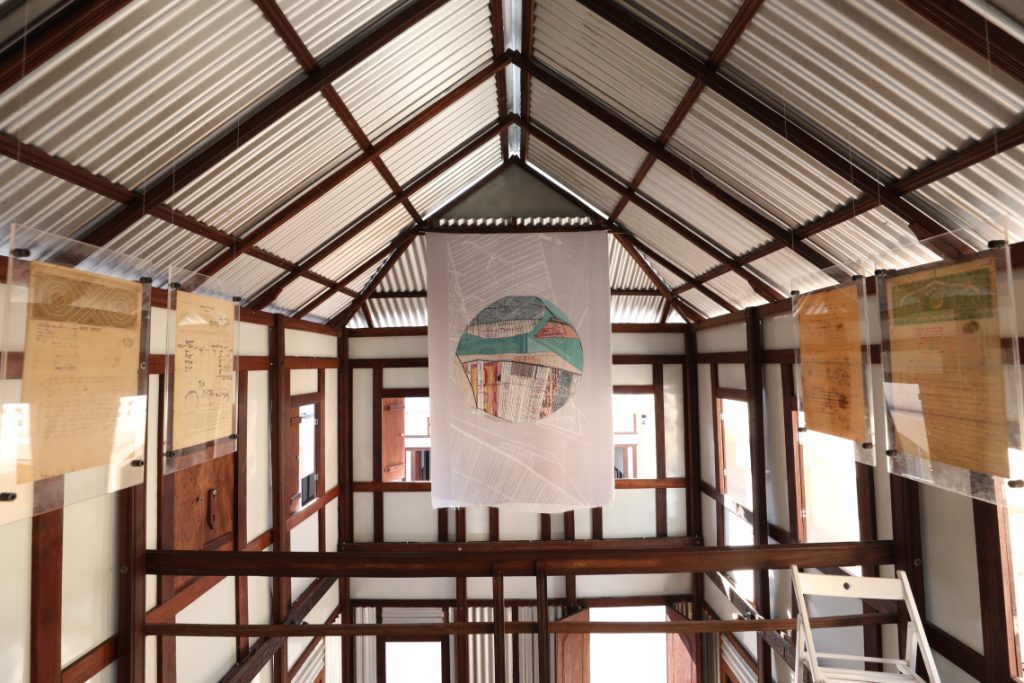 In one repurposed classroom, enormous and ancient land art forms in Chile's northern desert region were the focus of The Atacama Lines by Alonso Barros, Gonzalo Pimentel, Juan Gili and Mauricio Hidalgo. These geoglyphs, comprising animal and human figures in geometric designs, marked crossings made by travelers who created a language of signs by separating the darker surfaces of the earth from the lighter tones. They were also symbols indicating which particular fauna existed at different ecological times on Earth. In the darkroom-like space, large-format backlit photographs of the geoglyphs and projections on topographic models created an atmosphere of reverence for the monumental power of these iconographies.
With their makers becoming guardians, in addition to legal protection by the state, the indigenous people have been able to intervene in multinational mining operations that contaminate their water sources.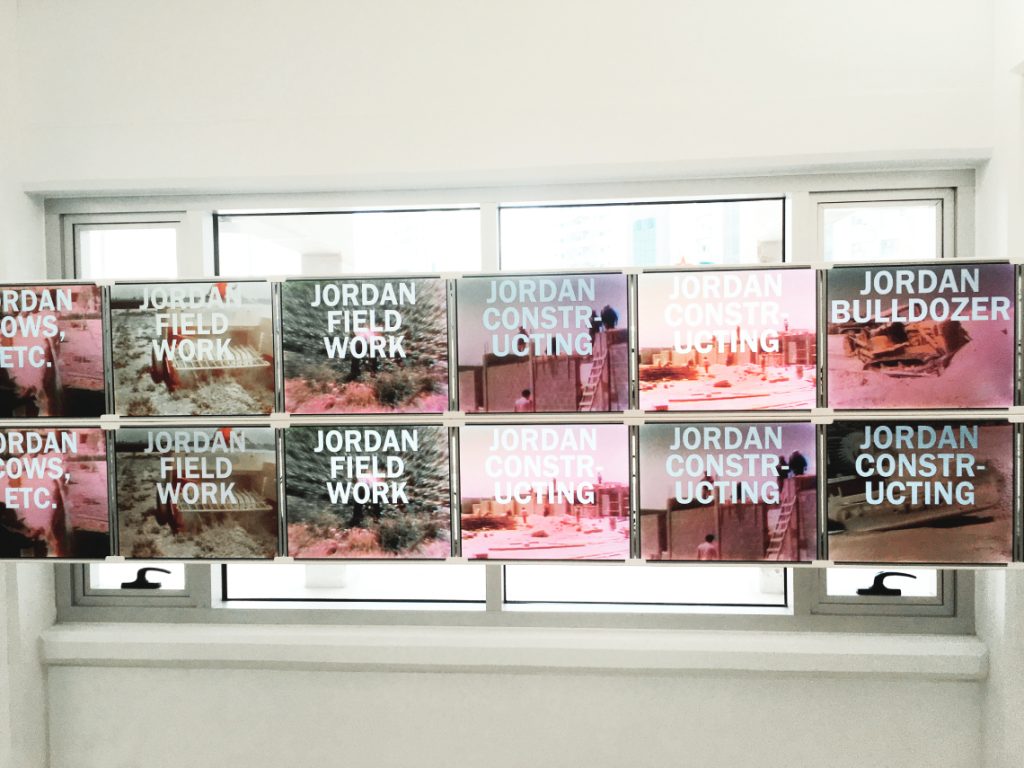 As the first architectural event on this scale in the region, nowhere was the overall emphasis on the Global South more strikingly represented than in Media Habitat by FarzinLotfi-Jam, Felicity D. Scott and Mark Wasiuta. Over 160 screens and speakers displayed an archive of 236 films produced as a survey on development projects in 'modernizing' countries. These documentaries, which were made for the 1976 Habitat: the United Nations Conference on Human Settlements that convened in Vancouver, evolved into a kind of national self-representation, lending insight into each country's aesthetic vocabulary.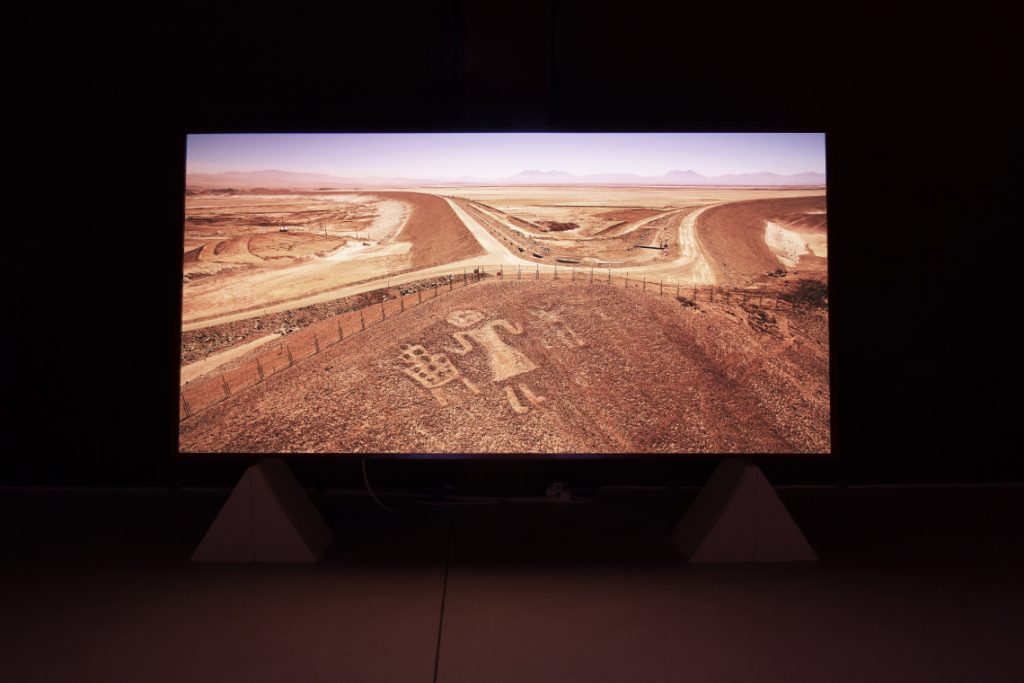 The scene in the room's pristine white cube recalled science fiction images of that time, replete with an oversized control panel and chunky blinking lights. Surrounding it were displays of mediated imaginaries of the Global South being bolstered through international aid. Organized by country (in terms of positioning on the Historical Index of Human Development for 1975) as well as thematically (under tropes like Playing, Traffic, Domesticity, Vernacular Housing, Gathering Water), the footage created a shared visual language, suggesting the idea of standardized national development, and its adoption as a prerequisite for receiving international aid. The installation itself reinforced this notion, functioning as a futuristic panopticon, in which a technologically advanced overseer monitored the activities mandated upon those that are, for their own good, under its control.
Marina Tabassum Architects documented the land arrangements that the people who live in a southern region of Bangladesh, where three rivers converge, inherited from colonial Britain. In the school's courtyard, her compelling research was evidenced in prefabricated houses that can be quickly disassembled and reassembled during periods of rapid erosion and accretion. Inheriting Wetness traced changes in water levels, and presented the effects the formalized laws of land ownership imposed in an area where parcels of property can be submerged for years at a time. Titles are sometimes passed down to the next generation before the land is habitable again. In this laboratory for the long-term impact of climate change, her project highlighted the futility of imposing a dry system on a wet landscape and just how outside the domain of human control the natural world can truly be.
More than anything, these installations presented geographies, interrogations of why things are as they are, where they are. Collectively, they offered an opportunity to gain a more insightful understanding of the impact our transformations and modifications have on the world around us. Emblematic of our immediate environment and looking to its near future, Becoming Xerophileby London-based firms AKT II and Cooking Sections was an essay on aridity, testing what could.