Lawrence Abu Hamdan produces works that are hybrids. Located on the threshold between sound and image, they straddle the realm between acoustic analysis and sonic paintings, performative re-enactments and sculptural voiceprints, sworn testimonies and luminescent spectrograms. By breaking the boundaries of inaudibility and translating sound frequencies into art, he incites the viewer to pause, listen and re-consider the inevitability of the 'visual' in the audiovisual, bringing the 'audio' part to the forefront while highlighting its role in surveillance technologies, state violence, human rights violations and legal testimonies. Melissa Gronlund speaks to the recent winner of the Abraaj Group Art Prize about his latest work.
---
Lawrence Abu Hamdan's work revolves around sound – or, rather, what sound touches on. In an artistic practice that comprises installation, video and sonic painting, the Beirut-based artist shows that sound doesn't just travel as a monolith, but rather tells a story, wavelength by wavelength.
His most recent video, Walled Unwalled (2018), is a collection of stories about boundaries. They're each voiced by Abu Hamdan, seen at the microphone in a room-inside-a-room, into which a figure – perhaps him – at times crosses. Abu Hamdan's style throughout the video – for which he won the 2018 Abraaj Group Art Prize – is documentary and quizzical, anecdotal and scientific. Some wavelengths, he notes, are stopped or distorted by certain objects or substances, while others make their way through. Screams, for example, travel. In what is known as ear witness testimony, in this and other works, Abu Hamdan uses the properties of sound to determine conditions and unearth histories that might have otherwise remained forgotten. He employs these formal techniques both in an art world context and, rather more unusually, in legal and human rights research.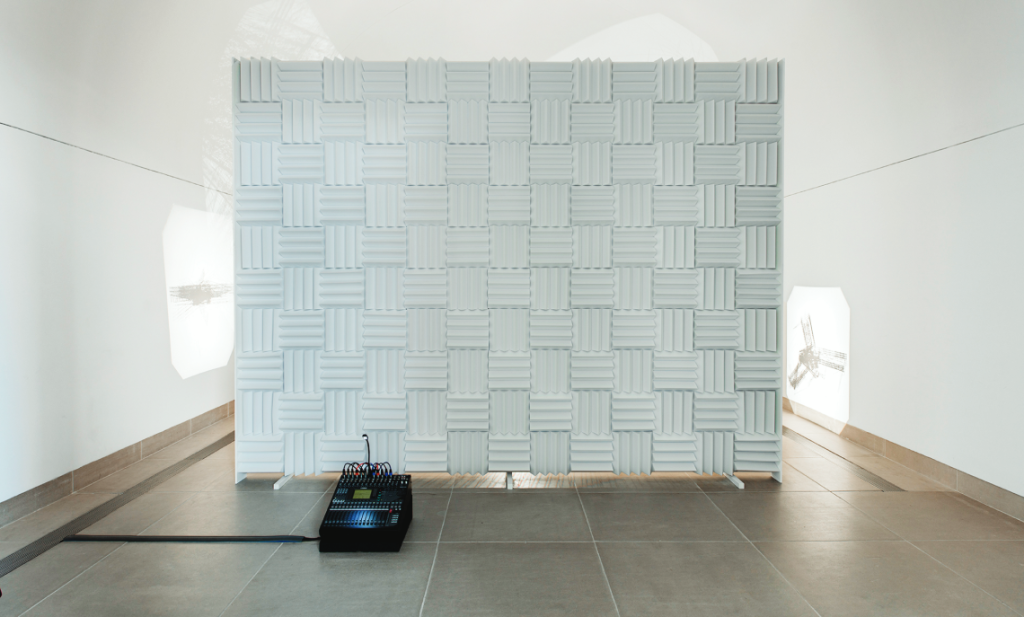 Though he began in music, his career in the art world and in earwitness testimony took off in 2016 after he began interviewing witnesses from Syria's infamous Saydnaya prison, who had been blindfolded for the entire duration of their confinement. The Saydnaya project has come to determine much of the course of the artist's research and artistic practice ever since, with works such as Saydnaya (the missing 19db) (2017) and Walled Unwalled, triangulating the legal, political and formal questions that characterize his remarkable investigations.
"What Saydnaya teaches me is that sound is inseparable from sight," he told me recently, speaking on the phone from Paris, where he was installing a show. "It's factually true that the prisoners at Saydnaya had only heard what was going on, but they had internalized the sounds as images. They were so committed to witnessing the events around them that there was an inseparability in their minds and memories that this act of witnessing was forged from the nature of the relation between sound and sight. Sometimes they'd be able to draw an entire room – including the shape and color – based not on one that they'd seen but on a collection of fragmented experiences prompted through sensory deprivation."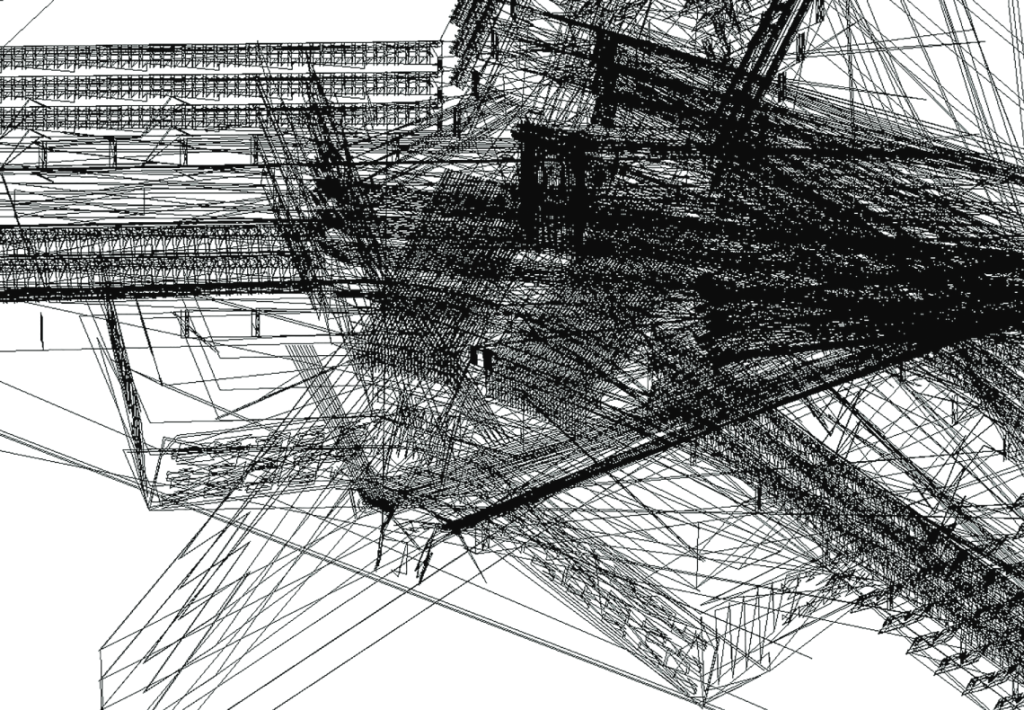 Because the Saydnaya prisoners were blindfolded, it was nearly impossible for human rights researchers or litigants to render the prison's architecture based on their testimonies. But Abu Hamdan, working with the Forensic Architecture research team at London's Goldsmiths University, where he recently completed a Ph.D. on the politics of listening, used his studies of how sound moves in space and bounces off different types of material to reconstruct the physical parameters of the prison in order to get a sense of its scale and the activities that went on there. He used "ray tracing" (an architectural ultrasound) to map out the possible acoustic leakages in the building – where the radiating lines are the sound waves – in a visual cartography, thus making it possible to delineate the shape of the interior in the way they extend, refract and intersects.
Abu Hamdan explained how, in Saydnaya, sensory effects that would barely register in regular life assumed outsized importance: "the echo of a room, the way the air flowed through the space, the smell, the glimpse that they had through the bottom of their blindfold to the ground," he said. "They were not able to tell me, 'I saw through the bottom of my blindfold to the ground…' No, they only heard. Sound was so present for them – it was the embodiment of their sensory deprivation because they were so focused on it – yet the memories were a convolution into other senses because of the nature of memory itself."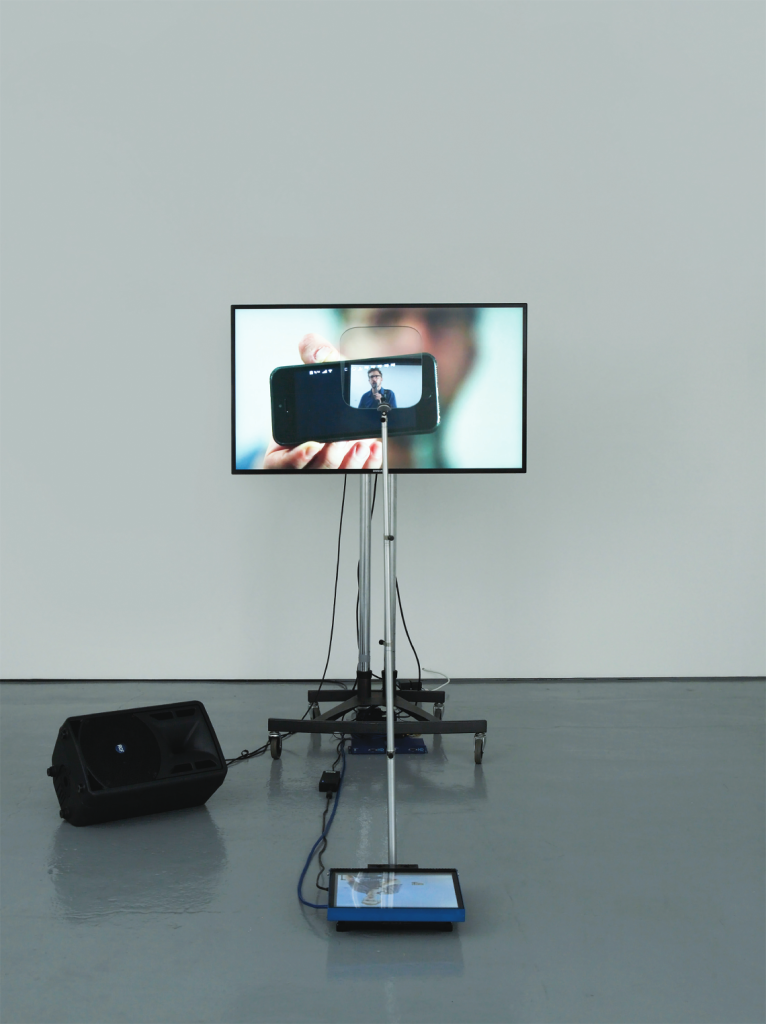 The transposition of one sense into another has been well-theorized throughout art and literature, with the most famous example being that of ekphrasis or the depiction of a visual emblem in a literary form. Abu Hamdan's interest in sound shows him wrestling with a version of this formal problem – as well as its political ramifications – as his recasting of sound in legal and cultural frameworks shows how these are oriented toward the assessment of vision. His work also demonstrates how this kind of sensorial confusion is part of the typology of trauma. In Walled Unwalled, he tells how the very sounds of acts of torture overheard by Saydnaya prisoners through their cell walls became themselves a visceral form of torment. Though Abu Hamdan's work is articulated in a posthuman, technologically aware idiom, when I heard the arresting, senses-jumbling remark that closes the video – "It doesn't feel like someone is hitting a body. It feels like someone is demolishing a wall" – I could only think of one reference: Franz Kafka.
How can sound have a feel? Or, rather, how could it not: how could a body not admit it is moved by the vibrations that animate its molecules? What kind of overemphasis on vision and belief in bodily autonomy is this? Kafka, too, tried to understand how a means of information that is meant for one kind of perception can be diverted to another and painstakingly applied these formal questions to jurisdiction. In his famous story In the Penal Colony (1919), he imagines a torture device in which people would learn about their guilt by having "Honour Thy Superiors" inscribed onto their bodies – a gruesome, and slightly darkly comic, movement away from visual to physical perception. One cannot, of course, read through one's body. The Penal Colony implies that the sentence of guilt is tantamount to its punishment, though there is a catch: what if the prisoner is innocent?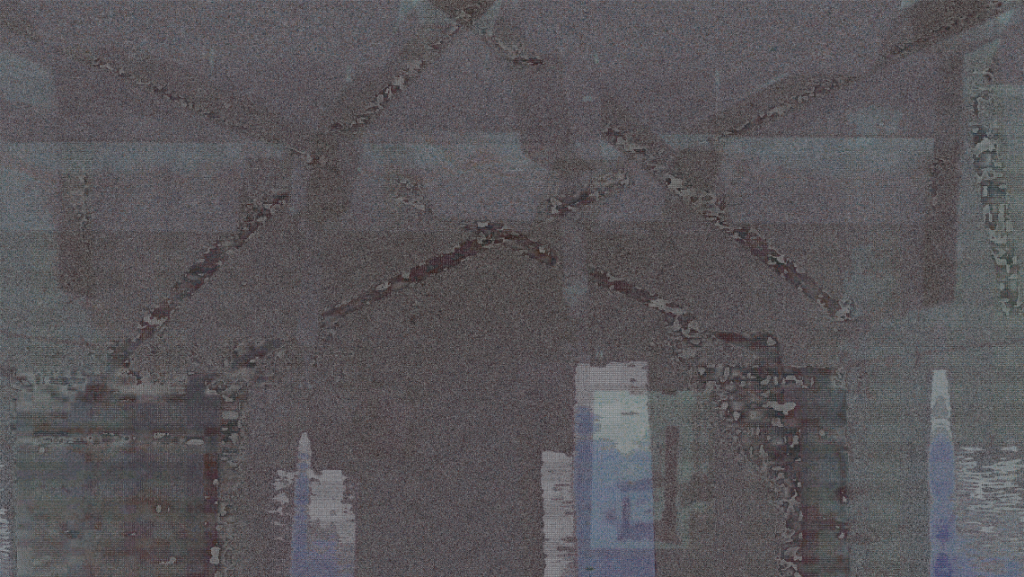 For Abu Hamdan, like Kafka, guilt and innocence are not absolute or even possible: they are negotiable, contingent. The innocence of the two Palestinian teenagers shot with "non-lethal" bullets by Israeli soldiers, which he explores in the video Rubber Coated Steel (2016), recently acquired by Tate Modern, is neither here nor there: the Palestinians are in a protracted conflict that they can't win. (This does not mean Abu Hamdan has wholly abjured the legal system though, he worked with Defence for Children International and the Forensic Architecture team on audio-ballistic analyses of these gunshots involved to prove that live – and therefore lethal – ammunition was indeed fired.) South African athlete Oscar Pistorius, whose case is surveyed in Walled Unwalled, presents a similar relative position of culpability and 'legal' guilt. Kafka's paranoia, his wild imaginings of a place so tense and tightly controlled that the bonds of reality snap like dry rubber – a man turns into a bug, a horse disappears from the horizon, a man waits his life for a trial that never comes – is not far from the world of injustice that Abu Hamdan reviews, in which physical walls are given credence in a world of technological permeability, bodies are seen as either indomitable or disposable, and political machinations overrule human rights.
As is often the case with artistic success though, Abu Hamdan's new notoriety – profiled in The New Yorker, discussed in The Guardian, with a full spate of exhibitions lined up – is coming at a cost. He is opening a show later this year at London's Chisenhale Gallery, which will travel, and during Frieze week he will give performances at Tate Modern's iconic Tanks – which, he notes, are covered in a special breed of sound-deadening acoustic paint.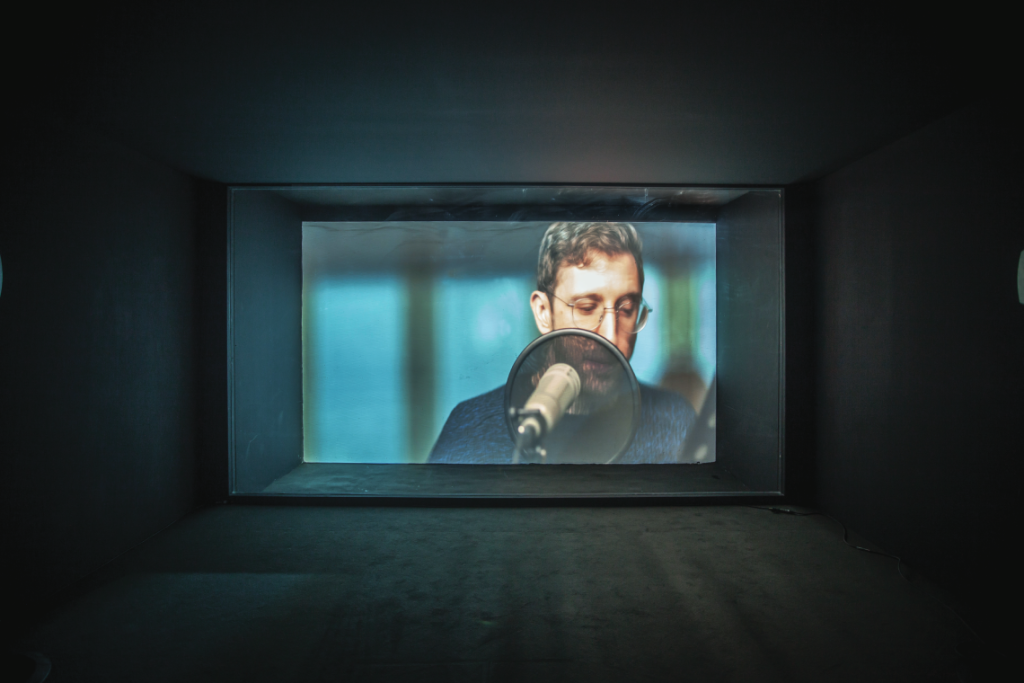 Throughout, he also finds himself trying to divert attention away from himself and back onto the issues that he investigates. It seems that sound – the medium whose formal properties he has flexed to new ends – has shifted from being a means to the object itself of study.
"Sound is one way of accessing these subjects," he explains. "It's not that there's nothing special about sound for me – it's the medium I've always worked in and through, because I come from a music background [mainly in DIY music], and I've always been a listener rather than a reader. There's something specific about my kind of aural attention, but that doesn't mean it's more important than the work people have done with images," he continues, contesting his very USP as we conclude our conversation. "Why it's had a lot of attention and momentum is because people aren't as ready yet to think through sound. Thanks to its proliferation and overuse, we are saturated and don't think about it as much as we do vision."
Abu Hamdan's movement away from vision into sound challenges his audience to come up with a new visual lexicon for sounds that imitate images, or simply for sounds being read on a level of complexity commensurate with our proficiency in reading images. He attempts to make not only the physical walls but also the conceptual divides that separate us from what is knowable – or what could be the truth – more transparent.