Part of the first generation of contemporary Emirati artists and a member of the UAE avant-garde art community, formed in the 1980s, Mohamed Ahmed Ibrahim speaks to
Canvas

about his recent appointment as the UAE's 2022 Venice Biennale representative and how the pandemic has allowed him to rediscover childhood memories and innate knowledge once lost to him.
---
Can you tell us how the pandemic has affected your day-to-day life?
MAI: To be honest, not much has changed for me since it started, as I'm usually engaged anyway in my own space, busy in my studio. Actually, the overall effect on me has been positive, since it has given me the opportunity for self-isolation and enjoyment, which helps my creativity. Part of me is of course missing my friends and how we used to spend time together, but overall I feel great about how my productivity has increased during the pandemic. That's been the biggest gain for me, as I can say that I am free.
Thinking about your work, what impact has the pandemic had on your creative output? It's not really made a difference. You could say that I'm a person who is not easily affected by the conditions around me. Even though I adapt myself to go along with any circumstance, it is not easy for me to change the approach to my work that I have taken for a long time. However, I can say that the pandemic has given me more time to be with myself.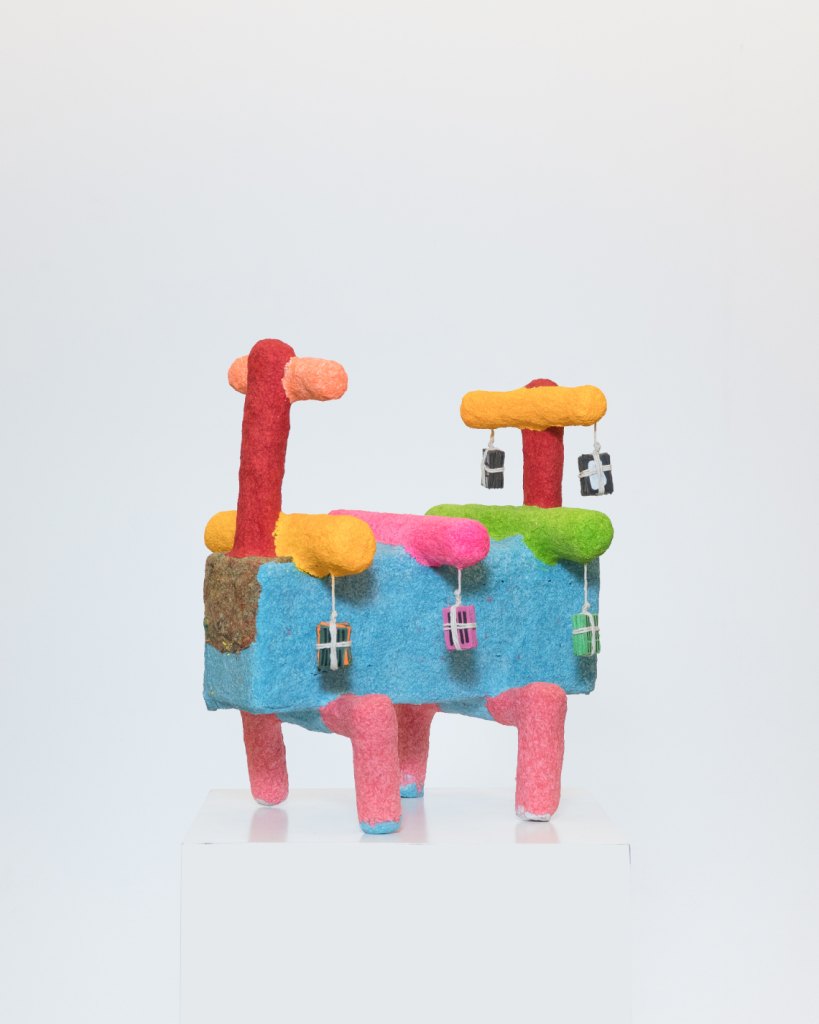 In particular, I escaped back into my childhood through the discovery of knowledge and experiences stored in my memory, many of which had been forgotten because they were not used. So, during my time in lockdown in Khorfakkan, I uncovered what was learned in childhood and created work that was shown in Memory Drum, my recent exhibition at Lawrie Shabibi (ended 12 November).
Have you changed the sort of work you do, or used different media and approaches?
My work continues as usual, regardless of the pandemic. Because I'm not into planning, and I will never be, my work builds itself independently through the very process of creativity and production. Now I've started working on the project for the UAE pavilion for the 2022 Venice Biennale, curated by Maya Allison. It's an honor and great responsibility, as I'm not only representing myself of course. So, I want to do my very best. I'm continuing to work on objects, but I can see things possibly developing in other ways as I continue to use paper-mâché, cardboard and natural materials.
Have you been inspired to produce any new work in direct response to the health crisis and the conditions surrounding it?
These kinds of external changes do not impact my work directly, but they could have indirect influences. Only time will tell.
Do you think there is a special role for the artist at times of global emergency like now, and if so, what should artists be doing?
The pandemic has not affected how I perceive myself as an artist, but at the end of the day, artists are human beings who of course are subject to the same conditions as anyone else. But they must also work to deliver their own particular message and perspective through their art.