Egyptian photographer, architect and ballerina Nelly El Sharkawy explores urbanism in different districts of Cairo to produce a new interpretation of contemporary landscapes. She speaks to Canvas about her ongoing work, Le Carnaval, and why even the most modest buildings have much to say.
---
As someone interested in architecture, photography and ballet are there any commonalities across your practices?
Architecture plays a very important role in my photography perspective and my whole way of thinking. I had always been fond of it as a subject, but studying it made me understand more what I was looking for in my photographs. Ballet has always been my runaway. It's the only time when I shut down my brain, mute all my thoughts and just focus on crafting the perfect moves. It clears my mind and makes me learn to never give up on anything.

What inspired your ongoing work, Le Carnaval, and what has it involved?
Le Carnaval is a project that I originally started in June 2017, highlighting the diversity of the urban fabric found in one district of Cairo. I have been noticing the details of a building, rather than the whole building itself, for so long now that I decided I had to combine all my observations in a series of prototypes representing each district.

Have you noticed particular differences between the districts you've photographed? How do you select the locations?
A whole timeline of architectural styles exists across these districts. Exploring the details of the buildings in each area made me realise how diverse the architectural styles of one district in Cairo can be, from the windows to the doors, the terraces, the entrances, the finishing materials and of course the designs themselves. This diversity reflects directly on the history of the area, as well as on the culture and the richness of each era. It shows huge contradictions but also huge consistencies, as well as reflecting the mindsets, identities, politics, tastes and values of the local people. For this project I chose some of the districts that I think have exceptionally interesting architecture and history; Mokattam, Nasr City, Heliopolis, Maadi and Downtown.

Do you see Le Carnaval ever expanding beyond Cairo?
It's a lifetime project for me, so can continue endlessly. My plan is to finish 15 districts in Cairo, mixing it between some relatively new districts and the historical ones, before moving on to Alexandria and other cities of Egypt.

Has the project changed your perspective of Cairo?
Cairo has always been my home, but Le Carnaval has allowed me to discover the city on myriad levels and connect in a different way with each district and, of course, with myself. I can't claim that the project isn't personal. It all started with Al Mokattam, the district where I have been living for the past 27 years, and my relationship with the area definitely made me look at each building in a personal way. Also, I always hated Nasr City and its architecture, and this definitely affected my perspective while shooting it. But this project has also allowed me to discover some districts that I have never been to and helped me build new relationships with new places.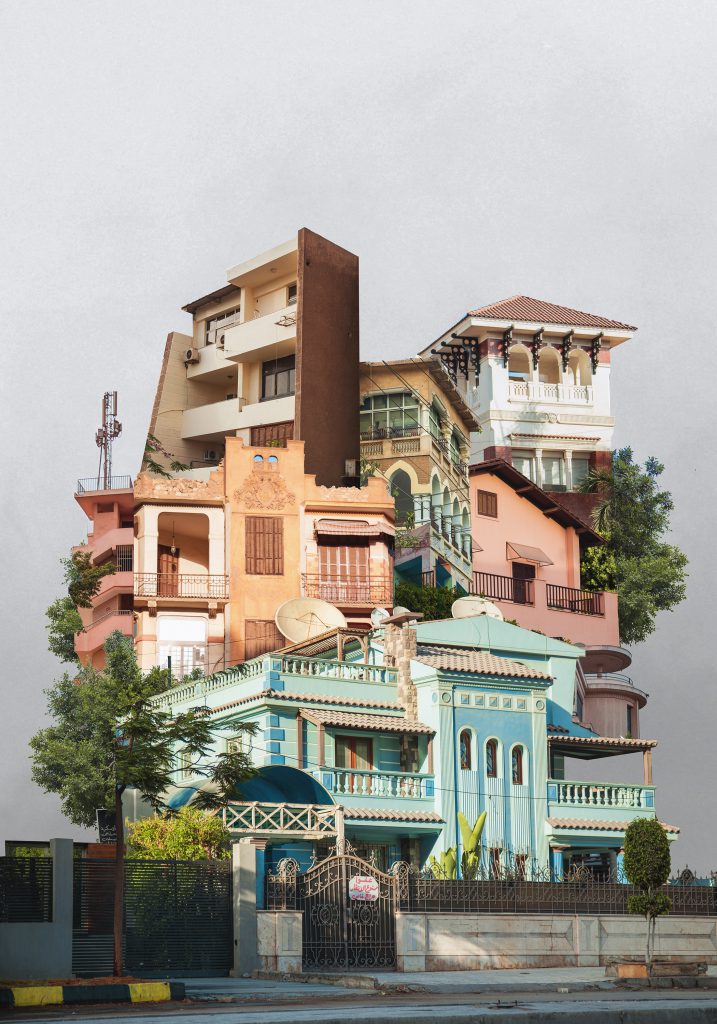 You've spoken before about being inspired by slum architecture. What draws you to it, for example in Unclonable (2019)?
I've always found beauty in the architecture of slums. I knew that this beauty was hidden but somehow we connected, we created our own language and succeeded easily in communicating. The diversity of materials, the colours, the different structures and the organically created layers are a unique mixture and composition that effectively create an unclonable building. It's a powerful manifestation of humanity in architectural housing, a pure translation of how people can use the materials available to meet the basic need for survival. Such buildings are always oppressed and misjudged, but I believe that the problem is only one of context. Removing these buildings from their setting and 'placing' them elsewhere might enable them to speak for themselves and make an independent statement.

Can you discuss the differences between photographing interiors and home life, for example in La vie, la mort (2015), and taking images of external architectural structures? How do the photographs change with the presence of people?
La vie, la mort was my first attempt to photograph people in their homes. I have always preferred to shoot buildings, as my relationship with them is one-way. The building stands on its own and I shoot it the way I see it, so it's more of a me-me thing. The building doesn't react, move or change, so it's always a safe relationship. Unlike when shooting people, which has always intimidated me. When I stand in front of someone, there are a lot of emotions in the way. It's no longer a me- me thing, but rather a me-him/her, with all the human internal complications. It's never easy to stand in front of someone and want them to act is if I were not there, as there's always some sort of tension both ways. That makes it harder and much more personal than shooting dead buildings. With buildings you can always control the output, but with people you never know how the photograph will turn out. It's not yours anymore, it's so much deeper than that.

You also photograph abandoned spaces, as in Machine Mortes (2019), places that were once homes, full of life and industry but which are now empty. What first attracted you to these spaces?
I started discovering my love for abandoned places a couple of years ago. It's gradually turned into a real passion, with a magical feeling hitting me each time I find myself alone in a huge, empty abandoned space. Feelings of power, control, fear and tension all get mixed up together. Tension and the fear of getting into trouble or caught for being in a space that I shouldn't be in are matched with feelings of power and control over the whole space by ruling it all on my own.

In which directions do you see your work heading in future?
Right now I am in the process of playing with photo-collage. I can no longer be satisfied with photographing the reality as it is, so playing with that reality and with the daily context of which we are part has become a very fun game for me. Mixing the textures, materials and architecture from different places and placing them together in one picture puts me in an ongoing "What if?"-style scenario that I really enjoy.
This interview first appeared in Canvas 102: Where is Home?.