---
In this slim volume, the story of arts and culture hub Alserkal Avenue is traced through the decade since its inception. Founded in 2007 by art patron Abdelmonem Bin EisaAlserkal and nestled in the industrial area of Al Quoz, the once-grungy neighbourhood of galleries and shops has been transformed from a patch of real estate to a fully fledged arts organisation with its own programming arm and artist residency. In 2015, the Avenue doubled in size as it took over the site of the Alserkal family's old marble factory.
This expansion saw the arrival of more galleries, the first OMA building in the UAE (Concrete) and the launch of Alserkal Programming, an initiative that commissions site-specific works. It is interesting to learn about the artists who have participated in the programme, which include regional and international names such as Maria Thereza Alves, Mary Ellen Carroll, Mohammed Kazem, Hazem Harb, Farah Al Qasimi, and Hale Tenger.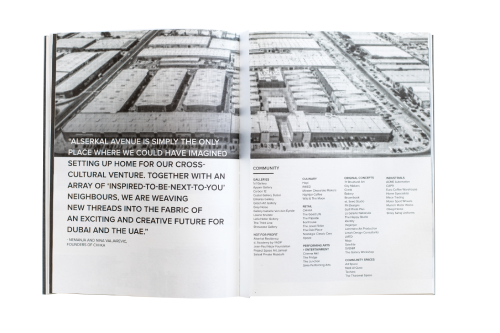 True to its title, the book reads like a journal of sorts, with a scattering of quotes, brainstorming sketches and a series of vignettes that range from behind-the-scenes moments to official visits by 'starchitect' Rem Koolhaas, former French president François Hollande and celebrated artist Michelangelo Pistoletto.
The book also highlights the achievements of the 12 art galleries contained within the compound, which include Leila Heller Gallery, The Third Line, Green Art Gallery, Carbon 12, Gallery Isabelle van den Eynde, Elmarsa Gallery and Lawrie Shabibi. By unfolding its history in snippets rather than heavy blocks of text, Notes on a Decade presents a non-linear narrative, more mood board than documentary. Though presenting only a sliver of the organisation's achievements, this catalogue paints a picture of the Avenue's robust community, a living thing that keeps growing (there's a sneak peek too at another Alserkal development) and has become integral to the region's wider art scene.