From the heart of the Syrian conflict, Othman Moussa continues to craft his exquisite but quietly chilling works inspired by European masters of four centuries ago. Tim Cornwell looks at what makes them so powerful.
In the Damascus home that now doubles up as his studio, five years into the Syrian war, Othman Moussa paints work with the stillness of Vermeer. From his early days at a Syrian art college, the artist was drawn to the still life, the work of the Dutch masters. "For me the subject of silence, or dead nature, as it is called in the French language, is not dead or rigid – it is free life, it can be alive and vibrant with meaning and music," he says.
In one striking, untitled work by Moussa from 2008, soft light from an unseen window washes in from the left; the shadow of a long-handled pan runs down a yellowed wall, the light plays on the golden skin of pears, on the patterned folds of a rug, and creates a white square of reflection on a teapot's glaze. This is nature morte, the still life of fruit, bowl, food, and the Dutch artists of the 17th century, that remain his principal inspiration. These days, however, the works are booby-trapped.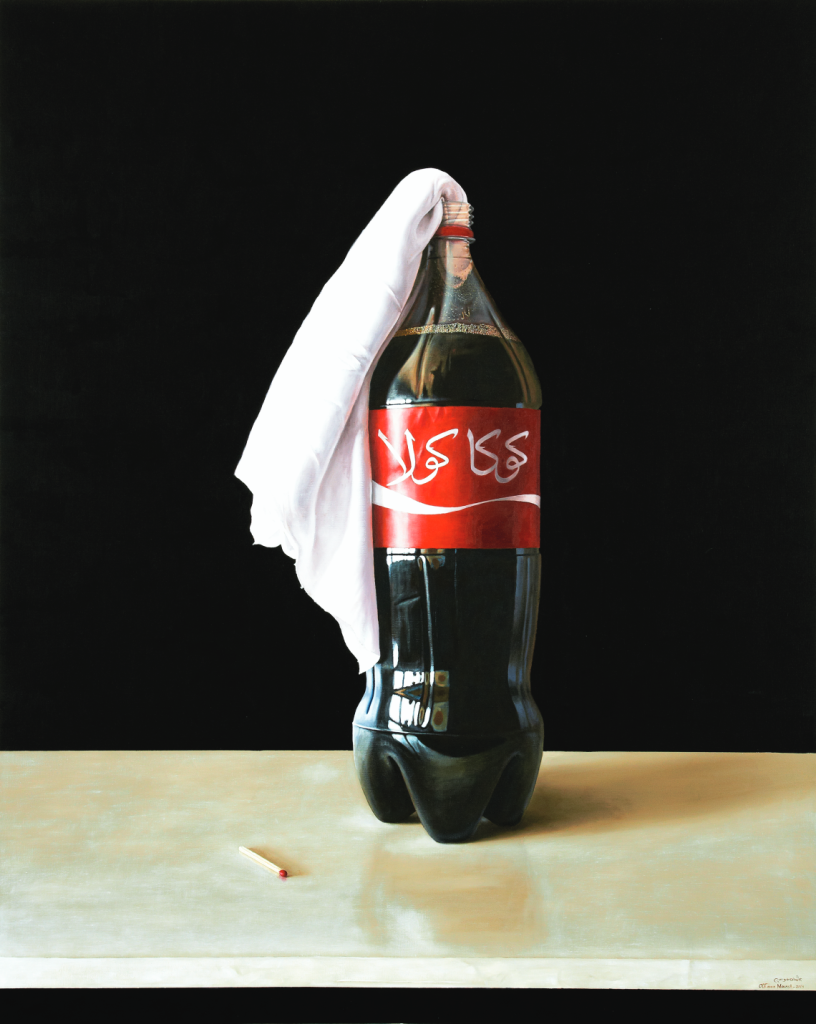 THE PAIN INSIDE
Artists from Pablo Picasso to Diego Rivera have been shaped by the context of conflict. Elias Zayat, one of a handful of contemporary artists to feature in the Aga Khan Museum's current survey of Syrian cultural treasures in Canada, has opted for an infernal vision in his latest canvases. A version of Gustav Klimt's 1907–08 The Kiss by the Syrian artist Tammam Azzam (page 122), superimposed on a war-ravaged apartment block, went viral in 2013. But for his part Othman Moussa seems to have internalized, and domesticated the conflict; as if one could pick up his quietly horrific works around the house, that children could find them in the playground or in the bomb-torn buildings.
Born in Zabadani, on the outskirts of Damascus, in 1974, Moussa came to notice in Ayyam Gallery's competition for emerging artists in 2007 and exhibited for three years in the annual Youth Salon in Damascus, at a time full of optimism and opportunity for both the country and its art scene. In 2014, he was featured in Ayyam'sSyria's Apex Generation show; his perfect golden apple, with the detonating cord instead of a stalk, featured on the cover of the exhibition catalog.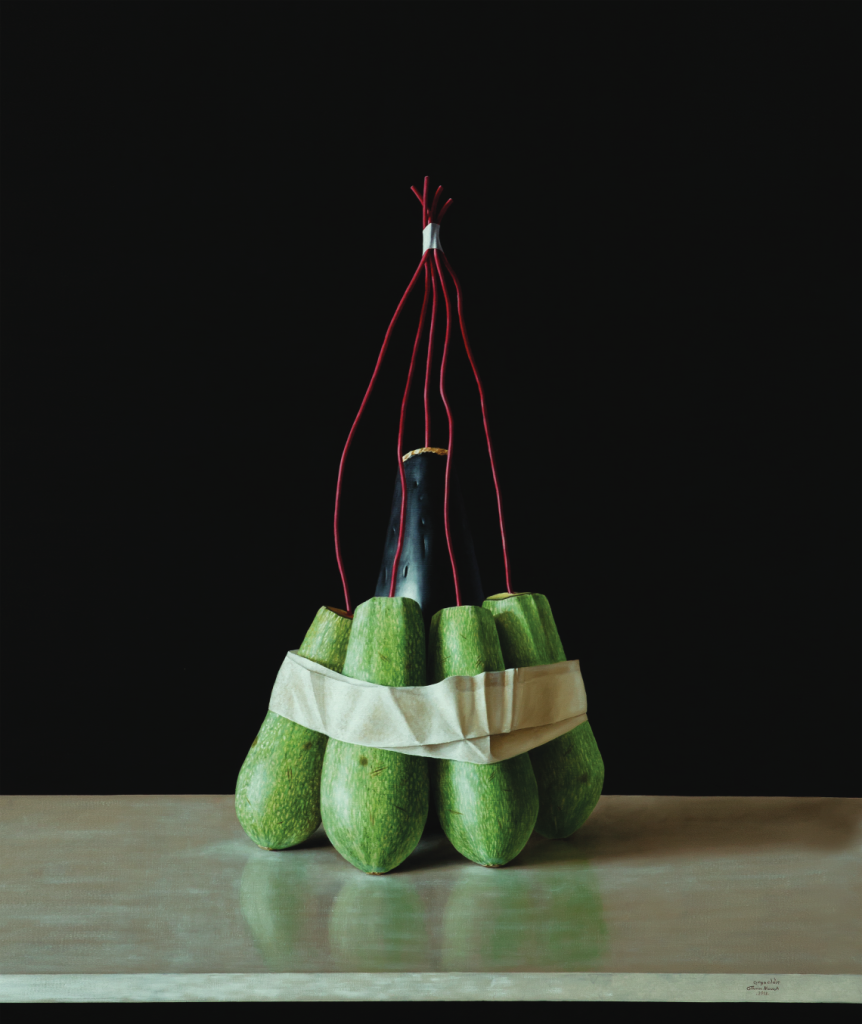 Moussa became fascinated by the still life while still studying at the prestigious Adham Ismail Institute of Plastic Arts in Damascus. (He also trained in sculpture at the Walid Ezzat Sculpture Institute, named after a celebrated artist who was also chief of staff of artillery in the Syrian army and president of the country's judo federation.) "[Still life] is not just a plate for decoration," he writes. "It tells us things, demands that we feel it. Still, lifes function as a stage."
It is hard to see Moussa as the product of an earlier generation of Syrian artists, of masters like Fateh Moudarres. He names among his chief influences Vermeer's contemporary, Willem Kalf, the Dutch painter known for pronk stilleven, or 'ostentatious still life'. These paintings, with the sumptuous feasts of colour they presented, by artists displaying the height of their skills, are read as an essay on the emptiness and transience of life. They echo the darkness of Oscar Wilde's The Picture of Dorian Gray, work that retains the freshness of fruit or fish while the object, and the viewer, withers and dies. The lip-smacking red innards of a hamburger, from Moussa's series The Terror Group (2013), recall the vivid lobster in a Kalf work, Still Life with Drinking-Horn (c.1653). Alongside a brilliant Moussa red pepper is a red stick of explosive, ready for eating. Another piece has a plucked chicken, evoking Goya's Still life, Plucked Turkey and Pan with Fish (1812); but is stuffed with dynamite.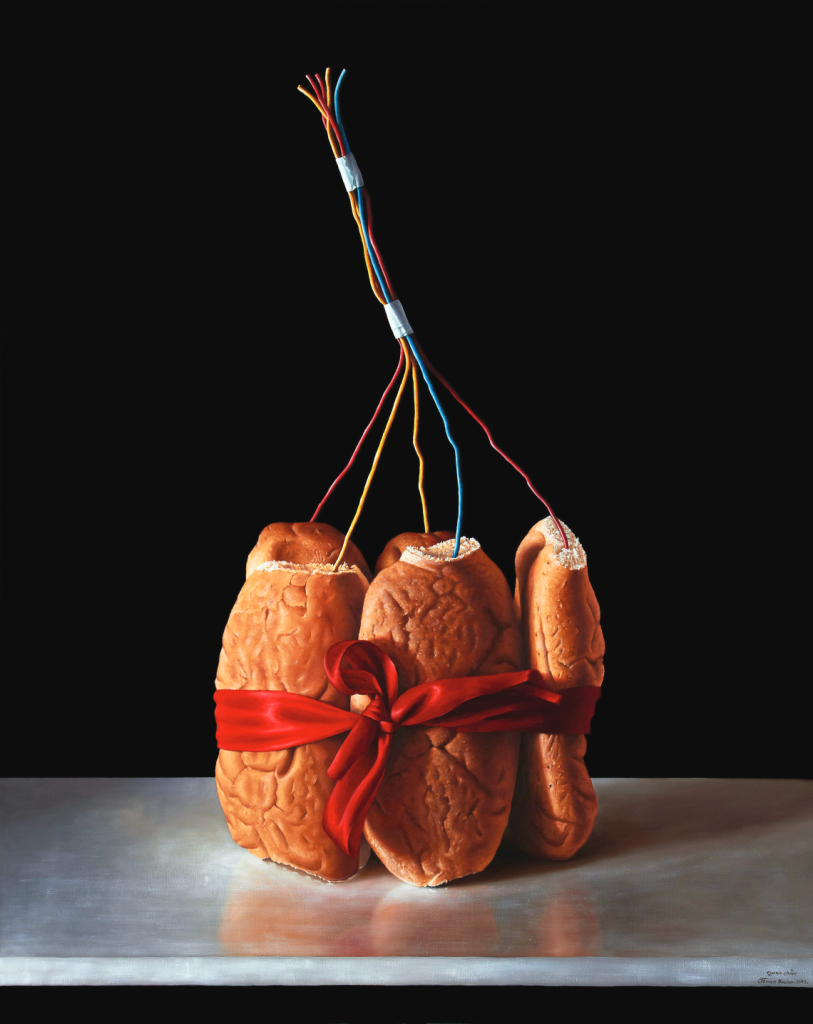 LATENT VIOLENCE
Since well before the war, Moussa's works show an edge of cynicism, and savagery in waiting. A peeled lemon – you can find its inspiration in Banquet Still Life (1644) by Adriaen van Utrecht, another 17th-century Dutch painter – or a sharp-bladed knife, caged in a glass jar. A gas stove on a tabletop, the precious remnants of a chocolate bar in a gold-tinged wrapper, fruit on a brick, cigarettes and bread. The Queen, a regal watermelon in an armchair cloaked in a carpet. As one looks at the works chronologically, a silently explosively element creeps in. The enabled fruit, cloaked by the carpet, is replaced by a skull, bread, a gas cylinder. A smoldering cigar, the burning joker of a pack of cards; time running out. Dark beads of paint from a tube, like blood. Firecrackers or dynamite taped to the watermelon's skin. The most telling of Moussa's responses to war, the destruction beyond the tragedy of Syria's population, urban centers and cultural heritage, are the least obvious. A Coke bottle with an innocent white handkerchief, primed like a cheery Molotov cocktail; a paintbrush suffocated in a condom; a pita bread evoking the membranes of a brain.
Many Syrian artists have taken sides, or taken shelter, in the conflict. Moussa has remained in Damascus, traveling to Beirut until it became too dangerous to do so. He works at home, with his studio in the family house, rather than risk moving around; he occasionally talks on the phone with the portraitist Elias Izoli, another artist who has also stayed. "Most of the time I work at night to be alone, in order to concentrate more," he explains. "What I do is what I love. I paint, I exist, and I believe that I was created to do this, so I will continue regardless of the current circumstances." Artists from Ilya Repin in Russia to Frida Kahlo document their surroundings and have a role to play in war and conflict, he says. "A national war which, as you know, we do not know when it will end – this tragedy and this crime, it may be a long wait. So I think that we should not stop working, despite the harsh conditions here and the seriousness of the situation. Life goes on … and we must also continue, despite the bumps and obstacles and even our fate, which we cannot predict."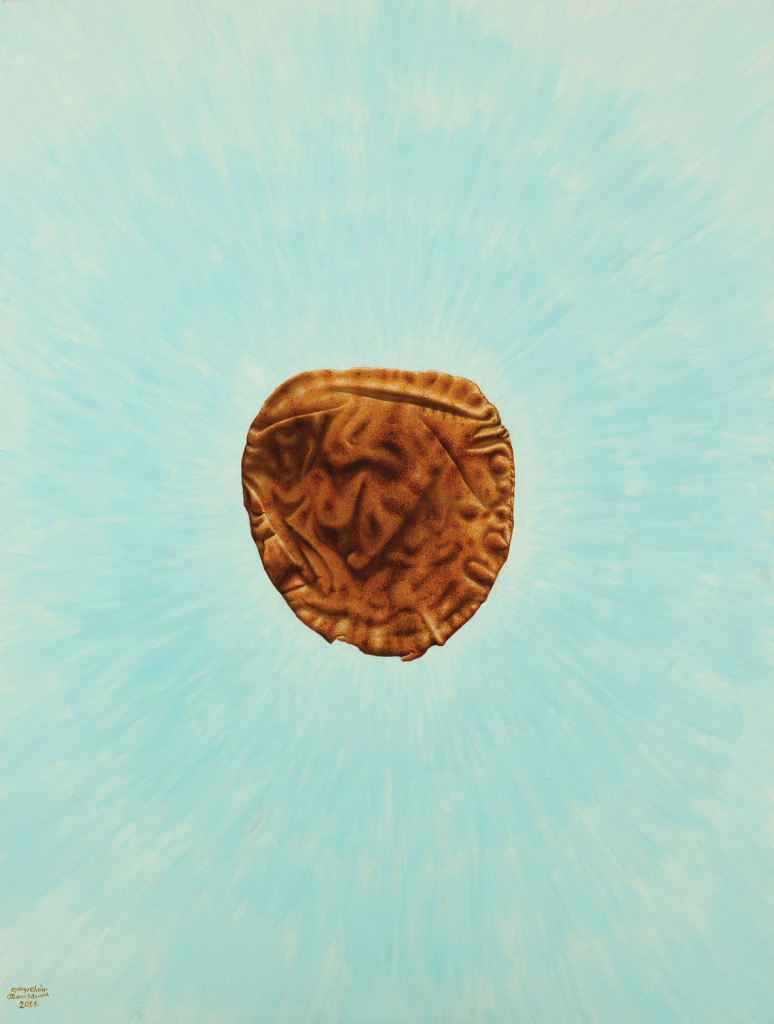 STEALTHY STRENGTH
"Because of the war, everything changed – our food, and even the smallest details in our daily lives, and our relationship to language, how we describe or speak about each thing, and everything really means everything. War uncovered our truths in front of each other and in front of ourselves," Moussa reveals. He describes the objects in his paintings as codes, "which I call representatives, that are performing their roles, especially to say little and hide a lot, and we listen to ourselves in order to hear them."
Milk Bath, a pair of eggs in a bowl of milk, says much, in stillness. Moussa calls it an experiment after Kazimir Malevich, the 20th-century Russian artist. Obvious allusions to Malevich's 1918 work White on White, an exploration of nothingness, appear in other paintings, in white notes tacked on walls. "An egg is a symbol of life – the spirit of rebirth comes from within," Moussa affirms. "Inside the egg a creature will generate. Despite the fragility and weakness, the incubated creature will come to life … but it will not come out if abandoned, and it will hatch very easily despite extreme weakness. You will not be able to hatch the egg from the outside, to break it simply with the click of your finger. Yet that weak creature does it very easily. An egg represents strengths and weaknesses, and contradictions at the same time."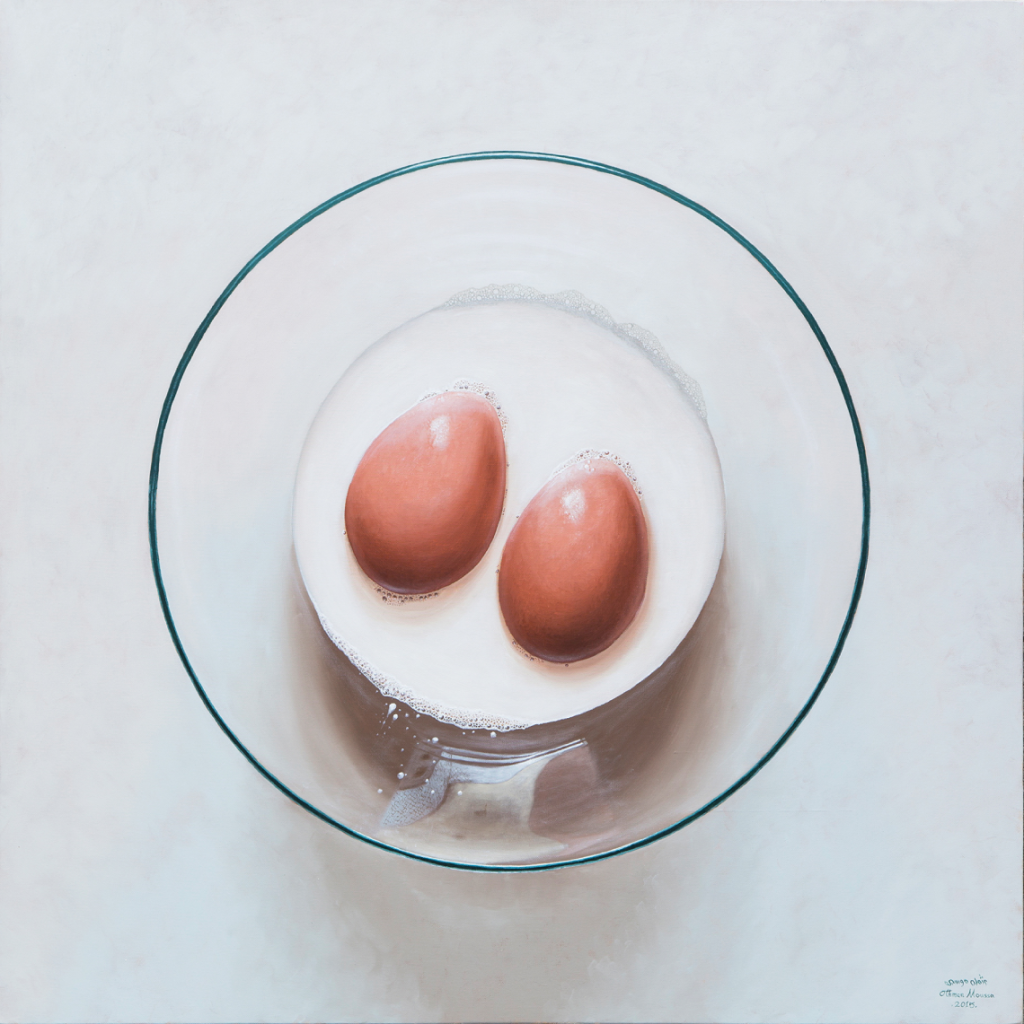 Perhaps the only way to respond to the destruction of a country's cultural heritage – described tellingly by some commentators as an attack on "civilians of the past" – is to create something new. "The impact of the Syrian conflict is very much perceived in the settings of Moussa's paintings, although reflecting everyday life: the violence is part of it," says May Mamarbachi, of Artscoops, the Beirut-based online art platform, who knows his work well. Middle Eastern artists of the past have often used conflict, the Palestinian struggle in particular, to aspire to heroism and hope or define a sense of purpose. Moussa's work does not seem to take sides; it reflects the desperate reality of seemingly unending war. Perhaps it has moved from satire to lament.