Rather like her work, Sarah Abu Abdallah can be hard to grasp upon first meeting. But once you manage to connect with her, you find yourself changed by the encounter. In For the First Time in a Long Time (on view until 20 April), Jameel Arts Centre brings together works produced by Abu Abdallah over the last six years and following her solo showcase at Kunstverein in Hamburg last year. With GCC pop cultural influences and undertones of growing pains, this diaristic display is a study in the anxieties of a connected world and the algorithms that shape our virtual landscapes.
Words by Ruba Al-Sweel
---
A lot about Sarah Abu Abdallah's work involves immersion – in space, in time, in her head, and in that liminal interlude between space-time that is the internet. Abu Abdallah is an idiosyncratic artist whose oeuvre comprises a tapestry of personal anecdotes. But, like a meme that coasts through the web and finds resonance on multiple screens, her work is also reassuring and prompts a keen desire to click 'share'.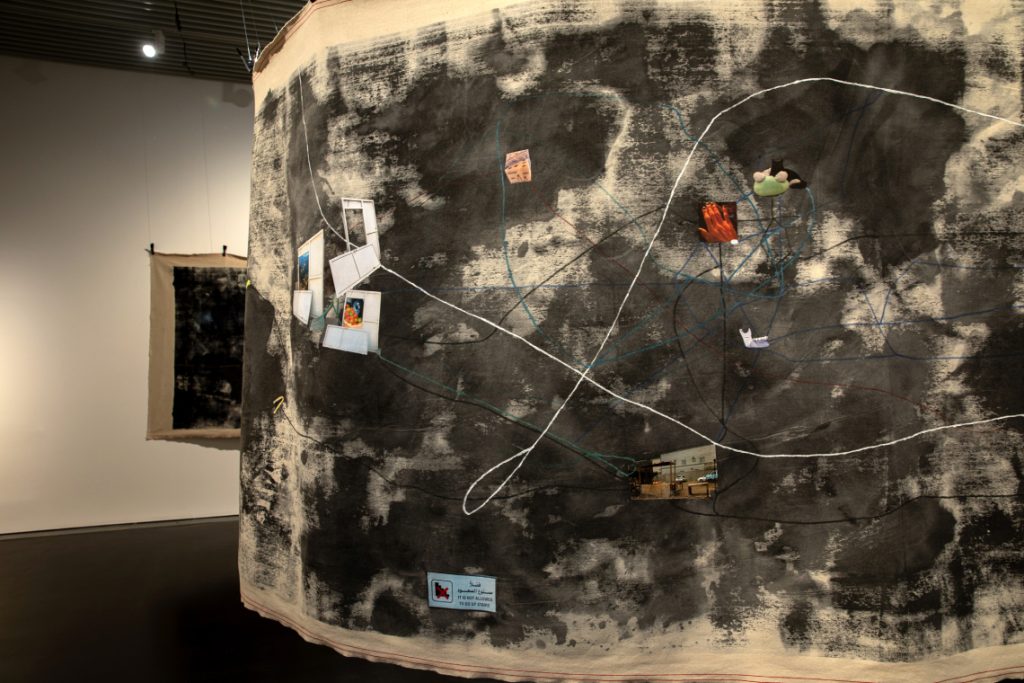 Draping the wall of the Centre's Creekside space is a new work especially commissioned for this Dubai iteration. Entitled Bad Hunches (2019), the billowing acrylic and paper on canvas bears pictures of cats and manga characters as well as scraps of writing. Walking around the painting feels like scrolling down a web page of pop-up ads and a deluge of data that cannot be contained. To Abu Abdallah, the internet is just a different plane of existence and the chaos of forging a virtual identity only serves to enrich real life. "It's a landscape just like any other space in our lives," she told me when I caught up with her on the phone. "My writing mostly happens in realms beyond this one, taking inspiration from dreams I've had the night before for example," she continued.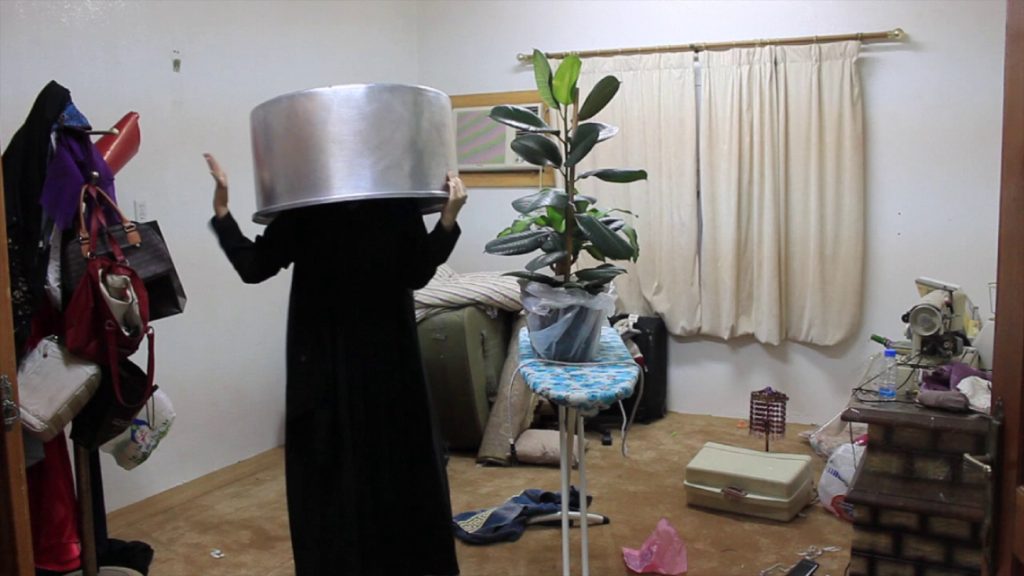 Abu Abdallah, who has a BA in Fine Arts from the University of Sharjah and an MA in Digital Media from the Rhode Island School of Design, goes through long stretches of self-imposed isolation where the internet is her only refuge. It was one fateful summer of boredom that defined her practice and brought about The Salad Zone (2013). Abu Abdallah had just come back home from the U.S. and had very little to do. So she spent her unemployed days in front of screens, binge-watching shows and chatting with friends on Facebook. "I was growing frustrated about not channelling any creative energy," she explained, which perhaps best justifies the punk undertones permeating the 20-minute single-channel video featuring two fully veiled women smashing a large TV. But it's not merely coincidence that the women are redolent of hardcore musicians performing acts of instrument destruction at the end of a gig. "I created it [Salad Zone] at a particular timein my life," explained Abu Abdallah. "I wanted to 'channel' this thing that consumed me and a TV seemed like a good metaphor."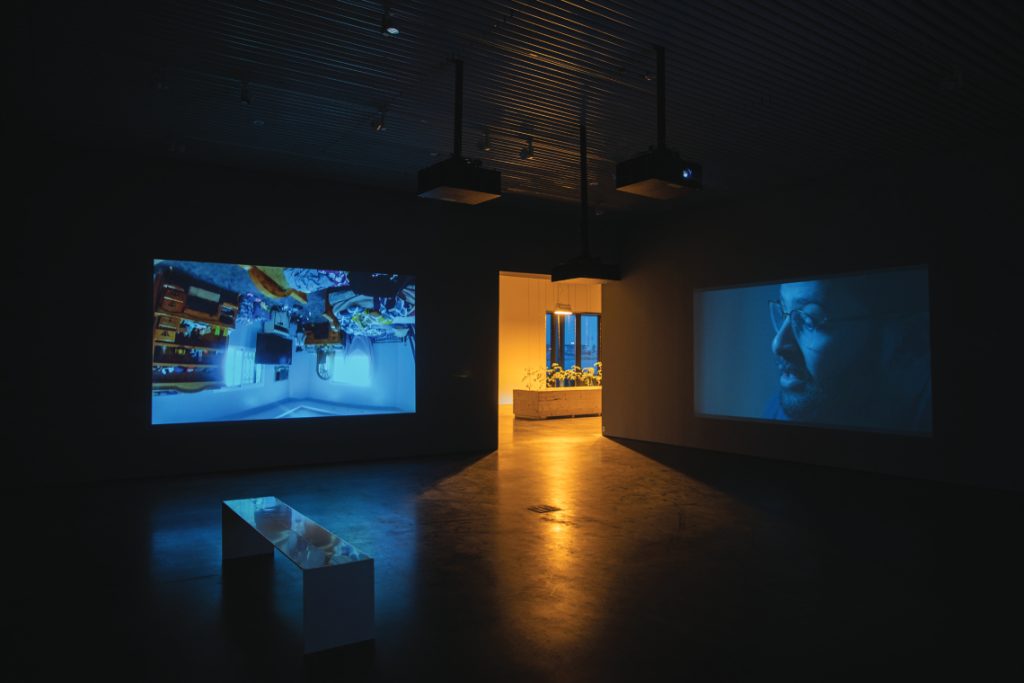 Punk is not the only phenomenon to which the artist pays tribute. In The House That Ate Them Whole (2018), she taps into the djinn mythology that runs deep within domestic whisper networks in the region. The three-channel video projection in a darkened room plays from the perspective of a house, narrating the stories of its residents. "It's funny that one visitor told me she liked the show but that she really thinks that room has weird energies," Abu Abdallah said laughingly, alluding to the fact that people's innermost psychoses are often projected against the four walls of their homes. "I'm interested in domestic places because when you are depressed, even this supposed safe space could swallow you up – the walls become the limits of your world," she continued.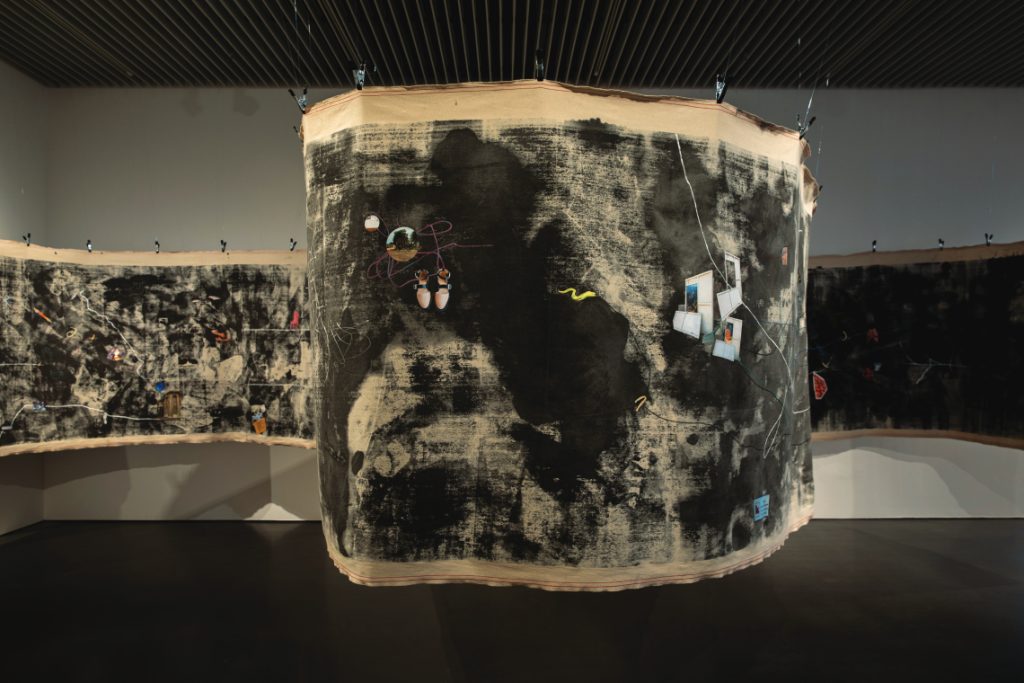 Opting to visualize the unseen is a running theme in Abu Abdallah's work. In Trees Speaking With Each Other (2019), an installation that takes the form of a greenhouse incubating heirloom tomatoes, the artist seeks to preserve a special variety that has now disappeared from the markets of her Qatif hometown due to land grab and urban sprawl. "One day, my dad told me that the farms were gone and I manically tried looking for the last harvest but couldn't find it anywhere," she told me. Still, the artist works her distinctive cheekiness into the subject, somehow managing to encapsulate trade wars, market dynamics and the climate crisis. "Tomatoes are very polarizing – people tend to take really strong stances against having them in their burgers. They are just tomatoes you know, but yet also so much more."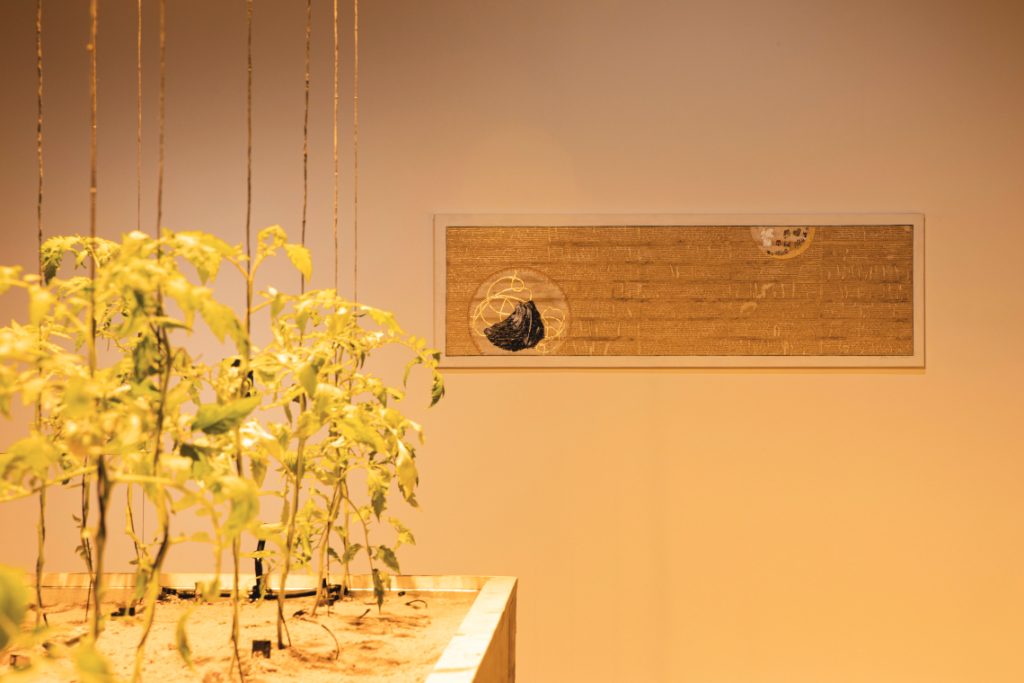 Abu Abdallah is no flash in the pan – she was here way before Saudi Arabia started platforming female creatives and is likely to stay for a while. A lot like her heirloom tomatoes, she'll find space to grow, even if the conditions for growth are not always in her favour.