Inspired by the city in which it was born, Beirut-based Sarah's Bag is renowned for iconic handcrafted products made by underprivileged women and prisoners. In this interview, as noise from the street outside penetrated the shattered glass façades, the founder Sarah Beydoun hopes for new beginnings and a new Lebanon.
---
Will you stay or leave?
I'm staying
My dream for Beirut…
I dream of Beirut as a cultural capital in a free Lebanon.
Beirut past…
The image of the Art Deco façade I had in my shop.

Beirut present…
The nylon and plastic covering the broken façade I have in the shop now.

How will you move forward?
I want to remain in Beirut while opening doors to neighboring countries such as the UAE.

What was the first thing you wanted to protect when the blast happened?
My kids.

What does it mean to be Lebanese?
To be Lebanese is be heartbroken. It's all over the media, but it is so true.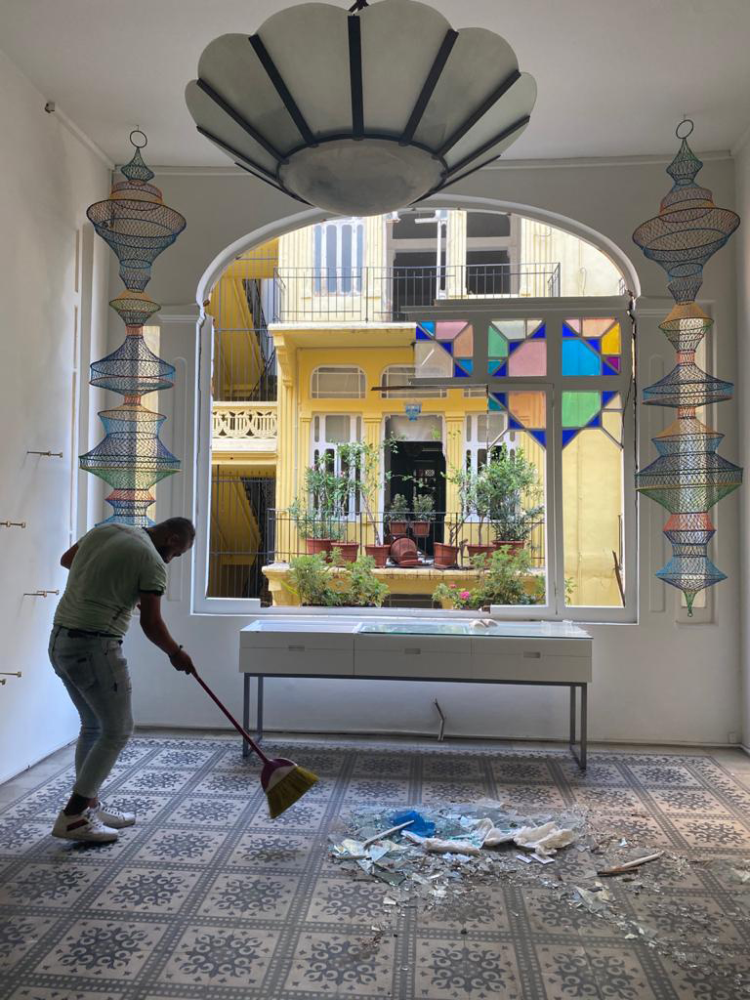 Ali Y. Khadra: I remember there used to be a beautiful tinted glass window here, an architectural pièce de résistance.
Sarah Beydoun: Exactly. When I saw the 1940s window for the first time, I fell in love with it. I knew this would be the place in which we would set up. I didn't repair it right away because I felt I needed everything to sink in – it's such a big loss.
AYK: Earlier you mentioned postponing the repairs in order to take care of your team.
SB: Just before the blast we had an economic crisis, plus the pandemic. So this felt like the last big blow. It was not even Ground Zero, it was like we went underground. There are around 20 people working for me in our workshop, but I have a larger team of over 100 women who do the handiwork from their homes and over 50 women who are working from prison. So I would rather use the money I have to continue working with my team, and carry out the repairs to the building later.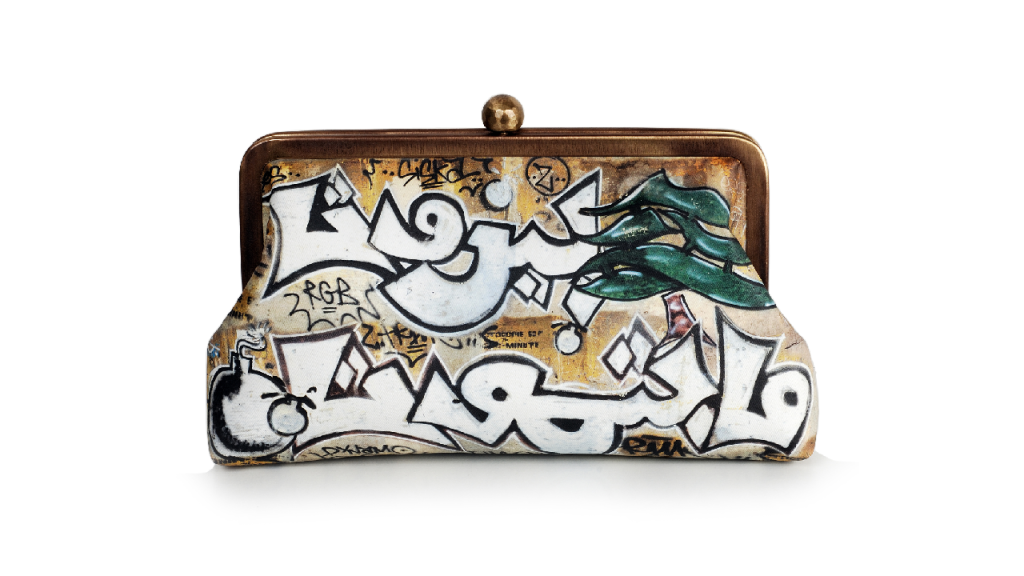 AYK: What was your first reaction when the explosion happened?
SB: I was at the beauty salon after leaving the atelier at 5:30 pm and my first instinct was to take the beautician into the corridor – like we used to do during the war. I started praying loudly and then everything fell down on us. It was chaos. The defining moment is the time spent locating everyone you know. You start thinking: what if? Especially with teenagers, who never answer their phones. I have two boys and one has special needs. He doesn't speak and cannot explain himself, so I just wanted to know if he was alright.
Just Before The Blast, We Had An Economic Crisis, Plus The Pandemic. So This Felt Like The Last Big Blow. It Was Not Even Ground Zero, It Was Like We Went Underground.
AYK: As Lebanese, we've been through a lot. How was this different?
SB: I often say that I will always be in Lebanon unless there is a safety concern. This bomb was like the war condensed. I remember leaving the salon and walking home. It was like the dead walking – like a film. I saw people injured and people carrying people on motorcycles and taking them to hospitals.
What Was Before The Blast Cannot Be What's After. We All Feel That Something Is Going To Happen And We're Going To See Change. We Are Going To See A New Lebanon.
AYK: It's really impressive that, in the absence of government aid, it was the Lebanese people who cleared the streets themselves, helped the injured, and fed the hungry.
SB: It's so sad that the people had to go through all this and then clean up, restore, and live again. During the first few weeks, there was no governmental presence at ground zero. You'd see all the volunteers, young people from universities, cleaning up while the army just stood and watched! In a way, it was very heartbreaking to see, especially as we cannot deny that the bomb is a result of the longstanding corruption here.
AYK: Do you think this has been a tipping point for Beirut?
SB: Definitely. What was before the blast cannot be what's after. We all feel that something is going to happen and we're going to see change. We are going to see a new Lebanon.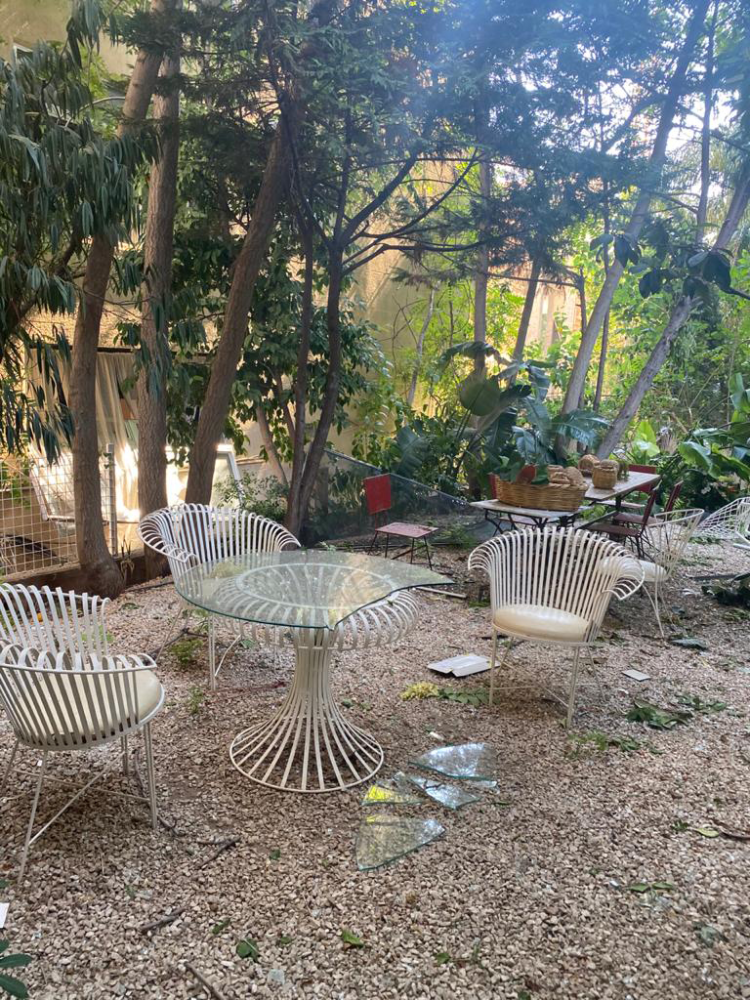 AYK: And how do you think art or design can help in a situation like this?
SB: I really believe that what I do with my team is not just to design accessories. We are an ecosystem. I design with my team at the office and we have artisans who work with us. It's not just me. I want to rise up with my system. That's what I want to do.
AYK: How do you think our readers can help?
SB: By lending a hand to Lebanon and to us as designers – purchasing our product and telling our stories is a form of support. This is the way to go forward because at the moment, it's very hard for us to pick up the pieces and continue.
AYK: What are your hopes for Beirut in the future and what do you think will happen?
SB: I think the whole world is looking at us. We're part of something that's not in our hands anymore. I hope that we will rise up, I hope that we will be the people who will rule and I really hope that change will happen. Maybe this will be the chance for a new beginning.