Tehran-based artist and curator Shabahang Tayyari goes beyond national signifiers and notions of digital interconnectivity. His innovative and uncompromising approach to his art, and to articulating the cultural geographies in which he and millions of other Iranians find themselves, is loud, proud and layered with contradictions. Think Insta, Bauhaus, teenage angst and more – a world all of its own, but with intra-regional implications.
Words by Mahan Moalemi
---
Scrolling through over 5,000 posts and reposts on Shabahang Tayyari's Instagram page can take a lot of time. Through the course of frequent shit posting, some images crop up regularly. In several, for example, large italicized letters set against royal blue and chartreuse green backgrounds fill the frame with phrases like, "Country of Pistachios and Losers", "Country of Saffron and Sycophants" and "Country of Rugs and Whores". Not surprisingly, Tayyari's Bauhausian references include Josef Albers, whose color theory has long been a fixture of visual arts studies in Iran.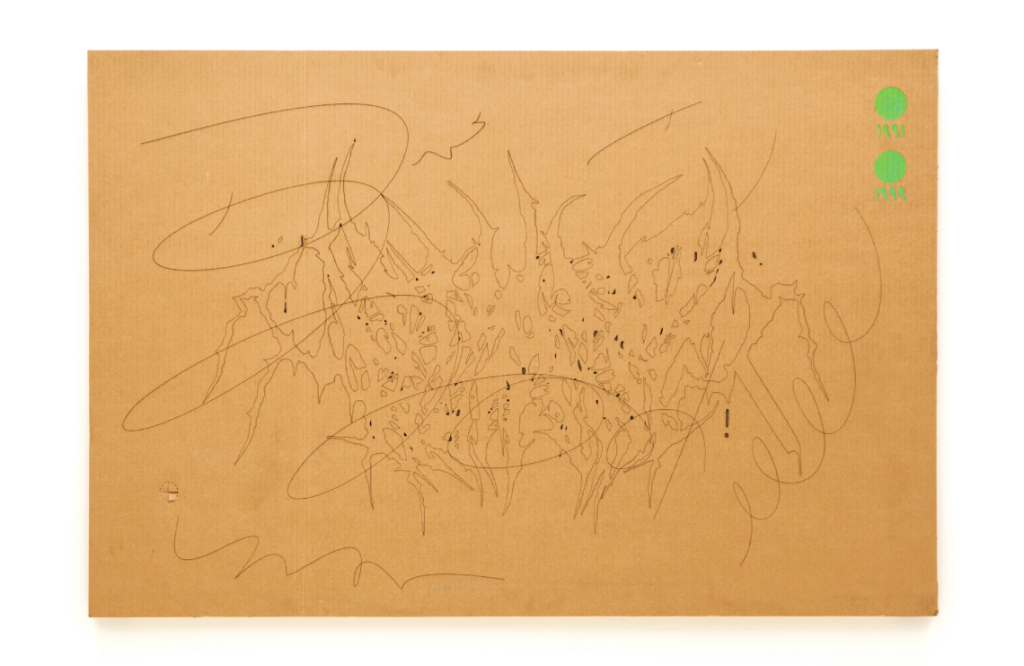 Tayyari is an artist, writer and curator from Karaj, in the suburbs of Tehran. His homegrown exercises in meme-making reveal a contested sense of belonging coupled with dark humour. His Instagram roster of verbal and visual miscellany displays fascination and frustration with certain modes and strategies of identification and representation in contemporary art and vernacular culture. For him, the riddle of identity might seem resolved once every one, no matter where from, posts the same viral image on the same online platform. Though perhaps cynical, this is negativity conceived as a task: post-internet pessimism at full force.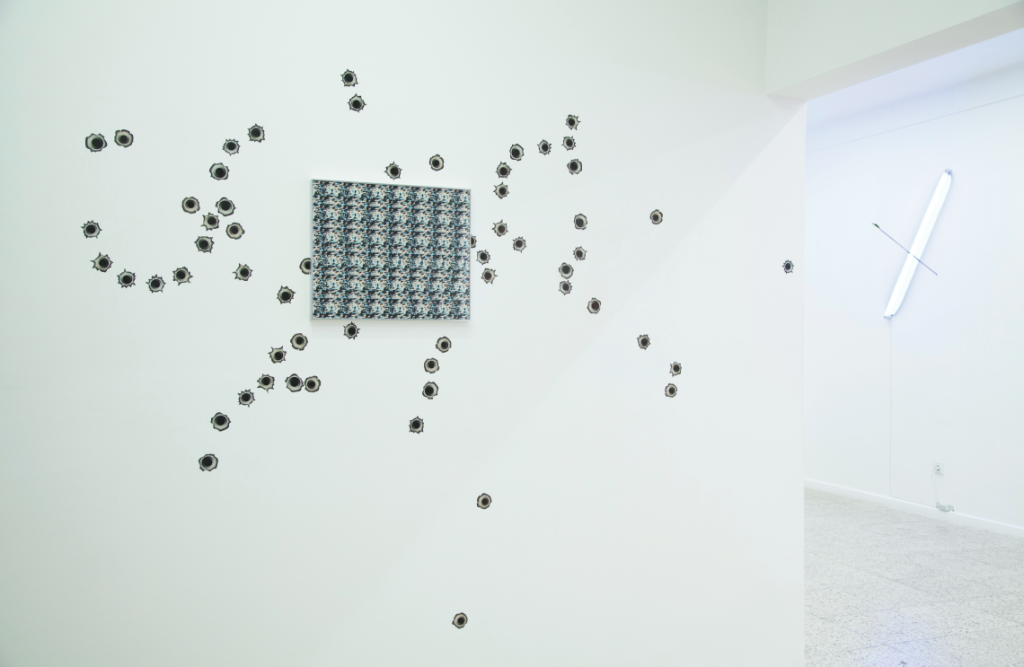 With irony, he takes on notions of digital enchantment – "I'm gonna build a Mosque on Tumblr" – and professional disillusionment: "Let's be MFA Forever". Employing the Thatcherite slogan, "There Is No Such Thing As Society", he features solid colors inscribed with texts like "Art Basel Chechnya" or "Kabul Biennial". All of this presents a critique of inter-scalar agendas of representation that move from the local to the trans-regional or global perspective. At the same time, Tayyari inspires us to ask: How does provincialism survive the internet? Is it possible that contemporary art in particular is functioning as a conduit for the persistence of parochial standpoints? While affording the technological movement of ideas on a planetary level, the art industry cultivates a focus on micro-situations, points of origin and background stories.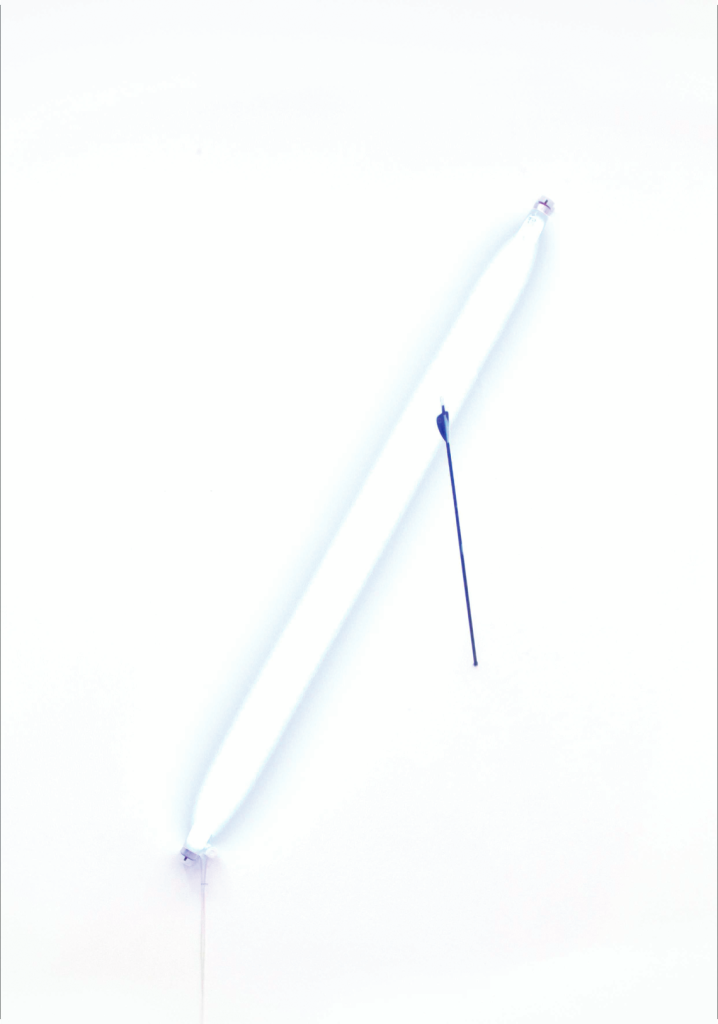 For the past few years, Tayyari has been working as co-director at Delgosha Gallery in Tehran, where he has both exhibited works and curated shows. The title of his most recent solo exhibition there, A Bored Family 2 (December 2017) – akin to that announcement of a blockbuster's comeback – references his 2016 solo at the gallery. The main leitmotif was a set of Rorschach-like laser-cut forms on cardboard, a material that invokes packing or moving as well as the handmade placards used in street protests. Aesthetically driven by the visual language and logos of death metal bands (Darkthroneor Defeated Sanity), they are overlaid to form something "gothic", as Tayyari puts it, or "an old sign carved on the wall of a cave". These tentacular forms build upon a mix of pseudo-organic imagery, religious iconography and ornate calligraphy, held together in a state of semi-symmetry. The oversaturated cluster of marks carved on the surface also suggests a mask, concealing what lies beneath.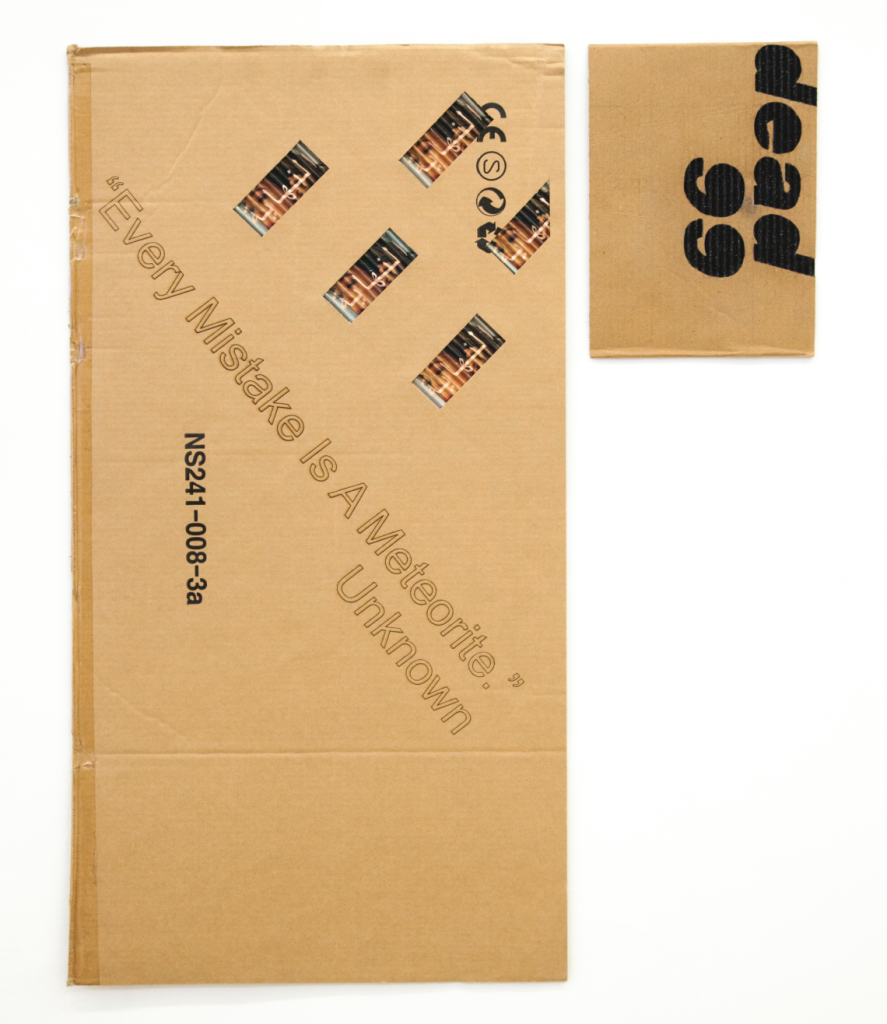 As a teenager in early 2000s Karaj, Tayyari saw metal aesthetics as a matter of lifestyle. "It was a way to show myself and make an identity out of something I had no idea about." After all, it wasn't as if he could have gone online – or anywhere in Iran, for that matter – to buy a ticket for a metal gig, since the genre is widely associated with Satanism. Tayyari and his friends found that hilarious but also enabling. It connected them with the local underground scene, allowing them to cultivate their own groupies and social spaces. These include LAN computer gaming centers, once booming local businesses, where friends gather to socialize, listen to black or death metal, and play Counter-Strike or World of Warcraft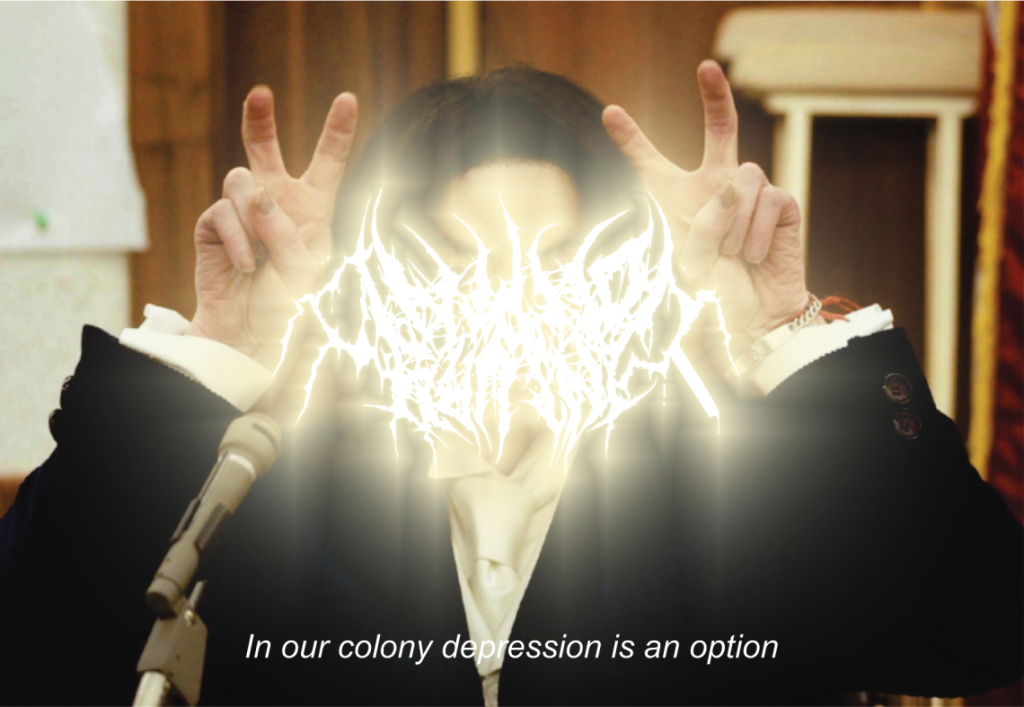 The textual elements in his work include quotations such as crudely translated TV commercials ("with Iran Radiator who goes to cave") or poetry ("sea of sorrow has no shore"). The latter draws from an Iranian poem by RahiMo'ayyeri, adapted by the popular musician HabibollahBadi'e in the 1960s. As Tayyari states in his exhibition text, it's a lyrical phrase that can be found in prison tattoos. But highlighting translation as a means of alienation rather than communication brings poetics back to the surface. "I wanted to bring out another level of meaning out of the quotation," he writes.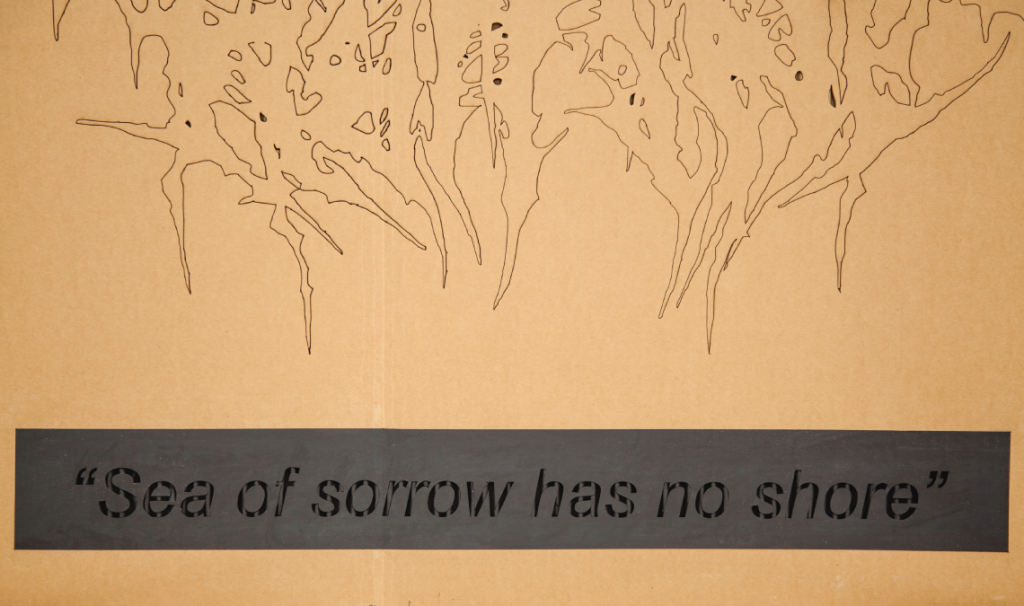 The contours of the landscapes suggested by the "cave" and the "sea" find more definition in a sentence appearing on the back of the invitation card "in our colony depression is an option", which sounds odd enough to be a translation but it isn't one. It's additionally bizarre because Iran (or ancient Persia) has never been a colony, though there might be another geographical imagination at work here, as cities such as Karachi, Qandahar, and Bangkok are summoned in other works in the series, suggesting a trans-regionalism that radiates from within localities and evokes non-Western trajectories. The point seems to be that a community can be depressed and yet still carry a sense of agency. Instead of a direct nod to postcolonial histories of exploitation, the sentence makes a tongue-in-cheek suggestion that even the worst of all shared feelings can function as emotional infrastructures, an aesthetic basis for linking the possibilities for an individual sense of belonging to the conditions of a collective being.
The works in Bored Family 2 reflect an approach that is both sarcastic and post-apocalyptic. Their poetics gesture toward ruinous compositions that seem to have outlived the complex structures of inherited modes of networked communication, of collective identification. By tracing the aesthetics of "info-goth" in existing local, regional and global networks, Tayyari showcases the disparities within them and punctures his own coming-of-age narrative.
Furthermore, neon tubes and arrows dot the white walls; dull lines of light are undermined by the bright white cube and a primitive technology takes aim at haphazard targets. These elements seem to expand on the chain of aphorisms addressing the absurdities of internet trajectories. Small prints coated with gouache gesture toward the aesthetics of advertisement, where facial mask meets corpse paint, replicating the story of fringe identities assimilated into mainstream consumer culture. A line on the facial mask tubes reads: "microwave was a psycho mom", reflecting the unreasonable entanglements between the histories of domestic violence and modern household appliances, evoked in the tragedies that pop up on millions of newsfeeds.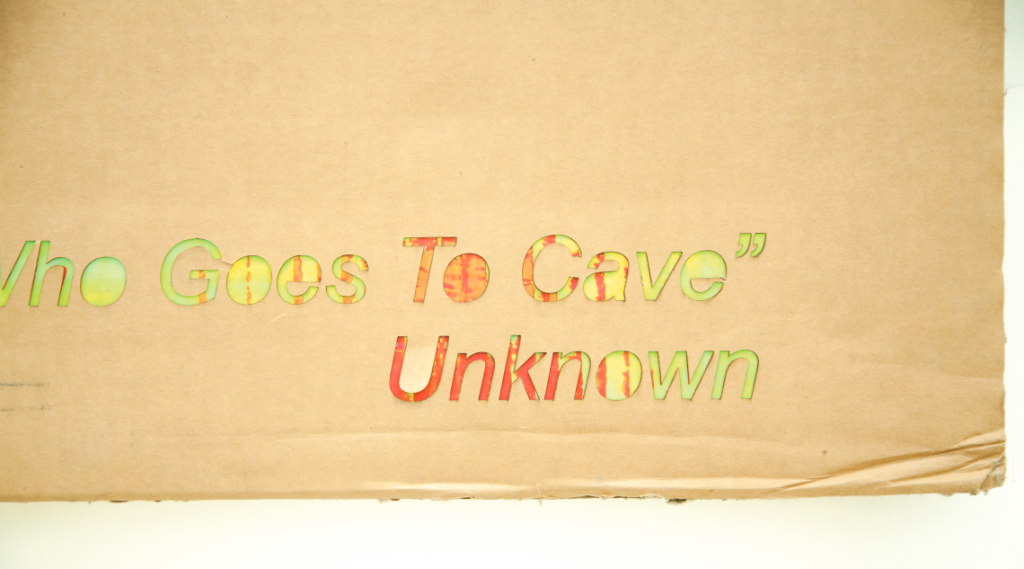 Tayyari also makes zines – mostly laser-printed on regular A4 paper and folded in half, some pages of which look like sketches for larger works, similar to those on his Instagram. Sites for online communication don't serve simply as carriers of what is created offline. They are the sources, if not resources, of Tayyari's activity, and their aesthetics would persist if there were sufficient reasons, or resources, to materialize them IRL (in real life). This points to a survivalist approach necessitated by precarious living conditions – the city of Delgosha, after all, specializes in painting, which is still a much easier medium to sell. As Anselm Franke and Anna Teixeira Pinto have pointed out, survivalism can naturalize the conditions of precarity in the digital age, rendering them inevitable. They speak of the "digital native", a post-internet poster child that inhabits the aforementioned double bind of liquidity, a figure that "masks a sociopolitical loss (the decline in living standards) as an evolutionary gain (millennials have an adaptive advantage)."1
What sets Tayyari's practice apart is his cynical approach toward universalist agendas, found in the professional protocols of global contemporary art, including the fair and biennial formats. He focuses on the manoeuvres that are shaped across the ongoing shift from national identity to digital nativity. There is a key parallel between Tayyari's treatment of metal and how Chechnyan art moguls, for instance, might treat contemporary art via Art Basel – a parallel between the persistence of provincialism and the 'tribal' imaginary of self-fashioned digital natives from a non-universalist, regional viewpoint. He demands that we not see his work in a post-internet lineage that flows from New York to Berlin and then to Tehran. Neither is his reference to a regional viewpoint limited to a given image of the Middle East. Instead, Tayyari propels us to conceive of alternative geographical imaginations – trans-regional junctions that account for alternative links between global registers and lived localities.
1 Anselm Franke and Ana Teixeira Pinto, "Post-Political, Post-Critical, Post-Internet: Why Can't Leftists Be More Like Fascists?," Open! (September 2016).