Organised by the Saudi Art Council, this year's SHARA ART FAIR (18-22 November) saw seven galleries and five designers come together in Jeddah for an exclusive event that sought to affirm the dynamism of the Saudi art scene and provide support for artists.
Words by James Parry
---
Usually held during the Holy Month of Ramadan, the annual Shara Art Fair is supported by the Al Mansouria Foundation and financial services company UBS, with the objective of promoting creativity in contemporary Saudi art and design. This year's edition – the fair's sixth – was postponed until the autumn because of the pandemic and also refocused by the organizers to address the difficult current climate. "Given the unprecedented times we are facing, we gave Shara a new objective of supporting and encouraging young emerging artists and galleries within the Kingdom, who are all enduring very challenging times,"
said Saudi Art Council director, Nada Sheikh-Yasin.
The seven participating galleries – Athr Gallery, Hafez Gallery, 6th Sense Art, Noor Gallery, Tasami Creative Lab, BHAC and Visual Stations – faced an array of logistical obstacles as they prepared for the fair. "This edition was quite surreal, coming after the lockdown and during a health crisis," said Ali Al Ghazzawi, gallery manager at Athr. "It was definitely a mix of emotions, as we were so excited to install art, open up to the public and welcome visitors, collectors and art lovers once again. But it was also challenging in the sense that production houses and art handlers are still recovering from the pandemic hit, which has led to many closures and layoffs. In terms of logistics and execution, we were lucky to have an amazing team and artists who all shared the same hope to make this a reality."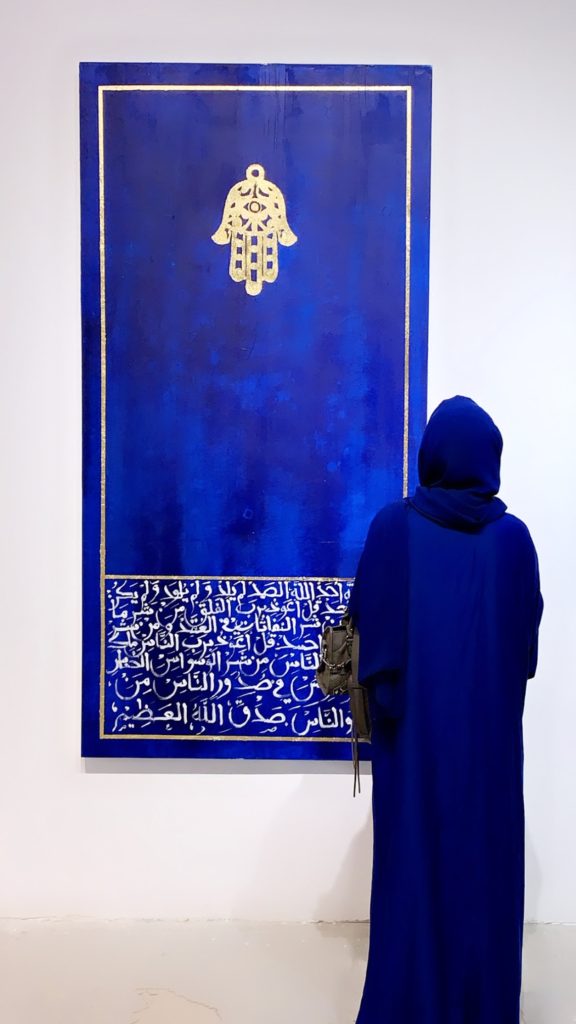 Athr showed works by artists involved in Maan, an initiative created by the gallery in response to the current crisis. It is a production and research fund that works to create limited edition artworks by established artists to help support fellow emerging practitioners, with 50 percent of the sales from the first 25 editions of each work going to support artistic production and research. Participants in the fair included the Maan initiative artists Nasser Al Salem, Dana Awartani, Ayman Yossri Daydban, Sultan Bin Fahad, Ahmed Mater and Muhannad Shono, as well as 11 grant recipients.
Other standouts at the fair included silk screen-on carpet works featuring Superman by Ali Cha'aban, shown at the fair by Hafez Gallery. "These continue my series of self-exploration," explained the artist in conversation with Canvas. "Here I find myself battling between who I am on social media versus who I am in real life and how it reflects on who I really am. Greater access to information presents new risks, as individuals now have the possibility to compare themselves to many other users worldwide."
Tasami Creative Lab presented a group of works under the title From the door to the mihrab, inspired by the Grand Mosque in Mecca. "They were formulated with a personal vision and from different angles, and some works carry the symbol of the carpet as evidence of the importance of worship through remembrances and supplications," explained Tasami's founder and director, Musaed Alhulis. "All the works were created during the COVID-19 pandemic."
The fair's diverse and eclectic range of works helped reinforce the diversity of the current Saudi art and design scene, and the response from visitors and participants alike was regarded as highly positive, given the circumstances. "I think the success of this year's Shara is evident by the number of emerging artists that were able to display their work and had pieces sold," said Sheikh-Yasin. "Moving forward, the objective of the fair has changed and now our resources will be directed more at how we can help support and raise awareness of the emerging art scene, rather than on simply reaching out solely to galleries."