Working between the realms of moving image, photography and sculpture, Turner Prize-winner Steve McQueen is one of the most ground breaking film makers of our time. The year before he represented the UK at the Venice Biennale (2009) saw the release of Hunger, a brutal account of the 1981 hunger strikes by IRA political prisoners. Shame – an unflinching look at sexual addiction – caused even more of an uproar in 2010. McQueen's first retrospective is now on at the Tate Modern offers a 20-year overview that traces his rapier-like engagement with compelling issues of slavery, power and human survival.
Words by Laura Beaney
---
Despite his resounding cinematic success (12 Years a Slave, Widows, Hunger and Shame), Steve McQueen has never cared to be marketable. For him, photography and film are platforms through which to address human suffering by unpacking stark landscapes of resilience. Nonetheless, the British-born Amsterdam-based artist has assured his place not only as one of the first black filmmakers to win an Academy Award for Best Picture but also as one of those extraordinary artists who is unwittingly part of both the mainstream entertainment and rarified art worlds.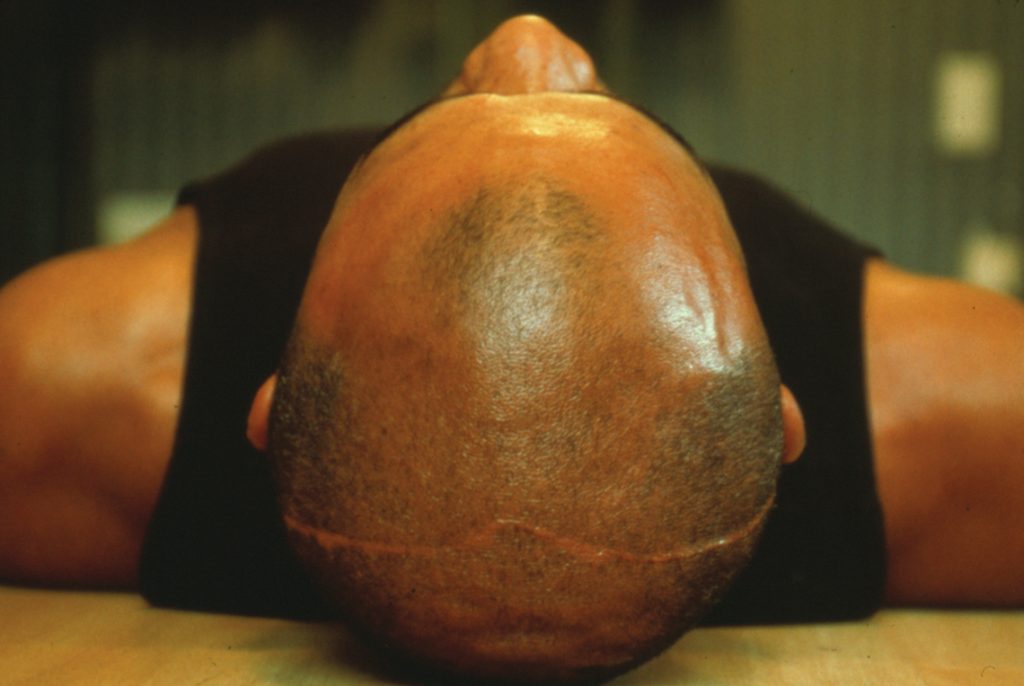 There are political and intellectual threads to McQueen's fame. It makes complete sense that he was the protégé of Paul Gilroy, the academic and historian whose tireless interrogations of racial politics helped to define contemporary thought. In a similar but different vein, McQueen relentlessly contests cultural preconceptions through image-making. The artist's politics are sharpest in film, depicting social inequalities and confronting injustice head-on. In 2013 and 2014, 12 Years a Slave, an adaptation of the eponymous 1853 slave memoir by a free African-American who was sold into slavery on Louisiana plantations, earned McQueen an Academy Award, Golden Globe, Oscar and BAFTA. In his essay, Steve McQueen, Gilroy conveys the artist's sense that he is an heir to a 'vexed history': "He belongs to it, and he makes it belong to him without suggesting any exclusive proprietary claim. This work involves both universal and particular matters. Those options are not, after all, poles apart."
Curator Clara Kim considers this retrospective to be McQueen's homecoming. Forming reparative attachments across time and place, the 14 major works, spanning two decades, open up a dialogue between a colonial past and a present that's pressing for a radical reimagining. McQueen is the only artist to ever receive both an Oscar and the Turner Prize, yet the viewing experience here, both austere and engaging, is far removed from the straightforward linearity of feature film. Screens of different sizes – some of which are suspended in air, others affixed to the walls – occupy a low-lit gallery. The hum of voices and machines whir in sensorial overload as soundtracks to several of McQueen's works can be heard in unison.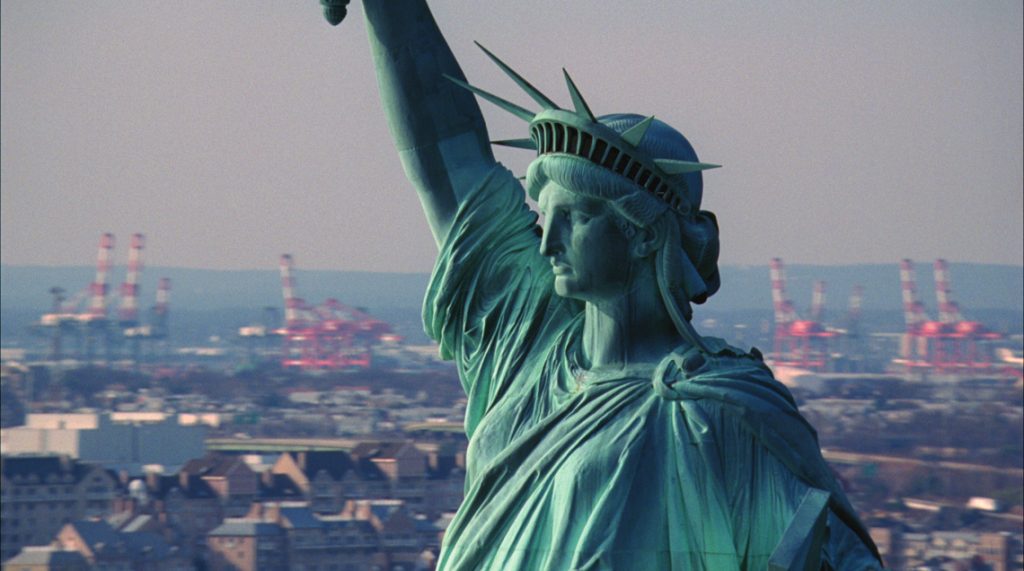 "The exhibition takes over where his last survey exhibition in London left off," Kim says. "It's primarily made up of work produced after 1999, since his breakout moment of single-channel black-and-white works, including Deadpan and Bear." In these, McQueen employs an improvisational approach that seeks to summon reality more closely. Preferring to work with a hand-held camera, he produces images that are part-provisional and part-choreographed with limited post-production editing.
Kim adds that the show includes notable precedents like Exodus (1992-1997), made on the streets of London. The product of an accidental encounter, and shot on Super 8, Exodus lays bare McQueen's interest in the individual and his ability to capture and fix a fleeting moment. The silent, short film sits on the cusp of documentary, but only just. It follows two smartly dressed black men wrapped in overcoats, who navigate through East London's Sunday hustle with pork pie hats. Each gentleman carries a lush potted coconut palm, an unexpected signifier of the tropics that becomes more or less visible as they work their way through the crowds. Eventually, they board a double-decker bus and extend a wave as the vehicle moves away.
Despair and disillusion come close to the fore in later works, but the tenderness witnessed in Exodus endures. Perhaps the most jarring work on display is 7th Nov. (2001) – a minimalist projection of a single 35mm slide. A scar, clean in its formation, wraps across the back of a lying man's head, tracing his skull from ear to ear. The accompanying monologue recounts the day when McQueen's cousin, Marcus, unintentionally shot and killed his own brother.
An interesting evolution in McQueen's work is marked by a shift from silence in films like Exodus to an increasingly dynamic interweaving of voice with sound and image. The two-channel video installation, Ashes (2002–2015), presented in diptych, typifies this development. Recycling Super 8 footage shot for earlier work, one side presents the protagonist (Ashes), a smiling, muscular, young fisherman from Grenada perched upon the prow of a boat (filmed by the Dutch cinematographer Robby Müller). Against the thrashing Caribbean waves, the vessel writhes violently in stomach-churning motion. Ashes, with his bleached hair, muscular skin, pale blue shorts and bone necklace falls into the sea. Climbing aboard once more, he's vulnerable for a moment, before he stands tall, regaining composure and power as water flicks onto the camera lens. In a queasy shift, the second film, projected simultaneously, depicts two men shoveling a neatly measured grave for Ashes. Against the rough waves, an audio plays out over the clamour of workers' tools. A friend of Ashes relays the way in which he died at the hands of drug dealers: "When they came for him, they said: 'Come, let's go.' He says: 'I'm not going anywhere with all of you if you have to kill me, kill me here in me people's presence for them to see…' And then they shoot him."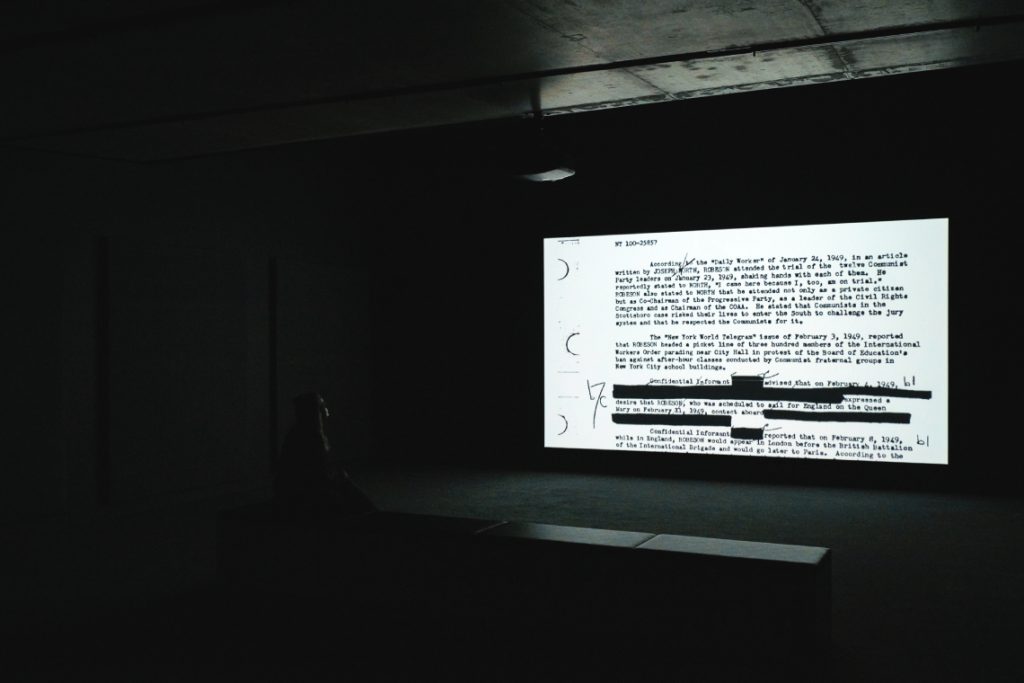 McQueen's black characters either fall victim to random or systemic acts of violence, while others are repressed by structures of dominance. Weight (2016), the only sculpture in the exhibition, is a prison bed frame draped with a gold-plated mosquito net that reveals McQueen's ideas on imprisonment, in relation to Oscar Wilde in particular, while also alluding more generally to the power of the mind and imagination in breaking free. End Credits (2012–ongoing) is the artist's continuing commentary on, and interrogation of, the case of African-American actor, singer and civil rights activist Paul Robeson (1898–1976), whose successful career in performance was overshadowed by FBI surveillance in the 1950s. Slides detailing the Bureau's reportage on Robeson move in a sequence against voices reciting from heavily redacted documents.
In an interview published by the Whitney Museum in 2016, Dr Cornel Ronald West suggests to McQueen that black music and black art have always been sites that the 'powers that be' tend to keep close control over. "It provides a foretaste of freedom for an unfree people, artists in that sense are the vanguards of the species," West asserts. In light of McQueen's trajectory here, his work can be considered an alternative archive. It is in this sense that we can consider McQueen a truth-seeker. His art, beyond its ability to capture moments as both document and allegory, is emblematic of someone who lives with their eyes wide open, constantly searching, questioning and representing the hidden.