Publisher: Rizzoli
Publication date: 2018
Pages: 376
Price: $57
tabletales.me
Canvas rating:****
---
A self-proclaimed "recipe hunter", Hanan Sayed Worrell's new book blends recipes and anecdotes from 40 individuals,mostly expatriate but with a few locals, all of whom have made Abu Dhabi their home. Worrell, who is Lebanese- Egyptian-American, first came to the Emirate in the 1990s with her husband. Since then, she has witnessed the city grow and forged strong friendships personally and professionally, including those developed during her advisory role at cultural institutions such as New York University Abu Dhabi and the Solomon R. Guggenheim Foundation in Abu Dhabi.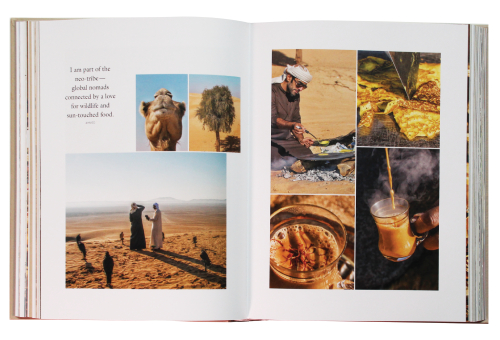 To create this volume, she reached out to her vast network of ambassadors, art professionals, designers and entrepreneurs, and asked them share their most-beloved recipes, which draw from Indian, Italian, Syrian, Japanese, and Afghan cuisines (among others). Worrell then weaves in their personal narratives, of how they came to the city and carved out their own communities – essentially, how they built new ideas of permanence despite the transitory nature of life in the Gulf. "I began dreaming of a book that, with its weight and solidness, could capture a moment in time.
A book that would say, 'We were here, and this is what we ate, and this is who we became'," she says. Indeed, the recipes featured reveal how food is a cultural marker, evoking memories of family or emphasizing heritage. For example, historian Frauke Heard-Bey shares her ApfeltorteOhneDeckel (Apple Tart without a Lid), which was the first recipe she translated from her great-great-grandmother's cookbook. In another section, UAE Minister of State Zaki Nusseibeh reveals his afternoon tea routine – a cup of za'atar chai with dates from Al Ain – as he recalls how the late HH Sheikh Zayed bin Sultan Al Nahyan emphasized the importance of a country producing its own food.
These encounters offer an intimate portrait of the individuals that make up UAE society, and the author's talent lies in her ability to draw out these stories authentically – then balancing them with some history and notes on food preparation. And Worrell's not done collecting stories: "With every newcomer that I welcome, I discover another layer of the city."