For more than a decade, artist and composer TAREK ATOUI has led the way with his experimental and innovative forms of sound in art. His current show for the Sharjah Art Foundation, Tarek Atoui: Cycles in 11 (ends 10 April 2021), sees Bait Al Serkal converted into a sound laboratory and performance space as Atoui continues his highly interactive journey.
What do we talk about when we talk about sound art? Is it all in the exhibition catalogue? Will I read it on the bus ride back, then cross-reference it with miscellaneous YouTube videos? I have a battered copy at home from the soft opening, a copy from last Friday in my backpack, and now I pick up a third as I walk into Bait Al Serkalin the Sharjah Art Foundation's Arts Square.
Tarek Atoui: Cycles in 11 gathers under one roof works by the Lebanese sound artist and long-term Sharjah Art Foundation affiliate that span more than a decade. I navigate the exhibition with a booklet in hand his time. I'm trying to think of this all as a sort of empty institution, giving me condensed bursts of insight into a discipline that I've always been intimidated to write about. There is a sonic, thematic and historic significance to many of these pieces that I hope I can pick apart and isolate.
I sit on bean bags in a room filled with looping archival footage and watch Atoui's work unfold in and out of Sharjah. So much of his process is intent on moving the artists and audience members towards a private and collective understanding, calmly nudging his participants towards a grasp of sound that is much more whole body.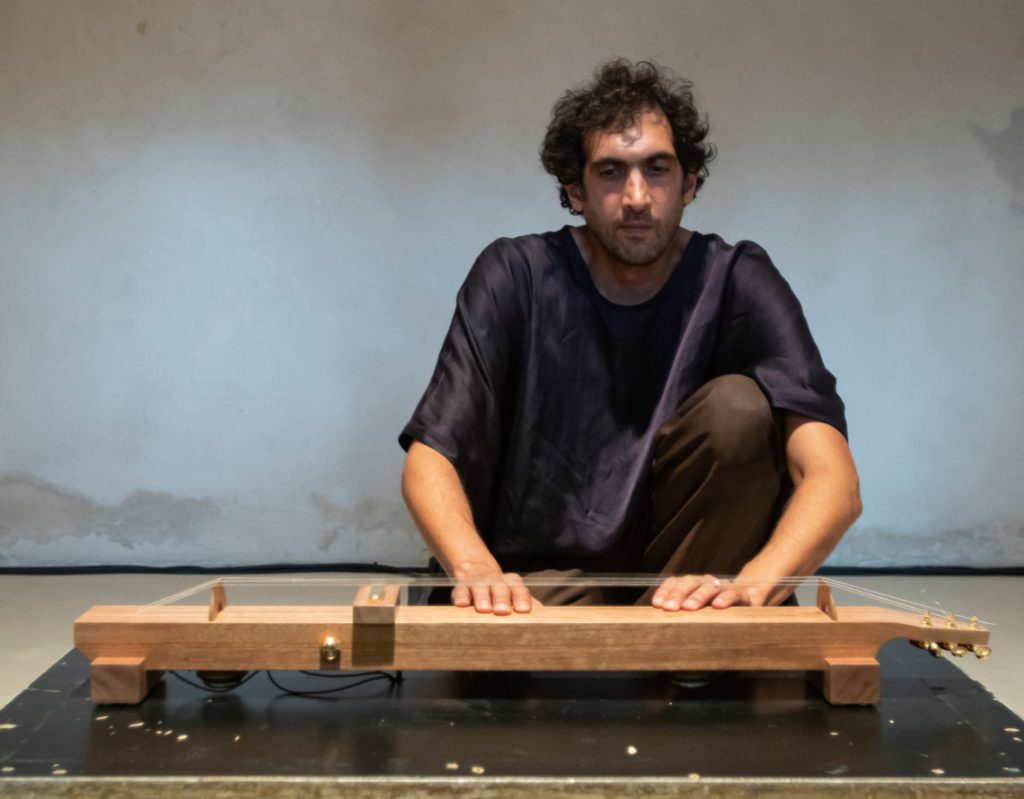 One of the rooms is bolted but not locked. I slide in and half-heartedlyrun my fingertips across the multipatterned surfaces of Iteration onDrums #1 (2016), a percussion table built to conduct sound throughits wooden surface instead of the air. Some minutes later I switchon another out-of-action piece tucked into a corner, The Oroborus(2016), and place one of the speakers against my throat as per thecatalogue description. I can feel and hear a mouthful of something asI work my jaws open and closed, butlater on watch Atoui working the instrument online and realise that I hadn't been operating it correctly.
Not surprising at all.
I keep returning to the central courtyard. The Wave (2019), acomposition for nine instruments in open air,begins to peak now.Cow bone on volcanic rock, electronic harmonica, and sampling fromseaports in Abu Dhabi, Athens and Singapore make up some of thesynthetic and organic noise that regularly imprints on the surroundingflora and architecture. I seek out unseen works in corners and under lowhangingtree boughs and shrubbery, frenzy-like, as Horns of Putin (2014–19) agitates the various niggling screeches and scratches towards acrescendo. I look at the surrounding plants and the brick floor differentlynow, my senses overloaded. It feels like the end of my visit.After leaving Arts Square I begin my walk back to the central busstation. A former apartment building comes into view, now beautifullygutted. Rubble and corrugated steel are displaced by a bulldozer, and construction workers enforce a strict 'no-recording' policy. A stretchof dilapidated shopfronts is fenced off, and there will continue to beso much breaking glass and bursting concrete, well into Cycles in 11's last months.
I always struggle to harmonise the structured retrospection of theseexhibitions and all that I see and hear on my to-and-from. How often andhow loud do you need to sound off until you've well and truly become local noise?