Spread across the city in curated exhibitions and nine national pavilions, the 14th Gwangju Biennale highlights the strengths of diversity.
---
The dignitaries had left when Tarek Atoui took to the stage, a gazebo awning sheltering ad hoc percussive instruments, drums, and electronics. Aptly for a biennial with the curatorial title soft and weak like water rain fell torrentially, the rows of politicians, art glitterati, and VIPs – who had been issued with plastic raincoats – departed for opening parties as soon as the formal opening concluded. All, that is, except for Siwon Choi, K-Pop idol, actor and honorary ambassador of Gwangju Biennale. The music Atoui sculpted from his instruments using various local ceramics as tools couldn't be further from the meticulous overproduction of Siwon's boyband Super Junior, yet near-alone he remained watching until the climax of Atoui's performance, seemingly for pleasure not duty.
Across four vast exhibition halls, four offsite venues and nine national pavilions, Gwangju Biennale includes work from global artists, with a focus upon Asia and indigenous communities. Overseen by Artistic Director Sook-Kyung Lee, Senior Curator of International Art at Tate Modern, the curatorial theme is only partially about water's physicality – an on-trend anthropogenic theme – but also taking interest with water's apparent fluid gentleness, transformed when enough comes together in one space, often with great power and force.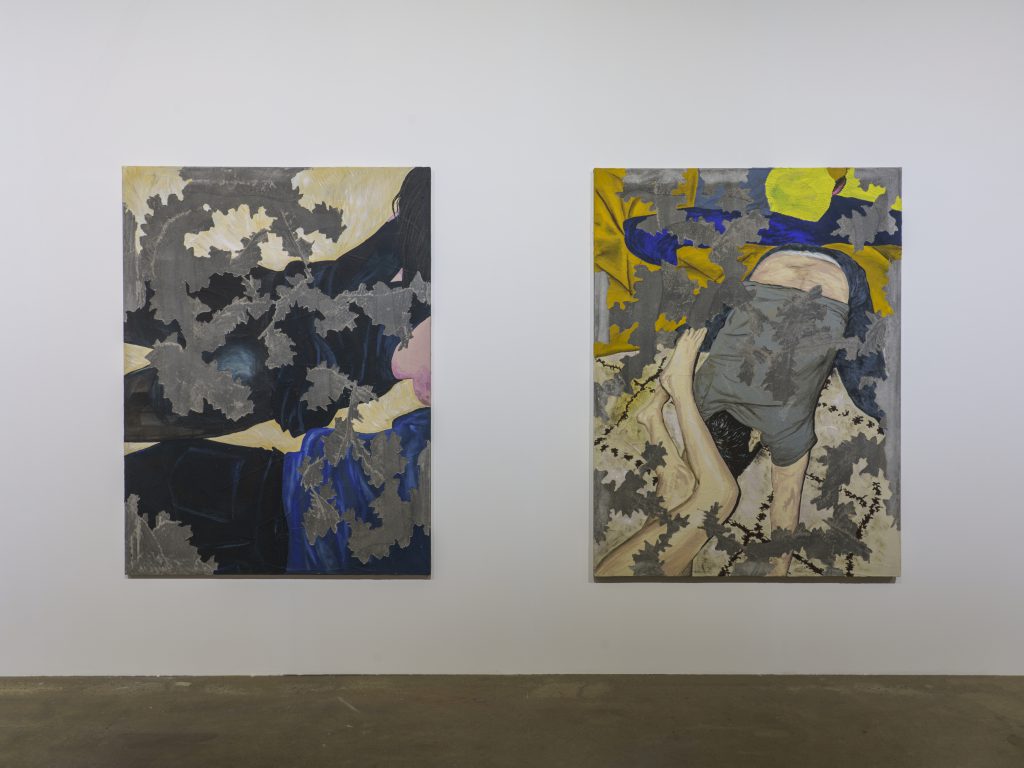 "This is not about this world or that world, or north or south, or difference," Lee explains, "but about consideration from a planetary level." In The Earthbound Whisperers (2023) Istanbul artist Hera Büyüktaşcıyan compresses earthly spaces with anthropomorphic consideration of place into a floor-based work comprising layers of green fabric with graphite drawing. There is form beneath the layers, reading as sculptures looked down upon by our God-like vantage, perhaps models of ancient earthworks softened by time. Inspired by England's Nine Maidens standing stones and Korea's neolithic Dolmens, the work was a co-commission with the UK's Tate St Ives. Legend suggests the Nine Maidens were formed after women were petrified for singing on the Sabbath, an imagining the artist poetically connects to Second World War female Cornish silk workers, who crafted camouflage netting to conceal architecture and place.
There is also concealment in Latifa Echakhch's series of paintings Night Time (As Seen by Sim Ouch) (2022), of which two are shown in Gwangju. Translating photographs made by friend and photographer Ouch into large canvases coated in concrete and glue, a surface the artist then cuts and cracks into before painting over with acrylic. With her images of night-time bodies in motion set solid and abstracted, Echakhch reverses Büyüktaşcıyan's suggestion of humanity buried within landscape, turning bodily form into geology, mappings and matter.
A playfully enticing sculpture by Tehran born Abbas Akhavan also invokes nature, one both site-specific but also suggesting globally mediated representation. Within a three-sided green-screen structure of the type used for film industry special effects, Akhavan places a discreet and picturesque water feature. Utilising stones sourced from Gwangju, it is local nature re-presented as an imaginary for unknown distant (physical or virtual) audiences. From an acute angle plastic structures and mechanics supporting the arrangement of stones can be seen, reminding us that no 21st-century nature – however seemingly perfect – is free from human hand. Its title, Loop (2023), suggests a digital gif, compressing reality into a relentless cycle of man's making as replacement for our collapsing climatic cycles.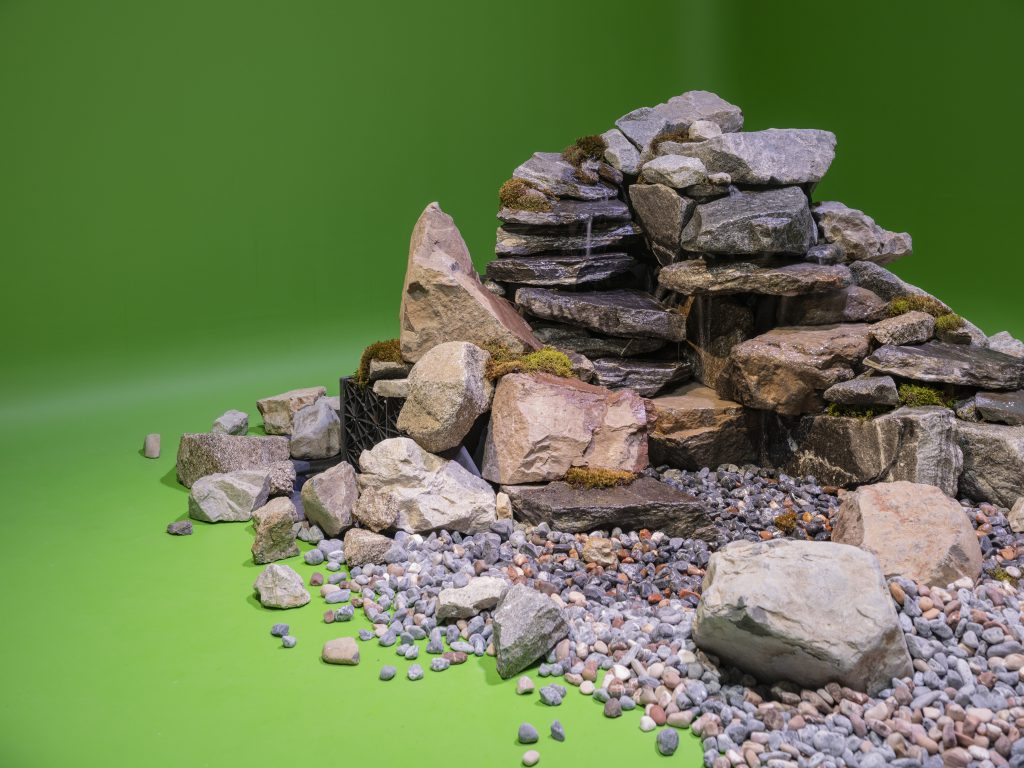 This is the 14th edition of the biennale, a cultural project working to contextualise and build upon the memory of the 1980 Gwangju Uprising and political protest, a key moment in South Korea's path to democratisation – though at the expense of thousands of lives ended by military force, according to some estimates. On occasion the massacre is touched upon, sometimes directly but more frequently through social memory as a tool of solidarity, with many artists exploring strength through diversity, inclusivity or shared resistance.
A film by Taus Makhacheva, At The Eagles (Tsumikh) (2023), explores such cultural memory through political and social progression. The Dubai-based Russian artist presents a humorous-though-subtle work exploring memories of her grandfather, the Dagestan poet Rasul Gamzatov. From a high plateau, the artist strives to perform his work, though repeatedly interrupted by various characters who each recount their personal memories and understandings of the works, laying claim to interpretation and memory. In questioning who holds perpetual meaning of those no longer existing, the work asks those of us who now speak how we recount or use the stories, histories and truths of past lives and peoples.
Not all histories are as public as the Gamzatov's output, and it is often within domestic spaces that complex pasts, meanings or forms of solidarity and protest exist. Two other artists create more homely reflections upon underlying curatorial ideas. Farah Al Qasimi's Letters for Occasions (2019-2021) fills a wide wall with images of details from Arab homes, documenting their observations of how culture is embedded into the domestic, but also speaking to its Western migration – sometimes physical, sometimes cultural.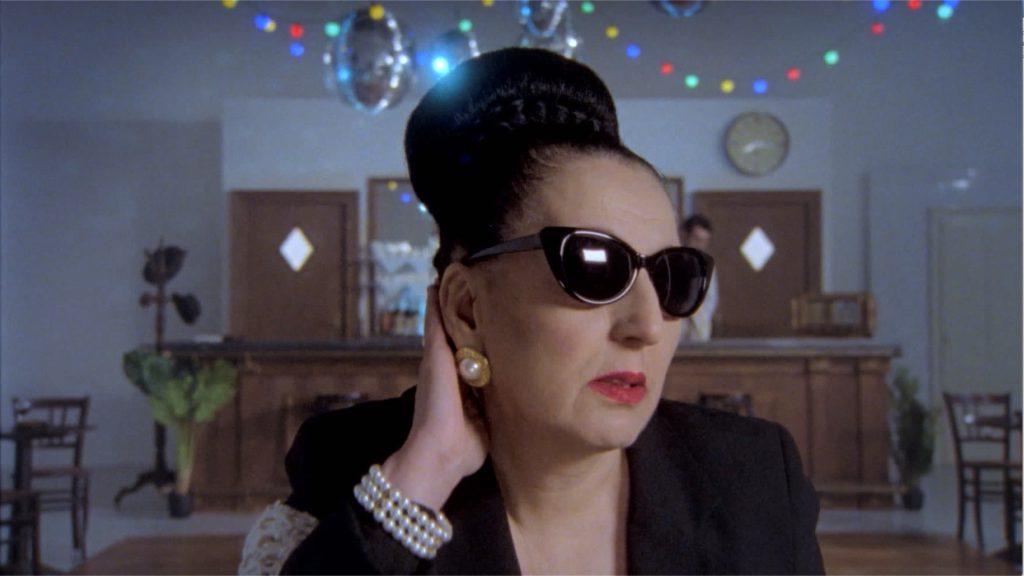 In one of the biennale's nine national pavilions – each located across the city in different architectures and is an element of the event which planned to grow for forthcoming editions – Zineb Sedira re-imagines her richly layered French Pavilion from last year's Venice Biennale. In addition to elements of her reconstructed South London flat and post-colonial film paraphernalia, so delicately presented in Venice, Sedira offers underlying sketches and studio elements, showing a personal history to the work woven into the manifold histories, narratives, and cultural renderings on display in the posters, pamphlets, and accompanying film. Within it there is the layering of protest and postcolonialism present across many of the biennale's works, and through the invitation of Middle Eastern artists into the global conversation, underlying forces of solidarity and resistance are only strengthened.
The 14th Gwangju Biennale runs until 9 July 2023