The Four Seasons Hotel Dubai International Financial Centre is located in one of the city's most glittering locations, surrounded by galleries, public art, restaurants and nightlife. For art lovers especially, a stay at the modern boutique-style hotel promises a stimulating and dynamic cultural experience.
---
A casual stroll through the Dubai International Financial Centre(DIFC) offers as much art to look at as might a more traditional museum ~ except without the stuffiness of a building sagging with too much history. In between rows of world-class galleries are coffee shops and restaurants, en plein air for the most part, where people sit in cosy groups throughout the day and night, taking, laughing, drinking and relaxing together. While DIFCs modern and ritzy exterior might suggest a certain coldness and distance, there is in fact a warm, communal atmosphere amid all those Glass panels and escalators.
Within this creative hub Is the Four Seasons Hotel DIFC, fitting snugly with the momentum and lively character of its upscale surroundings. The luxury hotel has reached out to harness the artistic bustle of the surrounding establishments, particularly given the site's massive activation earlier this year with the Art Dubai fair and now an increased Influx of international visitors keen to explore the cultural and educational 'opportunities on offer at Expo 2020 (see page 148).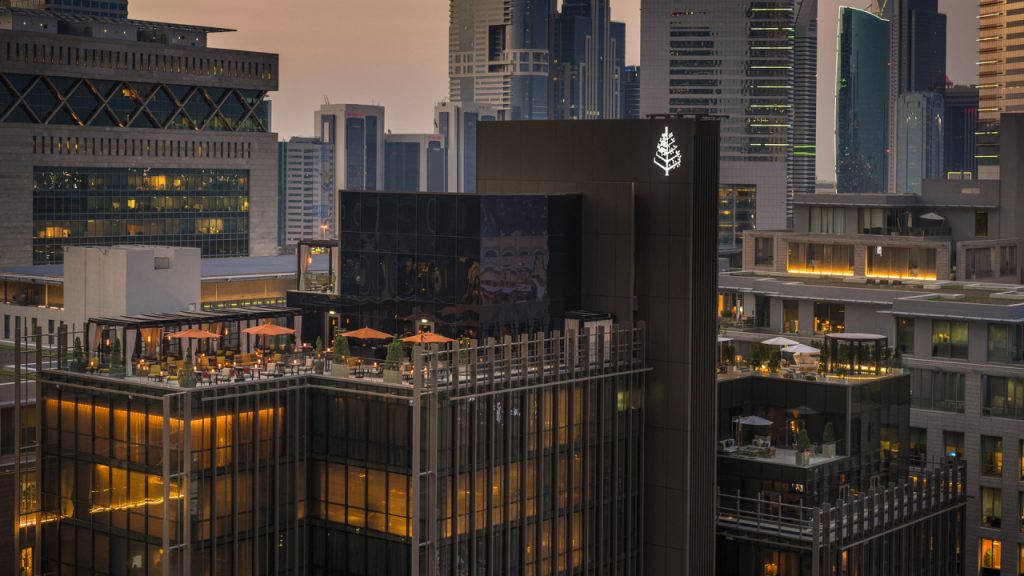 "There Is something about DIFC energy that satisfies the artist, adventurer and aspirer within us? commented hotel manager Renan Astolpho. "It Is probably Dubai's most sensorial neighborhood; In a "minutes-long stroll you can spot a towering landmark, smell and taste a culinary masterpiece, hear the buzz from a busy social venue and touch an Intriguing art installation".
In collaboration with Opera Gallery Dubai, located only a few steps away, the entrance of the Four Seasons Hotel is adorned with two works by renowned sculptor and installation artist Anthony James, which were shipped straight from his studio in Los Angeles. Ferran! Pé is a breathtaking archival-quality aluminum creation inspired by the exclusive limited release of the Italian car manufacturer's 1967 model. Next to Its 'cosahedron 80″ Solar White, constructed from stainless steel, glass and LED lights — equal parts artwork and mathematical equation. Drawing from Platos experiment in unity, which demonstrated perfect symmetry in three dimensions, the sculpture commands contemplation and awe.
The Opera Gallery is one of an extensive coterie of venues in the tea offering top-flight art. Tabari Artspace, which has another location 'on London's Cromwell Place, puts on regular exhibitions by Middle Eastern artists, most recently displaying works by Alymamah Rashed and Khaldoun Hijazin. It's the perfect spot to dive into some of the best regional contemporary art being created right now and to engage with Dubai' burgeoning art scene. Another must is it Is The Empty Quarter, 'which showcases photography. As well as presenting work by younger and emerging artists, the gallery has featured established photographers such as Steve McCurry, Bruno Barbey and Marc Riboud.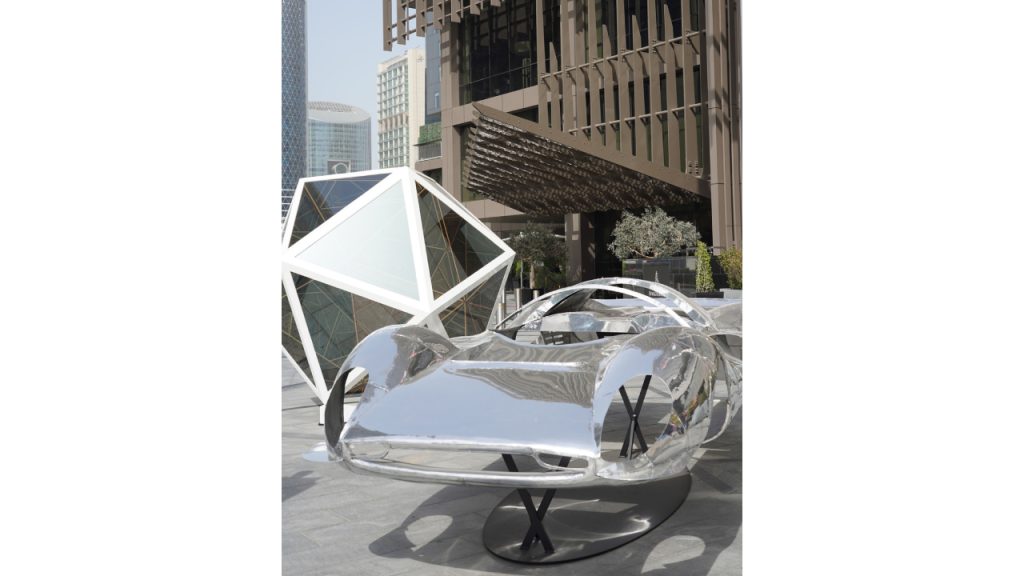 'The Fajam Foundation, a non-profit, non-governmental organization, offers more abstract art and installations, along with special tours and programming. Mixed with greats such as Henri Matisse and Gerhard Richter are celebrated regional artists, such as Farhad Moshirl and Ahmed Moustafa, creating eclectic displays of work from diverse backgrounds. For those visitors with a penchant for the more historical, it's important to head for Sconcl Gallery with its large selection of at from the seventeenth century onwards. Collectors especially will be delighted to discover there a rich array of works by powerhouses such as Picasso, Andy Warhol, UMM and Mr Brainwash, 'At the end of a long day reveling in art, it's time to head back to the Four Seasons Hotel DIFC and enjoy its signature Aperitivo and dramatic city skylines at Luna Dubai, the rooftop lounge, which also offers galaxy inspired drinks for the more "star-aligned' visitor. The hotel's Feel the Beat package provides credit to access restaurants, such as the Mina Brasserle headed by Michelin star awardee Chef Michael Mina, the spa, the glass-walled pool, and much more. For those who are interested in art and determined to make the most of Dubai' ever-expanding cultural landscape, a stay at the Four Seasons and time spent at DIFC Is the most stylish way of unlocking the city' artistic heart.