Artist Abdelkader Benchamma muses on the importance of drawing and shares the inspiration for his exhibition Cosma at Galerie Templon in Paris.
---
Has drawing always been your primary medium? Why do you gravitate towards it?
I have always practiced drawing, painting, sculpture and installation. However, at the end of my fine arts course [at the École Supérieure des Beaux Arts de Paris], I decided to devote myself to drawing because it is the medium that touches me the most. I can start an exhibition with just a box of charcoal or a bottle of ink and some brushes, and I find this incredible simplicity to be very poetic. Also, as a young artist, I felt that drawing was a medium that still had much to offer, and that there were vast fields of experimentation or new lands to discover. As artists, we look for spaces to modestly create something new. Drawing is the basis of many things, whether in the order of creation or thought: painting, installation, cinema or sculpture all start with a few ideas drawn on a sheet of paper.

Your compositions are dynamic and full of movement. Do you plan them in advance or does the drawing guide you as you go?
I create my wall drawings without video projection or transferring a pre-existing drawing. The wall drawings are original and site-specific to spaces within museums or galleries. Generally, I have a few preparatory sketches, sometimes very imprecise, at other times a little more worked, but it always remains very open. It is an environment, a symbol or an energy that will guide me; caves, vortexes, abstract landscapes of great density, or something very dynamic. I start with these ideas in mind and then the drawing is made in an organic way. One part calls on another and another responds to another area. Creating a wall drawing is very physical and exhausting.

Your works span across walls and large-scale 3D forms. Does this change how we view or interact with drawing?
We don't look at a small drawing on paper the same way as a drawn installation, such as Neither the sky, nor the earth (2017), produced for the 13th Sharjah Biennial. The question is one of immersion, of the body, of a drawing that escapes sight, of a material that is difficult to identify but which seems to grab us. However, I am just as interested in the small format drawings. I like to integrate my small drawings within my larger works or installations because it encourages the visitor to approach and solicit their other senses and explore their understanding as another type of poetry. Works that escape the frame can be seen as a window to somewhere, a fossil, a fragment, a possible reality, a memory…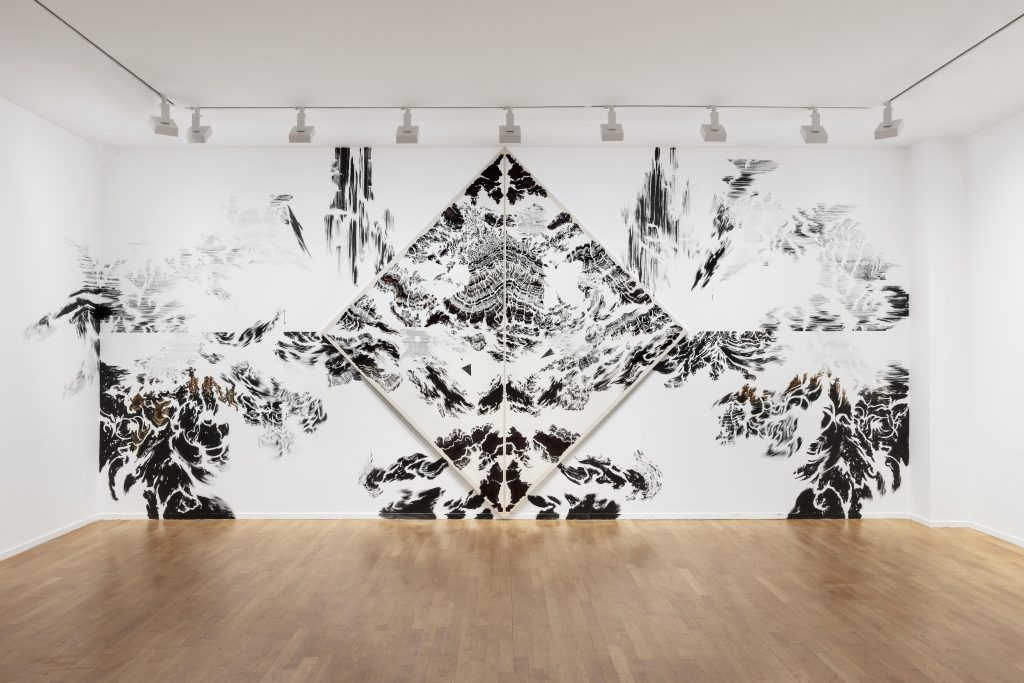 Your drawings explore how we construct reality. How does this medium dissect our understanding of the world around us?
I sometimes consider drawing as a form of writing because it's symbolic and poetic, unless you look for hyperrealism, so the strength of the drawing lies in this field. It allows precision and imprecision, and has the ability to shape even the most extravagant ideas. Drawing supports thought and imagination, and because of this, it accompanies scientific thought very well, even when science becomes esoteric. Science interests me when it approaches unknown territories, but esotericism and magic interest me just as much. There are many areas where science and magic meet.

What can you share about your upcoming show Cosma at Galerie Templon in Paris?
At the moment [December 2022], I only have very imprecise sketches for the Cosma exhibition. There are two ideas present in the back of my mind that will guide me: first is the exuberance of the motifs and the marbles of Baroque churches, in particular that of the Chiesa del Gesu in Palermo from the 17th century; and second is this idea of symmetry, reminiscent of the Rorschach inkblot tests and mirror images.

Is colour now featuring more in your work?
I was looking to integrate colour into my drawings while keeping the fullness and emptiness that black on a white background has allowed me. I've made many different attempts, but they have never offered me as much power as black and white. The purity of the contrasts, as well as the omnipresence and the importance of voids, seemed unsurpassable. However, last year during my residency in Palazzo Butera in Palermo, in collaboration with the French Institute, things that had been in process for months slowly came to light. The incredible colour ranges of Italian marble were a big part of that change, because the colour is there yet the design is still very abstract. I subtly try to mix abstraction and figuration and the colour brings another power to these new drawings.
This interview first appeared in Canvas 106: Making Their Mark