Inspired by the islands and culture of Abu Dhabi, Emirati artist Ahmad AlAreef created the fan for the new Mandarin Oriental location within the iconic Emirates Palace Mandarin Oriental, Abu Dhabi.
---
Canvas: Let's begin with your influences. Much of your work deals with history and heritage, what draws you to those topics?
Ahmad AlAreef: Yes, most of my projects revolve around culture, history and heritage with a research component. This allows me to go between science, mythology and my life through creative exploration. It's a combination of all my experiences coming together.
Are there any personal experiences that you can share?
I am shaped by my experiences and, as an Emirati, I interpret my environment and use my ideas to share my culture and heritage. For example, my immersive installation at the Louvre Abu Dhabi in 2022, titled Physiognomy, Land and Territory, was a journey between science and art. It talked about how our ancestors would engage with nature and observe their surroundings and changes to survive in the desert. I share my research and ideas for people to explore themselves.
What inspired your design for the Emirates Palace Mandarin Oriental, Abu Dhabi fan?
My initial thought was that I wanted to make sure that anyone who visits Emirates Palace Mandarin Oriental, Abu Dhabi would see the fan and immediately connect it to something related to the place where this beautiful palace has been built. I started abstracting different ideas and concepts that discuss Abu Dhabi's rich cultural heritage, so the idea became a consolidation between the culture of pearl diving and the history of the islands.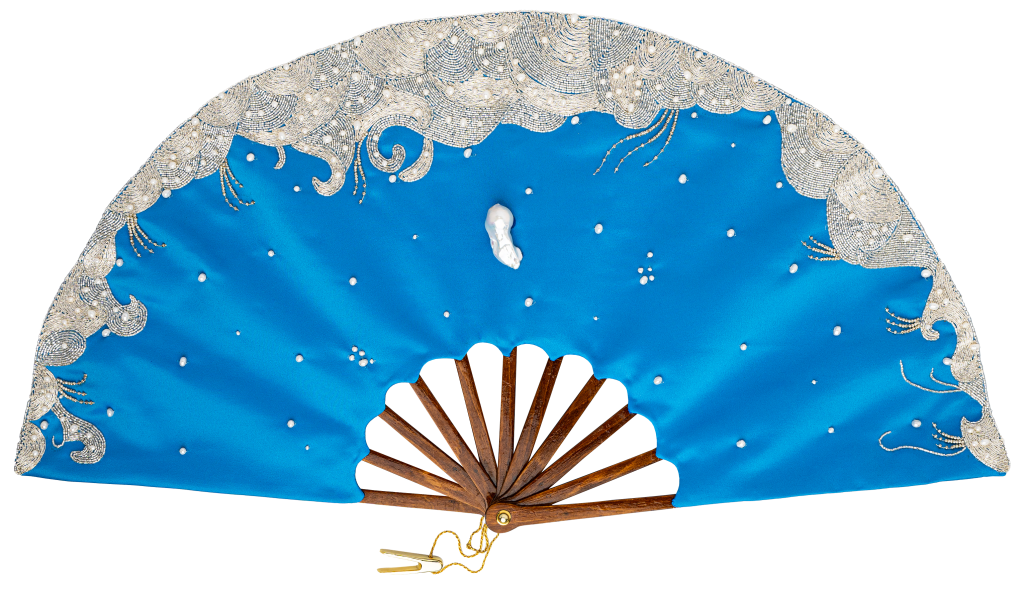 What role do the materials play in the concept?
I decided to represent the Emirate's islands with pearls and the tassel on the end of the fan is based on the nose clips worn during pearl diving. I also wanted to explore the ribs of the fan. For this, I took inspiration from dhow boats and discussed my ideas with a well-known Emirati carpenter to create the wooden ribs. There were many things to consider regarding the fabric, and the colour is a specific tone of blue as a result of my research. I took pictures of Abu Dhabi's sea at different times and took the average colour tone. Every body of water has unique colours, so I wanted to source one that matched Abu Dhabi's so that if you put the fan to the window, it will blend in.
How long did the process take you?
From beginning to end, it took about six months. For the fan, it was important to me to work with different artisans and highlight the involvement of local craftsmen and the value of community engagement.
What do you hope people will take away from the work?
Because Abu Dhabi is the capital of the UAE many people forget that it has more than 200 islands. When you view the main island, the city is not intrusive and it connects well with its surroundings. There is also a lot of effort towards conserving the environment and there is still a beautiful and humble coexistence with nature, even though this is a cosmopolitan city. So when people walk into the Emirates Palace lobby, I want them to feel connected to the location of Abu Dhabi and in harmony with the city and its islands.