Following Tracing the Placid, her recent solo show at Jeddah's Hafez Gallery, Saudi Arabian artist
 

Alia Ahmad speaks to Canvas about how she navigates time and place in her work and why landscapes are best tackled face to face.
---
Canvas: What influence has Riyadh had on your practice? Has the combination of the desert and industrial cityscape played a role in how you view landscapes artistically?
Alia Ahmad: I haven't always painted natural landscapes. There was a time when I used to draw or create collages from motifs or landscapes that I found in magazines, books or photographs. They were all very illustrative, which really helped me understand this type of direct linear language. It's great because I've always found a sense of comfort in creating something that was quite obvious to read. The landscapes came up kind of intuitively, since it was easy to reference what I could view or see directly. When I started to paint things in a more abstract way, I would always try to get a diagrammatic balance. This is why visual research, specifically in Riyadh, is so important to me. Basically I grew tired of the informal way of drawing things out of thin air and just wanted something from the outside to teach me what to do and then, in the end, use whatever drawing or analysis I had made in the final piece of work. I now have a new studio based in Riyadh and I am happy to have the direct reference rather than painting from abroad. Even when I do, I still go back to it.
How does this approach play into the colours that you use?
For me, colour has become independent within the work. I find myself stepping away from the direct reference to colour, from a certain palette which I used to follow or use as a direction. I now have a casual approach in which these plates of paint are laid on the table or floor and I just get on with it. The references are usually from photos that I take of things such as adverts, old photographs or places that I think would pair very well together. The re-imagination within the paintings becomes this diary of colour, which is wonderful to make.
How did the link between memory, place and landscape first come together for you?
There is a lot to unpack in the sense that I can't really pinpoint when it actually started. The connection was always there, just not focused. I think the catalyst was mostly when I studied abroad and not in Riyadh. When I was at the RCA in London in 2019–20, I was excited to have my own studio there. The first thing I did was staple a large canvas to my studio wall to create a backdrop or setting behind my desk. That was the first intuition I got to paint a place and it kind of kicked off from there.
Are these landscapes an extension of yourself, and if so, how?
I am really proud of the paintings. Generally speaking, they are the final destination in the work, but drawing has become the beginning of everything for me. All the drawings I usually do are for research, kind of motif records or diaries that I collect. It's funny to have something that was the element of a painting become the actual proof of the painting itself. Almost a blueprint of the place in the painting.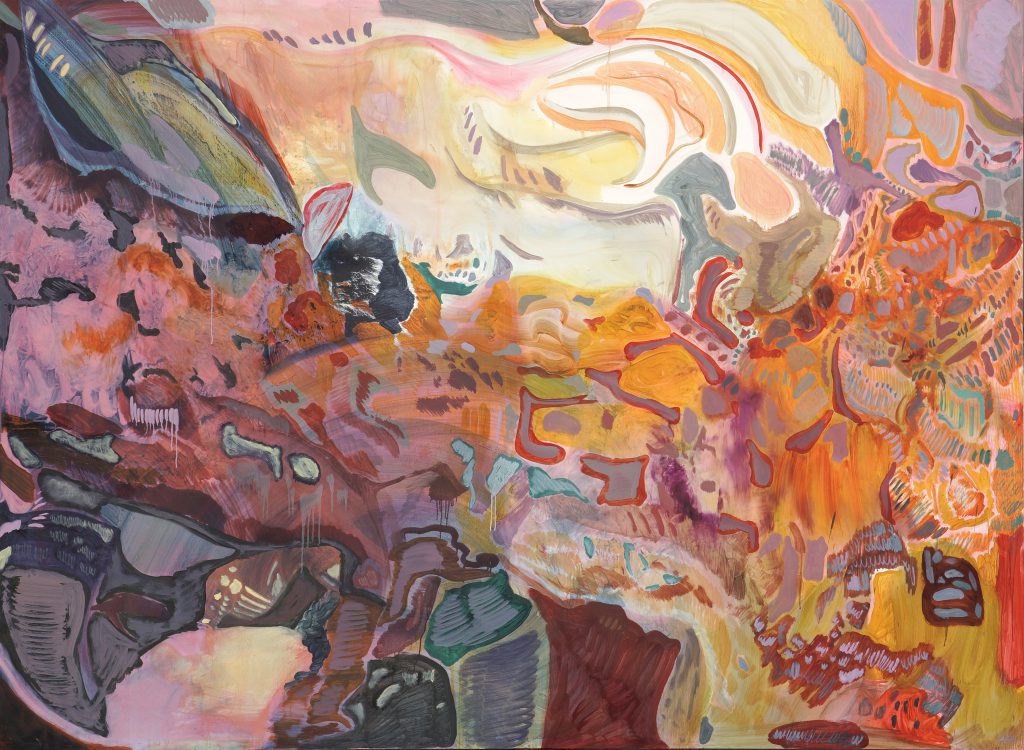 Where did the title of your recent exhibition Tracing the Placid come from?
It relates to the apparently placid or calm landscapes that are created before a work gets started. I wanted to create a sense of emptiness within a usually lush landscape. It was also a proud moment for me to have the show centred on the direction that I find within drawing, which is the blueprint or the motif-like account within the paintings.
What impact does the change between light and shade have on how you express landscape?
I'm not sure yet, to be honest. I'm still trying to find out how I can play within that discussion on perspective. One area that particularly interests me is how usually the landscape or place depicted in a painting is not as important as, say, the figures within it. Ignoring such pivotal elements in favour of the 'background' landscape can work to connect narratives, with the landscape becoming the main story in the painting, a way of filling the emptiness.
What's next for you?
Making more work! It's also been a few months since I settled into my new studio, so I am looking forward to spending more time there during the summer and also preparing for some exciting projects coming up later in the year.
This interview first appeared in Canvas 103: Down and Dirty – Art Meets Land