Jelle Bouwhuis, Jan Willem Jonker, Jorg Grimm, Nienke van der Laag, Jonas Staal, Stedelijk Museum Schiedam, Luna Maurer, Antonio José Guzman, Alie Sonneveldt, Fons Welters, Willem Baars.
Stedelijk Museum
Sometimes simply known as 'S', it started off as the municipal (stedelijk) museum in the 1870s. Now widely acknowledged as one of the most important collections of art and design in the world, it holds more than 90,000 objects that include paintings, sculptures, installations, film, video, graphic and industrial-designed posters and utensils. Its longstanding existence has allowed the museum to collect works from nearly all art movements and isms and it holds key pieces by artists including Wassily Kandinsky, Piet Mondrian, Robert Rauschenberg, Ludwig Kirchner, Henri Matisse, Jackson Pollock, Roy Lichtenstein, Martin Kippenberger, Donald Judd and Rineke Dijkstra. Both the permanent collection and temporary exhibitions are shown in a monumental brick building. In 2012, an extension was opened, giving the museum an updated look and more display space. Beatrix Ruf has been the director since the fall of 2014.
www.stedelijkmuseum.nl
Tel: +31 205732911
Museumplein 10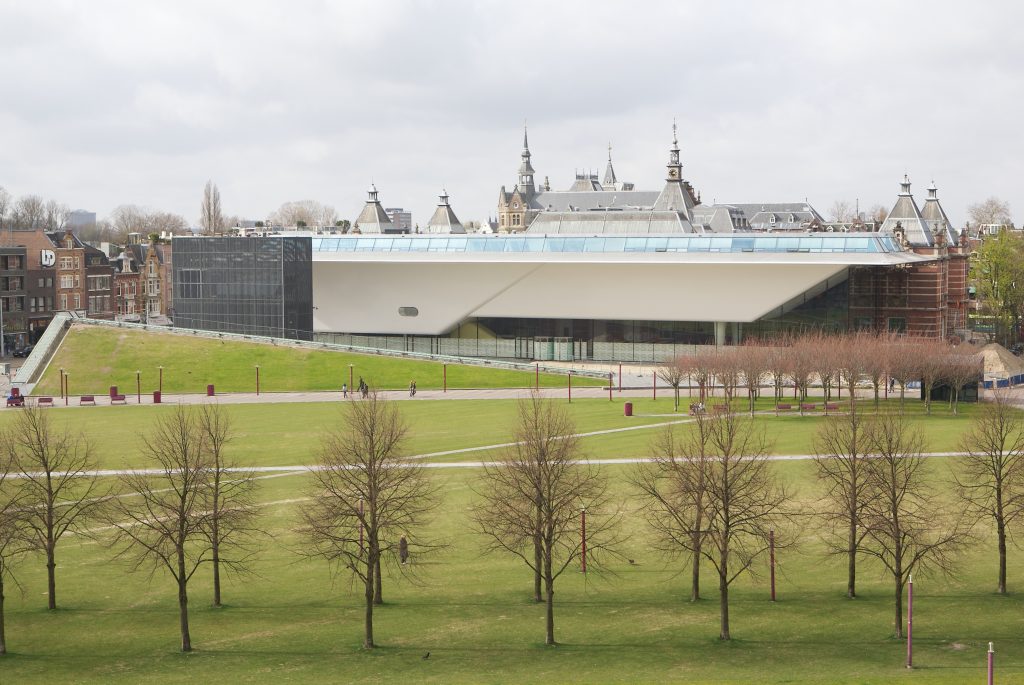 Rijksmuseum
An enormous national treasure of fine arts and history from The Netherlands, the Rijksmuseum was recently restored and re-opened in 2013. After that, the museum took on the job of renovating its Philips Wing, which will serve as its temporary exhibition space and was inaugurated in November 2014 with Modern Times: Photography In The 20th Century. This signaled the gallery's plans to diversify, all the while keeping on view its superb permanent collection of Old Masters. A must-see is the national icon, Rembrandt's large-scale The Night Watch, from 1642. 'Easily the most impressive backdrop that I've had for a press conference,' is what American president Barack Obama said about the oil on canvas work, which portrays a company of gentlemen-at-arms setting out on patrol in Amsterdam
www.rijksmuseum.nl
Tel: +31 206747000
Museumstraat 1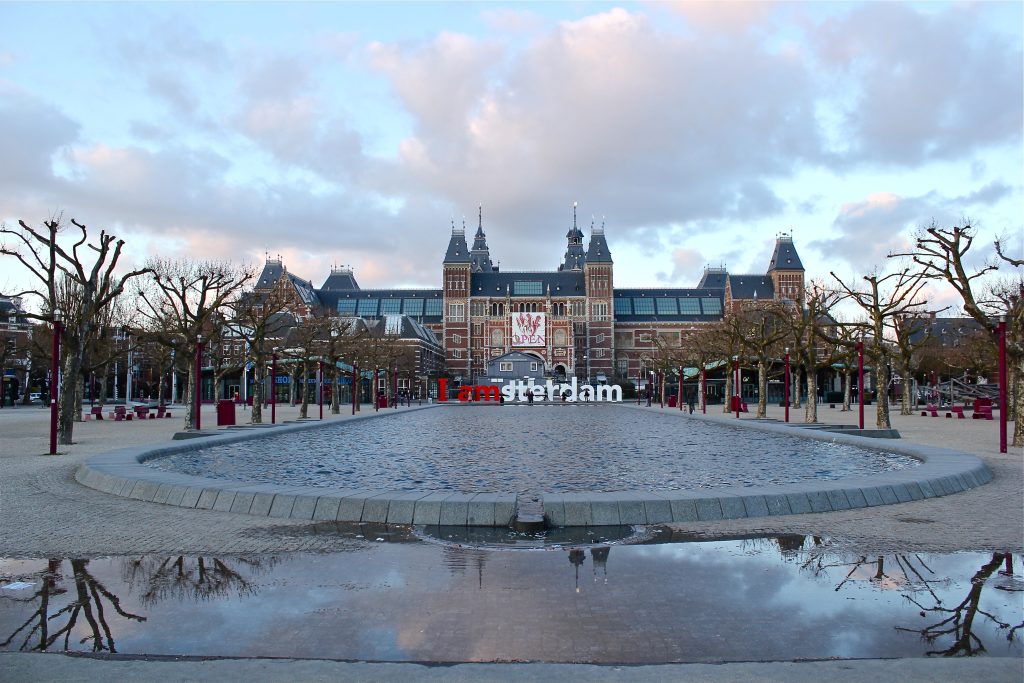 Eye
The Eye Filmmuseum used to be housed in an old pavilion in the Vondelpark, but reinvented itself in 2012 on the North bank of the river IJ simply as 'Eye.' Now in a landmark building designed by Austrian architects Roman Delugan and Elke Delugan-Meissl, it is open from 11 AM–11 PM and continually screens movies from its 40,000-strong collection. Preservation and restoration of moving images is the institution's main task and as a rule of thumb, Dutch and international movies are typically shown with English subtitles. There is also an exhibition space, where art videos are shown. On a sunny day, its waterfront balcony restaurant is the place to be.
www.eyefilm.nl
Tel: +31 205891400
IJpromenade 1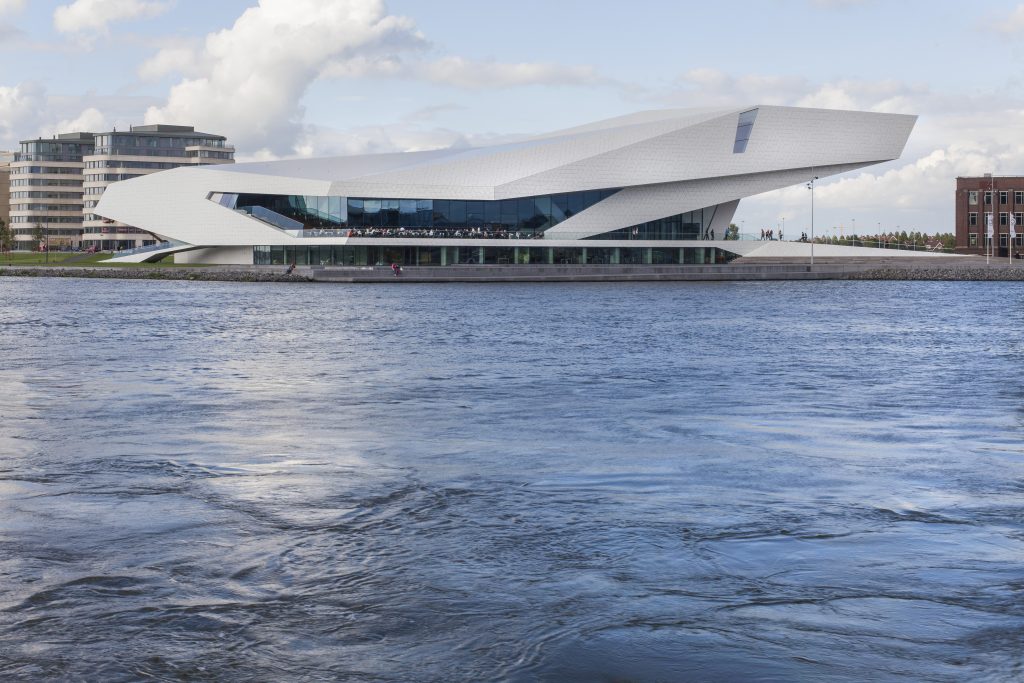 Foam
Staying in tune with important developments in photography is what Foam is all about. The
the museum is located on one of the more fashionable canals in a building that was given to the city by a collector in 1863 to set up an art museum. Both established and new photographers can exhibit their works and the building's attic houses Foam Editions, a small gallery that introduces the works of young photographers. The building was home to the Dutch Design Institute until 2002 when Foam was inaugurated. The 2014 Foam Talent exhibition was showcased at the Unseen Photo Fair in Amsterdam, then traveled to Paris and Dubai, where works were exhibited at the East Wing Gallery until January 2015.
www.foam.org
Tel: +31 205516500
Keizersgracht 609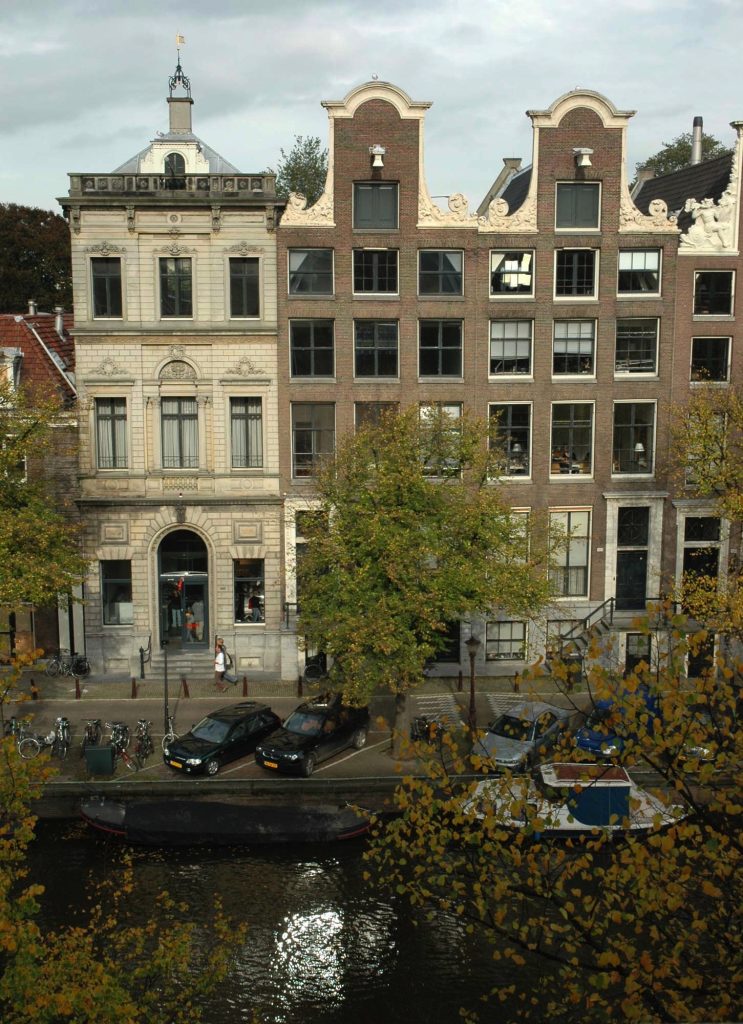 Grimm
On a corner of a tree-lined residential street, Jorg Grimm has nabbed one of the best gallery locations in Amsterdam. He started off in 2005 in the canal belt, exhibiting international artists of his generation (born in the 1970s) and through them, connected with British, American and German artists as well as established Dutch names such as Ger van Elk and Atelier van Lieshout. Others include Nick van Woert and Charles Avery. At Art Basel Hong Kong and at Frieze in New York, the gallery presented solos by van Woert and Dutch artist Desiree Dolron. The gallery's special projects saw it travel to GEM in The Hague and MAMbo in Bologna, both in 2014. Grimm is a member of the Stedelijk Museum's support foundation board.
www.grimmgallery.com
Tel: +31 206752465
Frans Halsstraat 26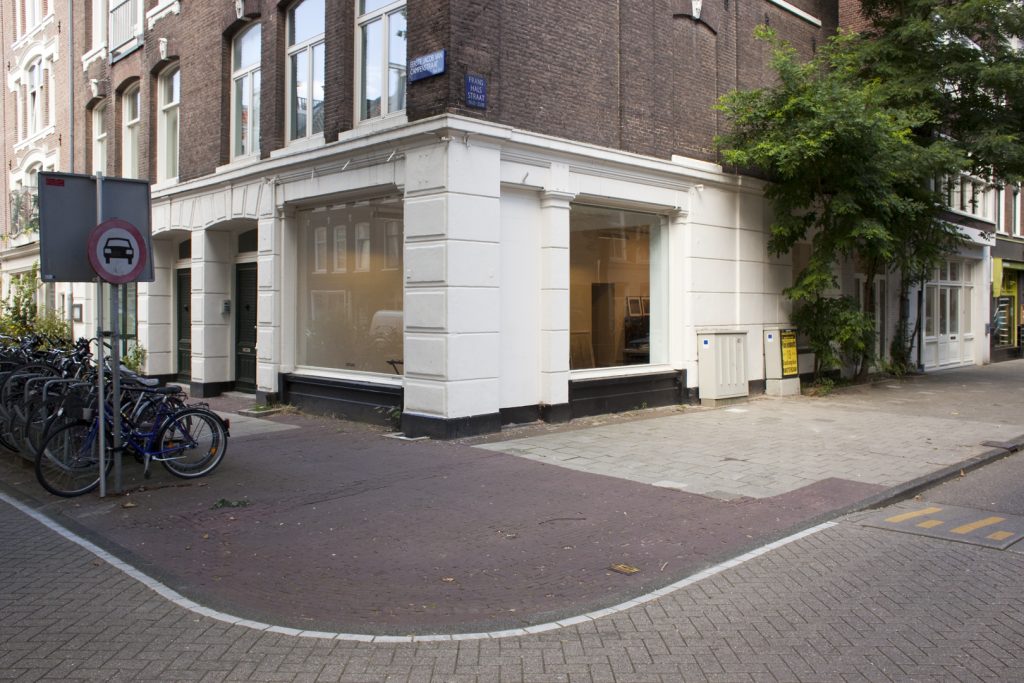 Arti et Amicitiae
Its name translates to Art and Friendship and it is an art society, which is neither a gallery nor a museum. It was founded in 1839 and functions without the aid of government grants. With the aim to look after the interest of artists and to promote the arts, the society now counts around 1550 members, 550 of whom are artists. Stop by for a drink at the society's club on the ground floor then head up an impressive staircase to see the work of members in various rooms, or group exhibitions that have been approved by the society's committee. The classical building is located on the Rokin, a street built over the Amstel river.
www.arti.nl
Tel: +31 206245134
Rokin 112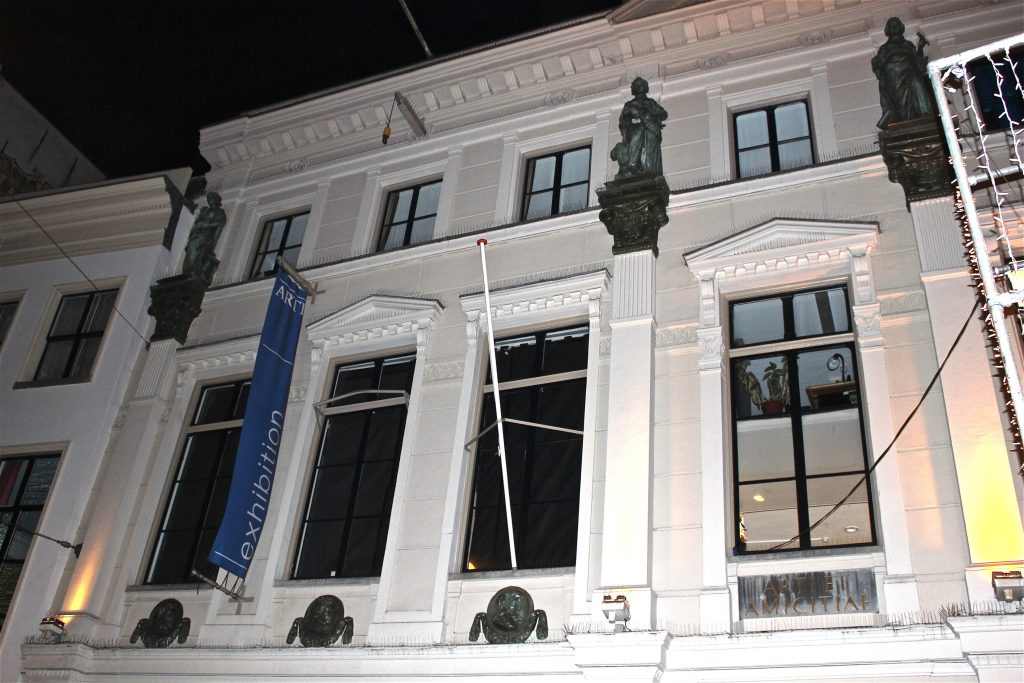 Stedelijk Museum Bureau Amsterdam
This institution (SMBA) is the project space of the Stedelijk Museum, located in the Jordaan district where the streets are narrow and teeming with commercial galleries. Jelle Bouwhuis manages and curates the space, which is dedicated to Contemporary art and design. SMBA organizes not only exhibitions but also lectures, debates, publications and residencies and prides itself to be small and versatile while aiming to be in tune and in touch with what happens in cosmopolitan Amsterdam. Once a clothing workshop, the space hosts exhibitions of painting, sculpture, new media and installation pieces by Contemporary artists whose work reflects the culture of Amsterdam.
www.smba.nl
Tel: +31 204220471
Rozenstraat 59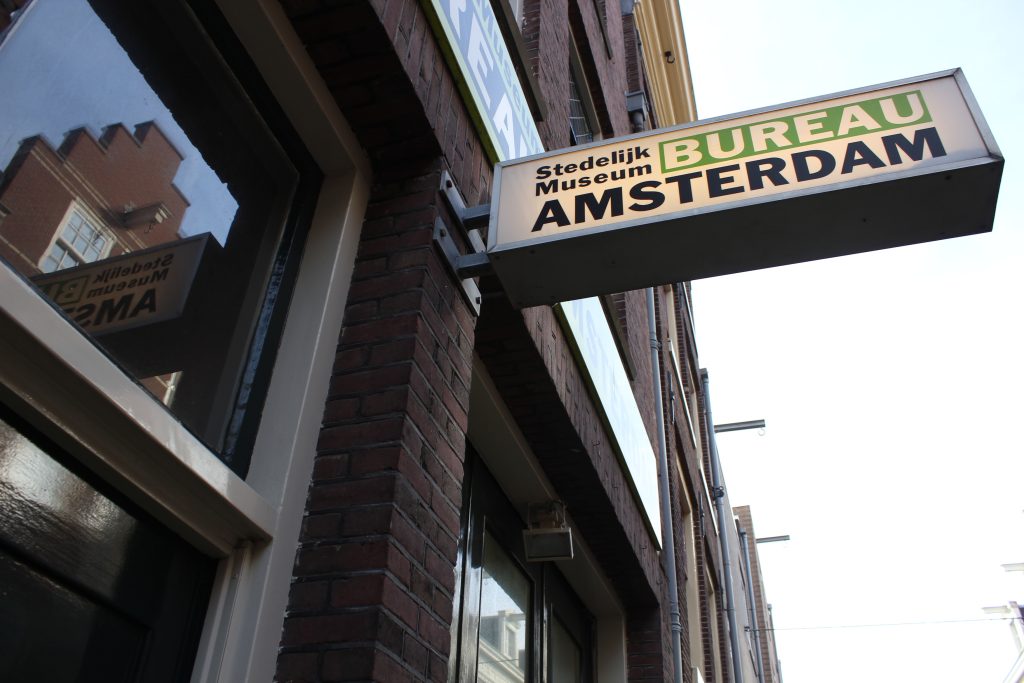 Kunsthandel P de Boer
By appointment only for those interested in Holland's Masters from the 17th century, Kunsthandel P de Boer are art dealer since 1922. Specialized in Dutch and Flemish paintings, you can find a marine by Backhuyzen, animals by d'Hondecoeter, flowers by Breughel or De Heem or a river scene by Salomon van Ruysdael. The gallery is housed in a canal mansion on Herengracht, a prime location in the 17th-century canal district. Kunsthandel P de Boer has taken part in The European Fine Art Fair in Maastricht. The P and N de Boer Foundation, created by the gallery's founder, will showcase 20 works, among them Vincent van Gogh's Wheatfield (1888) at the Dutch French Fondation Custodia in Paris in early 2015.
www.kunsthandelpdeboer.nl
Tel: +31 206236849
Herengracht 512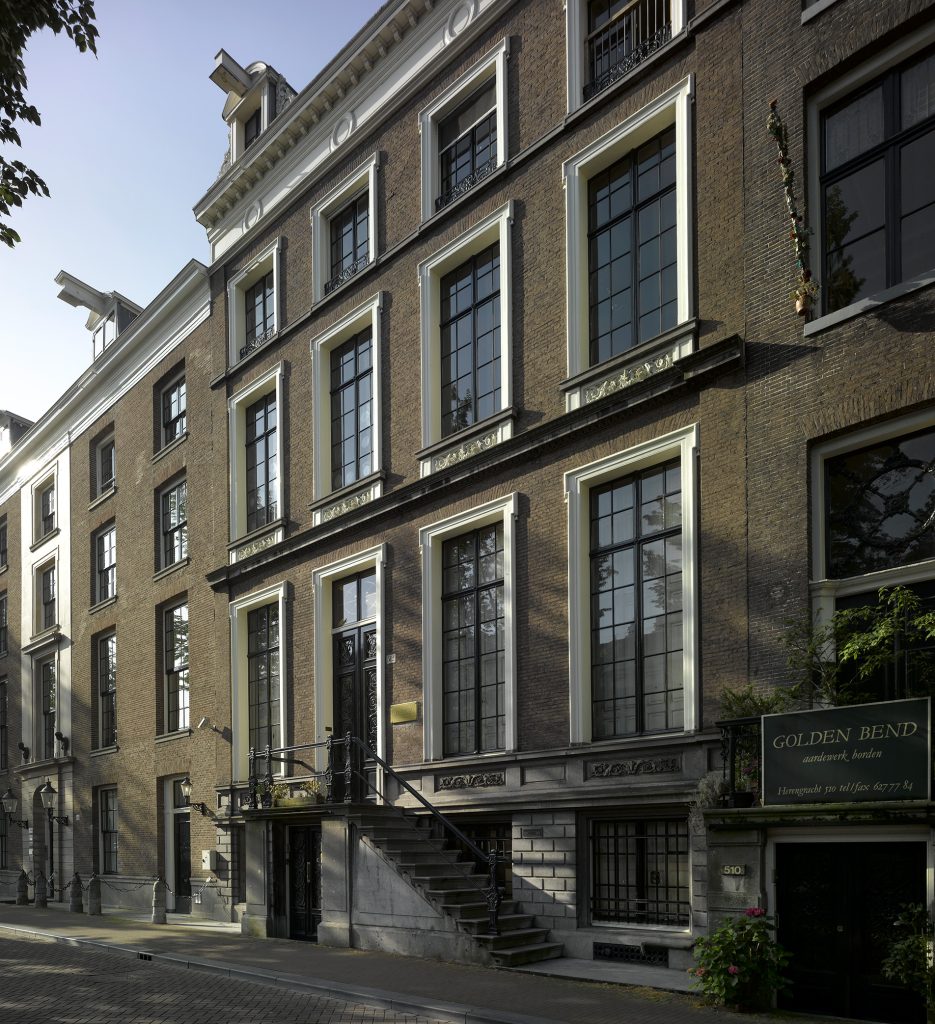 Galerie Fons Welters
Gallery Fons Welters, located in the Jordaan district, opened its doors in 1988. Focusing on Contemporary art and in particular on sculpture and installation, the space quickly rose to the fore of the Dutch and international art scene. The gallery has had a project space called Playstation since September 2000, where recent art graduates can exhibit their works for the first time. Fons Welters's aim is to work with artists at an early stage in their professional development and almost all represented artists started their careers at the gallery. Fons Welters takes great interest in helping them to expand their careers both in The Netherlands and abroad. Many of them are now names in the international arena.
www.fonswelters.nl
Tel: +31 204233046
Bloemstraat 140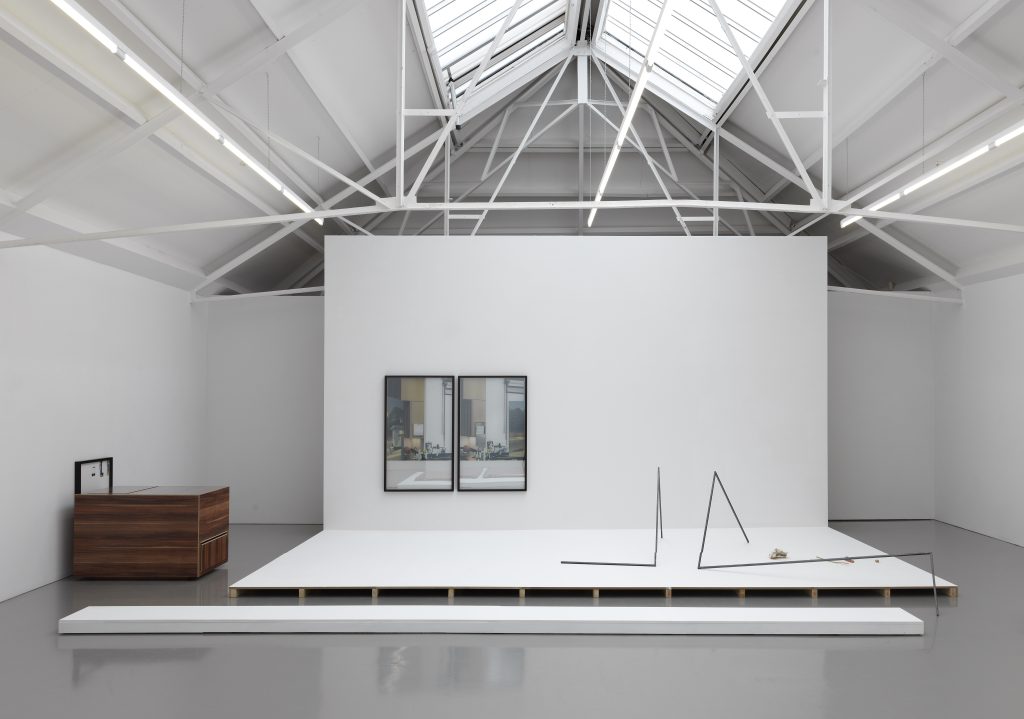 Martin van Zomeren
Besides a few artists who are painters, the main focus of the gallery, established in 2004, is Conceptual photography and sculpture. Artists have been included in international exhibitions at various institutions such as Centre Pompidou, Paris; the 52nd and 54th Venice Biennale; Tate Modern; Stedelijk Museum, Amsterdam; Ullens Center for Contemporary Art, Beijing; Manifesta; De Appel Amsterdam; Kunst Museum, Bonn and WIELS, Brussels, among others. The gallery artists' works are part of numerous public collections such as Centre Pompidou, the Musée d'Art moderne de la ville de Paris and the Stedelijk Museum. In addition to exhibitions, the gallery regularly produces books and publications.
www.gmvz.com
Tel: +31 204208129
Hazenstraat 20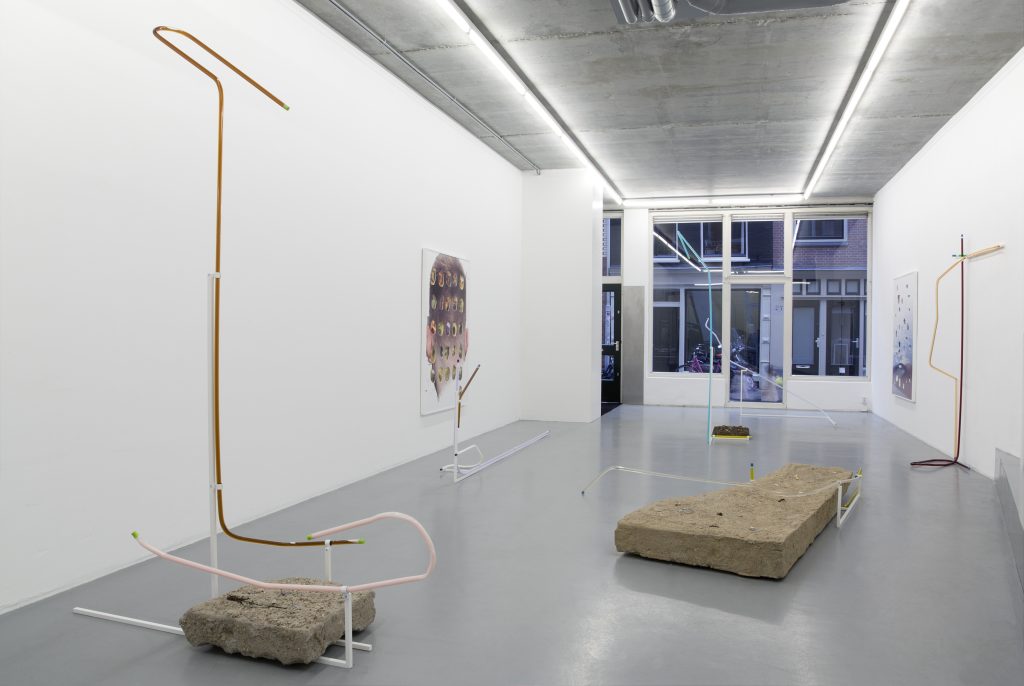 Juliette Jongma
Juliette Jongma opened its doors in 2004 – the first gallery for Contemporary art in the De Pijp district, which has since developed into an important spot on the city's Contemporary art map. The gallery focuses on collaborations with artists in an early stage of their careers, often through its close engagement with Amsterdam's international residency programs, such as De Ateliers and the Rijksacademie. The gallery presents around seven exhibitions a year as well as a host of contextual activities, such as the production of publications, performances, talks and screenings, and actively engages with educational institutions including Amsterdam's MA Sandberg Institute and the Art and Research MA program at the Rietveld Academie.
www.juliettejongma.com
Tel: +31 204636904
Gerard Doustraat 128A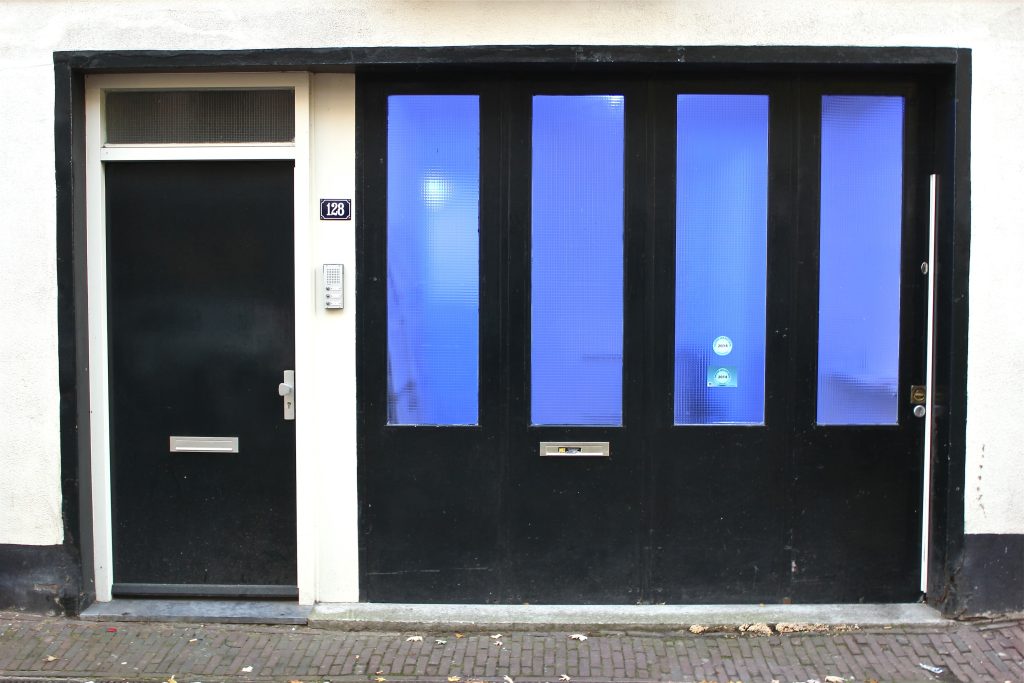 Willem Baars Projects
For Willem Baars, all that matters is quality. As such, his gallery space was designed by an architect and is located in the Eastern docklands, an area with abundant contemporary architecture. If you meet him, he might explain the best practices in gallery lighting and most importantly, his choice of artists, through which he tries to stay away from 'passing whims and fancies.' His name sometimes pops up in newspapers when he writes opinion pieces to lay bare the decisions of the nation's arts establishment and suggests new routes instead. Judging from its roster of artists, which includes Joseph Semah, Anant Joshi and Emo Verkerk, the gallery takes risks and has also been one of the first to explore artists from India, Pakistan and even Saudi Arabia
www.baarsprojects.com
Tel: +31 204230607
Hoogte Kadijk 17 hs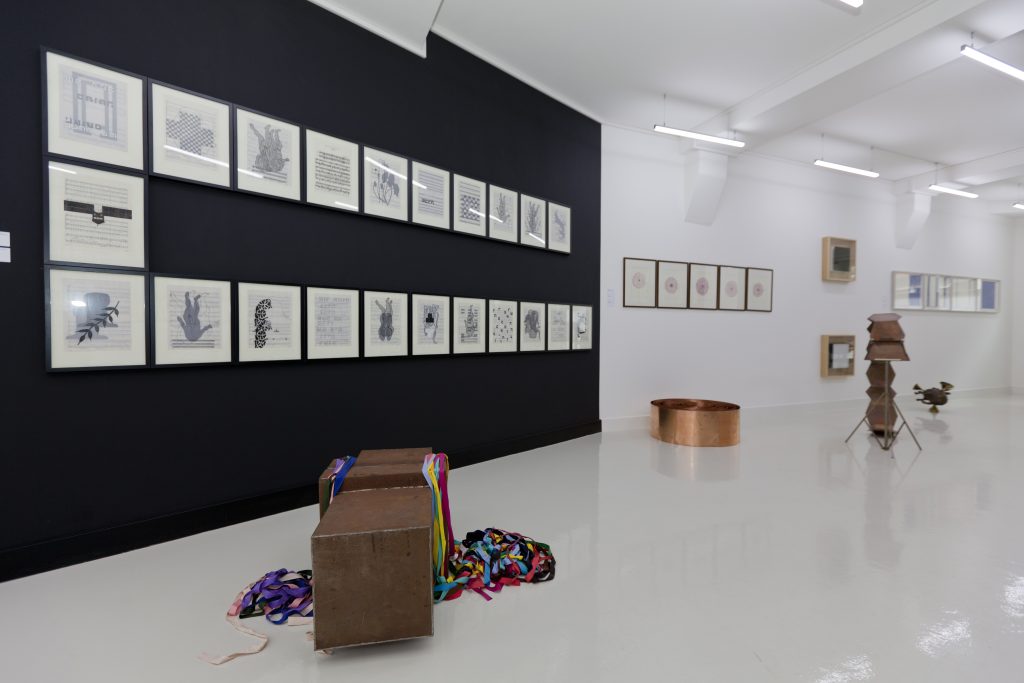 Antonio José Guzman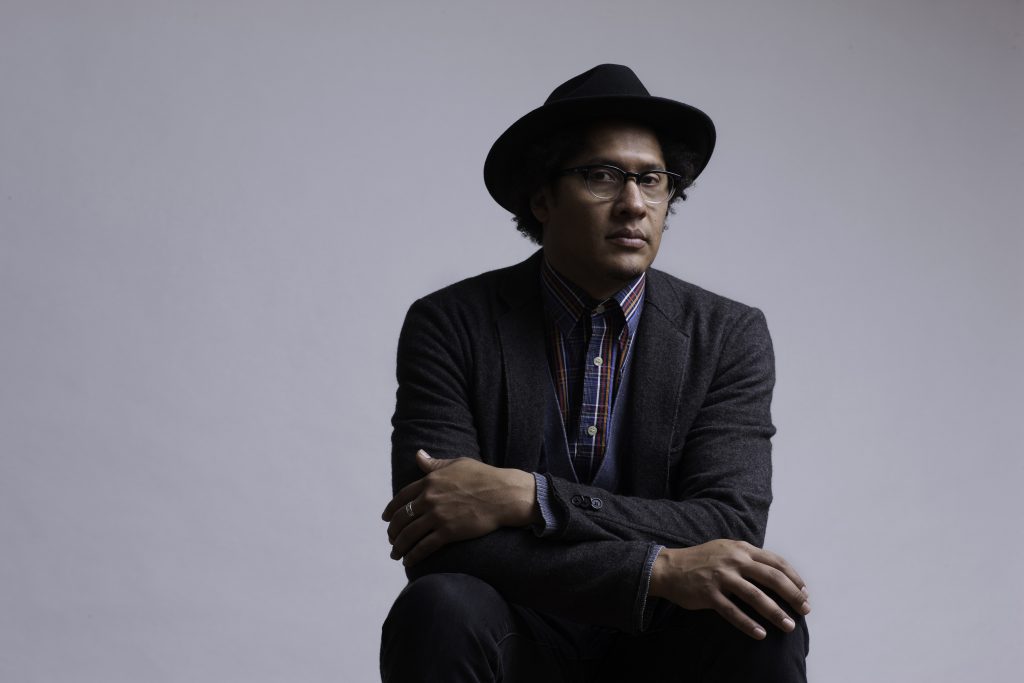 Guzman was born in Panama, but lives and works in Amsterdam and sometimes Dakar. The hybridity of his ancestry is what drives his installations, videos and photography. Much of his work deals with exploring the utopian reality in which people from different nations recognize a new cultural symbiosis resulting from both their shared heritage and more recent intercultural learning and adoption of the other's ideas and forms of expression. With this in mind, he founded an artist's collective: The State of L3, named after a piece of ancient human DNA that spread around the world from Africa.
Herman de Vries
He never attended art school, instead studied agriculture during the 1950s and discovered art while working at an institute which researches plant diseases. herman de vries insists that his name is written in lower-case letters only, trusting randomness and not hierarchy as a principle of order. Art and science are joined in the experience of de Vries. It is the poetry already present in nature that he enforces by collecting, sharing and demonstrating its presence, showing the visual wealth of creation rather than making it. After a career that spans half a century and having had his work collected by museums all over the world, the 83-year-old artist has been selected to represent The Netherlands at the Venice Biennale in 2015.
Jonas Staal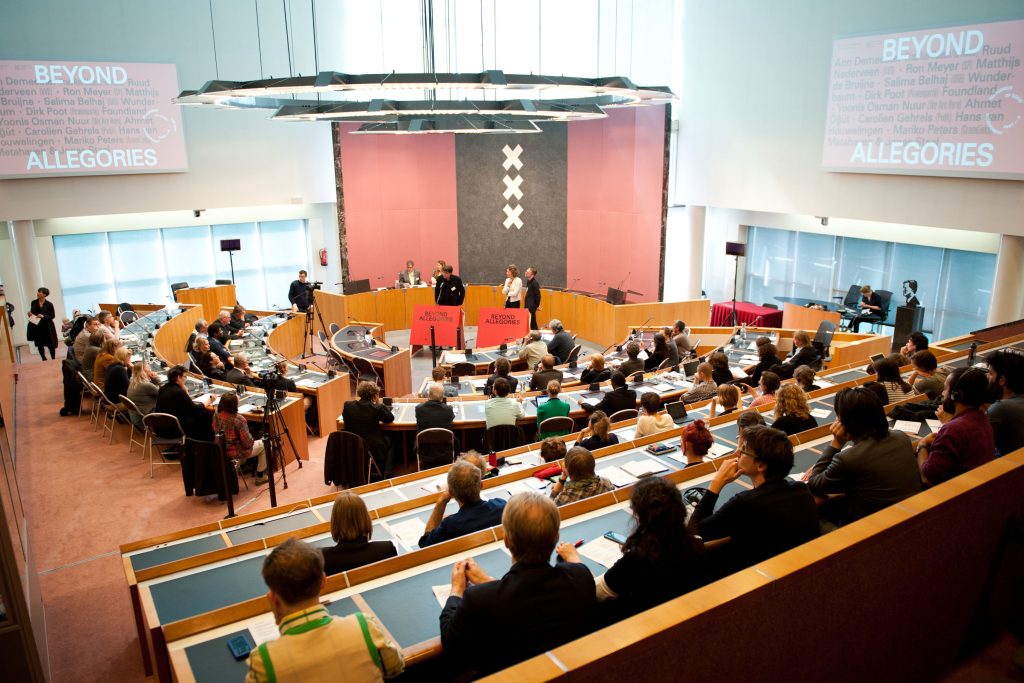 Moulding politics to make art, or using art to be a politician? It might never become clear in which domain Jonas Staal is operating. Through his New World Summit, which traveled to Berlin and India, Staal endeavored to outperform diplomats by inviting unrepresented people, lawyers and scientists to gather in the space of art as an alternative for uprising and suppression. With Beyond Allegories, he managed to secure the house of the Amsterdam city council for a day of exchanging ideas about art in society. Staal is a Ph.D. Arts student at Leiden University's Academy of Creative and Performing Arts.
Moniker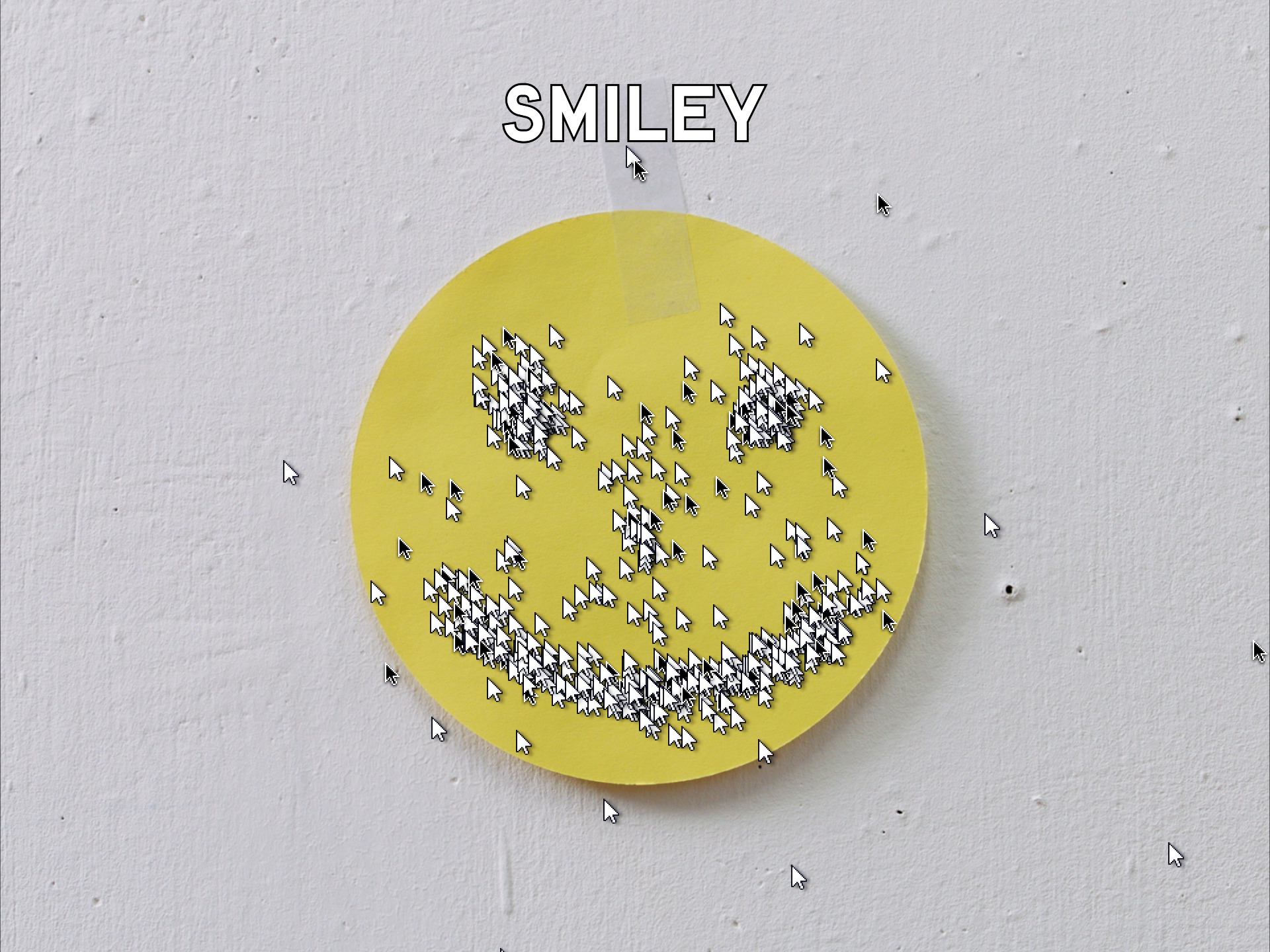 Moniker is a young interaction and media design studio founded in 2012 by three people: Luna Maurer, Jonathan Puckey and Roel Wouters. The studio works on commissioned design projects across various media, both on and offline, for a diverse pool of clients ranging from cultural institutions to commercial companies. It also invests in projects of an autonomous and experimental nature, whereby the studio explores the social effects of technology, ie how we use technology and how it influences our daily lives. Moniker co-authored a manifesto, Conditional Design, which employs a 'listen to the people strategy. The idea is that one should not design directly, but through a logic-based environment in which real things can grow. Workshops and media courses are at the core of the studio's practices. Its founders have taught at the Gerrit Rietveld Academy, Sandberg Institute and the Yale University School of Art. In 2014, Moniker won the Amsterdam Prize for the Arts.
Q&A with Luna Maurer
What is your favorite neighborhood in Amsterdam?
Amsterdam East, where I live. This area has the right mixture of residential spaces, new restaurants, bars and cafés, shops and a broad range of cultural institutes and initiatives.
Where do you eat?
At Café Schiller on the busy Rembrandtplein. The Art Deco interior is amazing and the food is good too.
What is a must-have item to live here?
A bike! It really is the only way to get around in this city and it's much faster and safer than a car. The best type of bike is the traditional omafiets: they are a bit shabby looking, so they are less likely to get stolen.
Where do you go to experience art and design?
I like to go to the Tropenmuseum with my daughter. We gaze at the materials, sculptures and artworks from other cultures.
What inspires you in Amsterdam?
The city is small, yet really diverse. The only constant is the water that is basically everywhere. I think the best thing to do on a day out is to aimlessly cycle along the canals through the city. You'll see all kinds of amazing things.
Micropia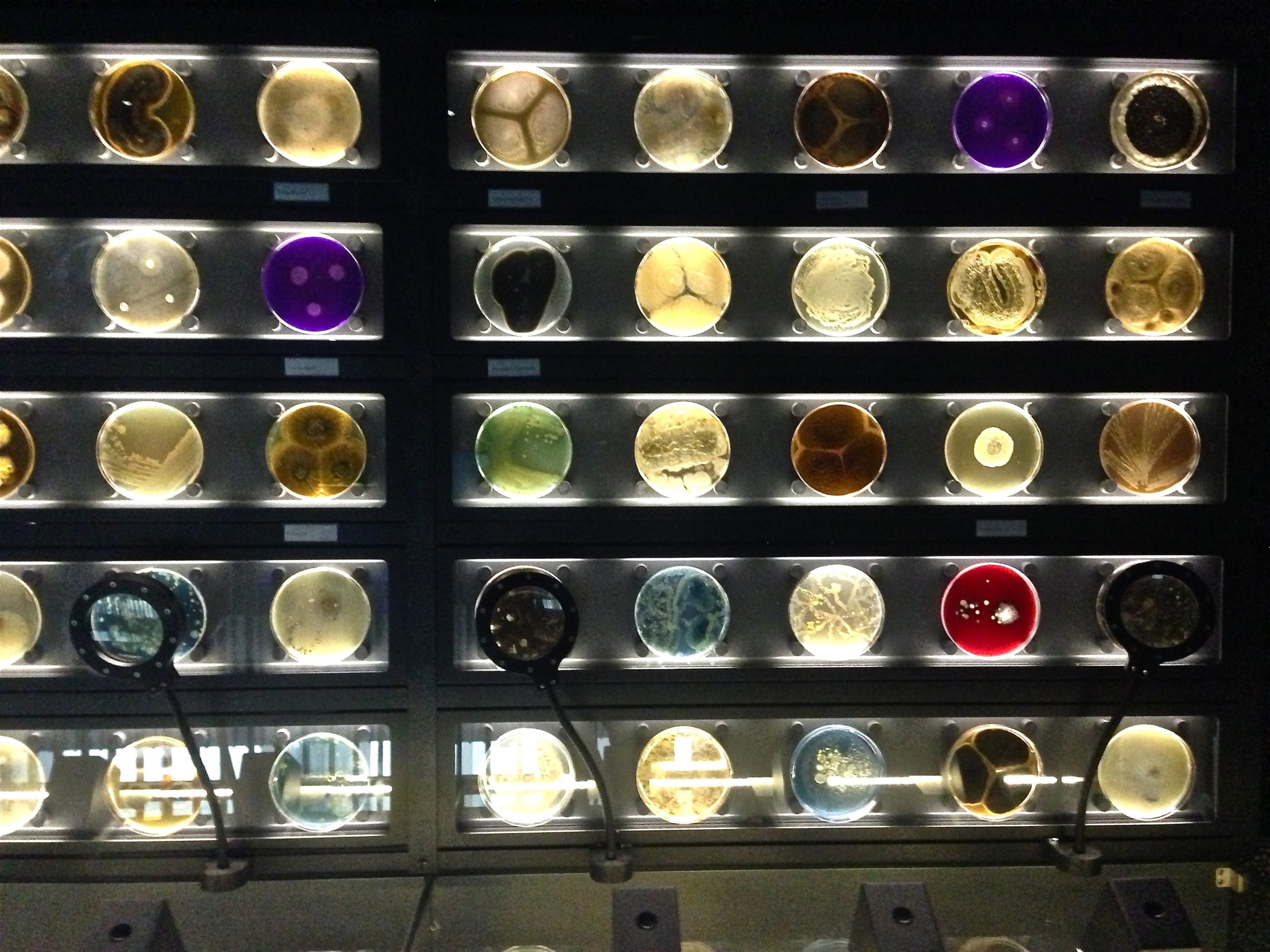 Did you know that there exists an organism that enjoys radiation and makes a backup of its DNA and uses it for restoration when radiation causes damage? The museum for microorganisms was opened in the fall of 2014 by the Queen and it is said that it is the world's first. Its location is at the entrance of the Artis Royal Zoo in the Zoo Society's former member's building. Micropia – 'showing the invisible' – is the result of an effort by a large number of companies and research institutions involved in biological design and technology. The aim is to both educate the public about the billions of invisible organisms living in and around us and to have a platform for further initiatives in the field of biological design and biology based innovation. The museum also aims to entertain and encourage the younger generation to visit. It keeps live micro-organisms on display, which are being looked after in an open laboratory staffed by students and employs the latest exhibition techniques to make both the organisms and their stories exciting. The exhibition space was designed by Kossman. Dejong and ART+COM, a Berlin-based media design bureau.
www.micropia.nl
Tel: +31 9002784796
Artisplein, Plantage Kerklaan 38-40
Restaurant As
Lodged in the former rationalist-style Saint Nicholas chapel, designed in 1962 by architect Lau Peters, Restaurant As is situated on the edge of the Beatrix Park. The kitchen is half in the chapel and half outdoors in a tent-like structure, so the weather may influence the culinary action. "Way beyond Herring," is what The New York Times wrote about the menu and you will indeed find both shrimps and insects on your plate, as well as neglected traditional vegetables. On most days of all seasons, wild game is a dish of the day. On Sundays, As serves a special à la carte menu with salad, soup, pasta, wood-oven pizza, a regional dish, Dutch cheeses and dessert.
www.restaurantas.nl
Tel: +31 206440100
Prinses Irenestraat 19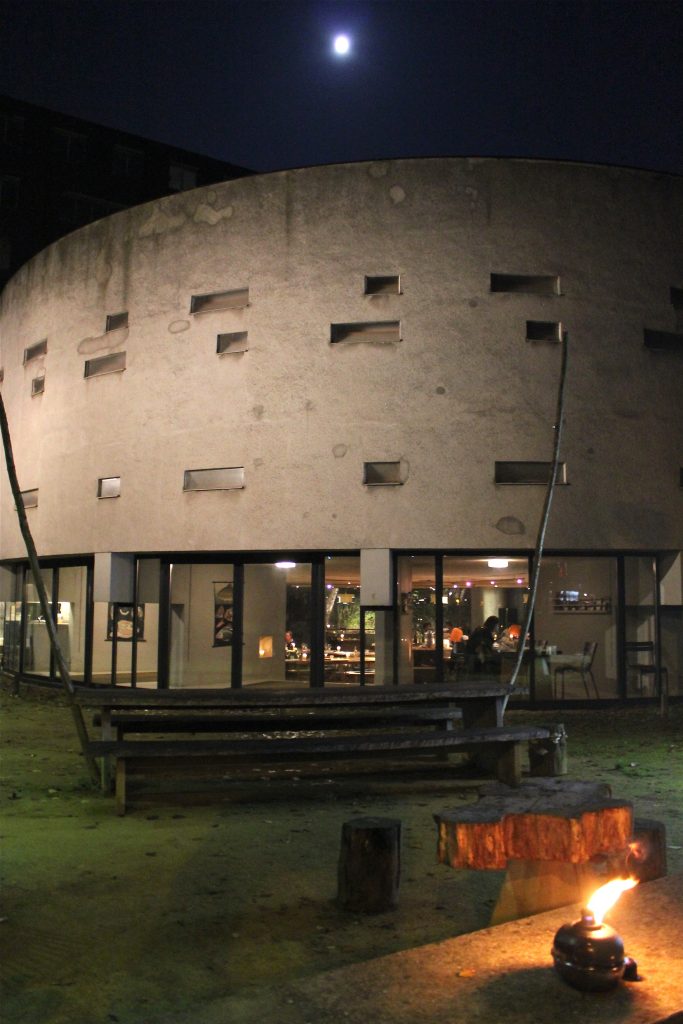 de Balie – Grand Café
A theatre, a center for politics, culture and media and a café-restaurant, de Balie is a stage for Holland's free speech, where both struggling and experienced artists and intellectuals show up to get a chance at finding partnerships and projects or simply to enjoy and express themselves. Dinner and lunch here is creatively simple, quick and inexpensive and there is nearly always a crowd most capable of entertaining itself. The Grand Café is a must for all social butterflies. Nearby are both music halls Paradiso and de Melkweg, and you may want to check what concerts are on. Both Woody Allen and Prince have been spotted here.
www.dedebalie.nl
Tel:+31 205535130
Kleine-Gartmanplantsoen 10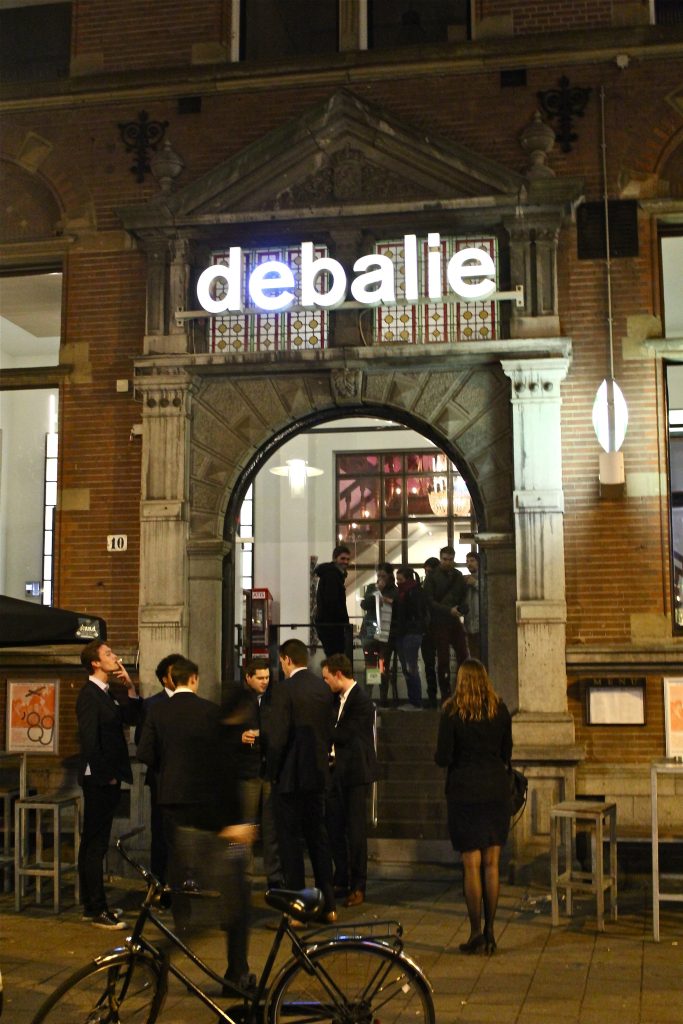 Café Brecht
A living room café with worn and torn furniture that would embarrass even your grandmother. 'So wiesist, so bleibt es nicht,' is written on a wall (everything changes) and is most likely a quote that German theatre director Bertolt Brecht said or wrote. Never mind the wear and tear: the granny chairs are a comfortable place to sit in between the city center and museum square. Often crowded, Café Brecht doesn't take reservations. Don't go there for a full dinner; instead, visit for a small bite. Although they do serve German beers, most interesting is their creative non-alcoholic drinks menu. Warm apple juice with rosemary is a must-try.
www.cafebrecht.nl
Tel: +31 206272211
Weteringschans 157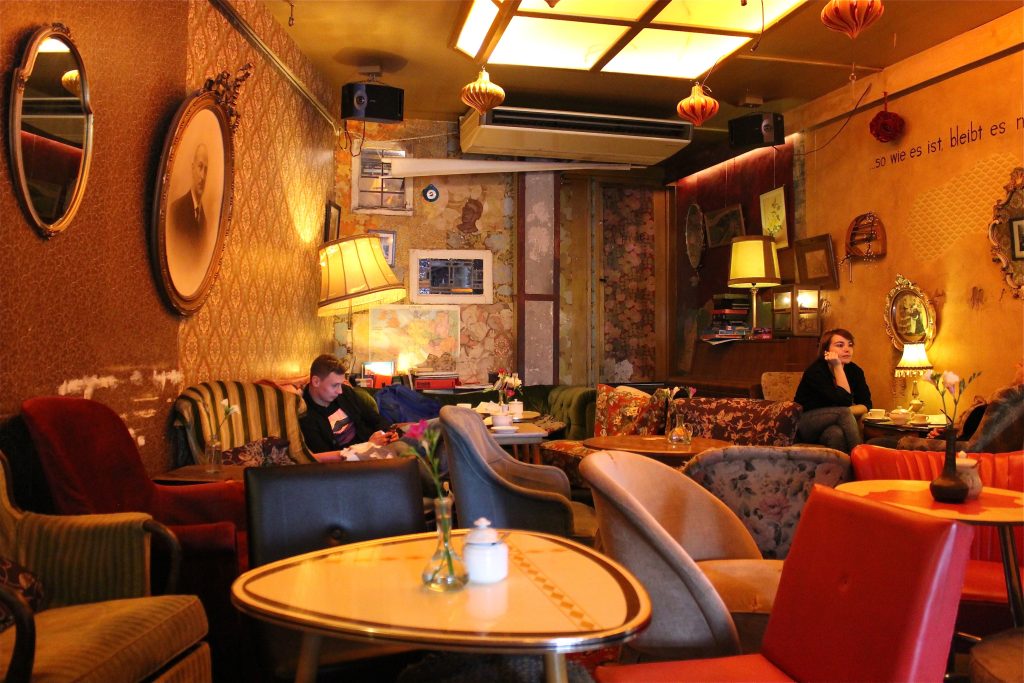 Bord'Eau
Greet Freddy Heineken's portrait by artist Jeroen Henneman in the lobby of Hotel De l'Europe. Its restaurant, Bord'Eeau, was once the beer magnate's eatery of choice. The name (by the water) is a nod to its excellent location on a sharp bend on the narrow Amstel River. The atmosphere is formal here, but when the weather allows, it has a waterfront terrace for your water taxi to arrive and to look at the many canal boats that pass. It's a place where regular businessmen and tourists live and lunch in peace. The food is of the highest quality: in 2014, the restaurant received a second Michelin star.
www.leurope.nl
Tel: +31 205311777
Nieuwe Doelenstraat 2-14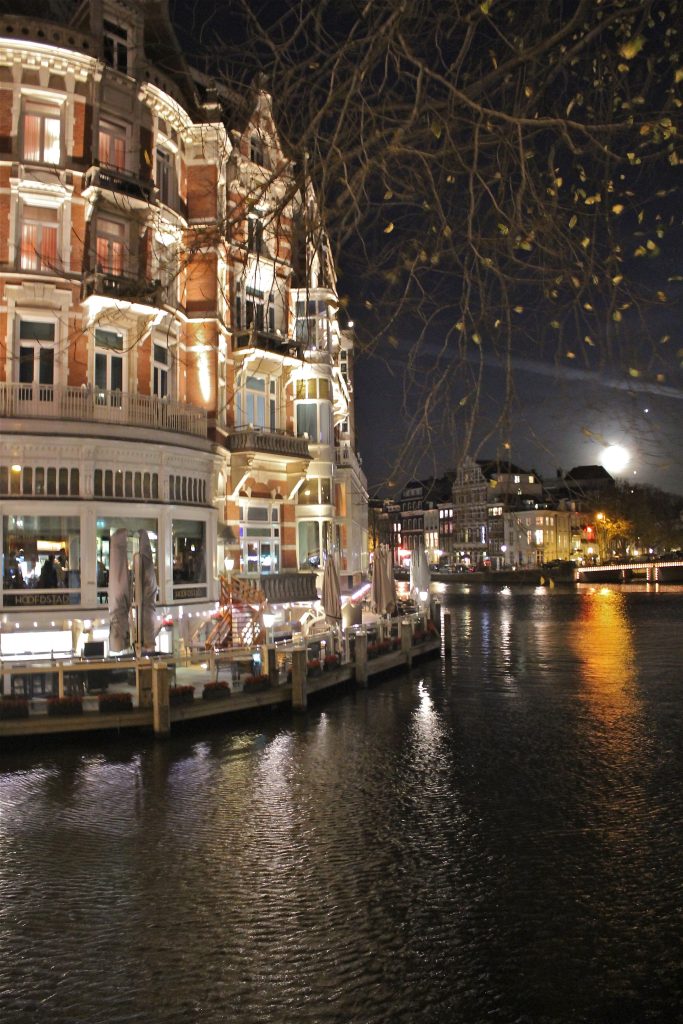 Conservatorium Hotel
With the best location at the heart of Amsterdam and the hotel with the most stars, the Conservatorium is where management assigns you a personal concierge. With the privacy of a courtyard facing the Van Gogh Museum and Stedelijk Museum on Museumplein (museum square), the hotel is close to the luxury shopping district of PC Hooftstraat. Its eight floors and 129 rooms and suites were opulently designed in a building from 1881, which for many years was the Sweelinck Conservatory of Music. The impressive glass and steel courtyard gives it a contemporary atmosphere and its brasserie has become a place of quiet gathering for the high society of The Netherlands. Amsterdam's exclusive jeweler Bonebakker, once well-known for its silver tea sets, has moved from the old city center to a corner of the Conservatorium's building.
www.conservatoriumhotel.org
Tel: +31 205700000
Van Baerlestraat 27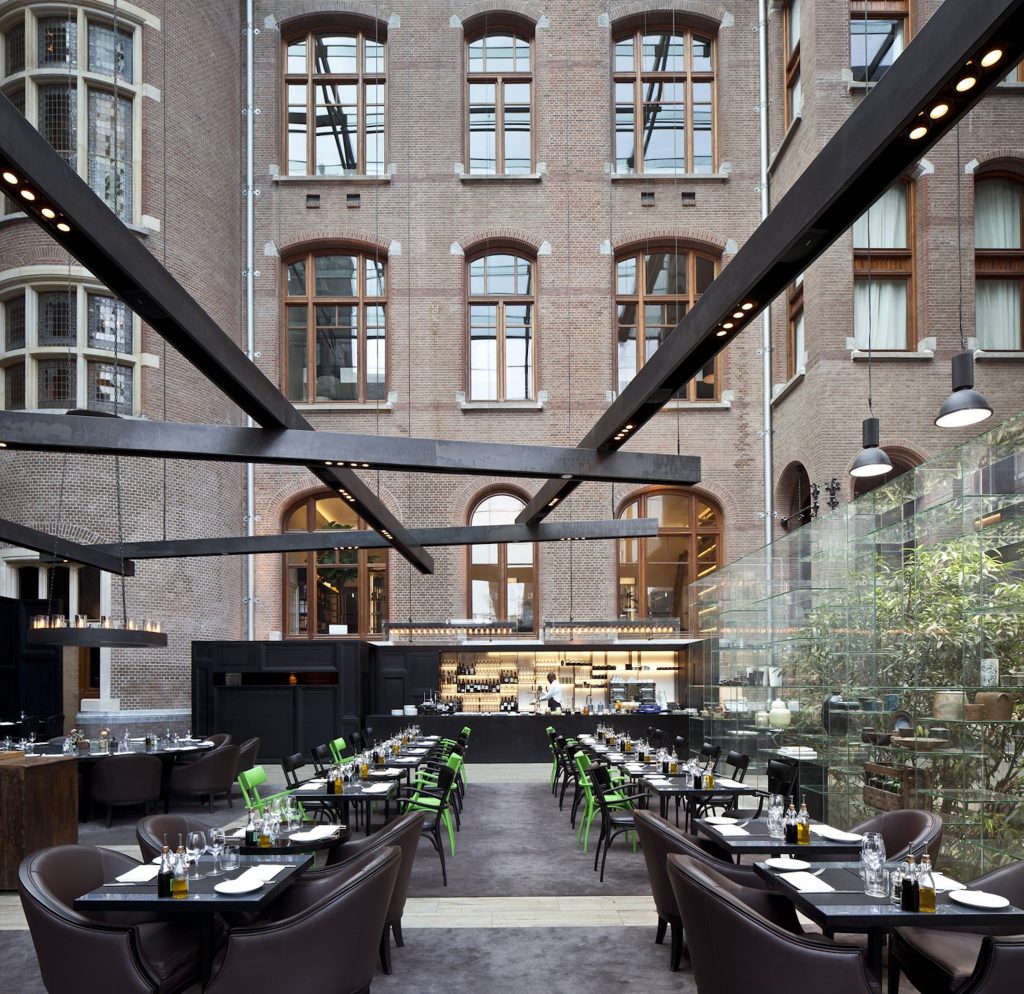 Hôtel Droog
The traditional concept of a hotel was turned inside out by design company Droog. Instead of having many rooms with a small shop, Droog created a single-room hotel with a large ground floor store that offers a whole range of affordable and well-designed products. Upstairs there is a library filled with 'unwritten classics with blank pages' and the Roomservice café and tearoom. The one and only bedroom, a bit like an apartment, can be reserved by e-mail and is central, located in the oldest part of the city with a view over inner city Amsterdam's rooftops.
www.hoteldroog.com
Tel: +31 205235050
Staalstraat 7B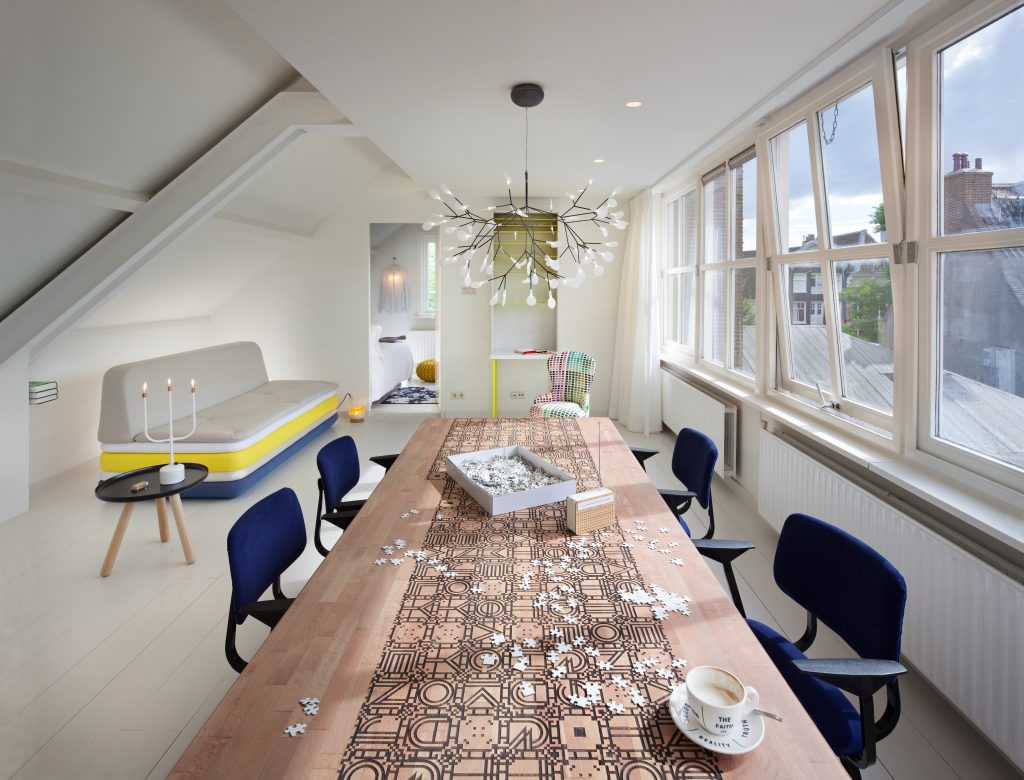 American Hotel
A magnificent Jugendstil style building on busy Leidseplein, the American Hotel has 175 rooms. Charming and affordable, it was built in 1902 when Europeans believed that everything coming from the USA was better than homegrown products. The late Amy Winehouse stayed here, even signing the guestbook. Music halls Paradiso and the Melkweg are on the same square. The restaurant, Café Americain, has long been the backdrop for artists, literary circles and more recently for a television talkshow.
www.edenamsterdamamericanhotel.com
Tel: +31205563000
Leidsekade 97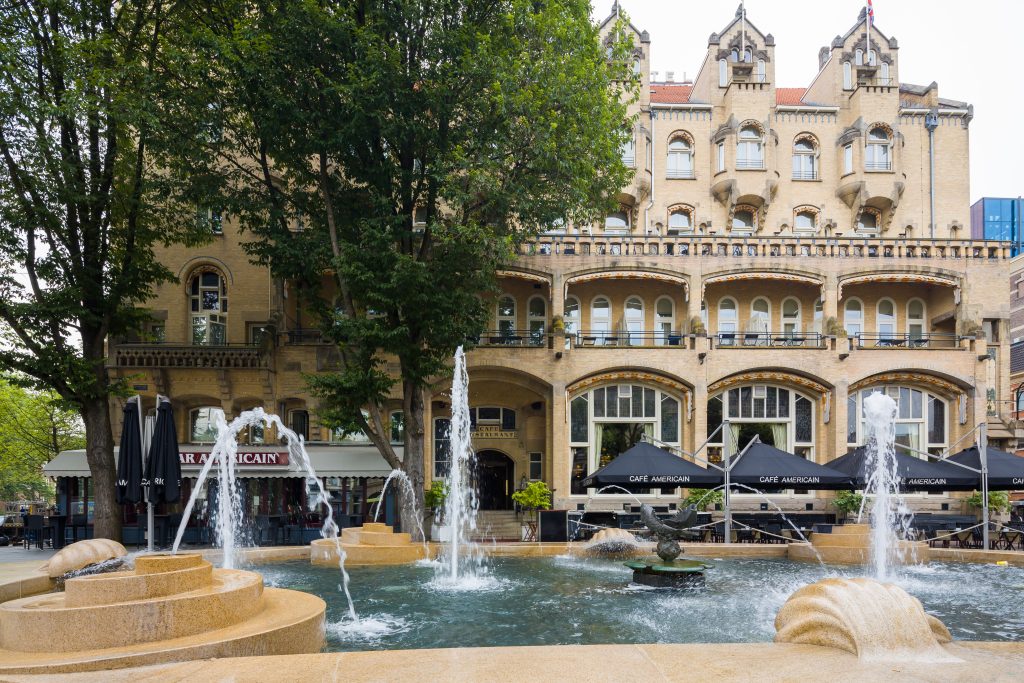 Volkshotel
A 1960s concrete structure which until 2007 was the headquarters of de Volkskrant, one of the biggest and most progressive newspapers in The Netherlands, today it houses the Volkshotel, or the 'people's hotel.' The building's interior was redesigned by Bas van Tol. The lounge is full of references to the newspaper, but most interesting about the hotel is that it has special rooms with interiors by a range of different designers who chose their own styles and themes; for example, the White Bike Room, or the Johnny Jukebox room designed by Remco Gonggrijp. The hotel also has an artist-in-residency programme.
www.volkshotel.nl
Tel: +31 202612100
Wibautstraat 150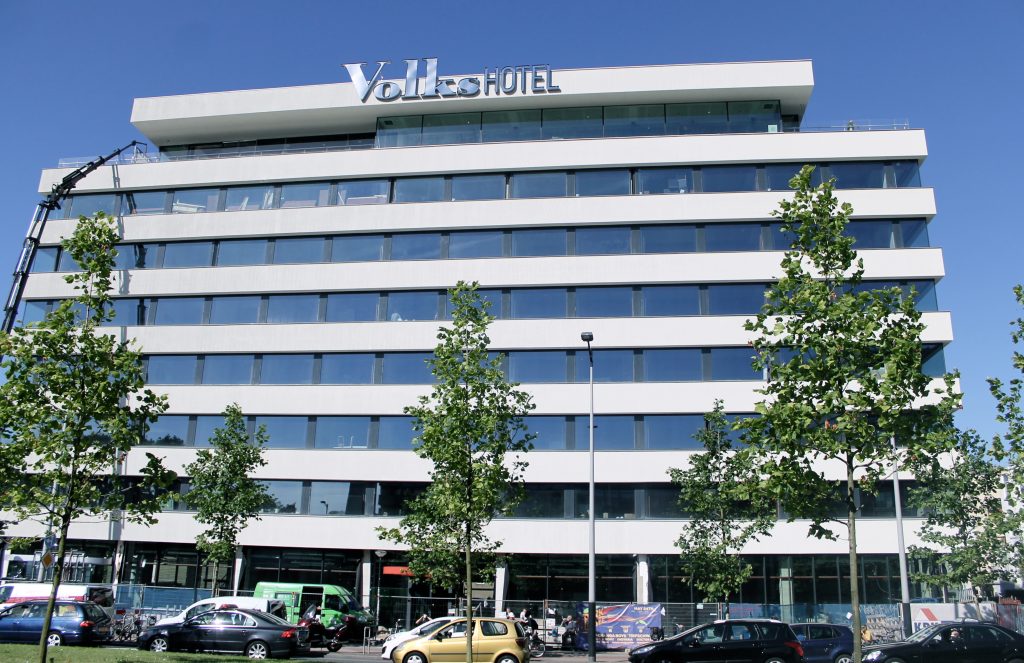 AMSTERDAM – NETHERLANDS
The travel guide for exploring the
ecstatic beauty of AMSTERDAM.