Hosted by the Saudi Ministry of Culture and directed by a multinational steering committee of specialists, professors, writers and authors in fields of Arab and Islamic art and history, the exhibition Scripts and Calligraphy: Paths to the Soul features 57 calligraphers and contemporary artists from 19 countries, including 15 from Saudi Arabia. It runs until 2 September 2023 at the Old Irqah Hospital in Riyadh, and will then travel to Madinah, where it will run from 15 October–23 December at the Madina Art Center. This second edition of Scripts and Calligraphy explores the spiritual dimension of calligraphy and its contribution to the world.
---
Stemming from a nomad orality, Arabic script rooted the impetus for the proliferation of literacy and heterogenous thought, propelling an array of universal communications and technologies. Calligraphy, a symbiosis of its Arabic and Islamic nuclei has come to encompass a wider gestalt of contemporary expression, responding to questions of modernity in urbanism, AI, geopolitics and identity.
Set on the grounds of the arcane old hospital in Irqah, Riyadh, the exhibition's location charms intrigue. The first edition of Scripts and Calligraphy, titled A Timeless Journey and examining the history of Arabic script and calligraphy, was aptly held in 2021 at The Saudi National Museum. This second edition, Paths to the Soul, investigates calligraphy's spiritual aspects, proposes a conveyance of Irqah's decades-long urban monolith.
The exhibition is divided into four conceptual sub-themes: Light, Letter, Space and Poetry. Commissioned and on-loan artworks by calligraphers, artists and designers are on display, plus a range of manuscripts and art curios. Totalling 116 pieces in a 1350-square-metre warehouse space, the range of works reflects the plurality of the exhibition's title.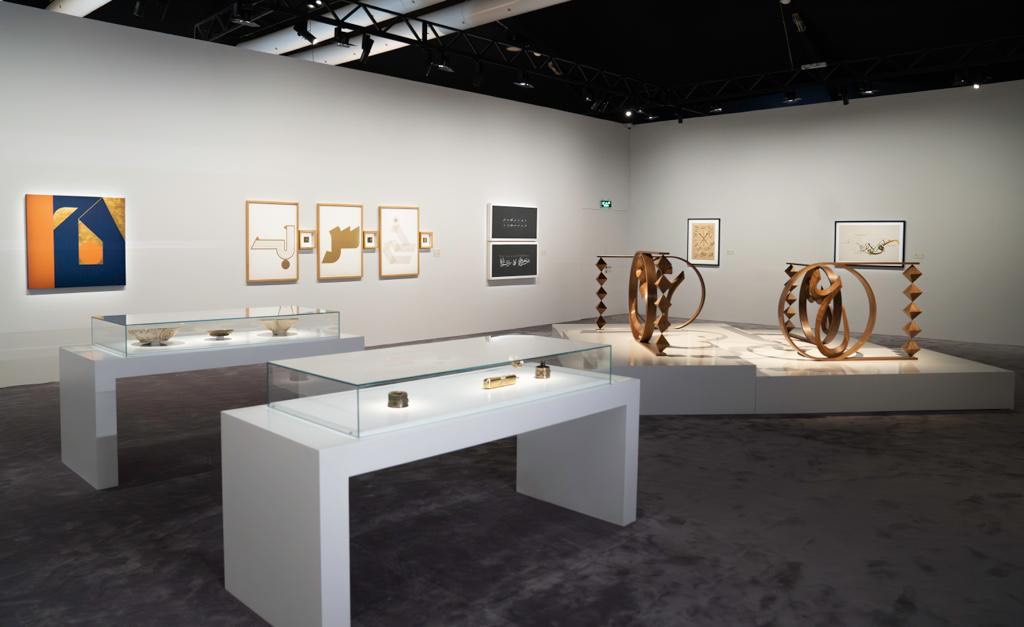 Upon entering, I track a spiralling iron plexus of the Arabic letter 'ha'. Calligrapher Jassim Miraj Al-Failakawi's A Pen Creak (2018) permeates light in a visual sound wave of a depleted quill's grating. Behind it hangs Sara Ouhaddou's An-Nur (2022), a circular multi-coloured stained-glass work that casts a vibrant linguistic prism.
I continue as geometric dexterity converses with the liminal space. Noor Saab's contemporary reinterpretation of illuminated manuscripts, The Voyage of a Word on a Spread (2022),imparts the intelligence of maintaining blank space while she breaks tradition in an enchanting asymmetry. Timo Nasseri's large wood-cast sculptures, Unknown Letters (2015), unravel a heavenly dimension of Arabic script in the mystery of master calligrapher Ibn Muqla's four missing letters.
Extracting nuance from the void, Doa Bugis and Sara Al Abdali illustrate the celestial homecoming of pilgrims in The Home, the Tomb (2019), while Faig Ahmed's video installation The Alif and Rhythm (2016) casts light on 100 pages of solitude and endless rosary beads in a black room of monotonous mantras. Outside, a white tower of recycled material linguistically provokes the gender binary with varying combinations of hiya-howa obtruding from its plinthic fringes in Hazem El Mestikawy's Aequalis (2014).
A myriad of historical scripts, Islamic art curios and contemporary works by classical calligraphers encircle a dimmed room, and centrestage is Etel Adnan's exuberant leporello Dhikr (1978), bearing the word Allah hand–copied 2500 times. The arrangement suggests to visitors a juxtaposition of cumulative historical ethos against a singular depth of journey marked by the art world.
Two artworks stand out in protest against form and context, recalling perfectly the words of art historian Nada Shabout: "Through Arab national imagination, the Arabic letter has been liberated from both its sacredness, as perceived through Islamic calligraphy, and its connectedness as a written script". On a seemingly mute canvas, Haythem Zakaria's quest for meaning encodes an algorithm, typing a grid of thousands of black stipples of the letters that form the surah Al-Fatiha in his eponymous laminated print. Meanwhile, the outcry in Oran-based Sadek Rahim's Mouvement (2020) is combusted on a hanging carpet. The exuding agitation from the refined-oil-burnt dual meaning of intiqal and a GPS Garmin 73 device hints at forms of transitional passing via exile and forced immigration.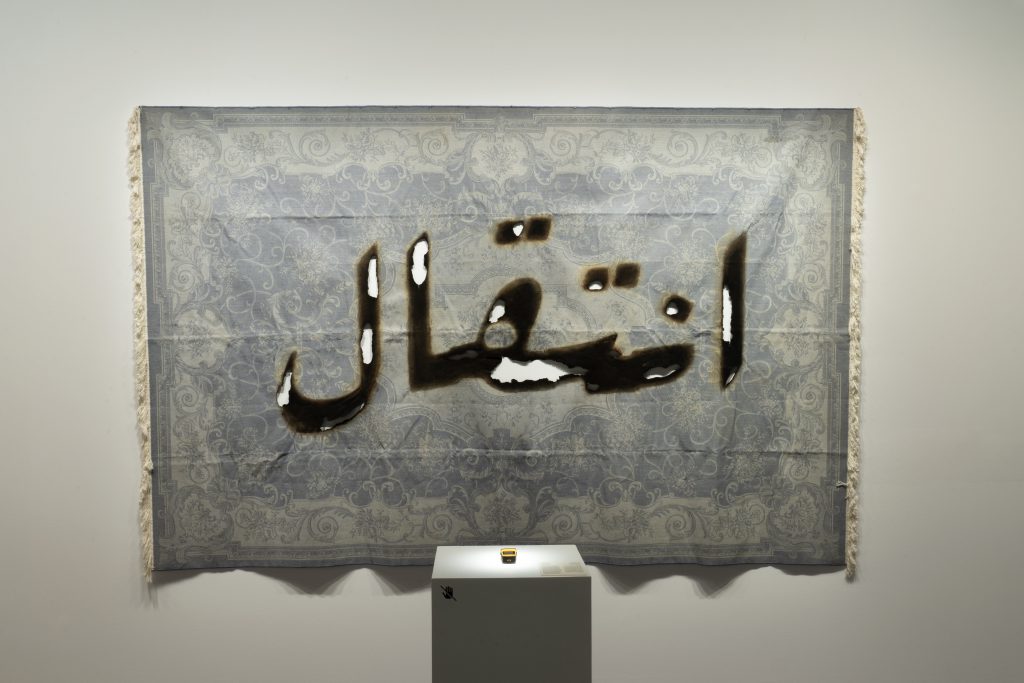 And, as if carving out the pain of the universe from the breath of man, Yazid Kheloufi's epitaph of letter is anything but soulless in his Andalusi-Sufi tombstone-like Naffas (2016). In contrast, Farah Behbehani's silkscreen prints draw delicate zephyrs into visual bird songs and lyrical dances from an allegorical Persian poem in The Conference of the Birds.
From the boundless mesh of the universe to an abandoned 1987 Art Deco-revival Riyadh building, this exhibition attests to the fluidity of identity of Arabic script and calligraphy. It proposes a catharsis of self in nebulous worlds through an expansive investigation.
As I tread fervently in and out of Paths to the Soul, I wander to the words of writer-poet Issa Makhlouf as he relays the thoughts of master calligrapher Khodeir El-Borsaidy, to whom this exhibition pays tribute, on the path of his creative spirit: "It has gained more strength through its constant departures and journeys into the unknown."