London's Hotel Café Royal has created a remarkable afternoon tea as part of a partnership with
Van Gogh: The Immersive Experience

, a digital interactive exhibition currently showing in the British capital. Carefully curated to reflect the great artist's inspirations and life, the tea provides more than just pleasure for the palate.

Words by James Parry
---
Picture the scene: in a prime location in London's fashionable Mayfair, a lavish interior of gilded mirrors and elegant frescos, extravagant but also uncannily intimate, a place to be seen but where you can also tuck yourself away incognito should you so desire. Erudite conversation and witty repartee are very much the order of the day: George Bernard Shaw sits at a table chatting with Arthur Conan Doyle; Aubrey Beardsley and James McNeill Whistler discuss the finer points of art; Augustus John and Jacob Epstein exchange pleasantries with Sir Winston Churchill; Andy Warhol, Brigitte Bardot and Elizabeth Taylor share a private joke, only pausing to look up when Mick Jagger and Princess Diana arrive. Time and people may have become intermingled in this cameo, but all these personalities – and more have graced this glittering room at various points in its history.
Welcome to the Hotel Café Royal, one of London's most iconic and stylish establishments. Started as a restaurant by French wine merchant Daniel Nicolas Thévenon (also known as Daniel Nicols) and his wife Celestine in 1865, It soon became the fashionable meeting place for a glittering array of celebrities that ranged from leading figures in the literary world to Politicians, artists and actors. The Grill Room, now called the Oscar Wilde Lounge in homage to arguably the greatest wit of his time and a man who enjoyed luncheon here on an almost daily basis, was the epicenter of fine dining and lively discourse.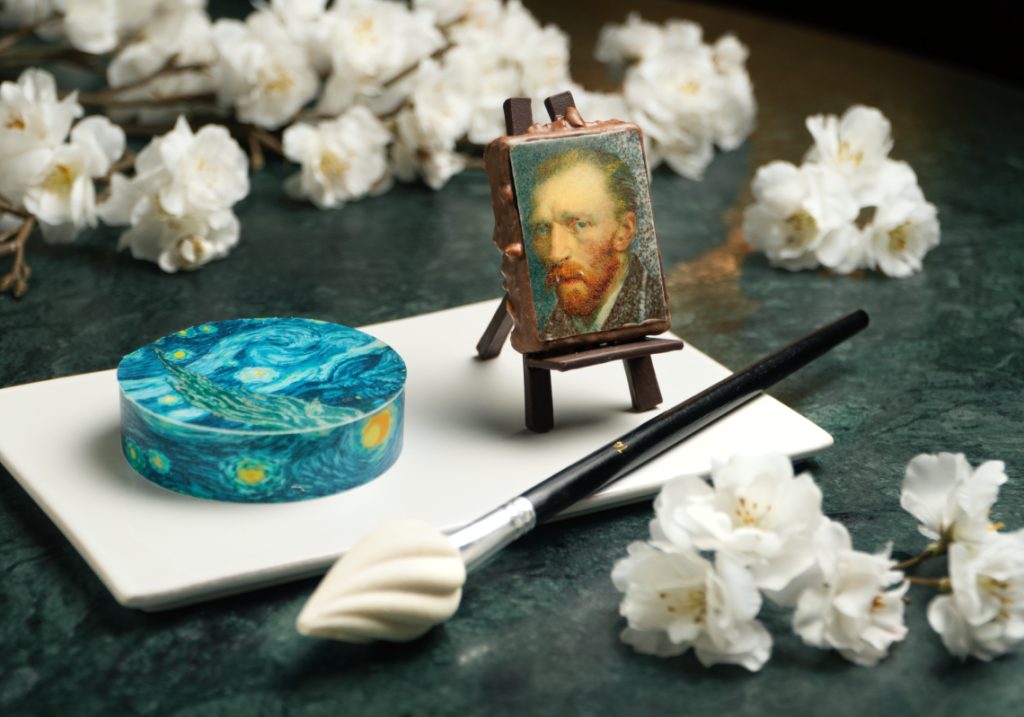 Today the Hotel Café Royal attracts an equally illustrious clientele, drawn in part by an active relationship with the British capital's art scene and cultural crowd. This engagement has been brought into sharp relief by a current collaboration that sees culinary brilliance married with great interpretative panache in a celebration of one of the world's greatest artists. Michael Kwan, the hotel's head pastry chef and UK pastry team president in the Coupe du Monde de la Patisserie of 2019, has created an exclusive afternoon tea inspired by the work of Vincent Van Gogh. Each item on the menu is meticulously Crafted to reflect individual paintings by the artist, as well as being inspired more widely by his life and oeuvre. It's a remarkably masterful demonstration of what becomes possible when haute patisserie meets high art.
The Van Gogh Afternoon Tea opens with an amuse-bouche and savoury tart inspired by The Potato Eaters (1885), reflecting the subdued palette used by Van Gogh in his early works. Sandwiches are to follow, including crab and dill mayonnaise on lemon bread, inspired by the 1889 painting, Two Grabs, and then richly burnished scones recalling the tawny golds of works 'such as Noon — Rest from Work (after Millet) (1890). The colors become ever more vibrant as one works through the menu, reflecting the artist's own trajectory as he discovered energetic blues and yellows. His Still Life — Vase with Twelve Sunflowers (1888) appears in the form of petals of sunflower seed praline and salted caramel, with The Starry Night (1889) presented as the topping fora sublime cheesecake of pink grapefruit compote with orange marmalade. The standout comes in the form of a pecan crunchy, coffee mousse and taro sponge Van Gogh self-portrait, served on its own easel. 'And yes, everything comes on a suitably impressive tiered stand, brought to your table by very knowledgeable staff who act as curator-cum-guides. A range of Van Gogh-inspired cocktails — anyone for 'Scent of Van Gogh', steeped in absinthe (the artist's favorite tipple)? — and imaginative teas accompany the culinary journey.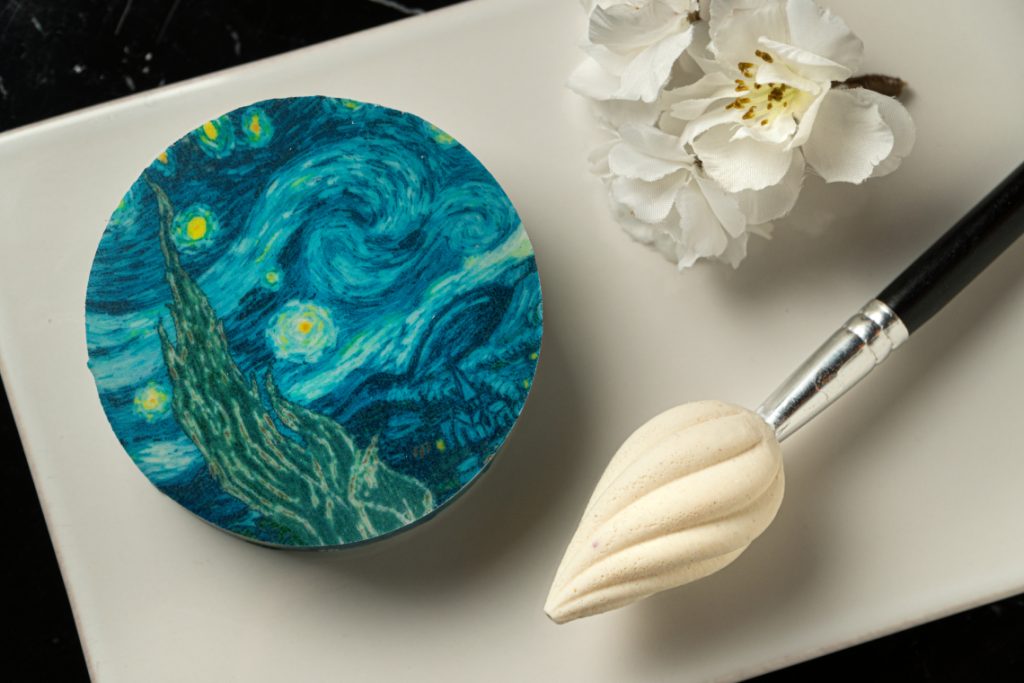 The tailor-made afternoon tea Is designed to complement a visit to Van Gogh: The Immersive Experience, a 360-degree digital art exhibition currently showing in a former 19th-century stable building in trendy Spitalfields. More than 200 of the artist's sketches, drawings and paintings are featured digitally, alongside recreations of interiors associated with the artist and a ten-minute Journey — via virtual reality headsets — through a day in the life of the artist, in which you are led through the bucolic landscapes and inspirations behind eight of his major works. Highlights also include a drawing studio, where you can color-in templates to make your own versions of iconic Van Gogh works, and a chillout space in which to laze in a deckchair while animated projections of classic Van Gogh scenes unfold across the walls in a dramatic crescendo to an innovative and surprisingly satisfying show.