Designed by Celine's creative, artistic, and image director Hedi Slimane, the boutique on New Bond Street opened in November last year as an experiential location that merges design and art.
Words by Katherine Volk
---
London's famous and fashionable Bond Street has been synonymous with luxury since the late 1700s, and the Celine boutique on New Bond Street is no exception to that noble tradition. Under the artistry of Hedi Slimane, guests are invited to rediscover their connections to space, materials and architecture through understated elegance. Glass casings and white walls edge the black marble floors in a simple and sophisticated design that creates a memorable experience from the moment you step through the door.
The men's and women's floors are meticulously crafted for each have a unique look and feel, and in addition, an existing original octagonal room has been dedicated to the Celine Haute Parfumerie and Maison Celine lines. Starkly contrasted with the minimal Parisian salon interior style found across the boutique, this ornate room is an intimate space with antique marble floors and decorative wall features preserved from the original Edwardian building, situating itself between a cabinet de curiosités and a jewelry box.
The 345m2 ground floor hosts the women's section. Slimane has carefully partnered brutalist design pieces from Jean Touret and Verner Panton with eye-catching contemporary art that flows harmoniously with the architecture of the store. Guided between the minimalist shelves, visitors will find two works commissioned specifically for the New Bond Street store by Nika Neelova and Leilah Babirye.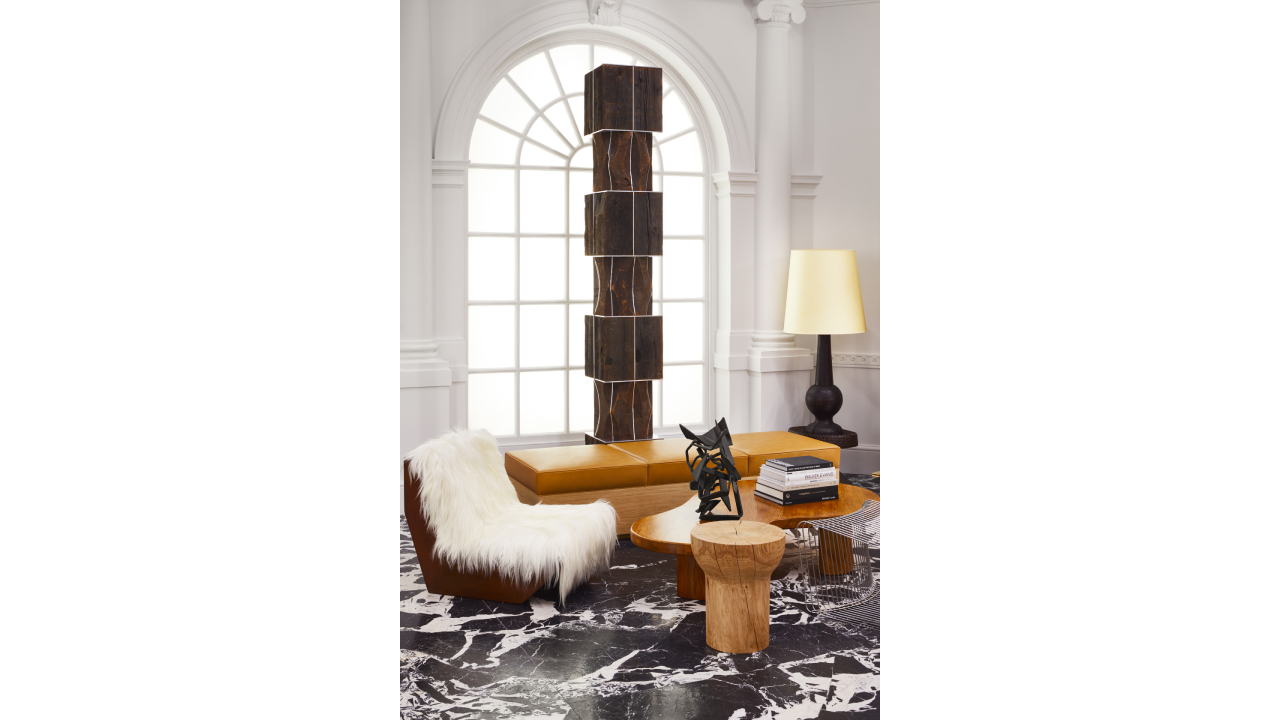 Top: Leilah Babirye. Najunga From the Kuchu Ngaali (Crested Crane) Clan Commissioned work for Celine
Below: Lukas Geronimas. Column.Commissioned work for Celine. Images courtesy of Celine
Russian-born, London-based Neelova's sculptural installations, Lemniscate XI and Lemniscate XIV, are made from reclaimed architectural elements and seem to float, delicately suspended from the ceiling. The brown tones of the twisted metal complement the natural wooden accents and sculptures dotted around the boutique space. Neelova often transforms the found materials beyond functionality to create sculptures that play with one's perspectives of time, context and place and with the relationship between our bodies and spaces.
Continuing the conversation between creative expression, form and material, Babirye's metal and wooden sculpture, Najunga from the Kuchu Ngaali (Crested Crane) Clan, addresses issues around identity and human rights. Born in Uganda, the artist fled the country for New York, where she was granted asylum with support from the African Services Committee and the NYC Anti-Violence Project. Also included on the women's floor is a previously commissioned work, Lukas Geronimas's Column, which rejuvenates gifted objects through detail-orientated sculptures that play with material and structure also while borrowing elements from architectural forms.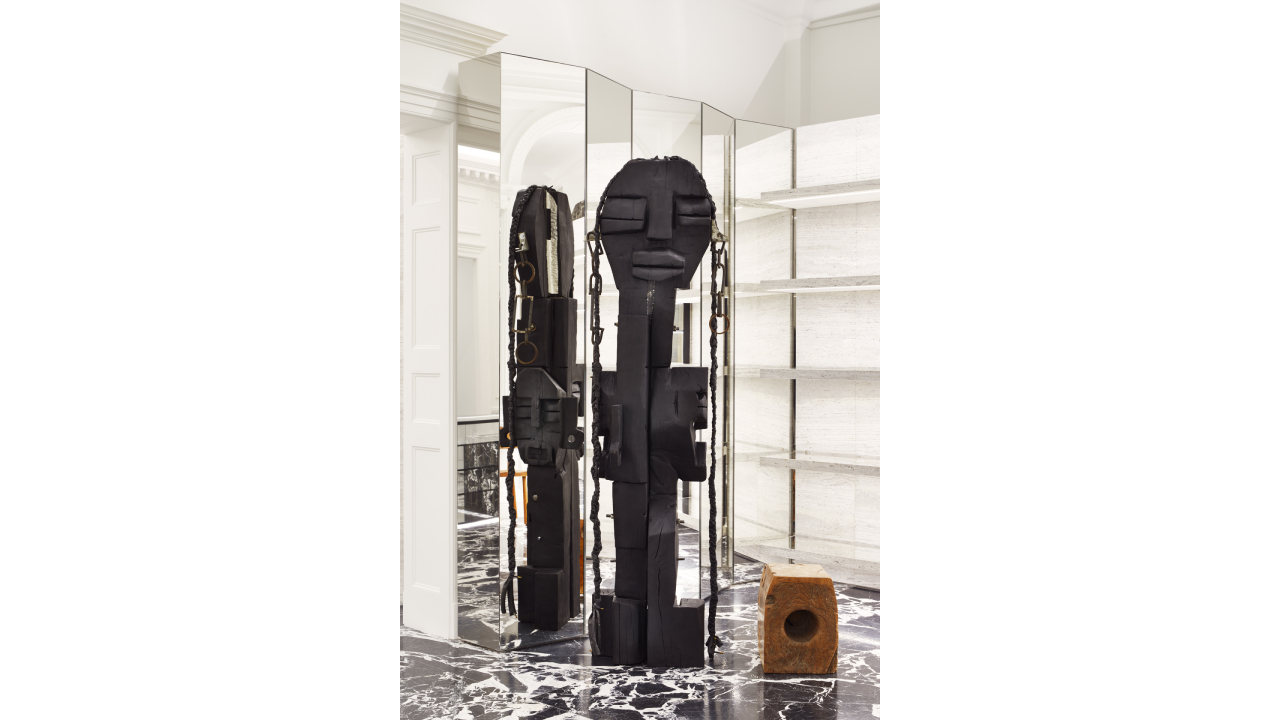 Downstairs in the basement, visitors encounter a more intimate space with concrete, white walls and industrial pipes, as well as two works of art. Davina Semo's Generator complements the industrial tone with a polished and patinated bronze bell which features punctured holes, chains and hardware in an abstract investigation into physical form and reality. Similarly, Mel Kendrick's 2 Holes questions our relationship to form and line by examining notions of sculpture and the connection to how it was created – through layering, cutting, extracting – and then, in turn, how it is experienced, as he brings out forms from within the wood.
The men's fitting rooms are designed with a wooden screen, which when opened reveals a library, further blurring the lines between boutique and cultural experience. One of the two rooms holds an oil portrait of Maximilien de Béthune, Duc de Sully, of the Flemish school from 1670. Depicting a youth unaware of the momentous journey and notable career ahead of him, it serves to echo Slimane's own pursuit of unassuming greatness.