The artist discusses his recent show at Athr in Jeddah (ended 5 January) and extols the virtues of drawing as a way of achieving creative unity and understanding of self.
---
Have you always worked with drawing?
My background is in traditional classical painting, something that I've become fascinated with and taught myself. Even though I studied fine art at Central St Martins in London, I sometimes felt out of place there, because they were pushing for a more conceptual or modern approach. I just wanted to paint with the sensation and feeling of using very traditional methods of painting.

Last year you exhibited at 21,39 in Jeddah.
Yes, and the exhibition was curated by Venetia Porter. We found that we share a mutual obsession with drawing. The theme was about places or spaces that one has a connection to, so I looked at locations that I am fascinated by or have a relationship with. I ended up revisiting London, where I lived as an adult; Berlin, where I currently live; Paris, where I did a residency; Jeddah, where my family and heritage are from; and lastly Florence, where I'd never been and only read about, but which had always been one of my dreams to visit because I am inspired by Italian classical painting.

I made small drawings in all of these places and ended up accumulating almost 300 of them, just by walking around, recording sensations and experiences through gestural sketches. When I went back to Saudi, I wanted to find a way to combine all these images, so I built my own silkscreen printing press in my studio. I particularly wanted to explore transforming the small drawings into bigger formats. When you try to redraw something like that, which is already pre- existing, it's hard to create lines that are confident, honest or organic. Silkscreen printing is the closest thing to drawing because it uses black ink to mimic charcoal on raw canvas. I decided to do everything manually in a DIY process that means all of the prints are unique.

What is the impact of enlarging the drawings onto canvas, do people perceive or interact with a drawing differently when it looks more like a painting?
Oh absolutely. Almost in a disappointing way, because they don't look at it from a conceptual standpoint. I feel the majority response is driven by the perception that the bigger work is more valuable. Yet if it were not for my smallest drawings, the big ones wouldn't exist. So why does attention focus on the large piece even though it's the same drawing, and why should the value be any different? The true worth of any drawing is intrinsic to what manifested from it, what I like to call the mother of an artwork. I think people really need to draw more, that it should be recognised more widely as an important genre of its own and that studies or studio work and development on paper should be exhibited more often in their own right.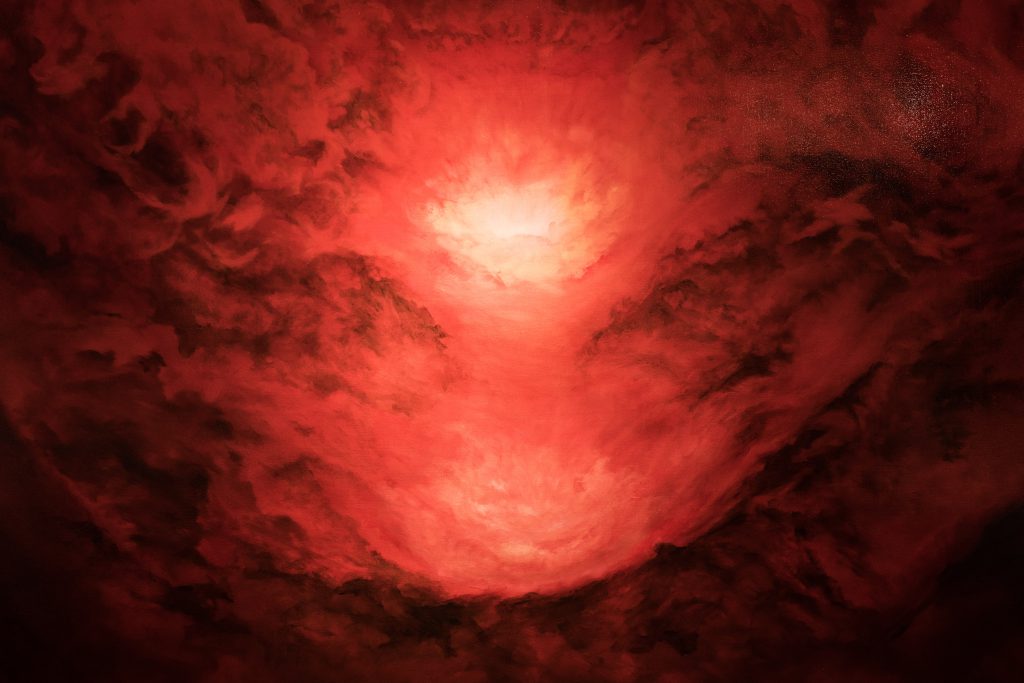 What was your process working towards the recent exhibition Tired Lion at Athr in Jeddah?
I was invited to do the show early last year and given carte blanche over what I could show. I have a studio in Berlin and a studio in Saudi Arabia, so I decided that I was going to spend time between each on research. I've previously been looking at drawing as a form of communication or recording information, not necessarily to represent something real but more gestural and focusing on the ability that drawing has to record time or movement. My research took an interesting route, because I haven't lived in Saudi since I was a kid. When you're in the studio bubble, you end up festering and it doesn't feel as solid as it would when you get formal engagements and people that you speak to. Luckily the curator, Lucas Morin, who is actually a very good friend from my time in Paris, saw this mishmash of work and refocused me to present my strengths.

Where did the name Tired Lion come from?
When I'm in a rut, I look at my drawings and they're almost like tarot cards. You just read them and then suddenly they make sense. One of the drawings I did when I was walking around Paris was of a statue of a lion. The quick line sketch that I did of the lion looked really miserable, with a sad mouth and so I made a mental annotation: "tired lion". Morin saw it and encouraged me to pursue it further, so I started doodling these lions and they became more lighthearted, whimsical and gestural. There were artists in the 17th and 18th centuries who would hear stories from sailors about a creature called a lion, but had never seen one themselves so they depicted them according to their imagination. The resulting creatures all looked hilarious, some even with human eyes and ears. I decided to take these studies further and revisited the silkscreen process. This time I wanted to keep it as light-hearted as possible, so I introduced colours such as pink and yellow to contrast with the motif of a lion as being strong and powerful.

Your commissioned paintings Topography #4 (2022) and Untitled Study (2022) are included in Hayy Jameel's group exhibition The Mountains Quiver in Anticipation (ends 29 April). Do you find that there is conflict between painting and drawing or do they complement each other?
I think they complement each other in a way, mainly because they're emotion-based. I'm not depicting anything literal or anything that is real. They're all pure manifestations of imagination. Also, both of the works I did for Hayy Jameel stemmed from an accumulation of drawings. They were developed from one purely gestural sketch. I applied layer after layer to develop it, which may sound crazy but to me it's pure information and instructions to myself, and as I draw, the image becomes clear to me. It doesn't have to make sense, it can be concluded later, but the process of annotating or communicating with our inner selves through gestural drawing in this meditative trance state where there are no rules becomes communication from inside to the outside. I feel that this way of drawing is so important for any studio practice. Through drawing you develop a unity with yourself and your subconscious, almost like a ritual. It really should be celebrated more.
This interview first appeared in Canvas 106: Making Their Mark