The fifth edition of Ithra Art Prize celebrates how its expanded reach empowers talent, fosters a creative and knowledge-based economy, and continues to reframe the discussion around Arab art at global and local levels.
---
The first significant art awards in the Middle East were launched in the early 1990s, when institutions – largely throughout the UAE and Levant – began using grants as a means to support and disseminate cultural production within the region. In the Gulf specifically, the increased presence of large-scale institutions-cum-cultural centres – occasionally filling the gap in scenes populated with a relatively compact spread of galleries, museums and the like in relation to Western counterparts – was the result of a swift, unified uptick in governmental support. This impetus nurtured the rapid development of both the viability of being an artist as well as the public's interest in art consumption. It also inadvertently addressed the shifting but ever-present dynamic between heritage and modernity in the region, a theme which presents itself through works by artists who, courtesy of support in the form of initiatives such as art prizes, are able to propel their narratives onto a global platform.
"Art is an essential component of the human condition, and we have been making art for as long as we've existed as a species," explains Farah Abushullaih, Head of Museum at the King Abdulaziz Center for World Culture (Ithra) in Dhahran, Saudi Arabia, which hosts the region's largest art award. The Ithra Art Prize gives the winning contemporary artist or art collective USD 100,000 to produce a new work – one never made before, neither part of an existing series nor an adaptation of another piece – which would otherwise be financially impossible. "Art prizes benefit artists through the recognition they award shortlisted artists and winners, while also providing a platform and giving access to both general and niche audiences," adds Abushullaih. The scale, when as significant as Ithra's, "offers a means of bringing a dream to life", increases an artist's international profile and market value, and sees their work join Ithra's permanent collection. The relationship is mutually beneficial – in the case of Ithra, it positions the institution and Saudi Arabia as key players in developing global art discourse.
Unlike other regional art prizes, when Ithra Art Prize was launched it championed established Saudi and Saudi Arabia-based artists, rather than emerging or mid-career practitioners from across the MENA region. Showcasing artworks at Art Dubai for the first three editions, it relocated to KSA's first-ever biennial, the Diriyah Contemporary Art Biennale, in 2021. The emphasis on the Kingdom's creativity is informed by its artists' self-reflexivity, inspired heavily by the diversity of Saudi heritage and often translated through conceptual means. Burgeoning art hubs such as Diriyah and AlUla reinforce this strong sense of looking inwards to generate cultural output. However, cross-cultural exchange – which has played a deeper role in KSA's history than perhaps even it was aware of, has contributed to the plethora of references from which artistic inspiration is drawn by the current generation of contemporary practitioners.
Proof of the Kingdom's role as home to historical cultural epicentres going back millennia has been uncovered in both expected and unexpected ways. Archaeologists play the central role, but artists are proving to be important allies for communicating how prevalent cultural cross-pollination has been in Saudi Arabia, in turn impacting the way in which contemporary Saudi practitioners work. Artist and patron Sultan Bin Fahad – whose work is in Ithra's collection – showcased R III (2021) at Art D'Égypte, which referenced how Saudi archaeologists in Tayma Governorate, northern KSA, discovered an inscription belonging to King Ramses III, revealing previously unknown connections to Egypt.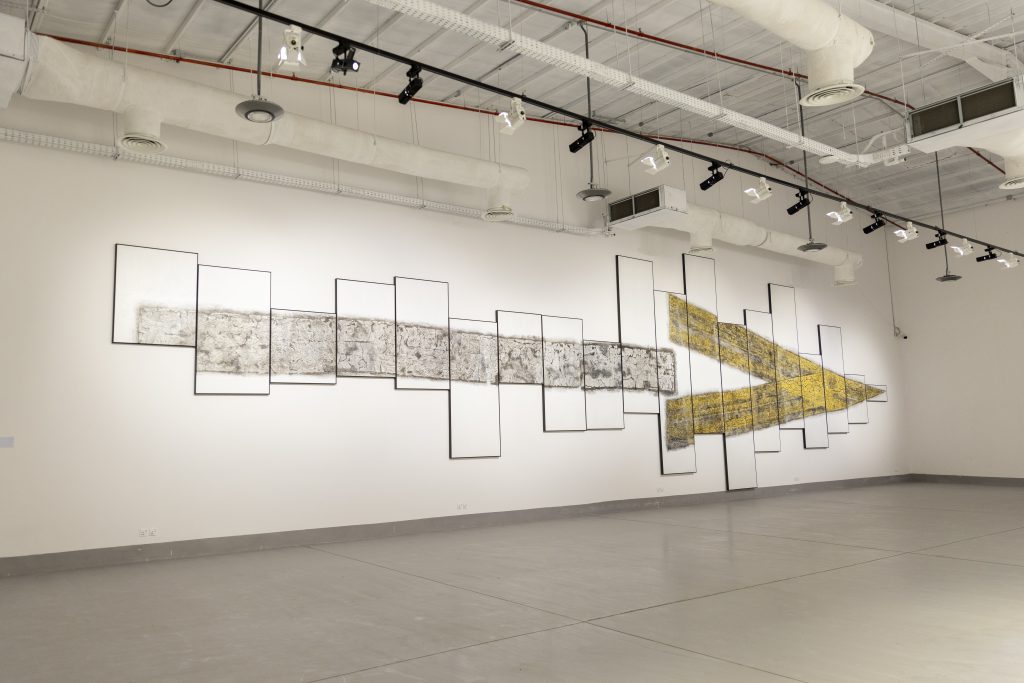 It is this unique blend that Ithra Art Prize was able to draw upon when it launched in 2017. "Art can be a means of preserving and transferring knowledge and especially cultural heritage," says Abushullaih, adding, however, that it is important to embrace organic, albeit practical and fair, growth. As an institution, Ithra continuously pursues international partnerships and collaborations to further develop its initiatives to broaden cultural horizons. A natural step in this direction included opening the grant's doors to nationals and long-term residents of all 22 Arab countries by its 2021 edition, and for 2023, providing a flat rate, rather than up to, monetary prize of USD 100,000, as well as initiating discussions to take the winning works on Ithra's global roadshow in the coming years.
By adapting its format and scope, Ithra Art Prize shows that it is listening and responding to the needs of artists, the desire of an increasingly art-interested public, and the attention of the international art industry. In adopting a holistic approach, Ithra's five pillars of Knowledge, Creativity, Culture, Community and Art – each with dedicated programming – substantiate its commitment to empowering the local artistic ecosystem, energising a knowledge economy, facilitating a broader cultural dialogue, and, as Abushullaih notes, "are based on Ithra's goal of empowering the next generation of creative leaders with the knowledge, skills and platform to contribute to the fastchanging creative industries."
Ithra Art Prize – whose winners Nadia Kaabi-Linke (2021), Fahad Bin Naif (2020), Dania Al Saleh (2019) and Ayman Zedani (2018) have gone on to exhibit across Germany, France, Argentina, the UAE and more – facilitates artistic ability to simultaneously engage in numerous, seemingly disparate, conversations. "Daniah Al Saleh's Sawtam is a digital, audio-visual presentation based on the phonemes of the Arabic language, while the 2018 winner Ayman Zedani's spatial installation Mēm explores the realms of mathematics, and thus touches on knowledge," says Abushullaih. "But art also has a social component, referenced by both Fahad bin Naif's greenhouse Rakhm and Nadia Kaabi-Linke's E Pluribus Unum – A Modern Fossil. While the former focuses on the importance of protecting the local environment the community depends on, the latter highlights our interconnectedness and the effect global events can have on a grassroots level."
The open call for the fifth edition of Ithra Art Prize is open until 1 April 2023, with participants selected by a global panel of artists, curators, academics and art historians. The 2023 winner will be announced 15 May 2023.