Designmuseum Danmark
No one can consider their time in Copenhagen complete until they've dug into the history of Danish design. The Designmuseum Danmark celebrates Danish and international design from within a 17th-century Rococo building on a large picturesque lot in central Copenhagen. As well as expected names like Arne Jacobsen, Finn Juhl and Kaare Klint, you'll also find exhibitions like the recent Danish Design Now, which featured designs from the present century. The museum's design and applied arts library is the largest in Scandinavia and an invaluable resource. Drop by – it's open to the public for research, study or casual interest and, it's free.
www.designmuseum.dk/en/
Bredgade 68, 1260 Copenhagen
Tel: +4533185656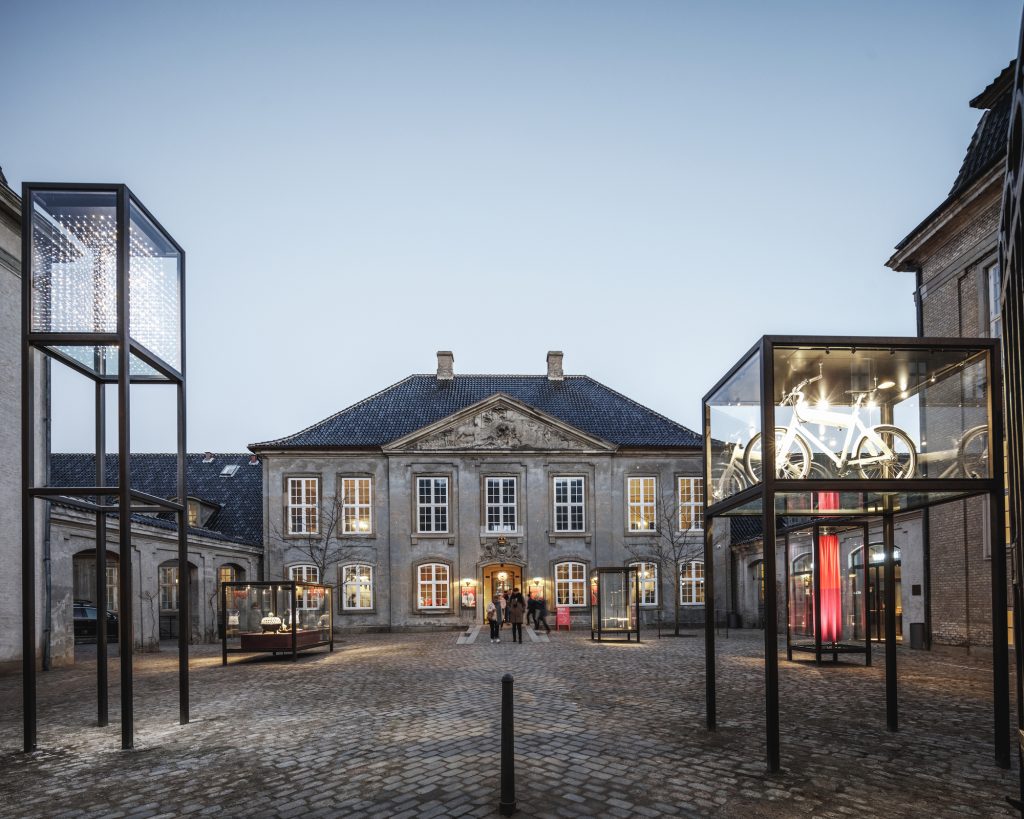 David Museum
Interested in exploring 1200 years of Islamic history? Walk past the Danes sprawled throughout Kongens Have (the King's Garden) on a sunny day, and into the unassuming 19th-century townhouse belonging to the David Museum on Kronprinsessegade. The private museum contains the largest collection of Islamic art in Scandinavia, including an impressive array of miniature paintings. Some museum-goers might be relieved to know that objects in the David collection are decidedly decorative or artistic, you won't find simple shards or clay pots here. If a masterfully curated Islamic collection isn't enough for you, there are also European and Danish early modern works to enjoy.
www.davidmus.dk/en/collections/islamic
Kronprinsessegade 30, 1306 Copenhagen K
Tel: +4533734949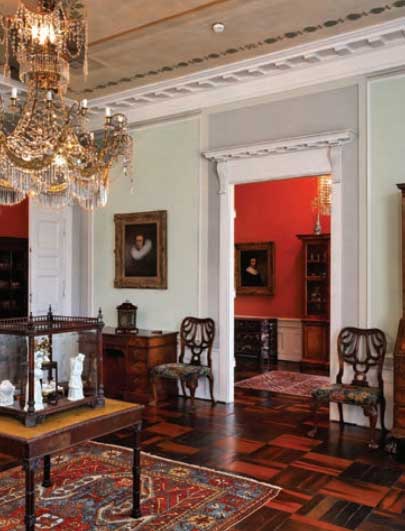 Thorvaldsens Museum
Copenhagen may have almost as many museums as it does bikes, but the Thorvaldsens Museum can claim to be the country's first. Bertel Thorvaldsen is Denmark's most renowned sculptor. Though he's been dead for over 170 years, the museum he built for his sculptures continues to occupy prime real estate in the city center. It showcases all of his works of art against backdrops of deeply colored walls and strategically placed skylights that create dramatic sets reminiscent of a Caravaggio painting. The building's exterior features a frieze by Jørgen Sonne depicting the homecoming of the famed sculptor and his artworks from Italy in 1838.
www.thorvaldsensmuseum.dk/en
2 Bertel Thorvaldsens Plads, 1213 Copenhagen K
Tel: +4533321532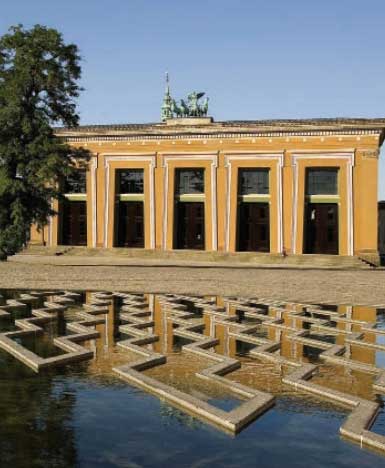 Ordrupgaard
For your fix of Monet, Gauguin and Hammershøi, take a 15-minute drive to the edge of the enchanted Dyrehaven forest. Home to the world's oldest amusement park, it's also the location of the Ordrupgaard museum. Check out the Impressionists and Danish art, then head outside to the Art Park and Art Playground where you'll find site-specific installations as well as interactive works like Vær i vejret (Weather the weather) by Danish-Icelandic artist Olafur Eliasson. Next pay a visit to the house of legendary Danish architect and designer Finn Juhl and cap the day off at the museum extension building designed by the late and great Zaha Hadid.
www.ordrupgaard.dk
Vilvordevej 110, 2920 Charlottenlund
Tel: +4539641183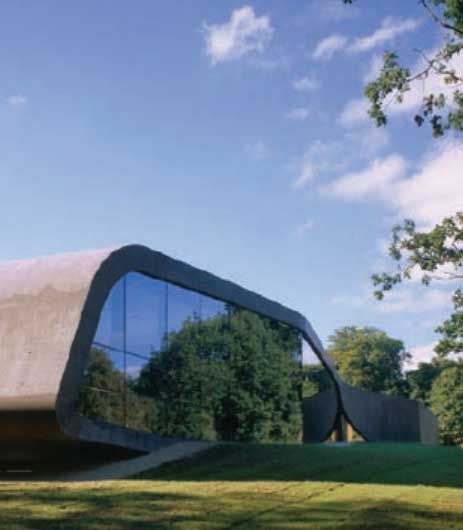 Galleri Nicolai Wallner
Nicolai Wallner opened his gallery in 1993 and though much has changed since then, you'll find many of the original artists still grace his walls today. This is partly what makes the gallery so unique – it's a time capsule of a generation of artists as well as the world they were creating in at the time. Represented artists include Elmgreen & Dragset, who've been named as curators for the 2017 Istanbul Biennal, popular British artist David Shrigley and Jeppe Hein who is known for slightly humorous and surprising interactive works. The location is interesting: a former truck garage of Carlsberg breweries.
www.nicolaiwallner.com
Ny Carlsberg Vej 68, 1760 Copenhagen
Tel: +4532570970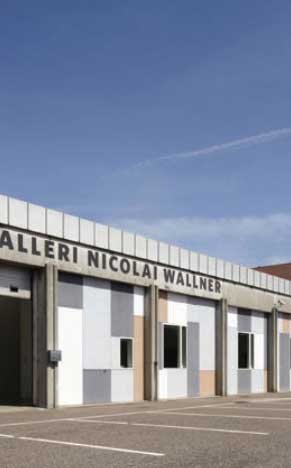 Sunday-S Gallery
About two hundred meters from Amalienborg, the home of the Danish Royal family, you'll find one of the newest players in Copenhagen's gallery scene. Peter Ibsen's Sunday-S Gallery held its inaugural exhibition last September; a group show of subtle, monochromatic, non-figurative works by international artists. One imagines that future Sunday-S Gallery shows will continue with the same rigid constraints that Ibsen has also imposed on his own impressive collection of minimal, monochromatic artworks. If you can't make it to the gallery, check out the art blog the gallerist has been writing since 2013: Copenhagen-contemporary.
www.sunday-s.dk
Amaliegade 6, 1256 Copenhagen K
TeL: +4528192816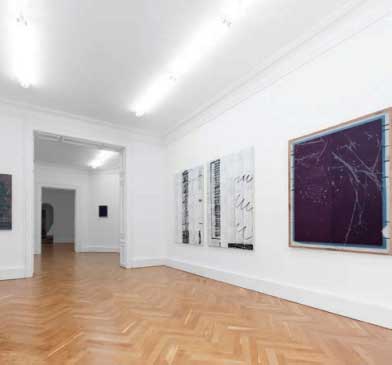 Christian Andersen
It's a bit of a hike by Copenhagen standards, but those who make the trip beyond Nørrebro to Christian Andersen's gallery will be rewarded with some of the freshest shows in the city. Exhibitions like Carl Mannov's Desk Chop Sha Chi or Rolf Nowotny's Conkcloaca (accompanied by a press release in Japanese) demonstrate that Andersen and his artists aren't worrying too much about catering to the typically conservative Danish collectors. The gallery has an international roster with strong leanings towards artists from Scandinavia and Germany, and it also represents more female artists than most – another reason to make the journey north.
www.christianandersen.net
Bispevej 29, 2400 Copenhagen NV
Tel: +4525374101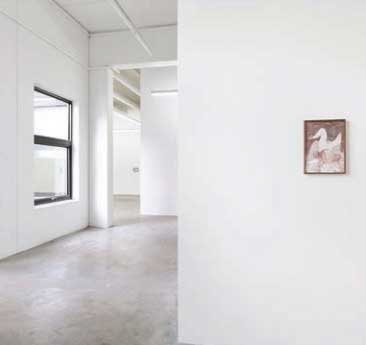 V1 Gallery
This former butcher shop in Kødbyen (the meatpacking district) is among the highlights of any Copenhagen gallery hop. V1 Gallery has exhibited street artists like Banksy and Obey/ Shepard Fairey and represents Denmark's own HuskMitNavn (RememberMyName). You can catch exhibitions from a roster of emerging to established artists, both local and international. And the gallery has maintained a progressive, streetwise sensibility that helps it feel edgy even after being in the business for 14 years. Try to catch one of their exhibition openings for a taste of the vibrant community they're part of, then wander to some of the other excellent Kødbyen galleries.
www.v1gallery.com
Flæsketorvet 69-71, 1711 Copenhagen V
Tel: +4533310321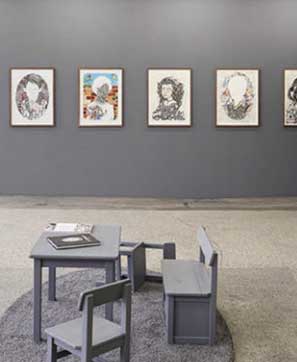 Gallery Poulsen
If American figurative paintings and drawings are your thing, you can do no better in Copenhagen than Gallery Poulsen. The stable of artists is almost exclusively USbased and you won't get much variety in medium. What you will find are artistically mature artists, each with a distinct style, and who are generally masterful in their technique. Danish artist Stig Stasig stands out as the only Dane represented and also because he's working in photogravure. Gallery Poulsen recently left their space in the white meatpacking district of Kodbyen for a former slaughterhouse in the brown meatpacking buildings adjacent.
www.gallerypoulsen.com
Staldgade 32, Kødby, 1699 Copenhagen V
Tel: +4533339396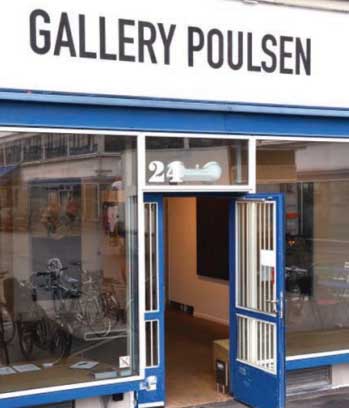 Den Frie Centre of Contemporary Art
This contemporary exhibition space was created by artists for artists in 1891, in response to the admission requirements of the Kunsthal Charlottenborg – the exhibition space of the Royal Danish Academy of Art. With the commercial focus removed, the Den Frie exhibitions skew towards the decidedly experimental. You'll find a lot of group shows there, but with a new exhibition space now open on the lower level, there might be more solo shows on the horizon. Education plays a central role at the art centre and in addition to artist talks and seminars, there are artist-led workshops for people of all ages.
www.en.denfrie.dk
Oslo Plads 1, 2100 Copenhagen Ø
Tel: +4533122803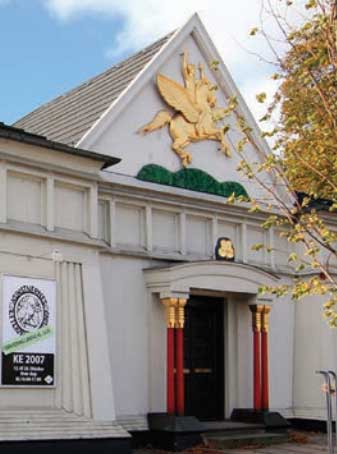 Galleri Bo Bjerggaard
Representing Danish art royalty like Per Kirkeby and current art darling Tal R, Galleri Bo Bjerggaard is deserving of the respect it commands. Although the gallery's focus is on painting, there are plenty of exceptions (including some of the works by Kirkeby and Tal R) and with a roster of established heavyweights, it's a good thing the gallery has two exhibition spaces: a total of five rooms allows for two simultaneous exhibitions. The gallery is located in the thriving Kødbyen district so if the works don't sweep you off your feet, you can rest assured that there are lots of cool places to sit down and have a drink.
www.bjerggaard.com
Flæsketorvet 85 A, 1711 Copenhagen V
Tel:+4533934221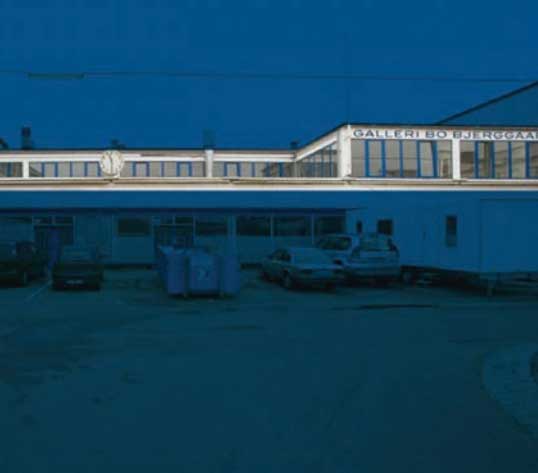 Nils Stærk
Owner Nils Stærk has come a long way since launching his eponymous gallery out of a threebedroom Frederiksberg apartment in 1997. Today, the space is one of Denmark's most highly regarded, finding success with a roster of mostly Scandinavian artists plus a few from the Americas. Located within an art cluster in the old Carlsberg breweries, the space features artists including FOS (Thomas Poulsen), Matthew Ronay, Torbjørn Rødland and the socially engaged collective Superflex, who are recent winners of the Aga Khan Award for Architecture for their work on the outdoor community space, Superkilen.
www.nilsstaerk.dk
Glentevej 47, 2400 Copenhagen NV
Tel: +45 3254 4562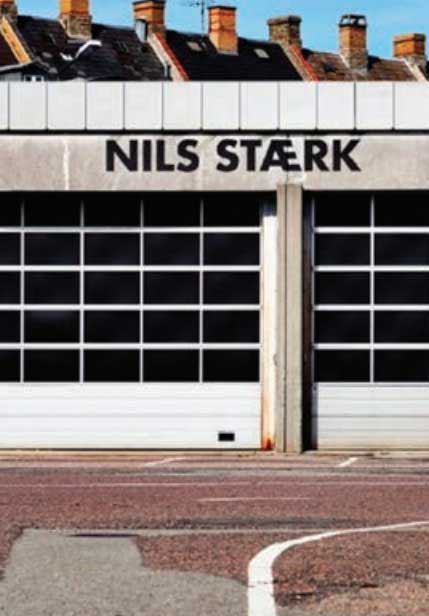 Olafur Eliasson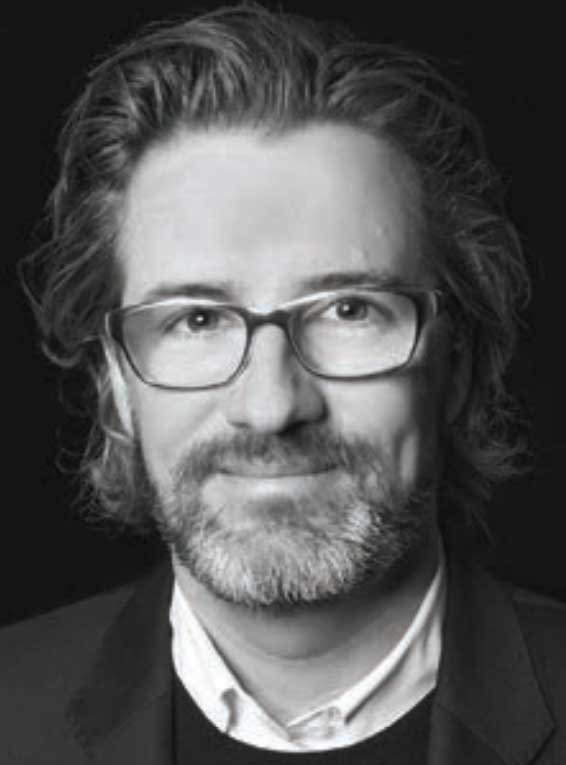 Eliasson may have become a household name when he presented The Weather Project at the Tate Modern in 2003, but he was already making substantial artworks such as the nine-metre-wide stainless steel dome 8900054 only a year after graduating from the Royal Danish Academy of Fine Art in 1996. The humble conceptual artist's largescale works often manipulate water, air and light to immerse viewers in environments that question the nature of our very perception. In 2003, Eliasson represented Denmark at the Venice Biennale and secured his place as international art darling with the NYC Waterfalls in 2008. In 2012 he co-founded Little Sun, which makes solar lights and chargers.
Superflex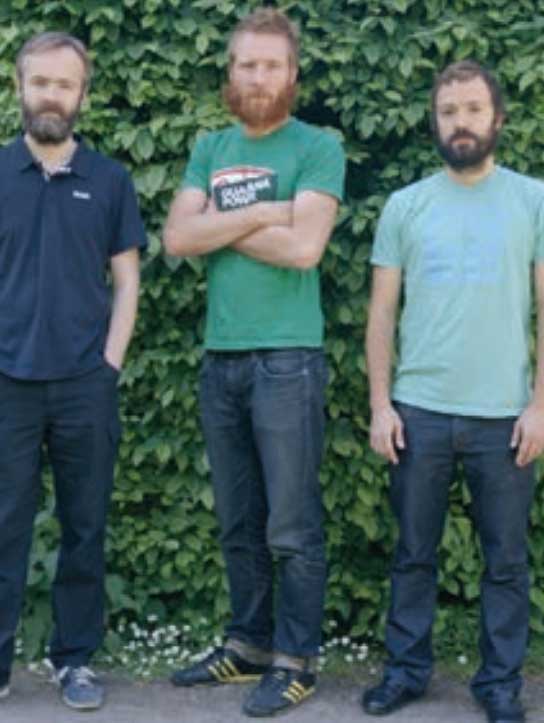 Formed in 1993 with three members – Bjørnstjerne Reuter Christiansen, Jakob Fenger and Rasmus Nielsen – activist art collective Superflex is renowned for exploring themes of economic, political and social forces. Materials associated with business or corporations appear throughout their body of work, including outdoor murals (All Data Til Folket), banners (Bankrupt Banks), signage (Liverpool to Let) and contracts (Participation Contract). In 2014 Superflex presented Hospital Equipment at Den Frie in Copenhagen. The work consisted of an operating table, surgical lamps and an instrument table, chosen by Palestinian doctors in Gaza. When the exhibition ended, the work was shipped to Al Shifa hospital in Gaza so it could be put to more practical use.
Jeppe Hein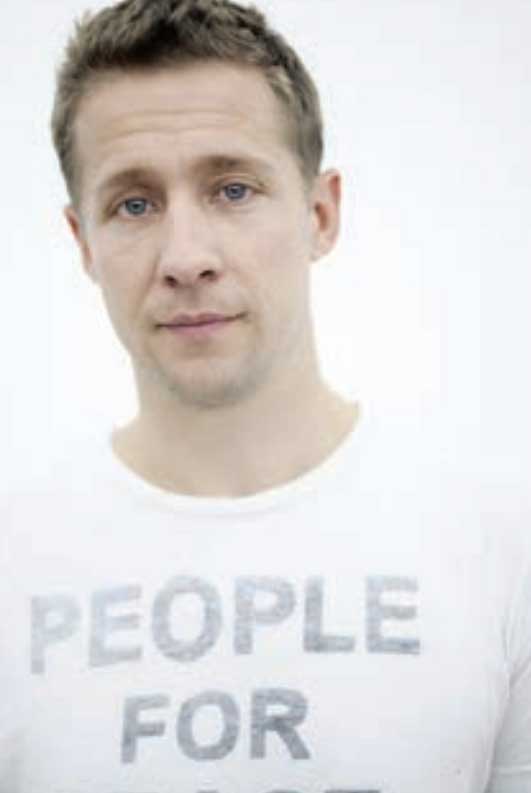 Conceptual artist Hein's interactive works often encourage the viewer to become a participant and to complete the work. There's no better example than his Modified Social Benches, which are unfulfilled until they are used, or Shaking Cube, a box on the floor that vibrates when a viewer steps near. Where Eliasson works with nature to toy with perception, Hein often relies on technology. In Denmark, he is represented by Galleri Nicolai Wallner and his art is in the public collections of Arken Museum of Modern Art, Tate Modern, MOCA Los Angeles, National Gallery of Denmark, Centre Pompidou and more.
Petersen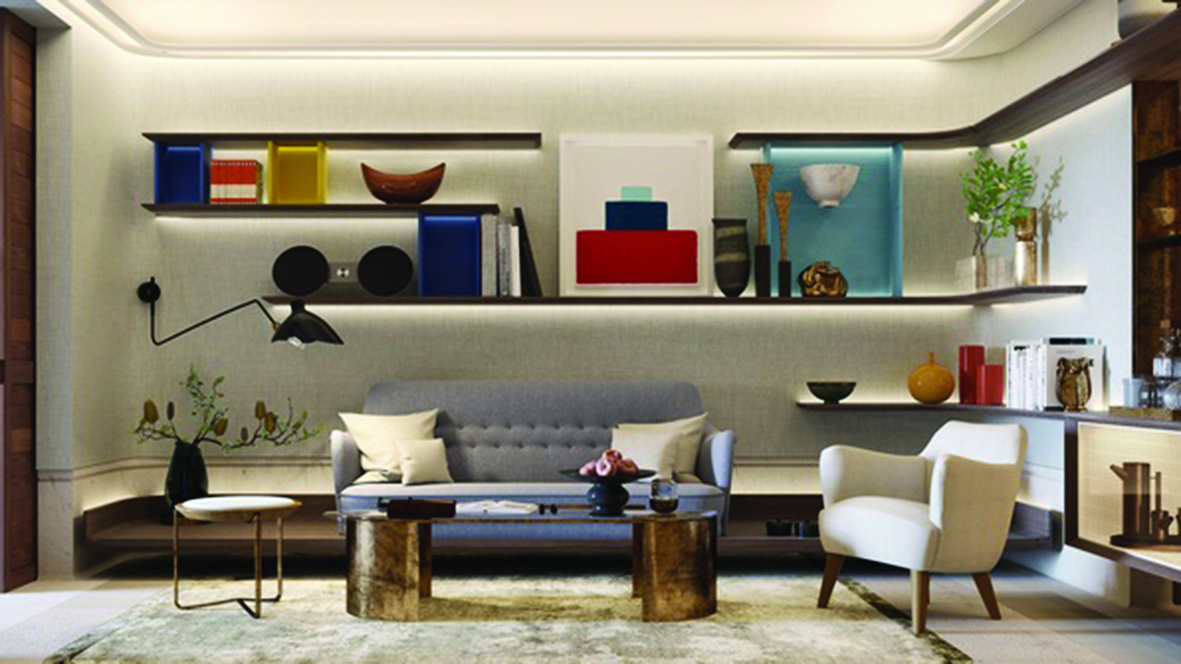 Almost 20 years after a fateful encounter with a brown leather Arne Jacobsen egg chair, design aficionado Anders Petersen opened his eponymous boutique in Amager in 2014. In addition to selling Danish and Japanese furniture, art and objects, there's also a workshop where visitors can witness talented cabinetmaker Peter Leth at work. A. Petersen also repairs vintage furniture and builds its own contemporary line. In the boutique, you'll find contemporary favorites like glass designer Tora Urup and vintage designer Poul Kjærholm, as well as many other well-known and new-to-you masters.
www.apetersen.dk
Tel: +4522338038
Kløvermarksvej 70, 2300 Copenhagen S
Q&A with Anders Petersen
Where should visitors to Copenhagen go to feel the heart of the city?
The area around Refshaleøen, Holmen and the old industrial harbour. It's a unique and raw neighborhood where a lot of upcoming initiatives pop up. The mix of creative studios, showrooms, street food, music and galleries is great.
Where are the best places to check out the best of Danish design?
If you want to go shopping for smaller pieces of vintage Danish design, like lamps and ceramics, you should visit Ravnsborggade at Nørrebro, which is a whole street filled with antiques, design and vintage shops. If you are looking for furniture design, arts and crafts, you should visit us at Kløvermarksvej 70, or the legendary auction house Bruun Rasmussen on Bredgade. If you're more into just looking than buying, then head for the Danish Design Museum, also located on Bredgade. A lot of other museums in Denmark show exhibitions of Danish design, so ask around and perhaps even take a trip to Jutland – a fascinating part of Denmark that's a few hours' drive from Copenhagen.
What draws people to Danish design and boutiques like A. Petersen?
The functionality and somewhat honest approach to design is, I think, appealing to a lot of people. The craftsmanship, quality materials, simplicity and elegance are good words to describe why. It is also bringing design into all aspects of life and to all people. This creates a certain feeling that is present in a lot of Danish designs. But we shouldn't just leave it at the fact that there once were very good designers like Arne Jacobsen and Hans J. Wegner. We have to continue being curious and ambitious, and keep on wanting to present the best, not just lean back and relax. At A. Petersen we are constantly discussing, debating and showing this aspect in the boutique and via exhibitions – the traditional and the new, the best of the past and the best of the present.
Which Danish designers inspire you?
My favorite Danish designer is Poul Kjærholm, because of his strict and elegant design and especially because of the history behind the production. Also, the manufacturer Kold Christensen, who worked with all the best craftsmen and factories in Denmark to produce furniture of the best quality.
What's the one thing you need to live in Copenhagen?
You'll go a long way with a good sense of humour in Denmark! Not just because the winters are long and dark and you need good friends around you to laugh with, but also because Danish people in general like to turn everything into a funny story. It opens us up and brings us all closer, which helps us deal with difficult things as well.
Höst
Noma closed its doors for the last time in December but Copenhagen boasts plenty of other extraordinary options for Nordic cuisine served like works of art. Höst tops many 'Best of' lists and for good reason. The rustic aesthetic of brick, stucco and wood (which has won them a 'host' of design awards) creates a perfect ambiance for food that is equally authentic, perfectly conceived and intricately presented without being too pretentious. You can choose from five or eight courses for dinner or three for lunch (Danes do love their multi-course set menus). Be sure to save room for a dessert of beer porridge with white chocolate, liquorice, junket ice cream and rye bread.
www.hostvakst.dk
Nørre Farimagsgade 41, 1364 Copenhagen K
Tel: +4589938409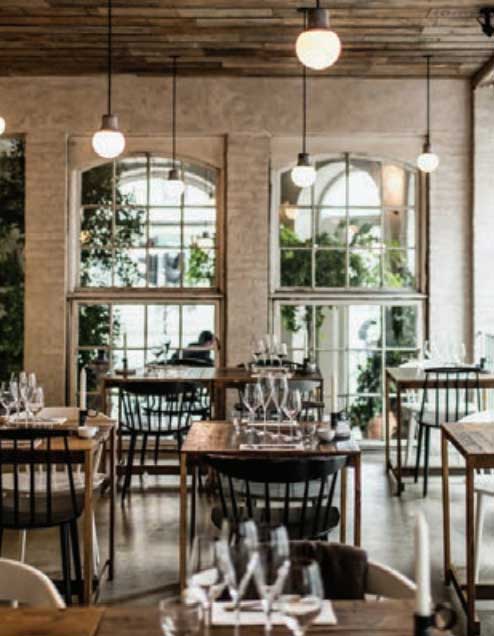 Aamanns
Smørrebrød are as Danish as Lego and nobody does a modern take on the open-faced sandwich like Aamanns. The small deli, just a short walk from the National Gallery of Denmark (Statens Museum for Kunst) is perfect for a memorable lunch. Try the marinated herring with curry, piled high with sour cream, raw and baked apple, buckwheat and chervil. Aamanns also offers less typical combos like North Sea cheese with organic orange marmalade, vanilla, roasted almonds and chervil – on rye bread, of course. Add a glass of akvavit and you're lunching like a local. There's also an Aamanns at the airport in case you need one last taste before leaving CPH.
www.aamanns.dk/us
Øster Farimagsgade 10,
2100 Copenhagen Ø
Tel: +4535553344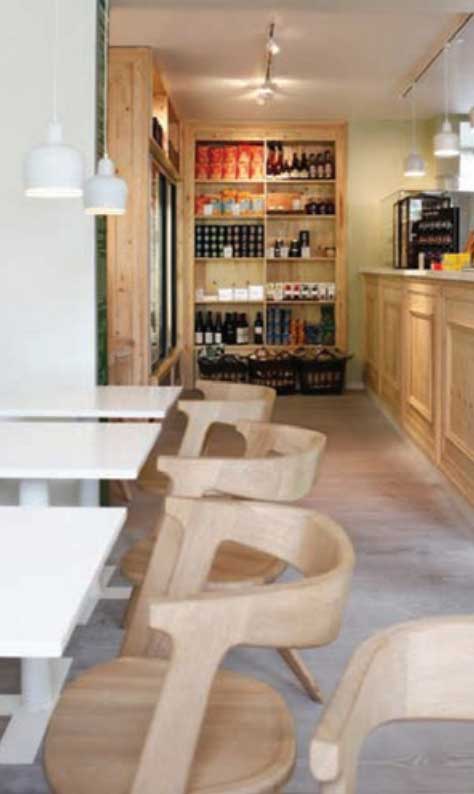 Llama
Copenhagen has a fantastic food scene unless you're looking for international cuisine, in which case your options are painfully limited. This makes South American-inspired restaurant Llama even more of a treat than for their delicious dishes alone. The dark basement setting is stylish and the crowd definitely chic. It feels rather like they may clear away the tables at any moment and turn the place into a five-star dance club. Start with a pisco sour and then order the nine-plate (four-course) tasting menu. As well as getting stuffed you'll get to sample Llama's padrón peppers, ceviche, guinea fowl, mango sorbet and five other tapas-style dishes.
www.llamarestaurant.dk
Lille Kongensgade 14, 1074 Copenhagen K
Tel: +4589936687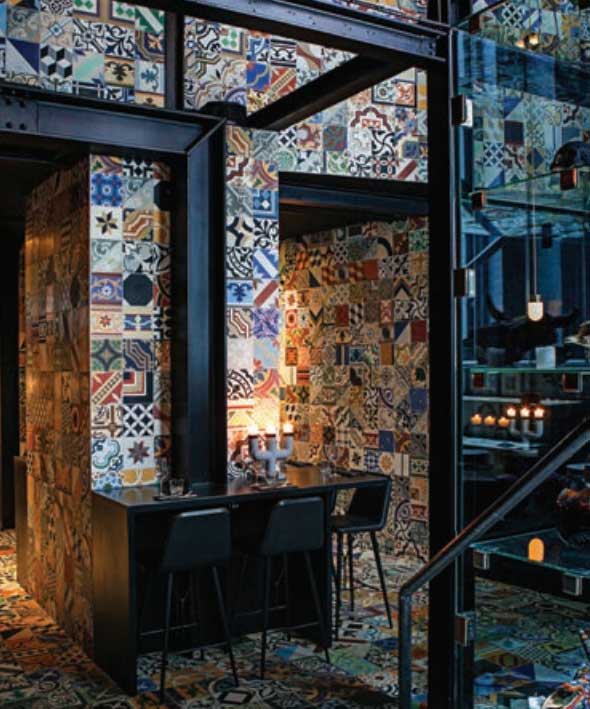 Copenhagen Street Food
For a casual bite right on the harbour, try Copenhagen Street Food. This indoor market of food stalls and trucks has something to please everyone. Try Turkish food at Anatolia, where all meat is halal, or a pulled duck burger at Duck It. For dessert, how about American-style (with a Scandinavian touch) cheesecake at the aptly named Cheesecake. There are lots of picnic tables outside, making this a great fair-weather spot to meet up with friends. Copenhagen Street Food is located at Papirøen (Paper Island), where current tenants – including CSF – are temporary until the end of 2017, so if you don't get there soon it may be too late!
www.copenhagenstreetfood.dk/en
Papirøen, Trangravsvej 14, Warehouse 7/8, 1436 Copenhagen K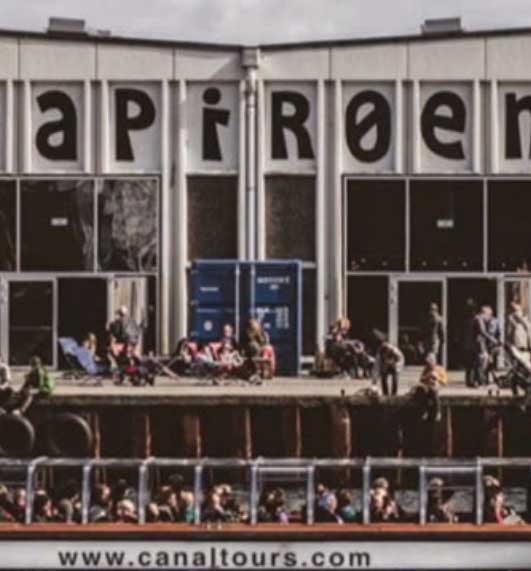 Absalon Hotel
When you're visiting a country as well known for design as Denmark, you shouldn't settle for a drab hotel. Absalon Hotel in the trendy Vesterbro neighborhood emits character in every detail. They have colorful Designer's Guild wallpaper, curtains and cushions, as well as Philippe Starck bathrooms and color palettes of 'grass', 'ocean' and 'berry'. Be sure to take advantage of Concept24, which allows you to check out 24 hours after you check in rather than the typical 11 am. Absalon has a closet full of awards from last year, including World Luxury Hotels, Best Room Experience, Tripadvisor Certificate of Excellence and Traveller's Choice.
www.absalon-hotel.dk/en/
Helgolandsgade 15, 1653 Copenhagen V
Tel: +453324 22 11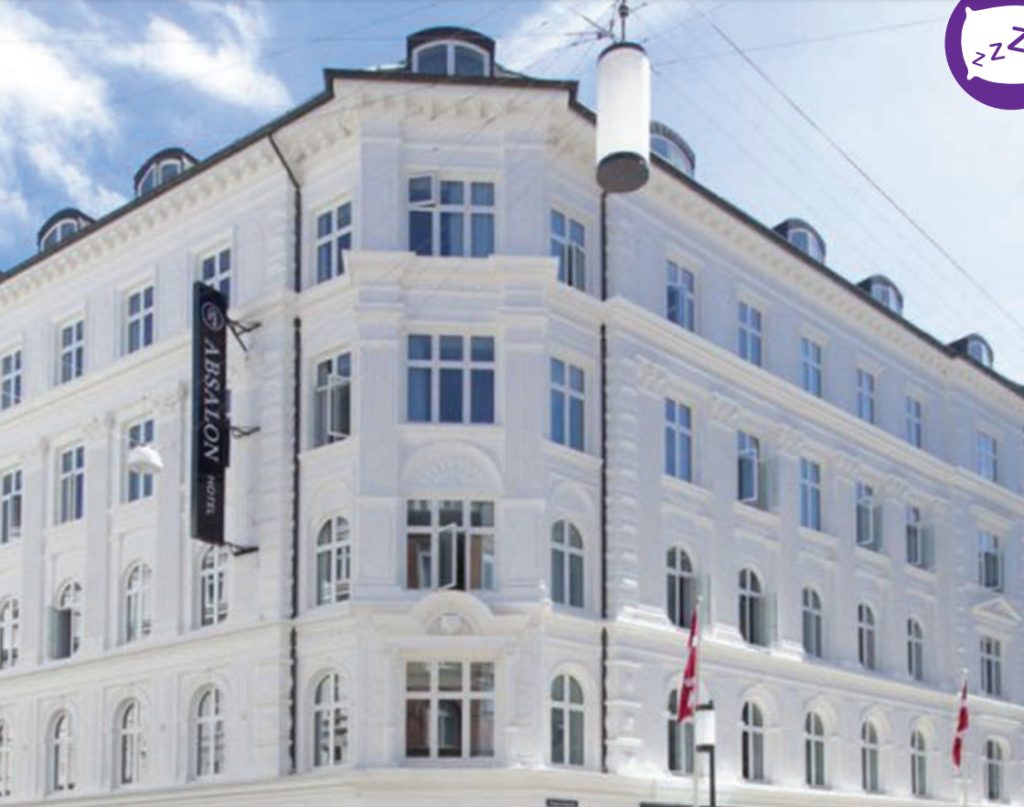 Avenue Hotel Copenhagen
If you're able to book in advance you may be able to save a few kroner on your booking at Avenue Hotel in Frederiksberg. This enclave within Copenhagen is among the most charming of the city's neighborhoods, and with so much green space, it's also especially inviting for families. The hotel occupies a handsome four-floor building constructed in 1900. The accommodation is comfortable and nicely designed, although economy rooms may have small bathrooms – just like a typical Copenhagen apartment! In the winter you can cosy up by the fireplace in the lounge and in the warmer weather enjoy the courtyard outside.
www.avenue.copenhagen-hotel.net/en
Aboulevarden 29, 1960 Frederiksberg
Tel: +4535373111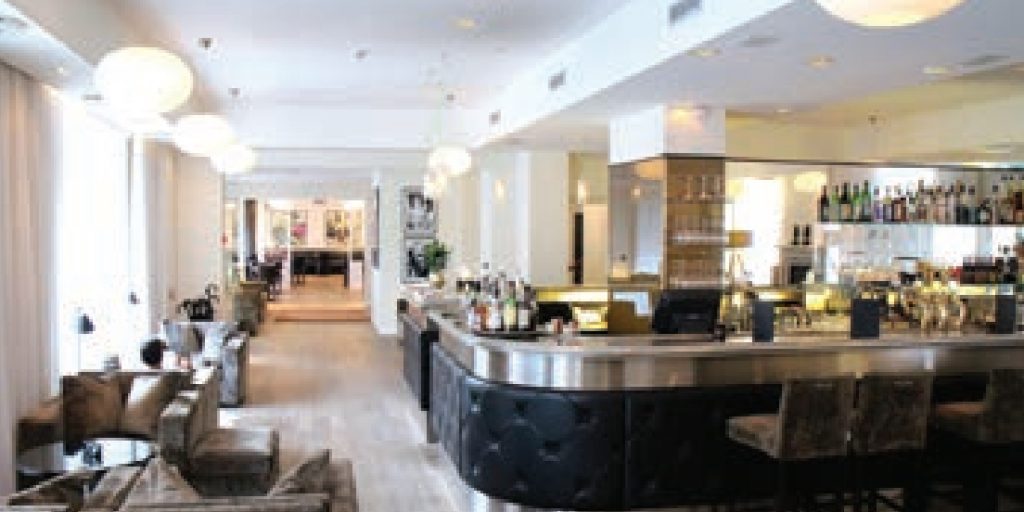 Nybro Apartments
If you want to live like a Copenhagener, cook your own dinners and have friends over for late-night drinks, why not rent one of the Nybro Apartments? Like most locals, you'll have to make do with a pretty small kitchen but for the location, it's a small sacrifice. The apartments – a two-bedroom on the third floor and a three-bedroom on ground level –are along the canal between the Thorvaldsens Museum and the National Museum. Also a stone's throw away is Folketinget – the Danish Parliament where the addictive political drama Borgen was set. What better place from which to watch the whole series?
www.nybro-apartments.copenhagen
hotel.net/en
Nybrogade 26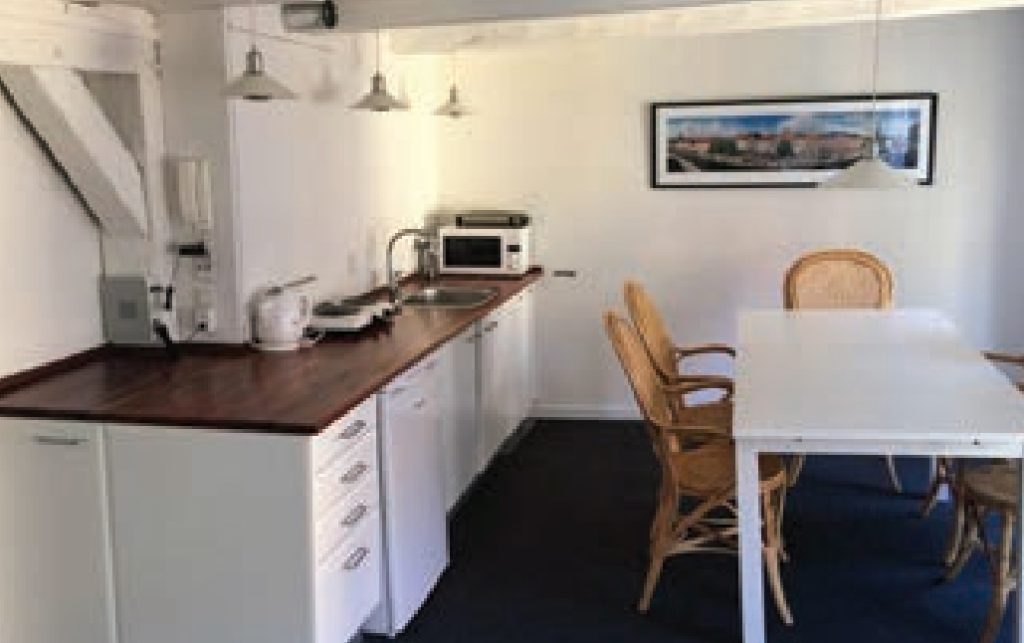 Copenhagen House Boat: Arno II
Ahoy! Traveling with family or a group of friends? Why not rent a houseboat in Copenhagen's harbour? The Arno II is a converted ferry with four cabins to comfortably sleep 7–8 guests. Unexpectedly spacious, clean and modern, the ship contains a full kitchen and enough dining space for the whole crew to eat together. If you want to get onto open water, the owners also offer a 1–2 hour cruise in the lifeboat. The Arno II is docked a 15-minute stroll from many of Copenhagen's most popular locations. Best of all, the cost is comparable to hotel space for so many people.
www.copenhagenhouseboat.com
Langebrogade 1A
Tel: +4531313991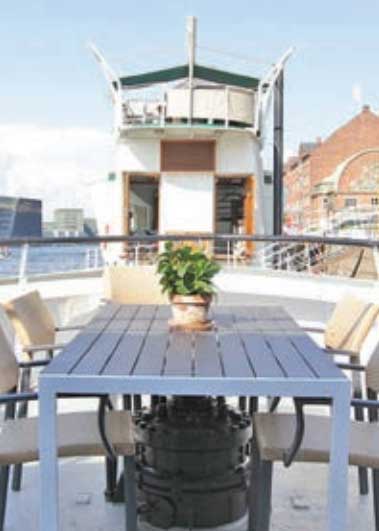 COPENHAGEN – DENMARK
The travel guide for exploring the
ecstatic beauty of COPENHAGEN.