Maison Valentino has worked with five international painters for their Valentino Collezione Milano campaign, in which each artist creatively incorporates one of the collection's Valentino Garavani accessories in a new work.
Words by Vamika Sinha
---
High fashion meets high art in the new artists' chapter of Valentino Collezione Milano. The iconic fashion house has teamed up with five painters from across the world – China, France, Japan, Korea and the UK – for the latest iteration of their advertising campaign. Each artist is a rising star, both within their local art scene and up on the global stage. For this campaign, they were invited to select a Valentino Garavani accessory and portray it in a new artwork. All the artists were given total creative freedom in how they chose to showcase the accessory in their paintings.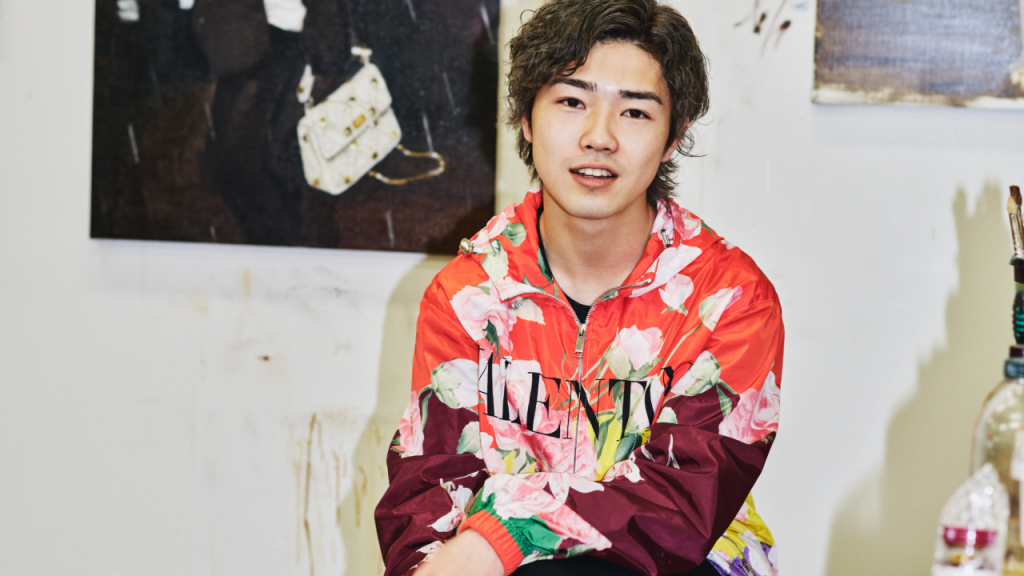 Louise Giovanelli from the UK was drawn to the rich black leather of the Valentino Garavani Roman Stud Top Handle bag, which she presented in a hyper-realistic work entitled Dominion. "I was able to translate (the texture] via paint – building up multiple transparent layers of single pigment colors, much like a printing process, before arriving at a deep, rich, chromatic black," she says. "The bronze-like sculptural volume of the bag, as well as the repeated gold stud motif, suggested something classical, ornamental and fetishistic. I wanted to exploit and build upon these connotations."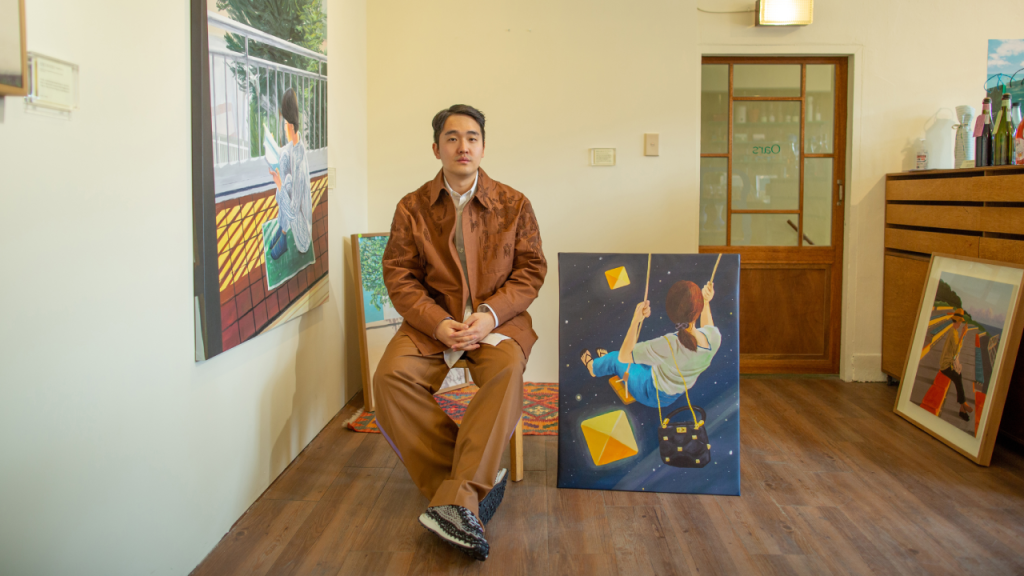 Nahum Kim from Korea chose the same bag but took a more abstract and poetic approach in his whimsical painting Roman Stud Space. "I thought the stud details evoked a variety of emotions as if I was staring up at the stars. I wanted to express the mysterious, neat, but fancy stud detail as a star" Kim shares. "As soon as I came up with this idea, I naturally drew an image of a woman swinging in the universe in my mind."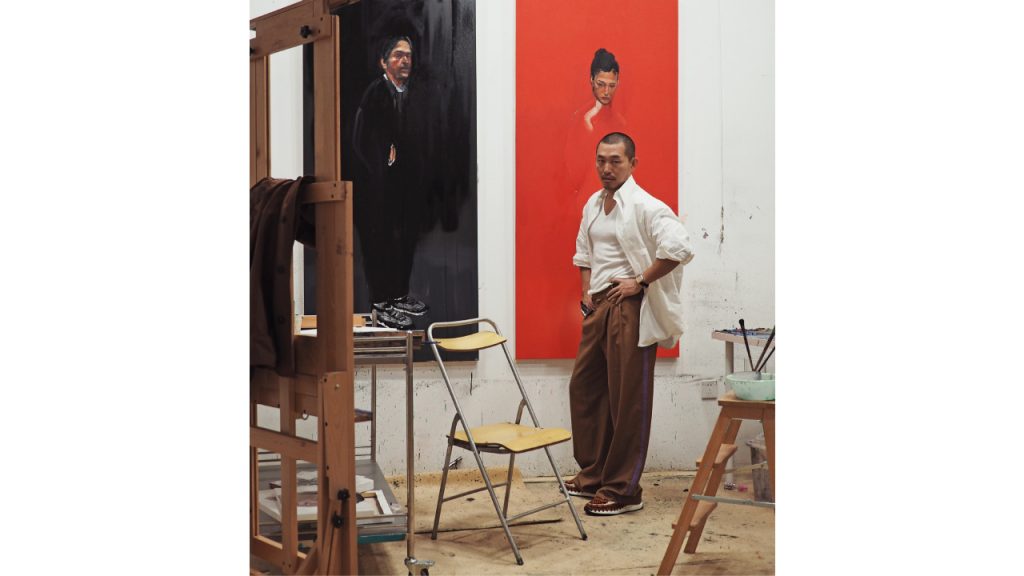 Meanwhile, French artist Alexis Ralaivo, who considers melding high fashion items into his work as part of his artistic style, also chose the same bag but in pink, for his painting La Clef. "I've always loved Giorgio de Chirico's Vogue cover with the gloves and the little bag," he explains. "Since I saw it, these items were in the back of my mind, and I was waiting for the right moment to paint one of them." The result is a canvas filled with a subtle sensuousness, rich in its soft, buttery brushstrokes.
The Valentino Garavani Roman Stud Crochet bag, in a delicate ivory hue, is presented in Japanese artist lori Nagashima's work entitled, contrasted against a rain-dark background. "I intentionally imagined everyday scenery in Japan, and it blended in with the work just as I expected," he says.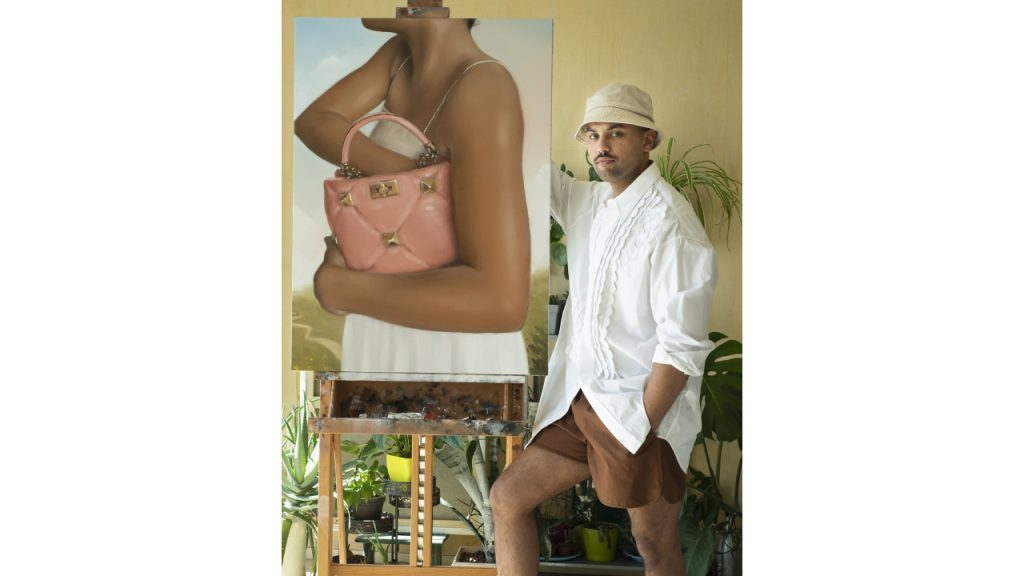 Finally, Zhang Zihao from China took an alternative route, picking the Valentino Garavani Crochet sneakers instead, as they "evoked a sense of comfort." His untitled diptych, with one canvas bathed in smoky charcoal and the other in a sweltering red, lets the shoes stand out amid a large swathe of color. Zhang's process is one of spontaneity; he preaches unforced vitality and going with the flow as part of the creative process.
The overall campaign is an ode to how the materiality of high fashion accessories can provide a fitting focus for artistic inspiration. Fashion and art are both varied creative modes that can perform together on their respective stages of the canvas, street or runway.