Positioned as the region's most expansive business-to-consumer event in the field, the 19th edition of the Doha Jewellery and Watches Exhibition delighted visitors with a massive array of fine jewellery and watch collections from over 500 brands.
---
The annual Doha Jewellery and Watches Exhibition (DJWE) is one of the most well-established and anticipated events in Qatar's annual social calendar. Every year, DJWE provides countless jewellery lovers and aficionados a rare chance to admire hundreds of priceless pieces up-close, as well as meet some of the world's most respected and beloved designers. For many leading local and international jewellery brands, the exhibition offers a unique opportunity to show off their very latest – and greatest – designs to an eager audience.
Under the patronage of HE The Prime Minister and Minister of Interior, Sheikh Khalid bin Khalifa bin Abdulaziz Al-Thani, and organised by Qatar Tourism and Qatar Business Events Corporation, the DJWE ran from the 20–25 February 2023 at the Doha Exhibition and Convention Centre (DECC) and welcomed guests and dignitaries from around the world. It was held in partnership with Qatar Airways as Official Airline Partner, and Qatar National Bank as Official Sponsor.
Thousands of visitors were given the opportunity to view extraordinary collections and spectacular showpieces, all expertly crafted by hundreds of internationally recognised jewellery brands, and all available for immediate purchase. Among those exhibiting were famous industry titans – including Alfardan Jewellery, Ali Bin Ali Luxury, Al Majed Jewellery, Al Muftah Jewellery, Amiri Gems, Bulgari, Blue Salon, Fifty One East and Louis Vuitton – alongside dozens of other local and global creators.
At the heart of DJWE 2023's programme was a purpose-built on-site studio, hosting an exclusive suite of talks with some of the world's most well-respected and renowned jewellery and watch designers, entrepreneurs and industry experts. Visitors to the exhibition were invited to sit in on their amazing stories, and draw inspiration from the ideas and visions being discussed.
Other notable highlights included the DJWE debut of Damas Jewellery and their astounding Alif Collection: a selection of exquisitely assembled, high-end pieces, each one a striking and unique creation. In another remarkable first, Louis Vuitton unveiled their incredible 2.56-carat Monogram flower-cut diamond 'Fantasy Necklace'.
Valentino, one of the jewellery industry's best known designers, created a limited-edition range for Children in Need, supported by Educate A Child (EAC) – a programme of Education Above All. This range includes three fabulous Classic Valentino pieces, each embellished with the EAC logo (shaped like a child's silhouette). They comprise the iconic Swarovski-embellished Valentino 'V' bracelet, Classic Valentino 'V' Swarovski logo earrings with a dangling charm, and a Valentino 'V' leather bracelet, adorned with Swarovski crystals.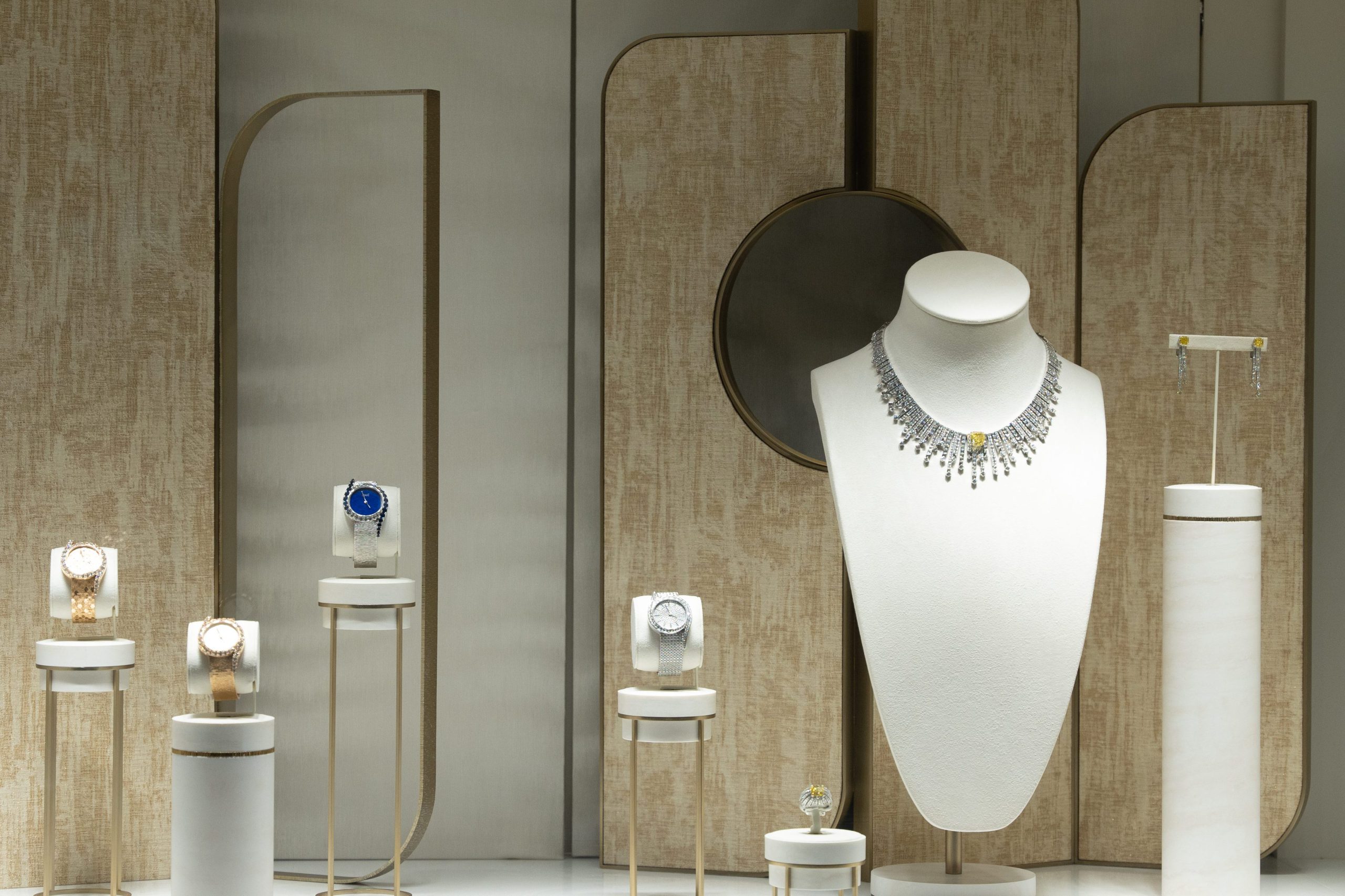 Leading international auction house Phillips, in association with Bacs & Russo, revealed an early preview of a selection of watches ahead of its Geneva Spring auctions, as well as a curated collection of watches available for guests to purchase.
The 19th edition of DJWE also saw the triumphant return of Qatar Tourism's Qatari Designers Initiative. Since 2017, this long-running platform– dedicated to nurturing and developing local creative talents – has supported some of Qatar's most iconic contemporary jewellery and watch brands, allowing them to elevate their developing businesses, both within the region and beyond.
DJWE 2023 also marked the return of both the Turkish and the Indian pavilions, with exquisite selections featuring numerous brands, and bespoke designs celebrating the unique cultural heritage and craftsmanship of their respective countries.
Over the course of five scintillating days, Doha Jewellery and Watches Exhibition 2023 exemplified Qatar's ever-solidifying position as both a regional and global centre for major events within the creative industries. Supporting a culture of entrepreneurship, this landmark event reflects the Qatari government's continuing commitment to developing a knowledge-based economic model, focused on sustainability, innovation and diversification, in line with Qatar's National Vision 2030.