The Third Line
The gallery was launched in 2005 in a warehouse in Dubai's industrial area of Al Quoz by founders Sunny Rahbar, Claudia Cellini and Omar Ghobash. Almost 10 years later in early 2016, the gallery moved to Alserkal Avenue with an expansive new double-storey space. The Third Line has played an active role in promoting artists from the Middle East to international audiences through its regular participation in regional and global art fairs such as Art Dubai or Frieze London and New York. The gallery has also set in place a non-profit program that supports cultural and artistic practices in the region.
www.thethirdline.com
Tel: +971 43411367
Alserkal Avenue, Al Quoz 3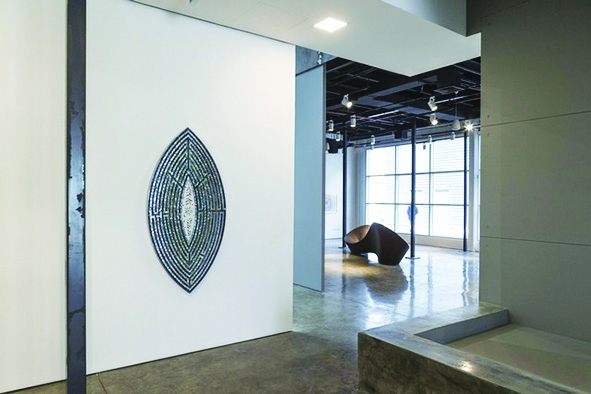 Grey Noise
Launched in Dubai in 2008, Grey Noise was first established three years prior in Lahore, Pakistan, by Pakistani Umer Butt. The contemporary gallery represents a selection of artists from various regions focusing on South Asia and Europe, and more recently, the Middle East. One thing that stands out at any exhibition held at the Grey Noise is the experimental nature and strong conceptual backdrop of the works presented; a notion that is highly enforced by its founder along with the gallery's co-director, Hetal Pawani. Artists represented include Pakistani artists Mehreen Murtaza and Lala Rukh and Lebanese contemporary conceptual artist Charbel-joseph H. Boutros.
www.greynoise.org
Tel: +971 43790764
Alserkal Avenue, Al Quoz 3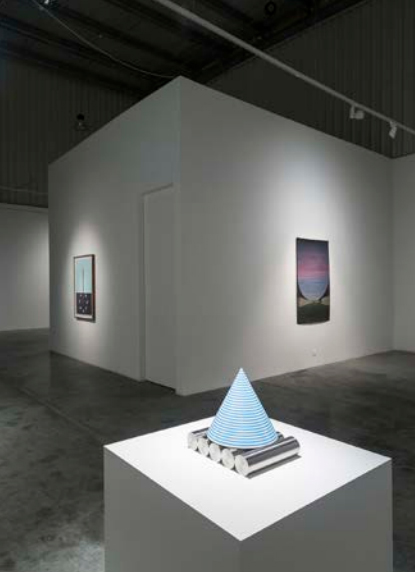 Leila Heller Gallery
A long-standing gallery, Leila Heller made a name for herself in 1982 when she established her eponymous gallery in New York in 1982. Fast forward 30 years, a second space was opened in Alserkal Avenue in November 2015 – the largest gallery in the UAE at 14,000 square feet, boasting three exhibition spaces. The gallery is known for its dynamic program, often showcasing works from a wide scope of disciplines, international curators, as well as artists from across the world. Heller has been a key player in introducing Middle Eastern artists to the Western world while supporting a creative exchange between the regions.
www.leilahellergallery.com
Tel: +971 56829 8026
Alserkal Avenue, Al Quoz 3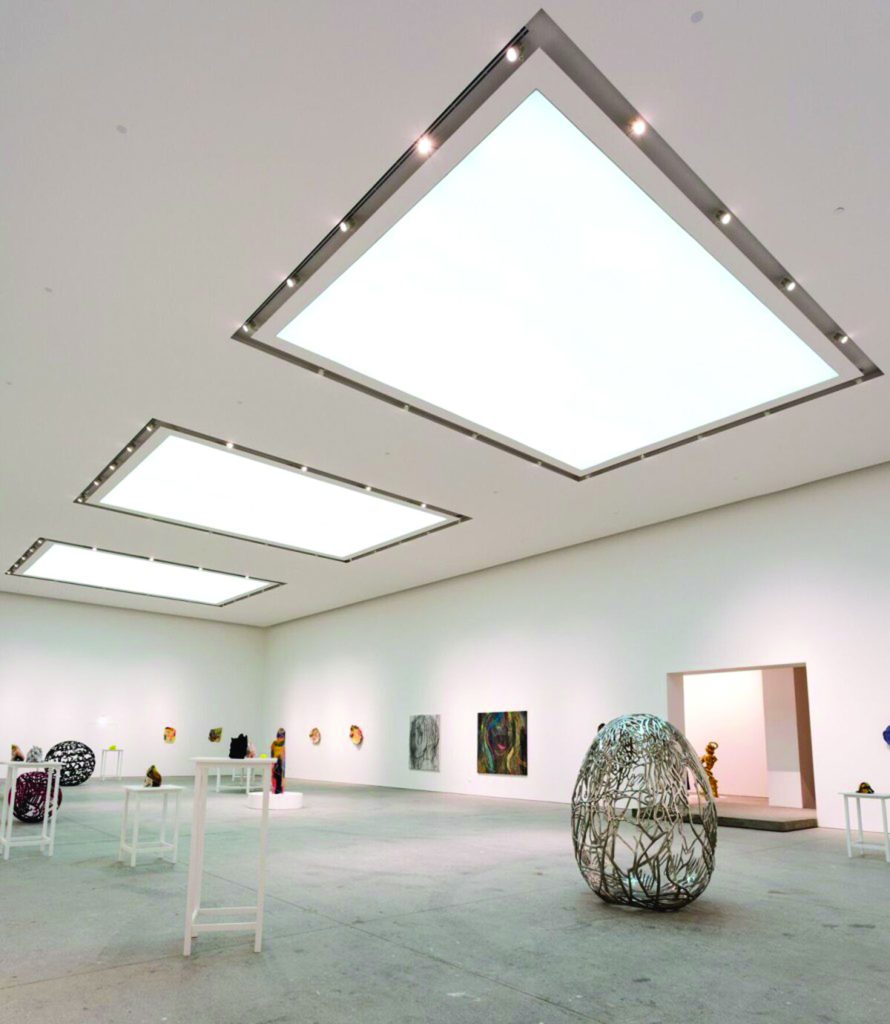 Carbon 12
Established in 2008 by Kourosh Nouri and Nadine Knotzer, Carbon 12 was one of the first galleries in Dubai to focus on bringing international talent into the scene. With an aesthetic that veers towards the painterly, their roster of institution-grade artists and emerging talent encapsulates the directors' eye for engaging technical skill and a touch of whimsy in their often large-scale, color-rich and symbolic exhibitions. Some of the gallery's biggest names include Iranian artist Sara Rahbar and German artists André Butzer and Michael Sailstorfer.
www.carbon12dubai.com
Tel: +971 43406016
Alserkal Avenue, Al Quoz 3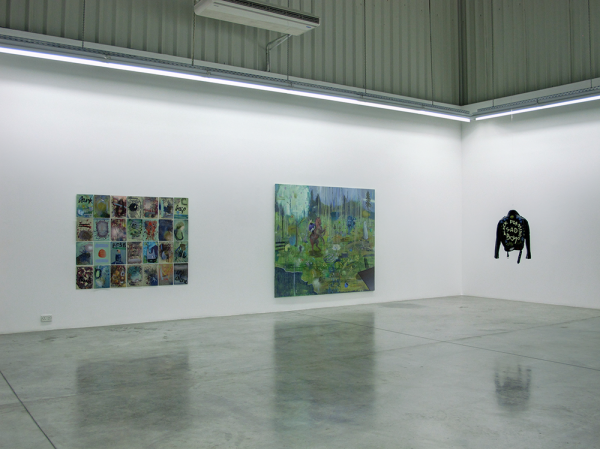 Gallery Isabelle van den Eynde (IVDE)
This gallery was founded in 2010 by Belgian art dealer Isabelle van den Eynde who sought to represent a pluralistic roster of artists from the Middle East, Europe, Latin America and Africa. The exhibitions held at the gallery are distinctive as they often present conceptual works and dynamic installations that have challenged and developed the growing commercial art scene in Dubai. Gallery IVDE represents notable artists including Emirati contemporary Mohammed Kazem and Iranian trio Rokni and Ramin Haerizadeh and Hesam Rahmanian.
www.ivde.net
Tel: +971 43235052
Alserkal Avenue, Al Quoz 3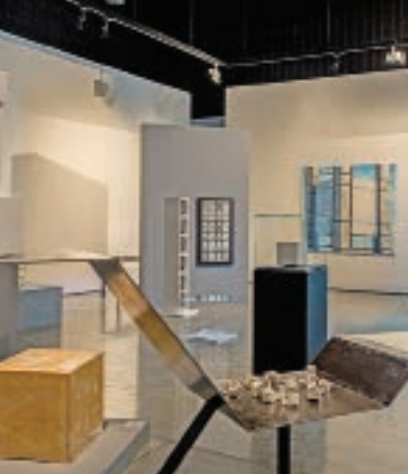 Salsai Private Museum
A small-scale private museum dedicated to supporting and showcasing contemporary art by artists and collectors from the region was founded by Iranian collector Ramin Salsali in 2011. The space houses Salsali's private collection of over 800 works, alongside the works of guest collectors and traveling shows from all over the world. SPM positions itself as a platform for educational and collaborative ideas for artists, collectors and visitors alike, aiming to influence and grow the regional art scene. Salsali was honoured as Patron of the Arts for four years for his support of the city's growing art community by HH Sheikh Mohammed Bin Rashid Al-Maktoum, UAE Vice President, Prime Minister and Ruler of Dubai.
www.salsalipm.com
Tel: +971 43809600
Alserkal Avenue, Al Quoz 3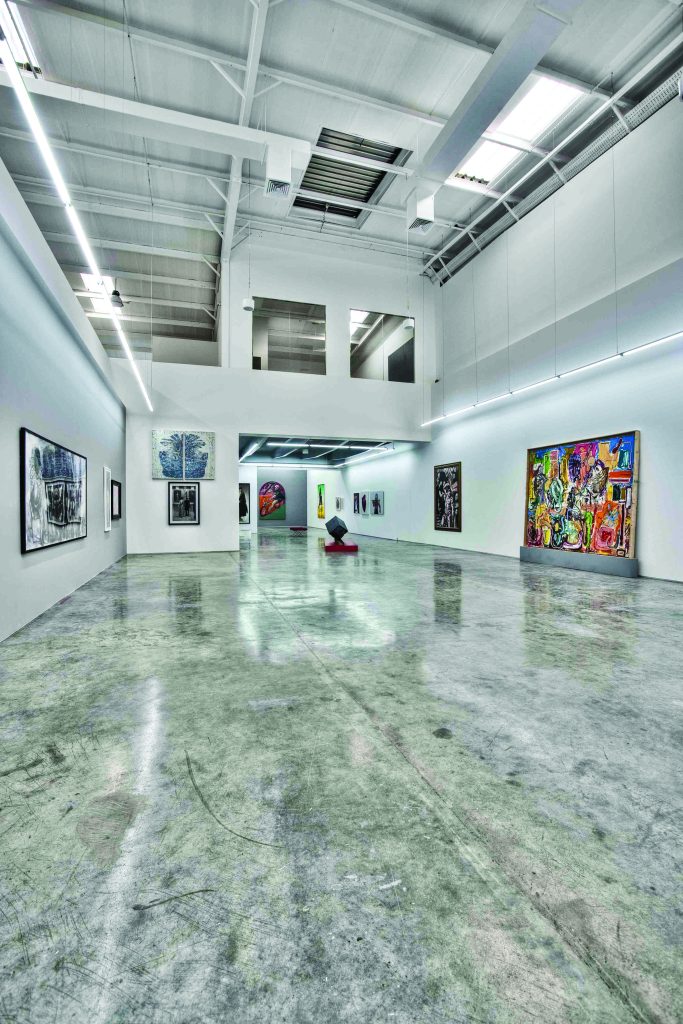 East Wing
Initially established in Doha, Qatar in 2012, East Wing later launched a new space in 2014 in Dubai under the direction of Elie Domit in at the Dubai International Financial Centre, an area which hosts several art galleries. East Wing is under the artistic direction of Peggy Sue Amison and acts as a platform for works by international emerging and established photographers. East Wing curates and commissions photography projects while participating in major photography fairs, such as Paris Photo and Unseen Amsterdam.
www.east-wing.org
Tel: +971 505533879
DIFC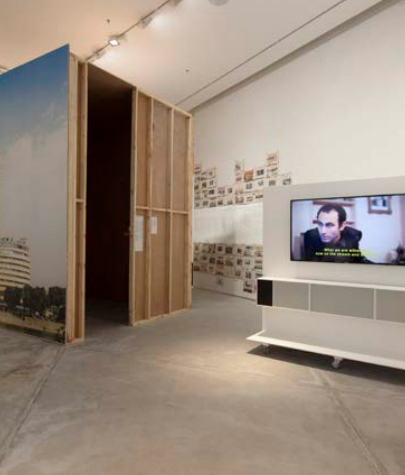 Green Art Gallery
This gallery has come a long way since its humble beginnings atop a small bookstore in Homs, Syria. A family-grown art space that originally specialized in the work of Syrian modernists, Green Art Gallery moved to Dubai in 1995 and initially operated from a villa in Jumeirah. It wasn't until Yasmin Atassi took over her mother's venture that a final move to Alserkal Avenue in 2010 took place, slowly developing and growing the gallery's list of emerging talents from the Middle East, alongside notable Syrian artists that were once represented by the gallery
www.gagallery.com
Tel: +971 43469305
Alserkal Avenue, Al Quoz 3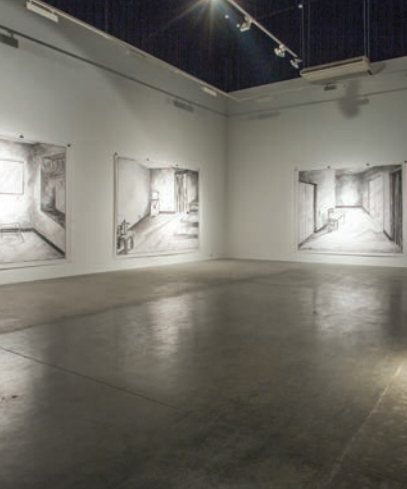 Ayyam Gallery
The only gallery to have multiple spaces in the city, Ayyam Gallery's Syrian origins date back to 2006 when it was founded in Damascus by art collectors Khaled and Hisham Samawi. Currently, open in Beirut and Dubai, Ayyam Gallery's expansion within the city includes three spaces – two at Alserkal Avenue and one in DIFC. The gallery is known for its large roster of contemporary Middle Eastern artists and its support of young talents through its Young Artist in Residency program initiated in 2015.
www.ayyamgallery.com
Tel: +971 43236242
Alserkal Avenue, Al Quoz 3 / DIFC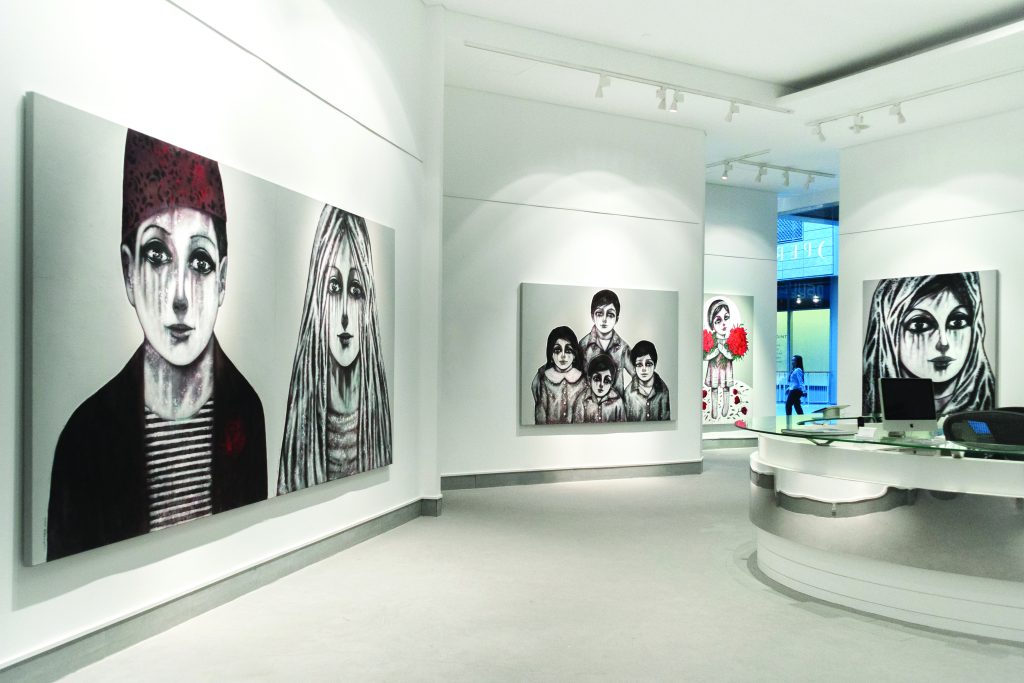 Meem Gallery
Launched in 2007 in Al Quoz by three leading art supporters and professionals (Sultan Sooud Al-Qassemi, Mishal Hamed Kanoo and Charles Pocock), the gallery's expertise lies in modern and contemporary Arab and Iranian art with a focus on the Middle East's modern masters, including Dia Azzawi, Parviz Tanavoli and Mahmoud Said. In addition, the gallery holds an extensive print resource on Middle Eastern art at its Noor Library, which houses a collection of 16,000 books and journals relating to modern and contemporary Middle Eastern and Islamic art.
www.meemartgallery.com
Tel: +971 43477883
Al Quoz 3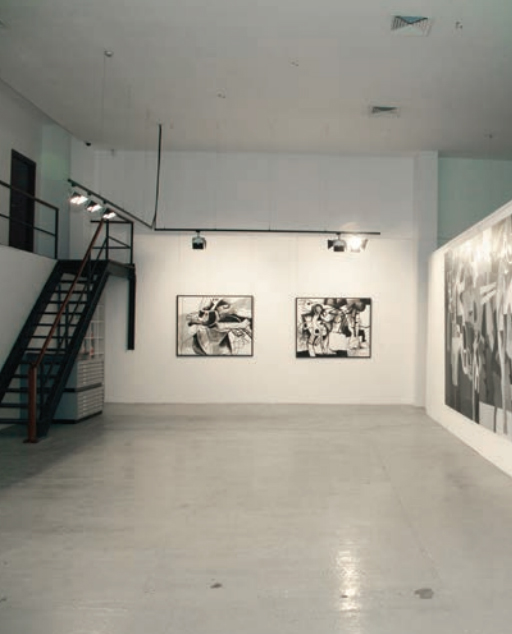 Lawrie Shabibi
A contemporary gallery that focuses on Middle Eastern and North African artists, it often exhibits the works of regional modern artists. Founded in 2011 by William Lawrie, former director at Christie's, and Asmaa Al-Shabibi, Lawrie Shabibi quickly became one of the leading galleries to support the development of the contemporary art scene in Dubai with shows that highlight works exploring relevant current issues in the region. It also regularly participates at international art fairs such as The Armory Show and Art Basel, Hong Kong.
www.lawrieshabibi.com
Tel: +971 43469906
Alserkal Avenue, Al Quoz 3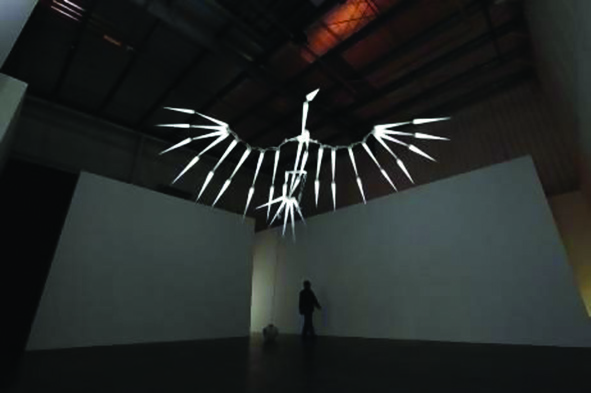 Cuadro Fine Art Gallery
The first gallery to establish itself in DIFC back in 2008, Cuadro Gallery was founded by Bahraini art connoisseur Bashar AlShroogi and features a large exhibition space fit for three, and sometimes four shows at a time. Currently managed by Roberto Lopardo, this contemporary gallery showcases art from various disciplines and by an international scope of artists. It also includes a residency program that offers artists studio spaces with a final exhibition, and an educational program of lectures, workshops and panel discussions. Cuadro Gallery occasionally hosts fashion exhibitions that feature international emerging designers and original concepts and bespoke designs.
www.cuadroart.com
Tel: +971 44250400
DIFC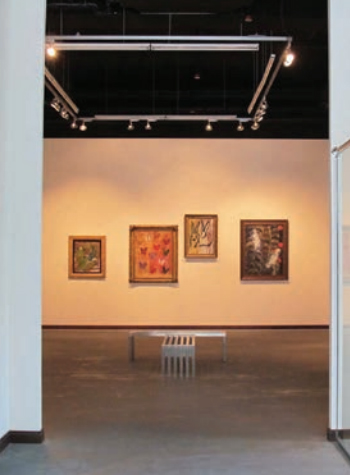 Mohammed Kazem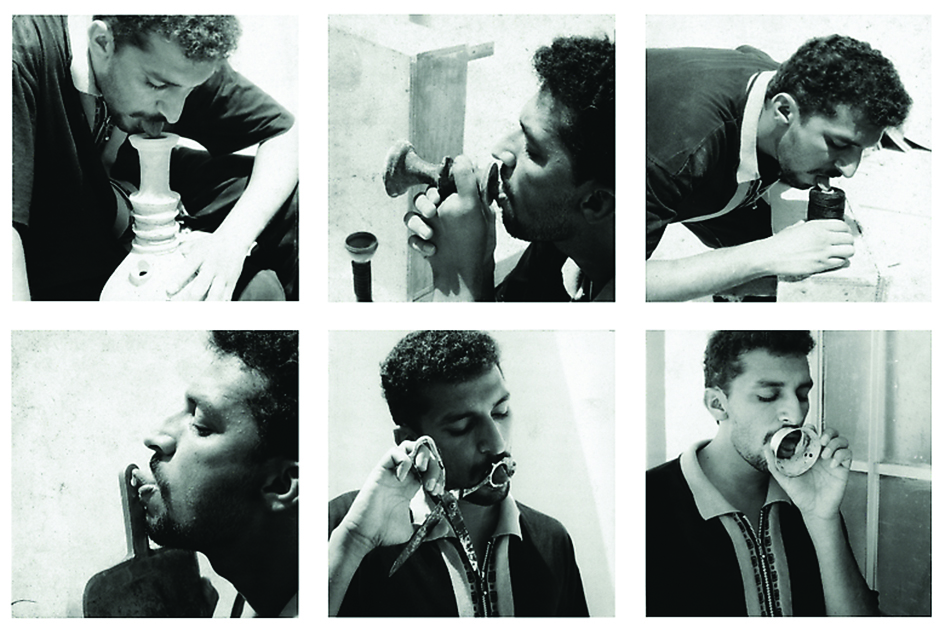 The Dubai native (born 1969) studied painting at the Emirates Fine Arts Society and is considered a pioneer conceptual artist whose work touches on global transformations in regard to social, political and natural environments while exploring ideas of the body, movement, space and natural elements. His temporal work has a documentary-like quality and is collected around the globe, from the Mathaf collection (Qatar) to the Deutsche Bank Collection in Germany.
Hassan Sharif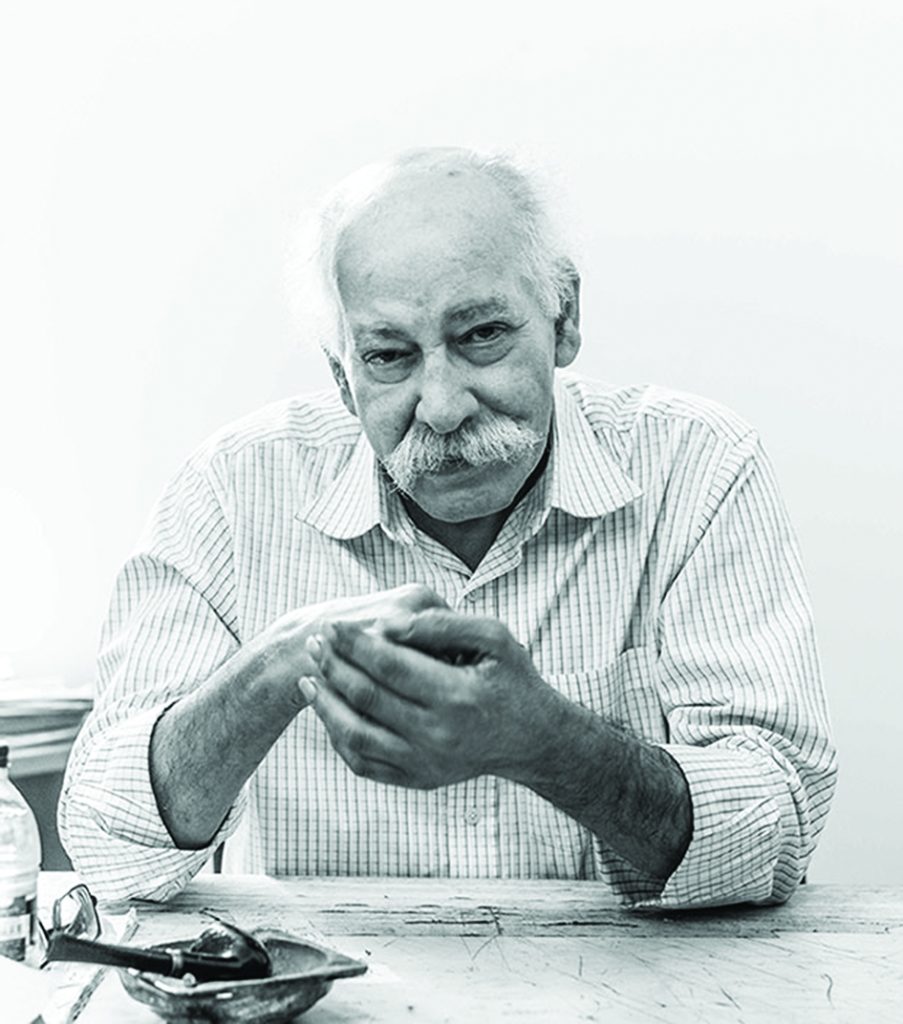 A seminal Emirati artist, Hassan Sharif's (born 1951) artistic career spans 40 years with performances, installations, drawings and assemblage. With a characteristic style that is often meticulous yet arbitrary in process and complex in execution, Sharif's contemporary efforts sparked some of the first interventions and exhibitions of contemporary art in Sharjah. Sharif is a founding member of the Emirates Fine Arts Society and his works can be found in institutions across the globe from the Guggenheim to Mathaf (Qatar).
Ammar Al-Attar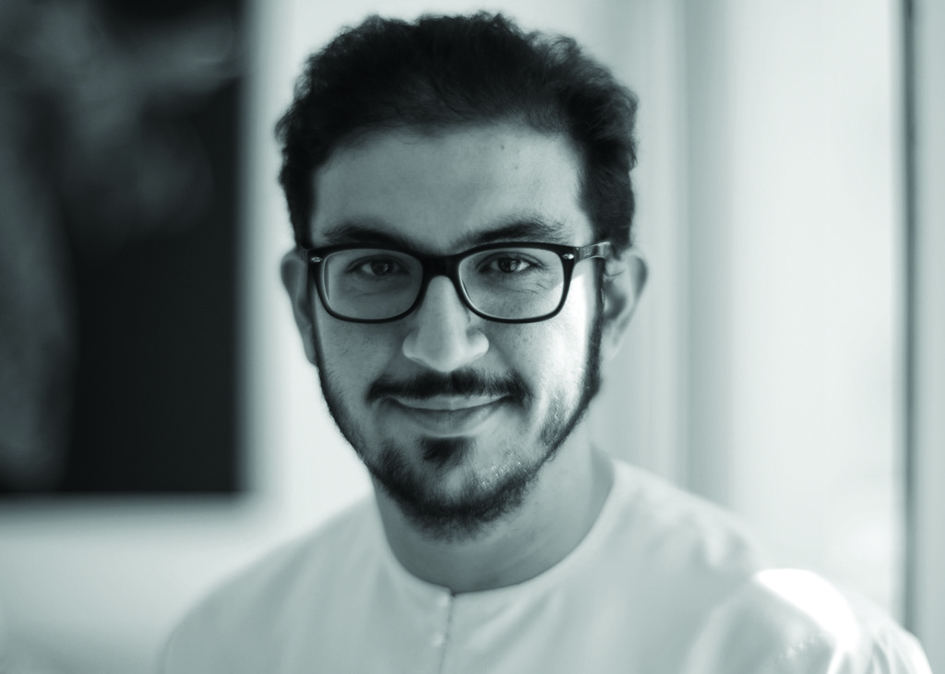 Born in 1981, Emirati Ammar Al-Attar is a photographer with a candid, subtle style whose works can be viewed at several institutions including the Barjeel Art Foundation and the Al Salwani Group in Saudi Arabia, among others. Often seen casually snapping photographs, Al-Attar currently focuses his practice on personal research-based projects to build a personal archive and database of photographic history in the UAE. He also leads several photography workshops throughout the country.
Design Days Dubai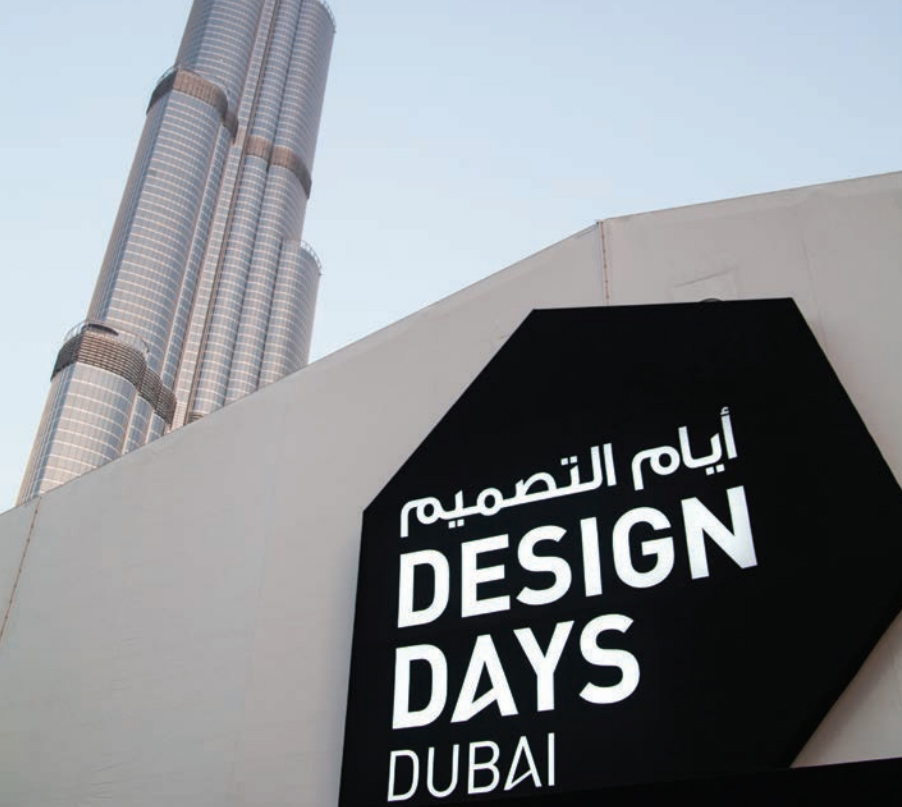 Design Days Dubai is an annual four-day design fair in the month of March in parallel with sister fair Art Dubai. The fair dedicates its space to collectible and limited edition furniture and design objects by bringing international and regional designers and studios, alongside up and coming talents from across the world into the fair line-up. This year, the fifth edition of Design Days Dubai takes place between 14—18 March at The Venue in Downtown Dubai and exhibits a record of 35 galleries from 19 countries. Apart from the design showcase, a full-fledged public program offers workshops, talks, special projects, guided tours and live performances will take place. A further addition to this year's edition is an exhibition from the UAE entitled WASL which celebrates Design Days Dubai's five-year legacy, as well as the announcement of the winning designer of the fourth edition of the Van Cleef & Arpel's Middle East Emergent Design Prize, an award in collaboration with Tashkeel and Design Days Dubai.
La Serre
Located in the Vida boutique hotel, a property geared towards the modern generation, La Serre is a sunlight-flooded French Bistro with floor-to-ceiling glass walls that overlook the boulevard. With a crisp white interior, Head Chef Izu Ani flies ingredients in from around the world to ensure their quality – including the downstairs boulangerie filled with buttery French goodies.
www.laserre.ae
Tel: +971 44286969
Vida Hotel, Downtown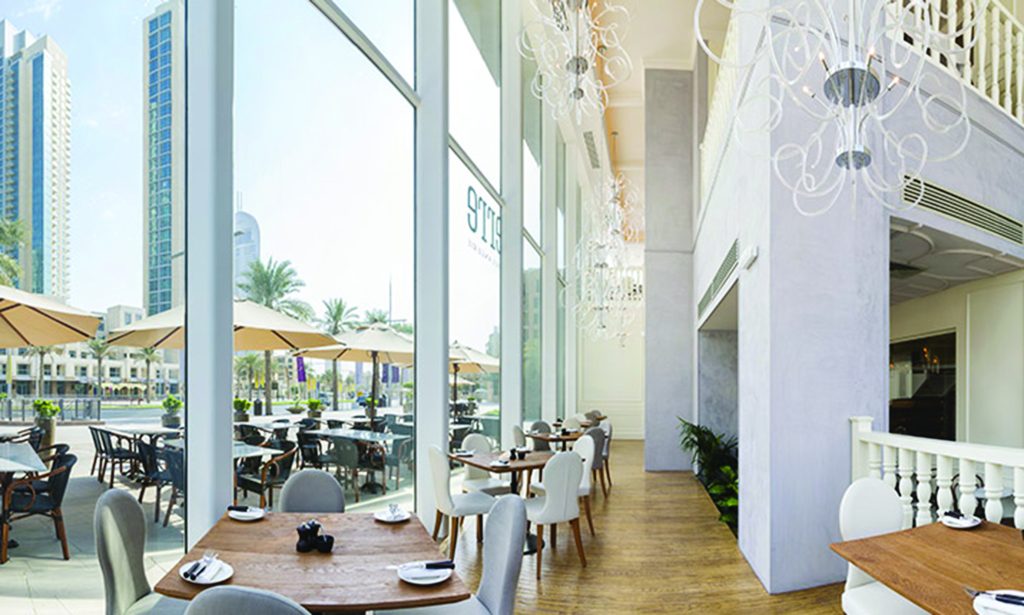 Qbara
Qbara Lounge and Bar at first glance is, in a word, lavish. It is spread over two floors and filled with subdued lighting and rich hues to create a somewhat exotic feeling. It is contemporary take on Middle Eastern Arabesque, from the decor designed by Tokyo-based interior design company Studio Glitt, through to the cuisine. Diners should expect a fusion of Levantine through to North African dishes, focused complex flavors, or in other words, unexpected twists on local favorites for those who are feeling experimental.
www.qbara.ae
Tel: +971 47092500
Fort Complex, Wa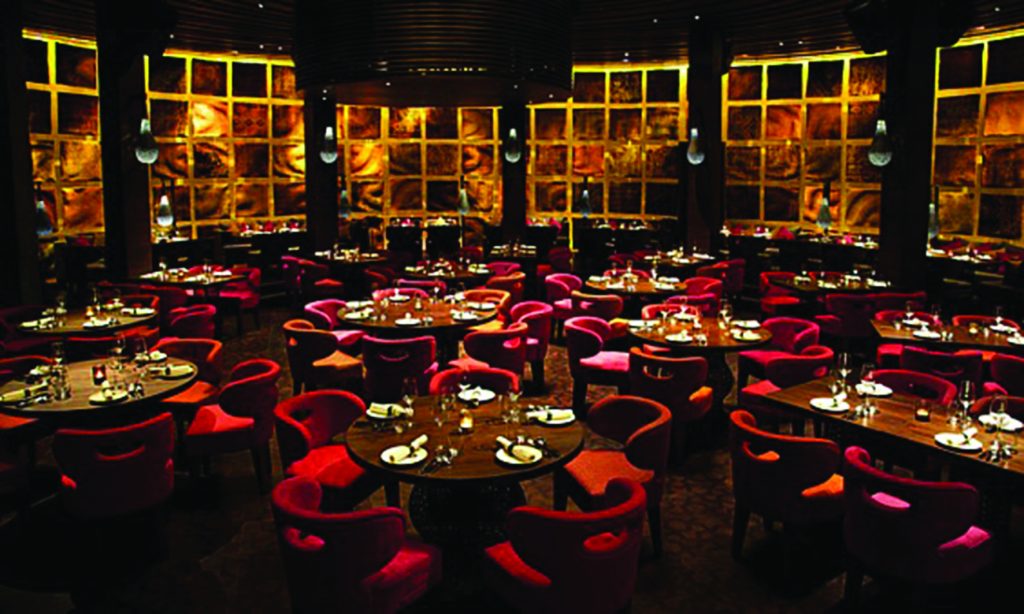 Jetty Lounge
Jetty Lounge is located in one of two One & Only Royal Mirage properties. The quintessential beachside bar and lounge is a calming venue to enjoy a view of the marina, the sunshine, and as the day dims down, to hear some live music (occasionally in the form of a roving saxophone player). Combining a sense of beachy effortlessness with Dubai's city-slick appeal, visitors can expect all their senses to be tickled: from the sandy ground to the generous drinks and stuffed olives.
www.oneandonlyresorts.com
Tel: +971 43999999
One & Only Royal Mirage, Jumeirah Beach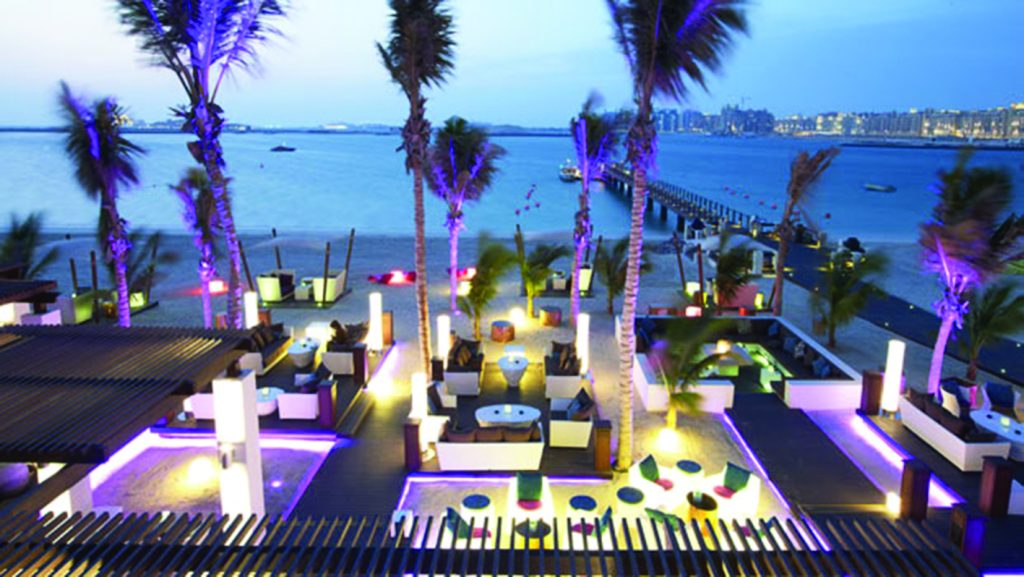 Bu Qtair
Wildly different to the majority of venues in Dubai, this small and exceptionally low key seafood restaurant is a must-do. The Jumeirah Beach Road haunt is continuously backed-up with a waiting line (reservations are non-existent so come early) and offers only the freshest catch-of-the-day, marinated or fried. It is a simple concept with straight-forward food, but the sheer number of happily waiting visitors is a testament to the quality and tastiness of this casual and pocket-friendly eatery.
Tel: +971 557052130
Street 2D, Jumeirah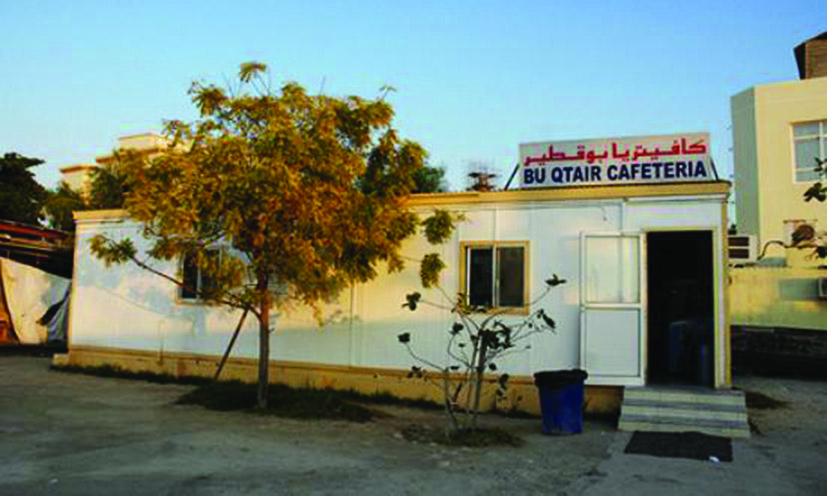 One & Only The Palm
Located on the Palm peninsula that expands into the sea, this 5-star resort is undeniably luxurious in its contemporary Arabian-styling and sprawling, lush property. One of two sister properties in Dubai, this beach front version provides an intimate peaceful getaway, a marked disconnect from the hustle and bustle of the city which lies mere minutes away.
www.oneandonlyresorts.com
Tel: +971 44401010
The Palm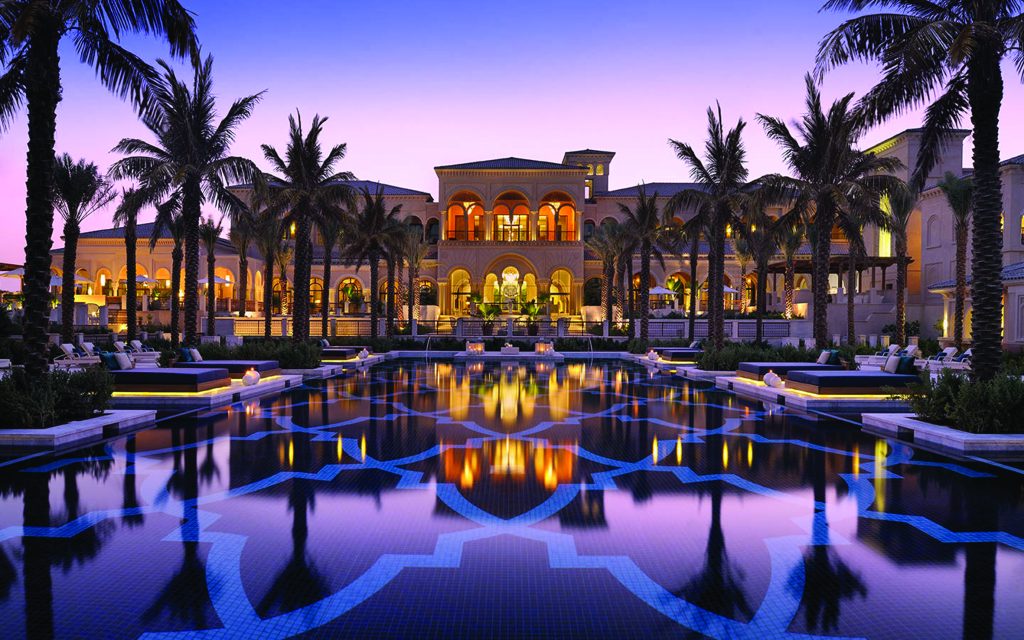 Park Hyatt
The Park Hyatt is one of Dubai's 5-star resorts that arguably offers some of the best massage and spa treatments in the city. It may be a bit futher north in the older part of Dubai, but nestled between the sea and the Dubai Creek Golf & Yacht Club, the hotel chain's fame for its exceptional food and beverage outlets should be enough to draw even those who aren't hungry for a taste of their award-winning bistro-nomic Traiteur.
www.dubai.park.hyatt.com
Tel: +971 46021234
Dubai Creek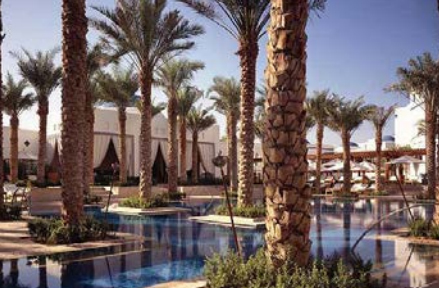 Four Seasons Resort
Resembling a fortress along the Jumeirah coastline, the 5-star hotel is a destination in itself with 11 restaurants and clubs (including the Peruvian Coya, a sleek and delicious for ray into ceviche-based dishes), a variety of water-sport facilities for those who prefer some adventure with their beach time and its own shopping centre. But perhaps most strikingly, from its geographically raised location, panoramic views of both the sea and city scapes.
www.fourseasons.com/dubaijb
Tel: +971 42707777
Jumeirah Beach Road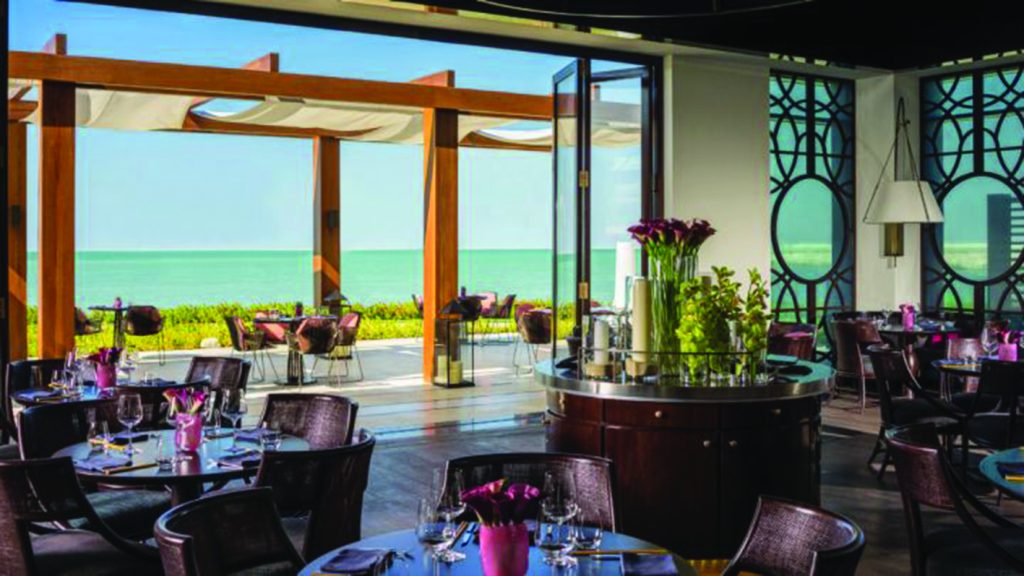 Armani Hotel
This 5-star hotel is an elegant experience thanks to the chocolate -hued decor and delicate floral scent that wafts through the property. Built into the landmark Burj Khalifa, several chic dining venues from Contemporary Indian (coconut naan) to a Deli cafe (complete with a hidden pork room) offer views of the fountains for those who want a hit of dynamism, along with a below-ground club featuring the world's largest LCD screen.
www.dubai.armanihotels.com
Tel: +971 48883888
Burj Khalifa, Downtown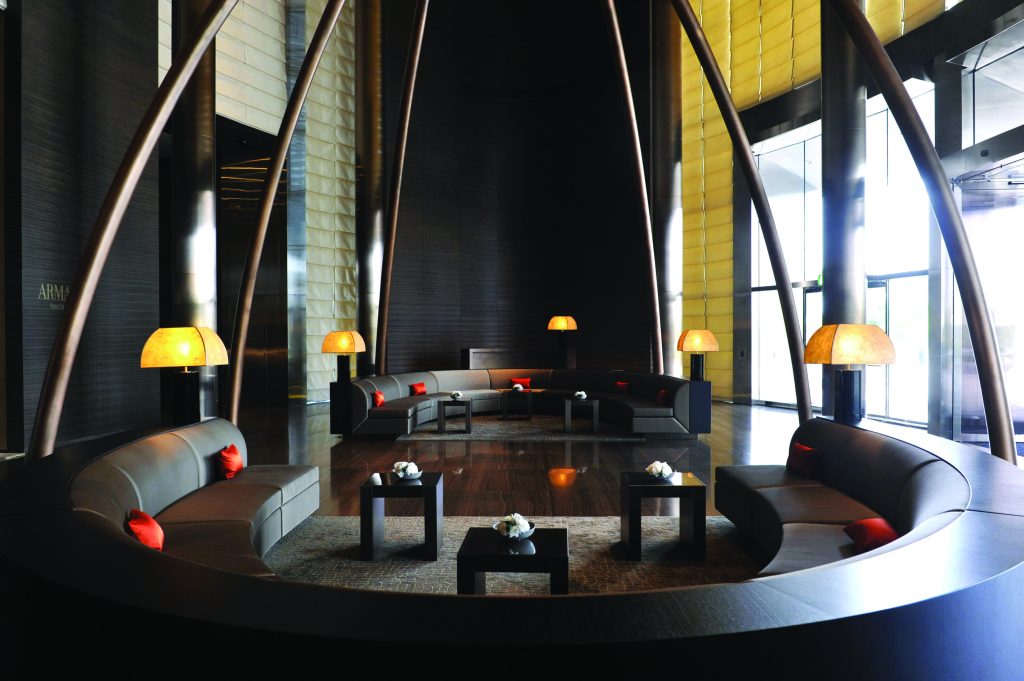 DUBAI – UAE
The travel guide for exploring the
ecstatic beauty of DUBAI.