Canvas: How has your approach evolved since you were appointed as Director in 2016?

Since joining Abu Dhabi Art, I consider myself fortunate to have worked closely with some incredible artists, galleries and curators in the UAE. They have helped me realise what the fair can achieve for the community in terms of providing opportunities for the local art ecosystem to flourish and to expand its international networks. The programmes which I have launched for Abu Dhabi Art, including Beyond: Emerging Artists, the Pavilion Prize, Art + Tech and Artist Commissions in Heritage Sites, amongst others, are all geared toward this overarching goal.
The fair has grown year on year since its inauguration in 2007. What draws galleries to return and newcomers to participate?

In some ways we are riding on the coat-tails of the incredible cultural developments currently underway in Abu Dhabi, transforming an emirate already replete with heritage into a contemporary cultural capital that stands shoulder to shoulder with major cultural capitals of the world. Galleries are attentive to this progress. The Louvre Abu Dhabi has been open for five years, Guggenheim Abu Dhabi and Zayed National Museum will open soon, and galleries can see that there is a real groundswell of investment in, and commitment to, art and culture, led by our leadership here. The growth of private collectors from or based in the UAE has added to this appeal – as a whole, the UAE offers a market full of growth potential and galleries are attuned to that.

How does this year's Abu Dhabi Art engage the public beyond the traditional art fair format, and how is the UAE context taken into account?

Firstly, I would highlight that Abu Dhabi Art is organised by the Department of Culture and Tourism – Abu Dhabi (DCT), and so as part of DCT, our mission is to serve the cultural community here in the UAE. With this aim in mind, we have access to the Education Department, which offers professional workshops and tours for students and adults at the fair and at sites where we have commissions year-round. This gives us a very layered approach to public engagement. We also work with the Music Programmes Section and the museums under DCT to expand our offering to the public. Not many fairs globally benefit from this level of support.

Secondly, our content at the fair itself offers visitors an expansive way to develop their knowledge about the global art histories that we present. Our geographical location differentiates us from other fairs in Europe and the USA, locations which are perhaps historically the model makers for art fairs worldwide. For those interested in building a collection with a global lens, in a less speculative market than you might find at mainstream fairs, we are a good landing place.

For example, within our art fair format we offer commercial Focus sections for galleries, which bring together booths that collectively present a particular subject. In this endeavour we draw on art historical or research driven thematics that you would not find in art fairs in the US or Europe. This year, one gallery Focus section looks at modern and contemporary art from Hong Kong specifically, while another spotlights Arab women artists. The fair positions itself as a place to discover global art histories and to collect under-researched or emerging artists. It is more accessible to new collectors as a result. Finally, we have a year-long programme that comprises exhibitions, commissions, education initiatives and talks. These projects also enable us to engage with diverse audiences beyond the traditional fair format.

In terms of how we bring the UAE community, our stakeholders, closer into the fair itself, I would also mention our Community Partners section, which is integral to what we do. Our Community Projects participants include local foundations and cultural institutions, which also present their work at the fair. This year, we have invited Nadine Maalouf, founder of 81 Designs, to produce a collaborative space for our Community Projects, conceived more as a laboratory for experimentation and exchange between partners. Titled Into the Horizon, the installation will invite visitors to engage with artworks inspired by the profound beauty of the natural landscapes of the UAE. Several of the works consider the importance of preserving our environment for future generations. In Nadine's words, this thematic alignment with the Year of Sustainability "reinforces the community's role as a powerful advocate for environmental consciousness" and highlights the context of the UAE to visitors.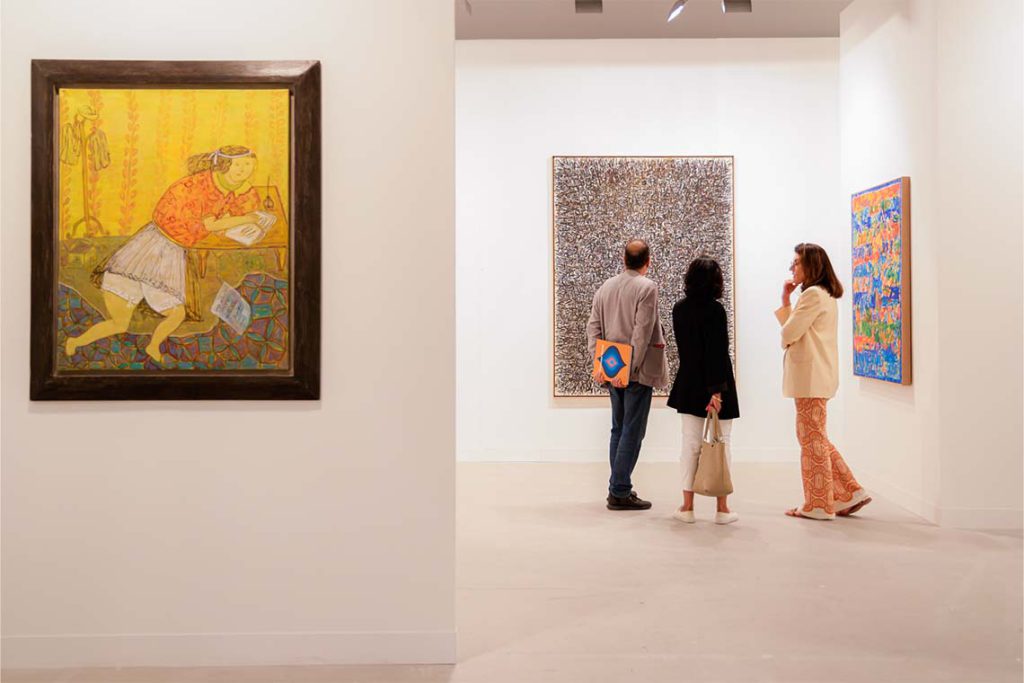 How did this year's visual campaign develop with Mohamed Ahmed Ibrahim?

We have been lucky enough to work with Mohamed Ahmed on multiple occasions. He participated in our first Gateway exhibition, curated by Maya Allison in 2017; he curated our Beyond: Emerging Artists programme in 2018; we worked with him on a major public art commission at Reem Park; and this year he is our commissioned artist for Al Ain Oasis, as well as being our visual campaign artist. So he is a long-standing stakeholder and friend of Abu Dhabi Art. The visual campaign articulates the identity of Abu Dhabi Art each year, and for 2023, with COP28 around the corner, we wanted to work with an artist who could really illuminate the special relationship that humans are capable of having with nature, particularly with the landscape of one's home country.

Tell us more about the talks in this edition's public engagement programme. Who will be invited to speak?

All our commissioned artists and curators will be speaking, either to present their work, discuss art historical subjects or join the wider conversation on sustainability, which is top of mind for everyone this year. We also have guest talks by some of our partners, including Guggenheim Abu Dhabi and Manar, bringing together an array of local and international speakers. The full programme is listed on our website abudhabiart.ae, with talks free to attend and everyone welcome.

Are there any new commissioned projects for this edition?

Yes – in Al Ain we will be presenting commissioned projects by Mohamed Ahmed Ibrahim and Nujoom Alghanem. Visitors to Mohamed's installation Al Ain Oasis will discover tree-like sculptures made of natural and found materials that respond to the oasis, which is a UNESCO World Heritage Site. His sculptures are made of papier-mâché, recycled cardboard and found objects. For this installation, he has – for the first time ever – added the symbol motifs for which he is so well known directly onto his sculptures, integrating his two-dimensional paintings and his three-dimensional sculptures with this action. The work is conceived by the artist as a gift to Al Ain, and reflects on the impact of urbanisation on nature, materialising his lifelong relationship with the landscape of the region.

Nujoom's commissioned work, Artifacts of the Current Moments, is a continuation of a project started in lockdown during the pandemic and which has evolved toward an exhibition in Jahili Fort, bringing together both older and new work. All works that are presented in this exhibition are related and reflect on the times we inhabit. I must cite her directly on this project, which she has described as follows: "There are hundreds of hours that pass throughout our lives, either in waiting for things to happen or in waiting for the right time to start something or to take a certain action. Without noticing, I find myself creating ways to handle those moments that are spent in waiting. I always take refuge in art when I'm waiting for anything. However, I'd never thought about the energy embedded in each moment until I got hit by Covid and had to go through two weeks of quarantine, which at the time felt like an eternity. Being in isolation made me observe the passing of time from another perspective. I realised that each minute has great value, each hour is a lot of time, and each day of waiting made me think about the simplest things around me – the simple lines, the texture of tiny shells, the softness of flowers' petals, the impact of words, the small unnoticeable details, etc… I intentionally began making different pieces of ceramics during the moments that passed while I was waiting. I call them Artifacts of the Current Moments".

Both Nujoom Alghanem and Mohamed Ahmed Ibrahim's works will be in exhibition in Al Ain for two months, from November through to January. Meanwhile, at the art fair itself we are thrilled to be presenting a survey show for Hashel Al Lamki, curated by Venetia Porter and titled Maqam. Venetia first came across Hashel's work at the Lyon Biennale last year and loved it. As the appointed 2023 curator for our annual exhibition Gateway, she was able to choose her subject matter and her immediate response was to propose a focused exhibition on his work. Hashel will also be creating a site-specific installation for us at the entrance to the fair this year.

Our 2023 Beyond: Emerging Artists exhibition promises to be another exciting iteration, with three phenomenal emerging artists – Latifa Saeed, Samo Shalaby and Almaha Jaralla – producing new commissions for Abu Dhabi Art in an exhibition curated by publisher and curator Morad Montazami. Their works will be unveiled at Abu Dhabi Art and stay in exhibition at Manarat Al Saadiyat for two months after the fair, before travelling abroad for an international showing. Canvas readers will have to visit the fair this November to discover what they have been working on!