AL ASFAR LAKE
Al Asfar Lake, also known as the Yellow Lake, is the perfect hidden spot for eager eco-tourists. The lake is situated among the golden sand dunes, and is a nature reserve extending northeast of Al Ahsa's National Park in the city of Omran. The lake is only accessible with the help of a sturdy 4×4 car. Its seclusion is what makes the secret spot a tranquil retreat, where you can spend time watching the local birds play in the reeds along the water's edge. The water comes from a nearby agricultural drainage and water treatment plant, offering fertile ground for desert plant and animal life – and if you are lucky, twice a year migratory birds, such as ducks, geese and sparrows pass by, seeking warmer climates.
Al Asfar Lake, Al Hofuf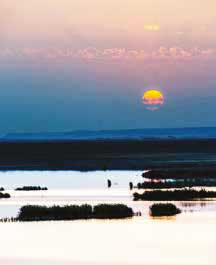 JABAL AL QARAH
For all adventure seekers, a trip would not be complete without stopping at Jabal Al Qarah. Known for its intricate caves and stunning rock formations, this natural spectacle is a sight not to be missed. Located a little over 10km outside of the city of Al Hofuf, the mountain and caves are easily accessible, with interior walkways comfortable to navigate and well-lit with railings for safety. Make sure you have your cameras ready to capture the stunning shots of the mountains; if you are a keen photographer and want to make the most of shadows forming on the unique land features, mornings and evenings are the best times to visit. There is an entrance fee of USD 13 for visitors over the age of 12.
Jabal Al Qarah, Al Hofuf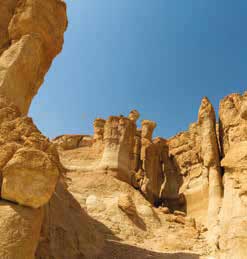 QAISARIAH SOUQ
Stepping into the historical Qaisariah Souq will transport you back in time, as it is one of the oldest markets in the Eastern Province. The recently restored market has high ceilings and numerous alleyways that are imbued with breathtaking colors and aromas. Vendors sell everything from clothing, shoes and toys, to oils, spices, teapots and carpets. During the busy weekends, a taxi is the suggested mode of transport, as it can be difficult to find a parking space at this bustling hotspot.
King Abdul Aziz Road, Al Hofuf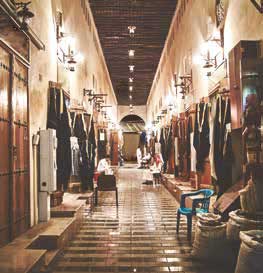 AL FANATEER
In the city of Jubail, you will find Al Fanateer, one of the liveliest corniches in the whole of the Eastern Province. If you manage to catch it while temperatures are down, you will find people patiently waiting to catch a fish, families picnicking along the waterfront and pumped-up joggers photobombing your perfect sunset Instagram post. With the Arabian Gulf unfolding gracefully into the horizon, there is no better location to stroll down to the beach and dig your toes into the soft sand. There are many food options and hotels in the area making Al Fanateer a popular spot for locals and tourists alike.
Al Fanateer Corniche, Jubail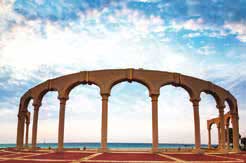 GRAVITY TRAMPOLINE PARKS
Gravity Trampoline Parks offers a large facility with activities for the adrenaline-seeker in you. The indoor entertainment and recreational centers are aimed at both children and adults, with fun to be had for all ages. Try scaling the rock-climbing wall or challenge your friend to a race in a virtual reality game. There's also an open jump trampoline area so you can leap about until your heart is content. After all the excitement, wind down with a snack at the food court.
www.gravity-ksa.com
Tel: +966 138355299
Prince Sultan Road, Dhahran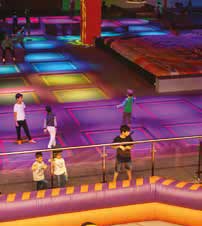 DOUGHA HANDMADE POTTERY FACTORY
For creative minds, a trip to the Dougha Handmade Pottery Factory in Al Ahsa should be on your list. The traditional house from which the factory runs is over a hundred years old. The factory is managed by a local family who preserves the traditions passed down for generations. The spot is one of the most highly visited in the country, with local potters always ready to guide you through the facility and share its heritage – they may even let you have a turn on the pottery wheel! The factory also contains a store where handcrafted pots and vases are available as authentic and affordable souvenirs to bring home.
Al Qarah Road, Al Hofuf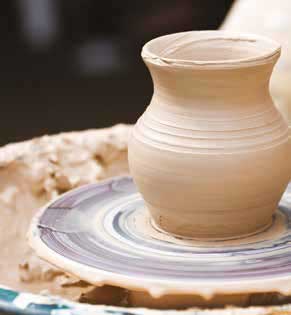 HERITAGE VILLAGE
This 22-year-old establishment has a little bit of everything: a museum with a collection of antiquities, a photography gallery of Kings, dignitaries and VIPs who have visited over the years, and a traditional restaurant that serves hearty Saudi specialties like kabsa (a rice and meat dish) and jareesh (a wheat-based porridge). Perhaps the most captivating aspect of this place are the antiquities found in every nook and cranny. The first floor is filled with fabrics, handicrafts and traditional Najd doors from central Saudi Arabia, while the second floor boasts Al Qatt Al Asiri geometric paintings from the Asir region in the southwest of the country. For more cultural encounters, you could take a twenty-minute stroll down to the Dammam Corniche to enjoy some striking architecture and a soft sea breeze.
www.heritage-village.com.sa
Tel: +966 13 809 0000
Prince Muhammad bin Fahad Road, Al Shati District, Dammam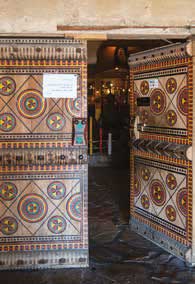 TRAIN RIDE TO RIYADH
All aboard the charming train ride to Riyadh! If you want to get to the Kingdom's capital after your trip to the Eastern Province (and beat the traffic), there's no better way to do so than from the carriage of the Saudi railway. The train began operating in 1981 and is still in use today with two stops along the journey, Al Hofuf and Abqaiq. Recent upgrades have shortened the trip to just over three and a half hours to cover the nearly 449km distance. And this is through the Eastern region's surreal desert landscape. The original stations of Dammam, Al Hofuf and Riyadh are considered landmarks with distinctive architectural design that merges traditional Islamic styles. If you plan on traveling during any holidays, booking online in advance is recommended as the train is a popular way to get from A to B.
www.saudirailways.org
+966 13 871 5055
Fatema Al Zahra St, Al Shifa, Dammam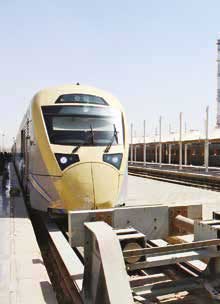 JAWATHA MOSQUE
Get up close and personal with Jawatha Mosque, the earliest known mosque built in the Eastern Province, dating back to 628 AD. Despite most of the original structure having faded away over time, the site is still used for prayer and has become a cultural attraction for tourists. The mosque is located in a small park that you can access for a fee of roughly USD 3. There are picnic spots within the park grounds and plenty of coffee shops nearby where you can refuel after a day out in the sun.
Jawatha Park, Al Kulabiyah
UQAIR PORT
The historical Uqair port, positioned along the coast of the Arabian Gulf, was once a main trading hub for the region. The old buildings stand as a reminder of the times before the region struck oil, with some of the ancient structures dating back to the late 19th and early 20th century, representing a time when goods went through customs and were then sold on across the Eastern Province. It is also interesting to note that the location played an important role in the 1922 Uqair Protocol, an agreement that defined the boundaries of the modern Saudi Arabia.
Uqair Port, Al Ahsa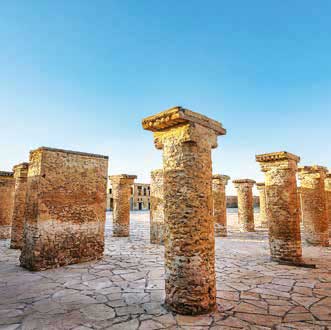 IBRAHIM PALACE AND MUSEUM
A highlight of any trip to Al Ahsa is a visit to the Ibrahim Palace. Featuring formidable exterior walls and soldier's barracks, the site is a monument of combined Islamic and military architecture that showcases Saudi Arabia's rich and diverse history. Build in 1556 during Ottoman rule, thi complex has at its centre the Al Qubba Mosque surrounded by Turkish baths, weapon storerooms and a prison. An essential addition to the restored palace is the museum, with photography and artefacts revealing the various production methods of everyday objects that were used during the palace's heyday. Entrance is free but opening hours may vary.
Al Rafaa North, Al Hofuf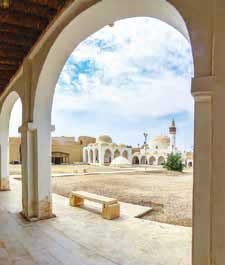 TAROUT ISLAND AND CASTLE
Recognized as one of the largest islands in the Arabian Gulf, Tarout Island is connected to Qatif by bridges. The island's history is also extensive, as it is believed to be one of the oldest sites inhabited by humans on the Arabian Peninsula, with archaeological findings indicating a history that dates thousands of years. A gold mine of information, starry-eyes little ones will enjoy traveling back in time and discovering the relics of bygone eras. At the top of the highest point of the island sits Tarout Castle, with inscriptions indicating an invasion by the Portuguese in the 16th century.
Tarout Island, Al Qatif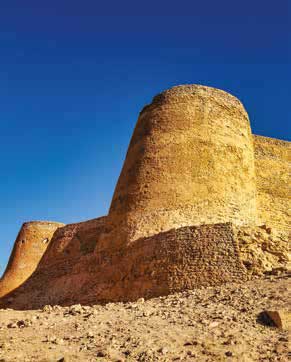 UNESCO SITE: AL AHSA CITY & OASIS
Al Ahsa is a sight to see, as a whole, and considered by many to be one of the oldest areas of human civilization the area offers a multitude of charming cultural and historical spots to seek out, especially enjoyable for lovers of nature. Also distinct in its geography, Al Ahsa boasts the largest date palm oasis in the world. Nestled in among the sun-scorched desert, the green governorate is home to millions of date palm trees and lush vegetation that grow around the multiple freshwater springs, leaving no question as to why it is on UNESCO's World Heritage List.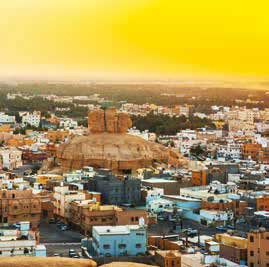 STREET ART IN AQAIR STREET
Wander down Aqair Street for eye-catching street art. In 2018, and as part of the country's recent promotion of culture, the Alfan Sharqy (Art is Eastern) project brought together 21 local artists to beautify one of the city's oldest areas in the south of Al Khobar. Led by artist and active member of the art community, Madawi bint Mansoor Albaz, the initiative saw young artists take on derelict buildings in the historic Thuqbah neighborhood and transform the area into an open-air gallery for all. Walk along the lively streets, and you'll see murals of landmark locations in the Eastern Province, contemporary calligraphy, abstract designs and Pop Art.
Aqair Street, Al Khobar Al Janubiyah, Al Khobar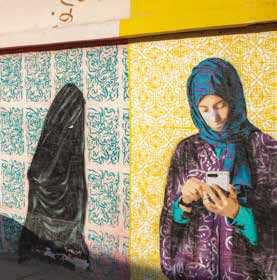 SULTAN BIN ABDULAZIZ SCIENCE & TECHNOLOGY CENTRE (SCITECH)
Located on the Al Khobar Corniche, the Sultan Bin Abdulaziz Science and Technology Centre (SciTech) is an educational center dedicated to science and technology. The space engages with over 350 interactive displays ranging from the Earth, wildlife and the oceans, to space, energy and the role of technology in industries rooted in Dammam. Popular with adults and children alike are two aquariums that host sea creatures native to the Arabian Gulf and the Red Sea. There is also an observatory where visitors can study the stars through a replica of the SciTech Hubble telescope. The dome building houses a state-of-the-art IMAX theatre that screens educational movies and documentaries, a first-of-its-kind in the Eastern Province.
www.scitech.com.sa
Tel: +966 13 896 7777
Corniche Road, Al Khobar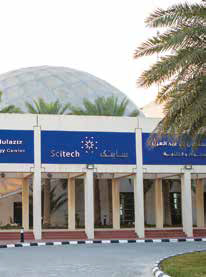 AL KHOBAR CORNICHE
It's no secret that promenades across the Eastern Province are a major tourist attraction, but recent efforts to develop the 8-kilometer Al Khobar Corniche have certainly boosted what's on offer. If you're hungry, you can dine at popular chains at Ajdan Walk, try the local fare from the food trucks or picnic in one of the lush green spaces. For those looking to stretch their legs, the corniche offers high street retail stores and a vast waterfront to bike or jog along, under the watchful gaze of the Al Khobar Water Tower.
Al Khobar Corniche, Al Khobar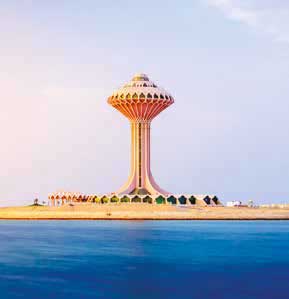 KING ABDULAZIZ CENTRE FOR WORLD CULTURE (ITHRA)
Towering over the Dhahran skyline, the King Abdulaziz Centre for World Culture, known as Ithra, Arabic for "enrichment", is an architectural icon that aspires to promote creativity, knowledge-sharing and innovation.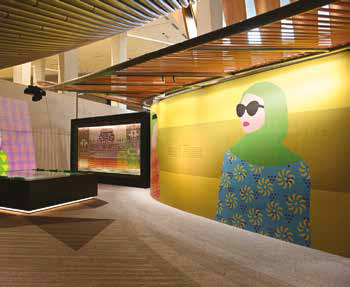 ITHRA MUSEUM & LIBRARY
Ithra's Museum includes four gallery spaces holding temporary and permanent museum-grade exhibitions on contemporary Middle Eastern Art, Saudi culture, Islamic art and the natural history of the Arabian Peninsula as well as digital stations for interactive learning – bridging past and present in an elegant and educational manner. A uniquely designed library and one of the Kingdom's largest, with over 270,000 books encourages individual and collaborative learning for all ages as well as audio and e-books. A special feature of the building is the rising sculpture, Source of Light, Giuseppe Penone's 90-foot tall commission illustrating life springing forth from the ground and reaching majestically toward the sky, referencing the symbolic site where commercial oil was first discovered in Saudi Arabia and Ithra's mission to tap into human energy and creativity. For those looking for even more, Ithra also offers talks, workshops and seasonal events throughout the year. Entrance is free, but certain facilities and special events are ticketed.
www.ithra.com
Tel: +966 13 816 9799
8386 Ring Road, Dhahran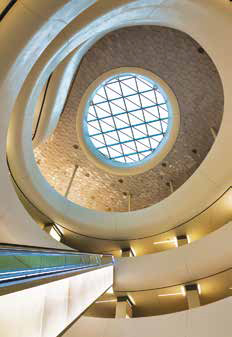 ITHRA THEATRE AND CINEMA
Get your culture fix and experience a performance in Ithra's 900-seat theatre. Tiered and balcony seats offer views of the stage where one can watch a broad program of local and international productions. The theatre also offers training across the fields of performing arts, scriptwriting and cinematic production, aimed at inspiring and supporting homegrown talent. Performances are usually for a limited time and it is advised to check and book prior to the shows via Ithra's website. A 300-seater cinema regularly screens locally produced short films and educational documentaries, focusing on edutainment in alignment with Ithra's cultural mission.
www.ithra.com
Tel: +966 13 816 9799
8386 Ring Road, Dhahran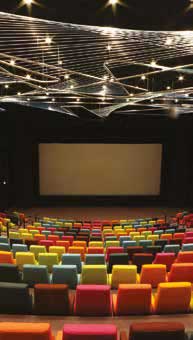 ITHRA CHILDREN'S MUSEUM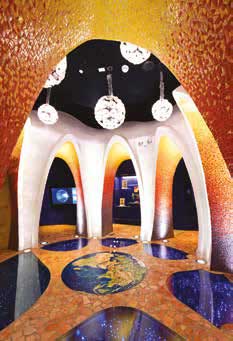 With themed zones, the Children's Museum is designed to provide an interactive and immersive experience, where young ones are encouraged to explore through play. At the Eco-Lab, future scientists are welcome to get their hands dirty, learning about the environment and physics. The
Islamic Arts zone introduces geometric patterns, abstract designs, language and calligraphy, while Our World takes little ones on a journey across the globe. At the Story Cave, budding actors can let their imagination run wild, dress up and star in their own production.
www.ithra.com
Tel: +966 13 816 9799
8386 Ring Road, Dhahran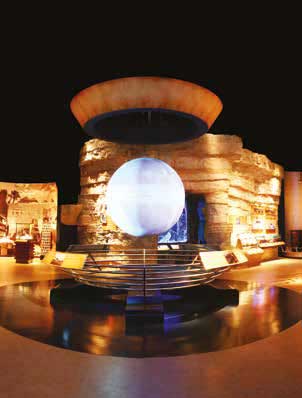 Dating back to the 1950s and a predecessor to Ithra, the Energy Exhibit (formerly known as the Saudi Aramco Oil Exhibit) is now part of Ithra's premises. Designed for children aged 6 to 14, the exhibition stimulates curiosity and introduces STEM learning. Through hands-on displays, children and their families can learn about the entire process of oil production and extraction from beginning to end, offering a regionally important educational experience. The newer exhibits demonstrate how Saudi Aramco harnesses natural resources and alternative energies, like wind turbines and solar panels. Aside from the interactive displays, installations and workshops that encourage active learning, the centre offers educational movies and documentaries screened in a 3D theatre.
www.ithra.com
Tel: +966 13 816 9799
8386 Ring Road, Dhahran
NOOBA KUSHARI
Nooba Kushari is known for good food and quick service. Serving mainly kushari, what is known as the national dish of Egypt, it is a mix of rice, macaroni pasta and lentils topped with a sauce and garnished with a healthy dose of chickpeas and fried onions. The chicken and original kushari are the ones to try! Painted wooden crates and wooden tables add to the casual colorful atmosphere of the place.
Instagram: @noobaksa
+966 56 488 8860
7329 King Abdullah Road,Al Hofuf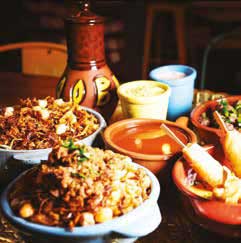 BOHEMIA ART CAFÉ
Head here for a glimpse of the Eastern Province's young art scene. With communal tables, a minimalist aesthetic, no-fuss coffee and vegan treats, the café is popular with students and music aficionados and also serves as one of the few record stores in Al Khobar. Local bands often perform on weekends, but if you happen to miss them, you can always pop a limited-edition Elvis Presley vinyl onto the retro turntable upstairs, sit back, and jam to the tunes. Make sure you don't leave without sampling the Soho latte and mini -custard doughnuts.
Instagram: @bohemia_artcafe
Tel: +966 509444423
Al Bandariyah, Al Khobar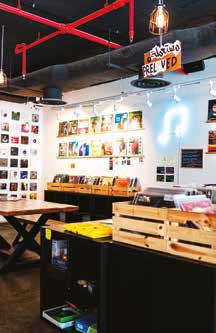 MISTCA
As soon as you walk up to the café, a bright blue door welcomes you into the vivid world of Mistca. The location offers Middle Eastern fusion cuisine featuring well-known recipes with distinct modern flair. There is a variety of vegetarian options available, as well as starters, such as homemade sambusa, beetroot falafel sliders or the spicy shrimp nests. If you are still peckish, try out the honey chicken with lemon rice. Don't forget to save room for dessert, and you'll be glad you did once you take a bite into the cinnamon milk cake!
www.mistca.com
+966 135997771
King Abdullah Ring Road, Al Mubarraz,
Al Ahsa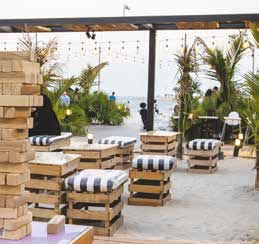 SALT AL BAHAR
Known for their food trucks across the GCC, this SALT location offers much more than your average burger and fries. With wooden-crate décor, oversized cushions, string lights and patio style heaters, the ambiance here is relaxed, fun and inviting. Apart from a laid-back vibe and an innovative take on finger food (Chicken Cheetos slider and Lotus-cookie softie, anyone?) there's plenty for kids and teens to do here: kayaking, paragliding, kitesurfing, volleyball nets, table tennis, a trampoline, human-size chessboard and Jenga blocks.
www.find-salt.com
Tel: +966 558929515
Corniche Road, Al Khobar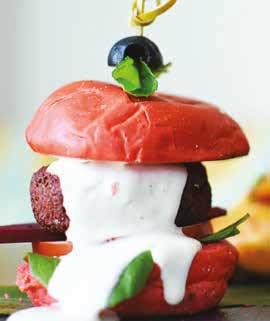 SHERATON DAMMAM HOTEL & CONVENTION CENTRE
The Sheraton is one of the few five-star hotels in Dammam and boasts the biggest convention center in all of the Eastern Province, making this ideal for business travelers and luxury seekers alike. There are three restaurants within the building, offering a choice of international cuisines, such as Italian, Japanese, Lebanese or Chinese. For some rest and relaxation, try the Spa and Wellness Centre, which offers spa and hair treatments, a gym, a lap pool and steam room.
www.marriott.com
+966 13 834 5555
1st Street, Dammam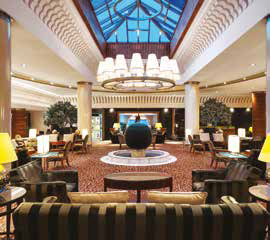 AL KOOT HERITAGE HOTEL
Disconnect from the modern world at Al Koot Heritage Hotel, your home away from home and a warm introduction to Eastern Province hospitality. This fully female-run hotel hosts a limited number of guest rooms made of tan mud walls, wooden ceilings. Flashes of color from the woven carpets across the floor, accented with red tapestries, create a cosy atmosphere. There are two dining spaces, one is outside for the cooler months. The hotel is also only a stone's throw away from iconic Al Ahsa tourist destinations, such as Ibrahim Palace and Qaisariah Souq.
a-koot-heritage.hotels-saudi-arabia.com
+966 13 582 2279
King Khalid Road, Al Koot, Al Hofuf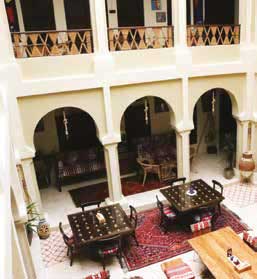 ALOFT
With its affordable rates, a 24-hour dining hall and convenience store, rooftop pool, spacious and stylish rooms, this boutique hotel is popular with both business and leisure travelers. It is situated in a prime location, alongside malls, trendy eateries and upscale establishments that add to its trendy vibe. After a long day, you can unwind at the w xyz bar and lobby, a vibrant and stress-free space that boasts refreshing mocktails and snacks, a snooker table and an open garden patio.
www.aloft-hotels.marriott.com
Tel: +966 13 816 4444
21st Street, King Saud Branch Road,
Al Khobar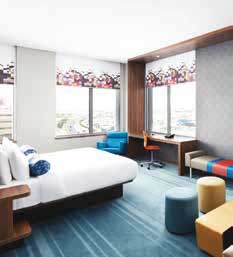 MOVENPICK BEACH RESORT
If you would rather take advantage of the Eastern Province's glistening, azure waters and steer clear of the hustle and bustle of the city, opt for a suite or villa at the Movenpick Beach Resort. A 30-minute ride away from the centre of Al Khobar, this relaxing resort offers stunning sunset views, quiet time on a private lagoon beach with jet skis and an outdoor swimming pool. The stylish Spanish estate-style architecture will get you into a luxurious state of mind.
www.movenpick.com
Tel: +966 13 849 2999
King Fahad Road, Al Aqiq,
Al Khobar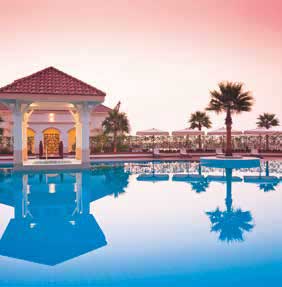 EASTERN PROVINCE – KSA
The travel guide for exploring the
ecstatic beauty of EASTERN PROVINCE.