As the rapid pace of change in Saudi Arabia continues unabated, the Kingdom's capital saw the second iteration of light art festival Noor Riyadh illuminate its skies last November in a contemporary aurora deserta.
---
A mother, father and their two children stand transfixed by a large multi-coloured inflatable that rocks and billows gently in the breeze. It has eyes that blink and move, and water spurts out of valves in its body, which constantly changes colour like a puffy chameleon. The father cautiously prods it. The kids laugh, run around its ballooning circumference and then scarper off to investigate other friendly inflatables and what look like paddling pools. Welcome to Cupid's Koi Garden (2022) by ENESS, the Australia-based art and technology studio and creator of "the world's first inflatable fountain". Installed in Riyadh's Salam Park, the garden of inflatables is one of more than 120 outdoor installations that are part of the second edition of Noor Riyadh (3–19 November 2022), organised by Riyadh Art under theme We Dream of New Horizons. I ask Nimrod Weis, artist and founder of ENESS, how his garden fits into both the theme and the wider changes in the arts in Saudi Arabia. "It's all about joy," he replies. "A celebration of fun and happy engagement that shows what's possible with art and how it can enhance our lives."
The joy factor is alive and kicking here in the park, which is thronged with families and other groups of chattering amblers following each other in the dark from one twinkling lantern of light to the next shaft of artificial moonshine. Some top brass are present, too; I spot two august figures (European ambassadors, I'm told) deep in conversation with artist Daan Roosegaarde about Waterlicht (2022), his sweeping laser and LED-generated landscape of a watery tide that ebbs and flows across the park's lake in a commentary on our common future of rising sea levels. The manmade – dare I say suburban – nature of Salam Park, one of almost 50 outdoor locations featuring in the festival, lends itself to easy access and impressive footfall but I'm keen to see how light art might work in a more natural landscape, so it's off to the desert for me.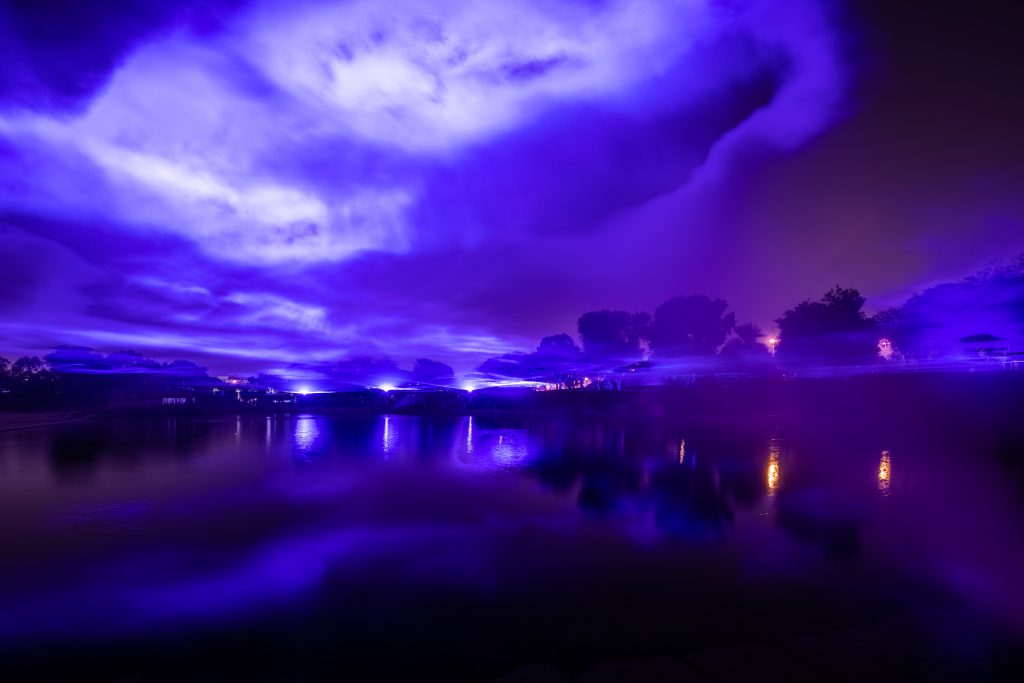 After what seems an age of driving through pitch-black emptiness somewhere in the Riyadh hinterland, a large pink pyramid appears on the horizon. Behold Axion (2022), a collaboration between artist Christopher Bauder and electronic music supremo Strahil Velchev, better known as KiNK. I'm perfectly convinced that I'm looking at a spaceship and, once parked up, I stumble out my vehicle and head off, zombie-like, towards the spaceship (which has now turned green and is firing rays of colour up into the sky and across the sandy wastes)to the thumping techno beat of a live set by KiNK. In an improbable "under the Eiffel Tower meets Ibiza nightclub" scenario, I find myself among a group of joyful young people dancing with arms aloft and hair swinging. Yes, it's my first Saudi rave.
As powerful and impressive as Axion is, loud in both appearance and sound, the whole point of deserts (to my mind, at least) is their intrinsic quietness and the opportunity they offer for contemplation. Senses ringing from the energy of KiNK's music, I drive a short distance away to another installation, Oasis (2022) by Arne Quinze. Two phantasmagorical giant invertebrates are engaged in combat, their jaws interlocked and spindly legs braced, rigid and tense. A symbol of life in the desert, and of the tussle to survive. I wonder how the local wildlife fares in an environment increasingly characterised by development and human interference. Standing underneath Quinze's monumental statues at 3am in the quiet chill of a Najdi autumn night proves unforgettable, the perfect post-rave chillout space. Oasis more than holds its own against the mighty Axion.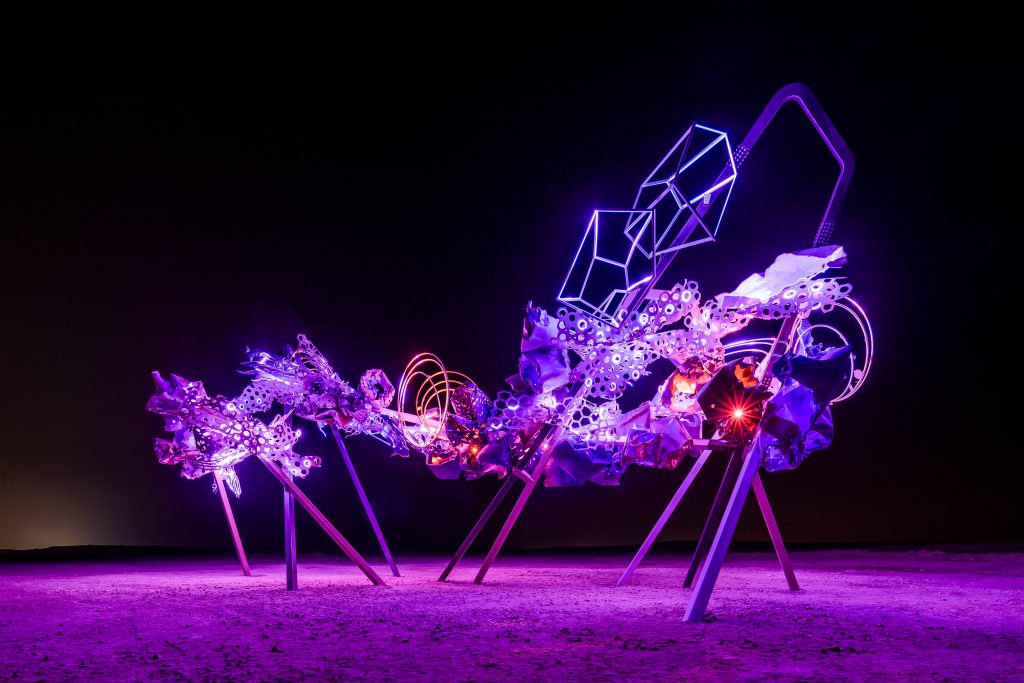 Much is made by the organisers of Noor Riyadh regarding the access it offers to unparalleled numbers of people – I hear a figure of one million touted as the potential target for this second festival (officially now exceeded at 2.5 million) – to connect with art. It therefore needs to be all about location, location, location. It's Friday night and time to head for Wadi Hanifah, the site of another series of installations and also a place popular with the city's inhabitants to gather at weekends over a picnic or a BBQ. When I arrive at 11pm, it's absolutely humming, with hundreds of people milling about and sitting around, variously eating, drinking and socialising, often among the installations. Some take active notice of what's around them while others seem impervious, but whether they have come here specially for the art doesn't actually matter. People and art are together, in the same place, which is always the beginning of something.
The standout piece in the wadi is Ahaad Alamoudi's totally compelling Ghosts of Today and Tomorrow (2022), a performative installation inspired by the historical role played by homing pigeons in communication, as the carriers of messages. From within each of two vernacular-style pigeon towers, a singer performs a mawwal, a traditional vocal piece, his voice activating shafts of light from the perforated apertures within the façade of his tower. When he stops singing, his tower goes dark and his counterpart in the other tower replies with his own refrain, sparking his own tower to come alive with light. It is a deeply moving piece to witness and with an ageless quality, a reminder of how art can transcend time and place to give us new sensations and perspectives.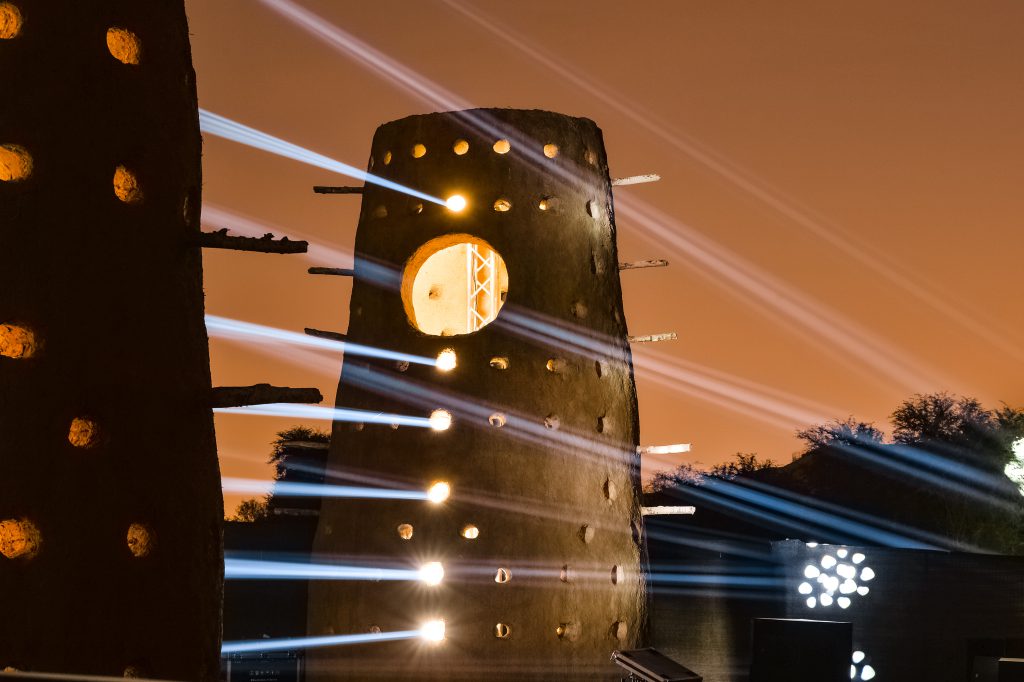 Standing next to me are two young women. One is the artist, Ahaad Alamoudi. I ask her what the reaction has been to her installation from the crowds around us. "I have been amazed," she confesses. "It has really struck a chord with many people, perhaps because this type of singing is deeply engrained in Saudi culture but not heard as often these days." The second young woman agrees. She is from Jeddah, from where important types of mawwal hail, and has recently returned to Saudi Arabia after studying abroad. "So much is changing here," she says, "but to see outdoor art on this scale is really not something I expected to find. It's very enlivening and I really welcome how it is opening all our eyes to new things."
Back in the city itself, I'm tipped off by some fellow art travellers to make my way to Bayt AlMalaz, a 1980s building given over to I See You Brightest in the Dark (2022), an installation by Muhannad Shono. Ranged over several floors, spans of illuminated threads strafe through the dark interiors, variously spooling and threading in a metaphor for how lost memories might be traced and reassembled, culminating in a woven run of fabric on the open rooftop. I meet Shono the next day at his studio space in JAX District, where he is holding an open day and preparing to host an evening party. "This is part of what we now do as artists," he says, "it's a much more open process and the whole network of studios here is making a real difference in terms of dialogue and opportunity." JAX is also the venue for From Spark to Spirit, Noor Riyadh's accompanying exhibition, curated by Neville Wakefield and Gaida Almogren. My personal highlights here include Lina Gazzaz's Converting Light Into Idea (2022), the latest incarnation of Refik Anadol's AI-driven data aesthetics project, Machine Dreams: Space (2022), and Moath Alofi's pulsating volcanic lava flow, Thnan (2022). Here, as right across the various festival sites or "hubs", I'm impressed by the teams of volunteer stewards and guides, who help interpret the works to visitors. Many have had little or no exposure to contemporary art before, but their enthusiasm for their new craft is tangible. I'm left with a sense that one of the longer-term impacts of Noor Riyadh might be as much to do with potential future employment opportunities as art appreciation. But in the fast-moving world of the Saudi cultural scene, that's just fine.