"I always work flat, I put the canvas on the table, maybe because I came from writing – my first BA was in French literature and then in philosophy… my first passion was for poetry. I don't decide whether to write or paint, it just comes." So said Etel Adnan in a recent interview conducted by Judith Benhamou-Huet. In the language of art, few can match the complex versatility of Adnan. Though in her 94th year, the Beirut-born artist is a maestro of not only the palette knife and canvas but also of the written word. From her home in Paris, this giant of the literary and cultural scene continues to transcend media and geographies in a vocabulary that is uniquely her own but which speaks to millions. Canvas pays homage to Adnan and her art, with exclusive excerpts from Kaelen Wilson-Goldie's forthcoming monograph, published by Lund Humphries.
---
A small cobblestone street called Rue Madame runs through a quiet corner of Paris's sixth arrondissement, just south of the Seine and north-west of the Luxembourg Gardens It's a corner of the world that is quiet but invigorating, totally anonymous yet vividly steeped in art history.
The poet and painter Etel Adnan has maintained an address in an unassuming, four-story, belle-époque building on Rue Madame since 1990. The apartment, which she shares with her partner Simone Fattal, a sculptor and the director of an avant-garde publishing house, winds back from the street in a warren of rooms opening out onto views of Parisian sky, eighteenth-century architecture, slatted shutters, and their neighbors' intricate wrought-iron balconies. Inside, the apartment is scattered with Persian rugs, embroidered pillows, stacks of books, a few photographs including a portrait of Adnan's father in full Ottoman military dress, several wooden chairs, and an uncommonly high number of desks and worktables.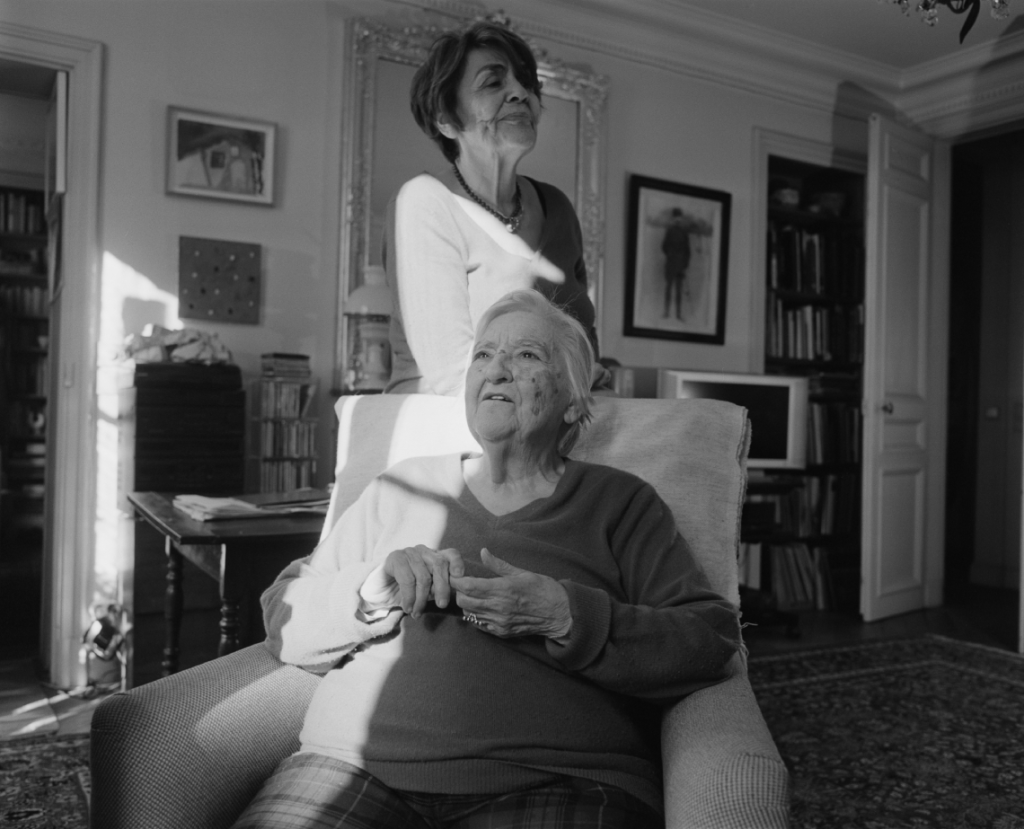 For nearly sixty years now, Adnan has been painting oils on canvas that are small, intimate, on the scale of a book. She usually completes them in a single sitting, working fast on a flat table, never on the wall or at an easel. Her colors come straight from the tube and are rarely mixed. She applies her pigments in quick, decisive strokes with a palette knife, never a brush. And for the most part, her language of lines, shapes, and colors has changed very little since the late 1950s.
Adnan paints a circle for a sun, a triangle for a mountain, a line separating two blocks of color for the horizon between sea and sky, and a smattering of tiny squares to convey the dappled light, the play of shadows, and the seeping depths of a plausible or imagined city.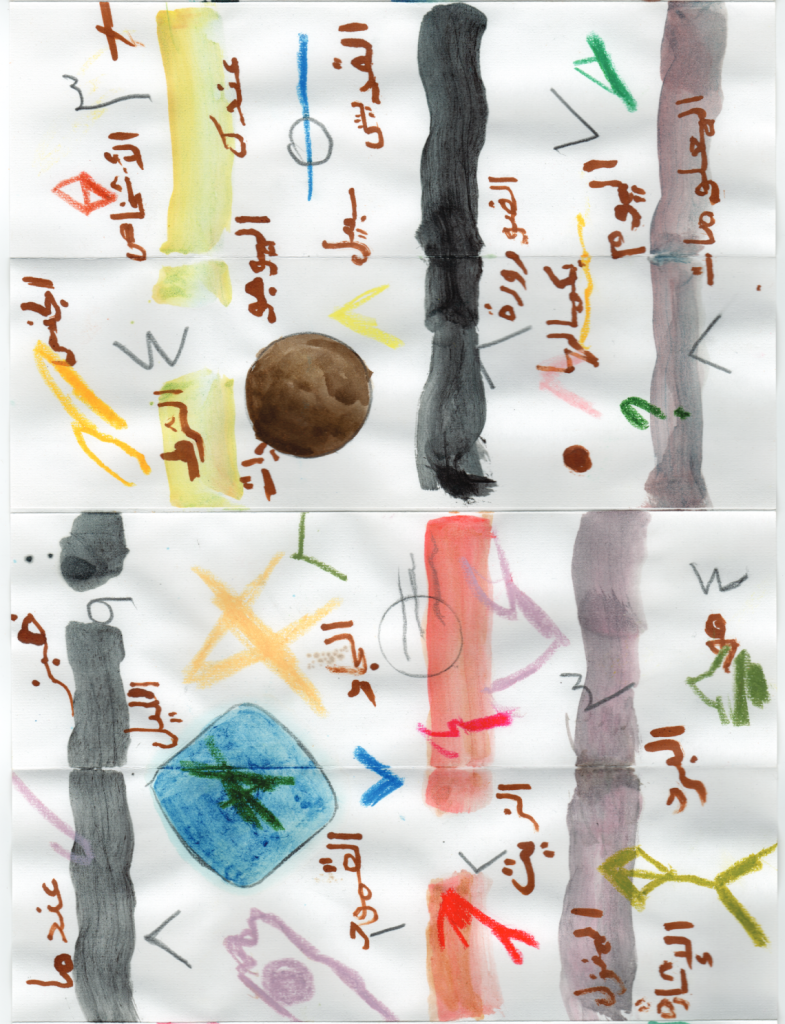 One can argue that for six decades Adnan has been painting the same places over and over again. These are the key locations in her life, both seen and unseen, including the Greek city of Smyrna, which burned to the ground before she was born; Beirut, a city of gardens in her youth, later destroyed by civil war; Baghdad, her vision of Arab modernity in the mid-to-late-twentieth century; Paris, her educational foundation and practical base as well as a former colonial metropole with which Adnan maintains an ideologically uneasy relationship; and Tamalpais, the mountain outside of San Francisco that Adnan describes as her best friend, a character as all-consuming as Mont Sainte-Victoire was for Cézanne or Mount Fuji was for Hokusai. But the locations depicted in her paintings are just as often impossible to determine. As such, one can just as easily argue that for six decades Adnan has been capturing no place at all but rather the shape of thought and the movement of ideas – her paintings a form of visual poetry to be read like a sequence of signs or symbols.
Adnan is now 93 years old and for most of her life, she has been known primarily as a poet. She began writing in her early twenties, as a student in Beirut, under the influence of Baudelaire and Rimbaud, whom she read with great passion. Her first poems were composed in French. Her first book chronicled an erotic encounter between the sun and the moon. After moving to California, Adnan began drafting more pointedly political poems in English as a means of protesting the Algerian war for independence from France and America's involvement in Vietnam. Now settled in Paris, she is acclaimed for her poetry's cosmopolitan edge, philosophical rigor, reverence for nature, and insistence on love, desire, and the place, stemming from her admiration for Sufism, where sexuality and spirituality merge.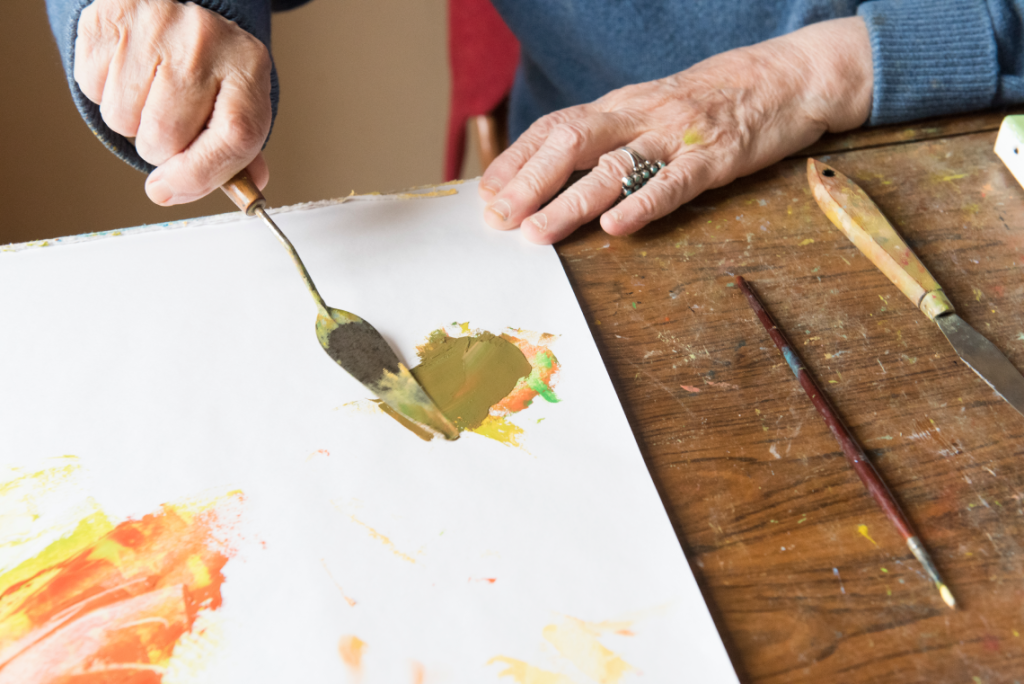 Over the past sixty years, in addition to more than a dozen volumes of poetry, Adnan has worked on plays, collaborated with musicians, and drafted an opera. She has written six essay collections, years' worth of journalism, and a novel. She has also made tapestries, murals, ceramics, drawings, watercolors, accordion-folded artist's books (known as leporellos or concertina-pleated notebooks), and Super 8 films. When she is painting, she paints every day with few exceptions and has been doing so since the late 1950s. "When she writes, she puts away with extreme sadness the tubes of color," notes Simone Fattal. "But when she spreads them on her table, she is happy again."1
With such a vast oeuvre to consider, it is now possible to see the extent to which she has constantly pushed and prodded language, experimented with and refined it, repeated in the same small format, and tested it out bigger and longer in her tapestries and her marvelously expansive leporellos. In these painted notebooks, figurative and abstract forms, as well as gestural and calligraphic brushstrokes, dance alongside verses, landscapes, puzzles, letters, and the poems of Adnan, her friends, and her heroes, such as Badr Shakir al-Sayyab, the revolutionary Iraqi modernist who died young.

It was in 1964, at a store for Japanese art supplies in San Francisco, that Adnan first came across the accordion-folded, rice-paper notebooks that would become her signature. They allowed her to combine her painting and poetry in a single object. The first one she made was for Badr Shakir al-Sayyab, who died that same year, penniless, of a terrible illness, on the eve of his thirty-eighth birthday. Sayyab had been a young Marxist in Baghdad. He was controversial, often in trouble. He brought free verse and a sense of political urgency into the ornate traditions of Arabic poetry.
Madinat al-Sinbad is a long, passionate lament against injustice, violence, and destruction told through passages on historical and mythological figures, all wound around vivid descriptions of seasons and weather and the repeated refrain: "Is this my city?" Adnan's notebook is 60 pages long and filled with watercolors and drawings on every side. She wrote out the lines of Sayyab's poem by hand and layered them into delicate washes of color, decorative arrangements of signs and symbols, and moody evocations of nature, which mirror the mood of Sayyab's verse. On the fabric cover of this and many of Adnan's other early leporellos are two circles, like suns or planets. They appear almost tie-dyed in their pattern. They also very strongly foreshadow the two series of paintings – The Weight of the World and The Weight of the Moon – that Adnan began working on in 2015 and 2017, respectively.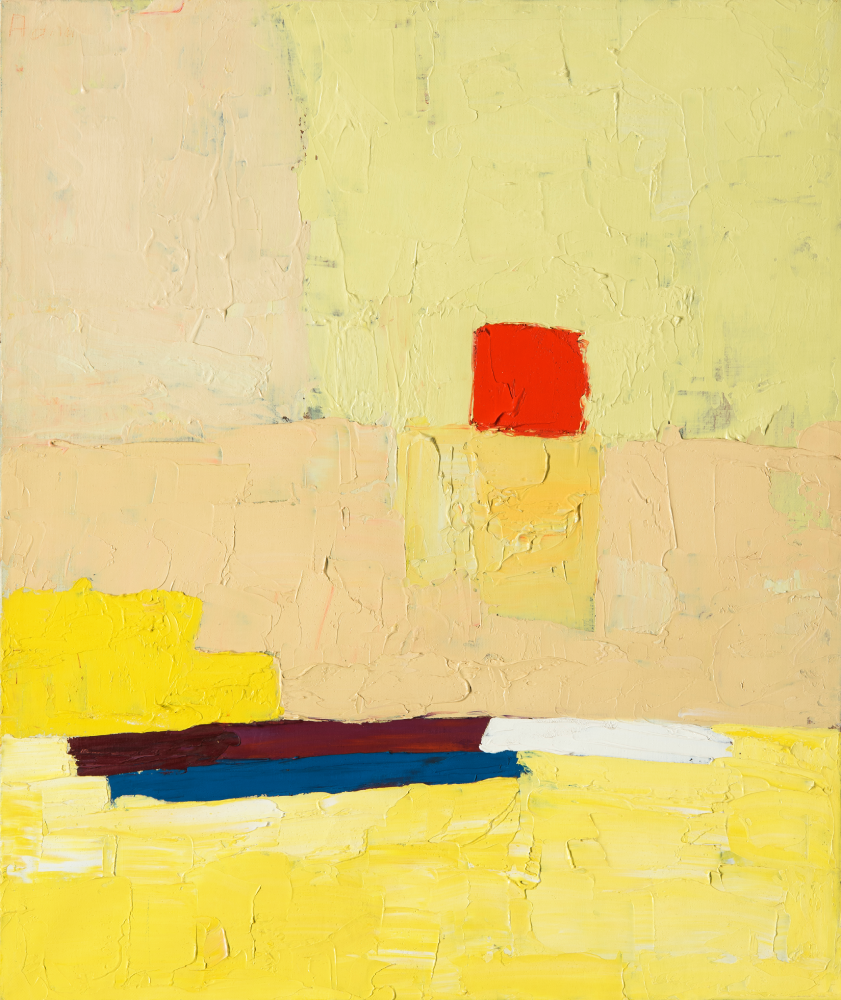 Adnan painted many of her early leporellos with the poetry of her friends and colleagues, particularly contemporary poets she admired who were writing in Arabic. She often gave them the notebooks as gifts. But she also painted her own poetry into these notebooks, including Five Senses for One Death, 1969, a leporello that was included in the 2014 Whitney Biennial, featuring bolder shapes and brighter colors more sparsely distributed, and Funeral March for the First Cosmonaut, 1968, which was also at the Whitney. In Funeral March, the poetry is dense and the painting is almost musical (Adnan was hugely influenced by jazz in this period, and one can almost hear it in the rhythms of her notebooks). Other leporellos include shorter poems. The three crisp stanzas in Late Afternoon Poem, 1968, which is in the collection of the Museum of Modern Art in New York, are scrawled almost distractedly (imagine Thelonious Monk's approach to melody) across pages covered in abstract washes of color, sliding from earth tones to the vivacious blue and yellow of Adnan's memorable coastlines.
The leporellos borrow all of the elements of Adnan's oils on canvas – her suns and moons, her mountains and seas – but they have the effect of giving duration to her painting. They stretch the perfectly contained equilibrium of her canvases into the space of a poem's reading or recitation. They put the moments of her paintings into actual sequences, whether 12 or 16 or 30 or even 64 pages long. And they introduce a kind of multidimensionality in that they can be seen opened or closed, the pages flipped like a normal book or extended all the way out to long strips. They carry the same vocabulary of shapes, lines, and colors of her paintings, but presented in a form that is even more tactile and intimate. Not only can they be held in one's hand, they can be unfolded and refolded, worried even, like ancient amulets that would be written on paper, folded up, and slipped into small vessels. They generate their own music, rhythm, and energy – all of which are present in her paintings but extremely compact. In her leporellos, she gives them extended space and room to breathe. Like her tapestries, her leporellos function differently from her paintings in relation to time. But they are essential to understanding how Adnan's painting developed after her first decade of practice because they crystallize the notion of a higher purpose, a long-term metaphysical search.
As the artist describes it, "I'm writing as a person who comes from painting. By that I mean… you trust your colors and your shapes, your gestures. You trust that something beyond that will come through even if you don't know exactly what. You know that you are not just decorating the surface. You know that you are saying more… I would insist on the word abstract, or what people call non-figurative painting, which is like music. I like to reach a depth of meaning that has nothing to do with words even if I use words. We want to tap a source from where the words come. There is a non-figurative or non-worldly world that is ours."2
1. Simone Fattal. "Painting as Pure Energy" in Etel Adnan: The Weight of the World (London: Koenig Books and the Serpentine Galleries. 2016), p.53.
2. Kathleen Weaver. The Non-Wordly World: A Conversation with Etel Adnan, p.15.