Mohamed Ahmed Ibrahim's (b. 1962, UAE) intensely experimental and prolific art practice conveys his deep fascination with memory, imagery and ways of seeing and perceiving the environment, coming from both his personal experiences and the kind of innate memory found in our DNA, which he describes as a 'primitive urge.' Embryonic Coat – his third solo exhibition at Lawrie Shabibi – explores the conception or manifestation of the known, experienced, or imagined as contained within rudimentary forms, referencing the protective sheath around a seed or the membrane around an embryo.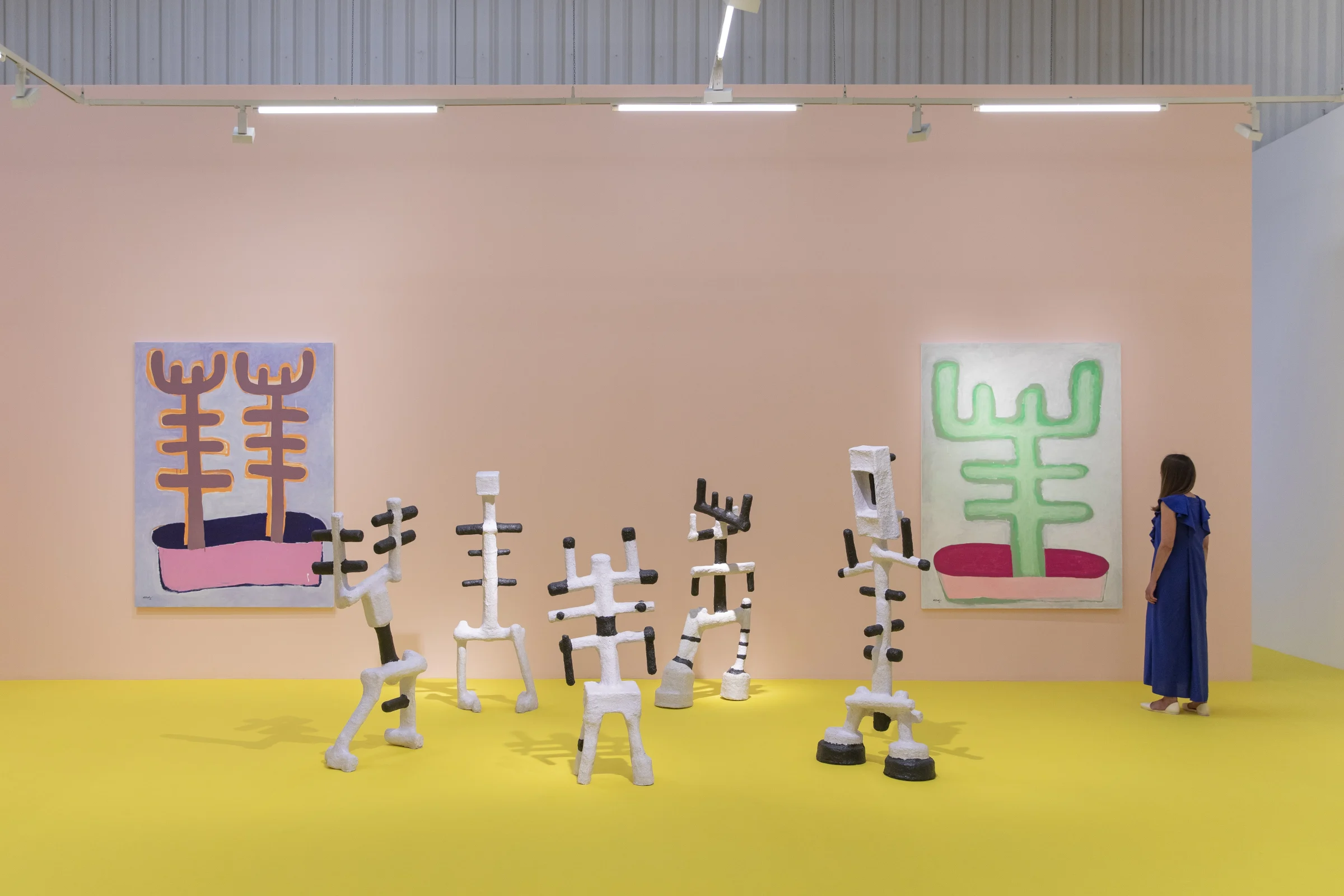 My Garden's Details (2021)
The exhibition runs concurrently with Ibrahim's major new installation for The National Pavilion UAE at the 59th Venice Biennale – Between Sunrise and Sunset – a room-filling sculpture made from 128 abstract and organic elements in his signature medium of papier-maché. Such was the scale of the Venice commission that Ibrahim spent ever more time in and around his home studio and its adjoining garden, with its old trees, flower beds and potted plants. As always, what inspired him were his surroundings, and so naturally, his new series of paintings entitled My Garden's Details fixates on these plants. They become his central motif, endlessly repeated, reconfigured and recoloured, much as the abstract notations in his Symbols paintings and murals, or the vertical marks in his Lines works. Although often regimented, as with all of Ibrahim's works these plants are somehow also treated individually and with tenderness.
"When the viewer sees these ciphers (and the viewer is a very important partner), reading them becomes the function of the viewer: seeing a collection of shapes. He has the great freedom to read it as a story or novel or poetry. It can even be used to reach a state of meditation. It's also possible to see it as nothing, like a bunch of scribbles. As a result, this becomes the viewer's relationship to the work, not mine."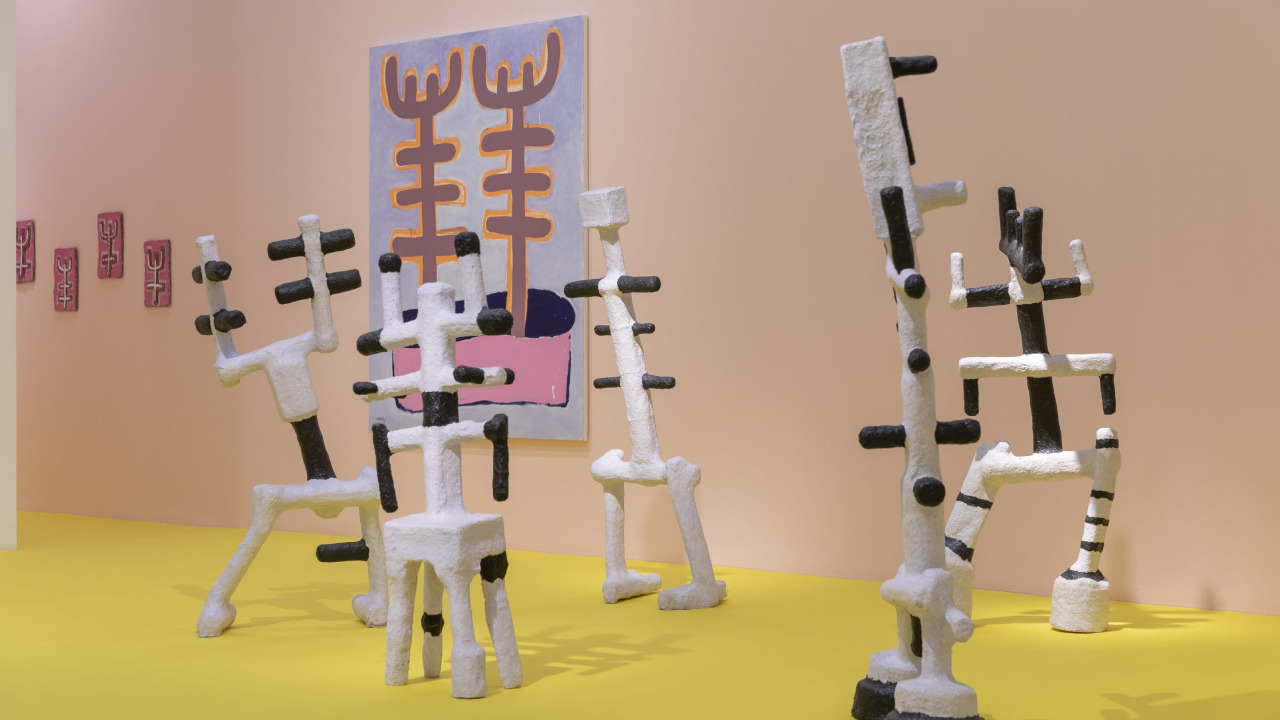 Standing Bodies (2021)
Showing alongside these are recent papier-maché sculptures, including Standing Bodies – five large-scale works that are among the most dynamic of Ibrahim's semi-figurative sculptures to date. His three-dimensional works materialize spontaneously through weeks of experimentation with various materials, using coloured or black and white paper, though often mixing in leaves, grass, tea, coffee, or tobacco to produce nuanced natural and neutral tones. Some are anthropomorphic and dynamic – others emerge as organic plant-like forms, and some are toy-like. Whereas a few clearly relate to those in the Venice installation, in contrast to it, here we are presented with an eclectic range of objects – trees, combs, robots, various humanoid figures, flowers etc. The interchangeability of titles underlines the flexibility and mutability of Ibrahim's visual language.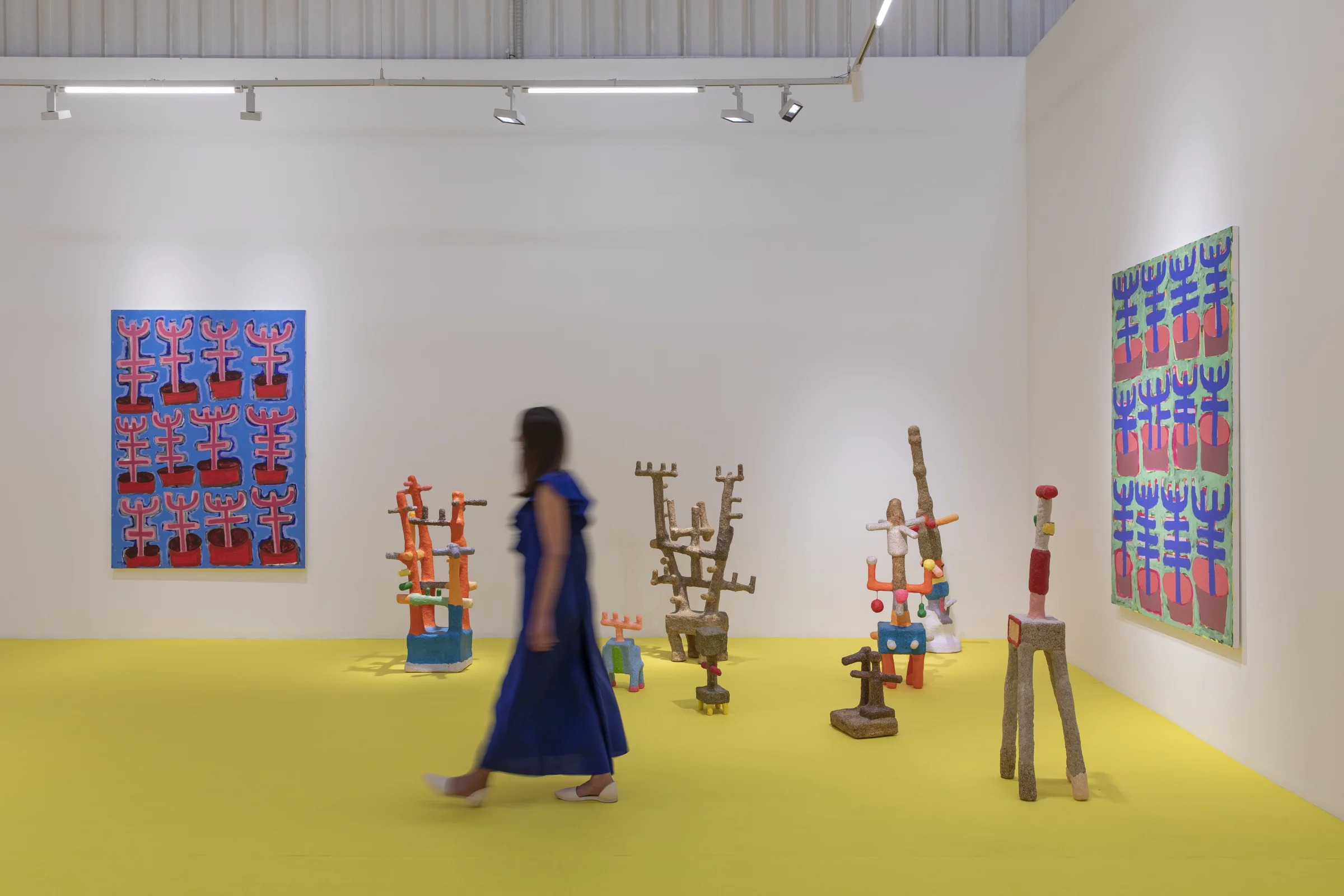 "In the beginning, the figures looked like they were going to be like people. As I started the work, I found that, no, it has become a forest, as the figures were becoming trees."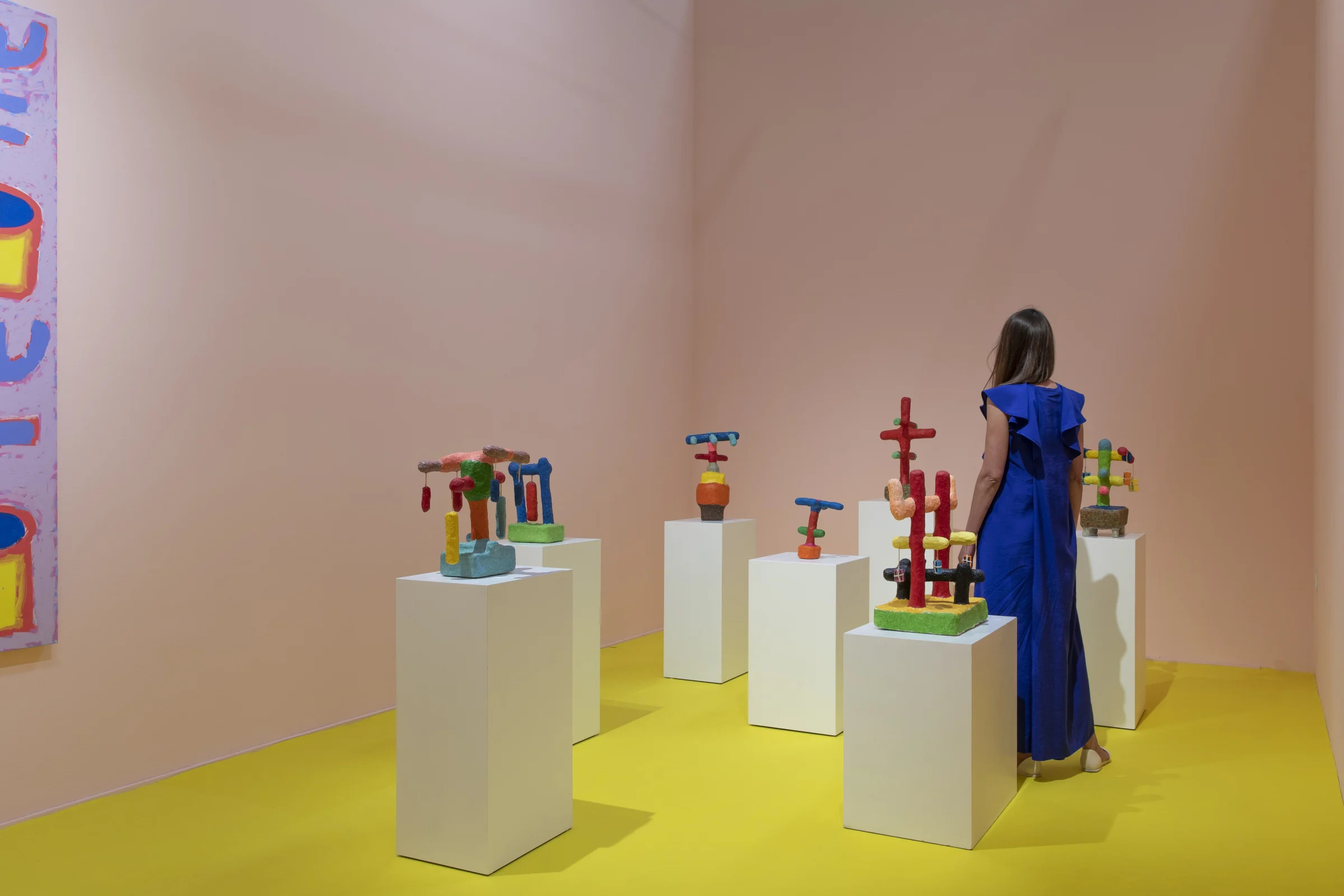 Rooted in his former semi-figural investigations, the new body of work presented in Embryonic Coat is quintessential of Ibrahim's practice – the intuitive repetition of mark-making and forms in his paintings, the automatic almost subconscious object-making of his sculptures are both analogues to organic growth.
"In art, you search for the others who are also different, similar to you. You may find someone like you in the States, another in the UK, another similar to you in Asia, and so on. Ultimately, this becomes your quest; this is what art is. Therefore, you are an artist because you are connecting to – communicating with – artists. What you present is a message that is read within the context of art. The art allows you to find your kind."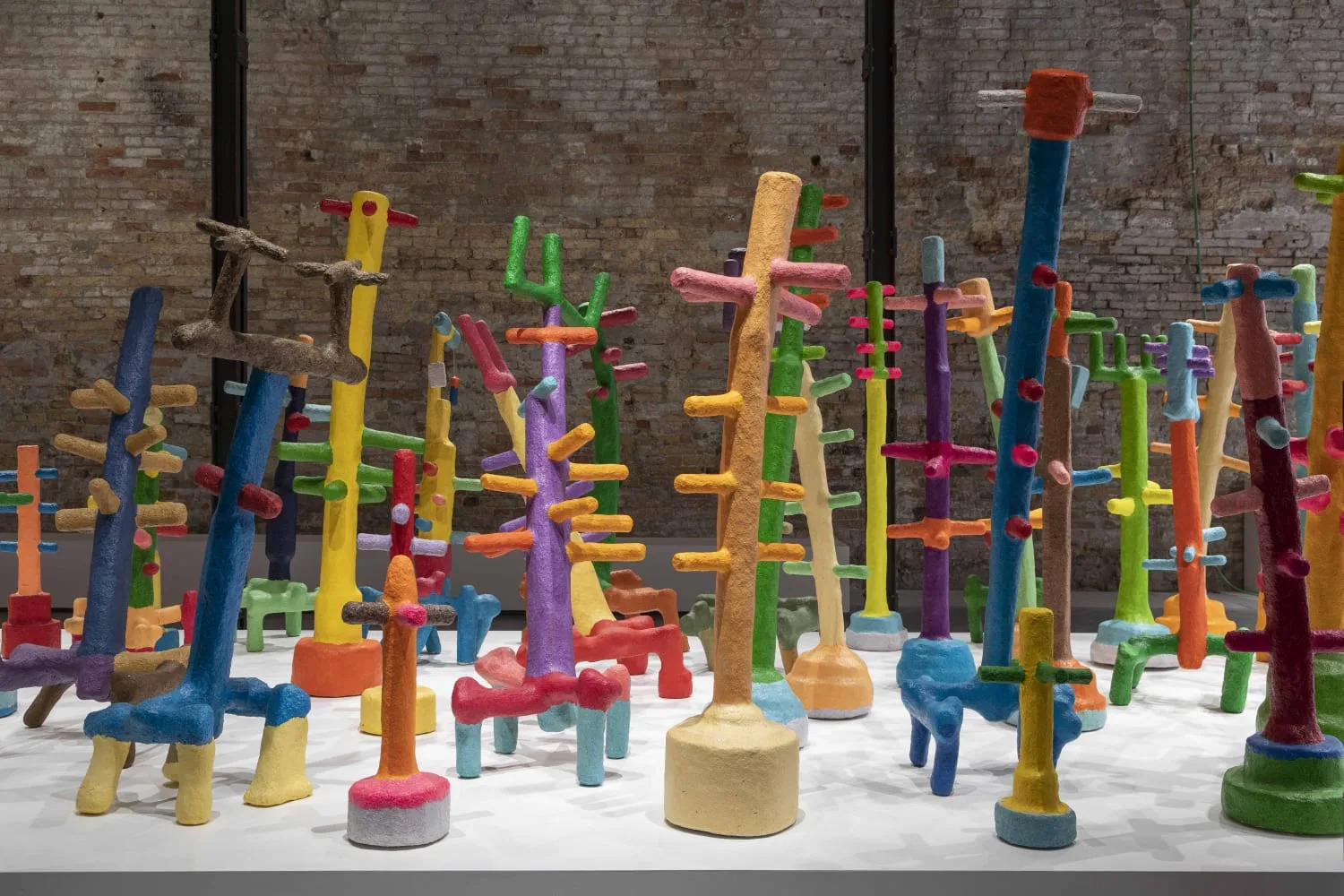 Installation view of Mohamed Ahmed Ibrahim, Between Sunrise and Sunset, 2022, National Pavilion UAE at Biennale Arte 2022. Image Courtesy of National Pavilion UAE La Biennale di Venezia. Photo by Ismail Noor of Seeing Things