In his show Nowhere. Now Here at Anna Laudel in Istanbul, Mehmet Sinan Kuran invites his audience to delve deep into his mind's eye.
---
In Mehmet Sinan Kuran's Soprano Mouse (2022), visitors peel open a flap on an image of the artist's face to peer through a lens into a dark box. Gazing back is a tiny taxidermy rodent, dressed in a ballgown and performing the aria from Madame Butterfly. Such moments of surprise, irony and a healthy dose of mischief are the antidotes Kuran uses to guide viewers through an exhibition that is, in fact, a ponderance on loss and the end of life. Nowhere. Now Here. wants us to confront that inevitability with a smile.

"If you have spent your life laughing, you will laugh at death too," Kuran says in an interview. "I could express all of these ideas by making you cry or by causing outrage. But humour ensures clarity when you have something difficult to say." Composed of 67 works, including painting, sculptures, ceramics, sketches and video installations, Nowhere. Now Here. is the last chapter in a trilogy of exhibitions after Introvert in 2018, which explored Kuran's inner world, and Posthumous, his first show at Anna Laudel in 2020 and which celebrated togetherness. The latest exhibition is distributed across three thematic floors at the gallery in central Istanbul.

First is Sea, a primordial realm where fantastical marine life abounds. The single-channel video Nowhere. Now Here. (2022) begins with a tiny dot from which emerge each of the creatures that populate the show in a reimagination of the Big Bang. Amid vivid prints on plexiglass and in light boxes, the twin sculptures Whale I and Whale II (2022) emit ghostly song from gaping red holes where their tails have been lopped off by fishermen. In Kinder Garden (2022), two calves, representing Kuran and his sister, are tethered to the ceiling and drift in the spotlight of the mother they lost when he was still a teenager.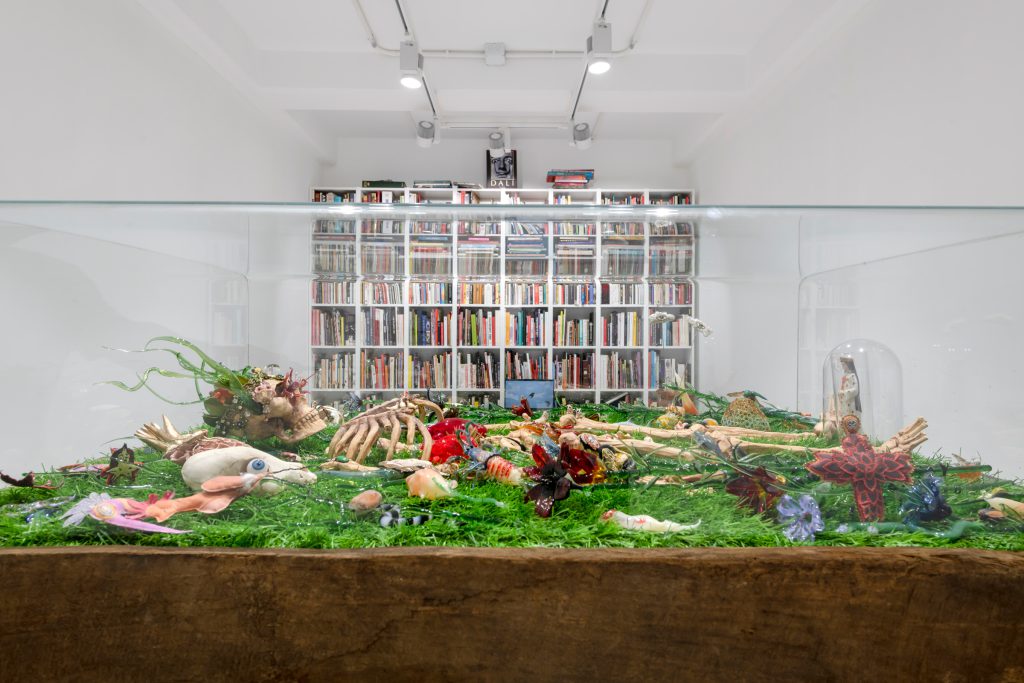 The second floor, Earth, is a burst of eclectic sculptures, watercolours, glasswork and ephemera that Kuran has gathered over the years. Here, he pays homage to his myriad influences, including in the kinetic Lucy (2022), in which a face emerges from a frame in an ode to the Palaeolithic artists who created the Lascaux cave paintings. Van Gogh's severed ear is encased in glass, and a sculpture of a stoic Mao melds Andy Warhol and Keith Haring. Peppered throughout are references to classic fantasy literature by J K Rowling, J R R Tolkien and C S Lewis.

"Art allows you to enter another world. We all need an alternative reality because this one can be so overwhelming," Kuran says. To reach Now Here, one traverses a wardrobe into a white cube lined with Kuran's collection of books, recalling the supposition by writer Jorge Luis Borges that paradise must be a library. At the centre is a sarcophagus that Kuran has imagined as his final resting place. Blown-glass flowers, insects and a lobster – Kuran's personal motif – crawl over the corpse, and a VR simulation allows viewers to inspect the tomb in detail. The skeleton has two hearts, one of which belongs to his partner Sedef Ilgaz, Kuran's muse who appears throughout the show in various forms: a bird, a fly, a snake, the Madonna. "I'll see him making a vacuum cleaner with curly hair, and I'll know it's me," Ilgaz reveals. Kuran met Ilgaz in 2009 when she asked him to paint the first picture he ever sold. A mutual friend had shown her one of the countless notebooks he kept as a pictorial diary of his encounters while cleaning houses, bootlegging liquor or driving a cab as he teetered on homelessness and hunger. Without formal training, Kuran still calls himself a "notebook artist" and has included several of his journals in Nowhere. Now Here.

It was Ilgaz who convinced him to drop everything and make art. "I told him he had to become a painter, that it was pointless for him to engage in anything else, that he must share with others what he was creating," she says. He spent a year solely painting and in 2013 held his first exhibition, which sold out. That was followed by two more sell-out shows. Then, Introvert showcased his collaboration with a group of young artists, confusing the Istanbul art world which wanted to believe that everything can be made by the hands of a single artist. "That's when the war between me and the system began," he explains, describing as "shameful" the refusal by art's superstars to credit the artists and craftspeople on whom they rely. Kuran's tribute to the ceramicists, glass blowers, jewellery makers and fabricators he has worked with is a collection of saintly figurines resting in a wooden box in Ghosts of Introvert (2022).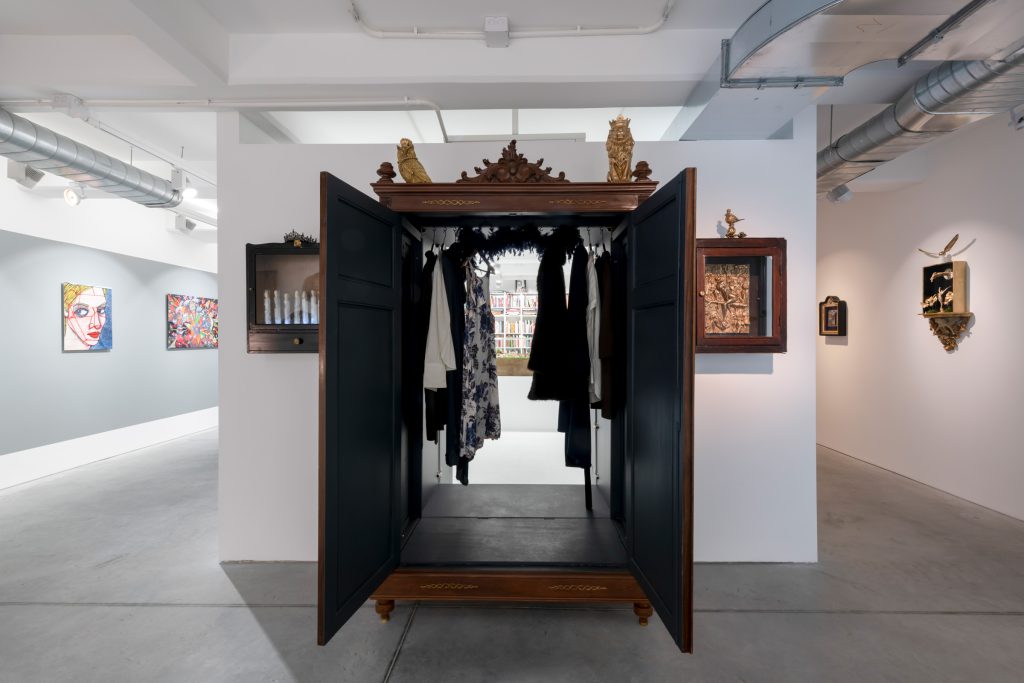 "I cannot express everything through drawings," he says. "I am trying to write a symphony, like Beethoven's Ninth. The only way to create such a diverse, rich show is to work with others, and when you work collectively, amazing things can happen." Kuran also wants his audience to join the orchestra, spending each day at the gallery to guide them through the work, chatting about their love lives and asking them to contribute a doodle to a canvas he will display at the next exhibition. He encourages viewers to snap photos to post on Instagram or to print and hang on their walls, and a gift shop offers affordable print and other memorabilia so fans can take his art home. "He is a narrator," affirms Ferhat Yeter, Anna Laudel's director. "The way he describes his story and his artworks is completely different." Yeter described the installation of the show as "a process full of surprises. Some artworks were completed during the installation to be in harmony with the gallery space and the exhibition. We did not know how it would end, but it was perfect."

The third segment of the show, Sky, is on the gallery's rooftop, and the religious symbolism that bubbles throughout the show culminates in a rendering of Michelangelo's Creation of Adam: a rubber hand nearly touches an inflatable sex doll squeezed into a transparent cylinder. The bitter message that life is short is sweetened by Kuran's persistence that surrendering to the fear of death is far more terrifying than death itself. "Death is part of the journey we are all on. No one should live as if they are immortal, because to lead a good life, one must accept that it will end," he says.