Second time out for Frieze LA, and aficionados were agog as to how things might go after last year's inauguration. Suffice to say that the stars were aligned – cosmologically, at least – and the fair bucked both an uncertain art market and detractors bent on prioritising quantity over quality. Yet, there was plenty to enjoy of a non-commercial bent as Frieze LA seems set on staking its claim on the future.
Words by Patrick J. Reed
---
Returning to Frieze LA for its 2020 edition, I felt as though it had never left town, or I had never left it. Superficially, the fair and I looked pretty much the same as we did last year when it debuted and I reported its highs and lows for Canvas; we were then, and this time again, just two entities trying to get through a week of high-octane art market spectacle.
The major difference between us being that Frieze LA possesses more friends and more flair. It defines spectacle, and its panache is, of course, what allows Frieze Inc. to pitch a tent and otherwise occupy the grounds of Paramount Pictures Studios in Hollywood on the occasion of its West Coast sojourn, and what keeps me, neither a collector nor a dealer nor an acolyte, from tapping the ethos that made others christen Los Angeles the center of the art world.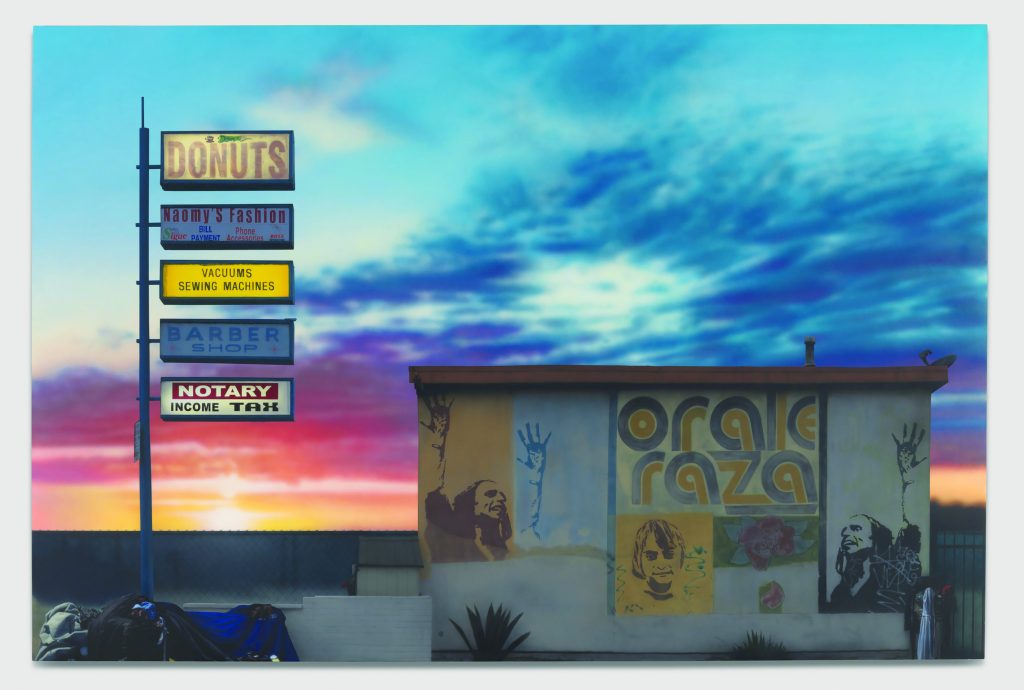 The elements that stayed the same as regards the fair were the various exhibition sections, from the giant tent that housed over 70 galleries to portions of the city where Barbara Kruger's Untitled (Questions) – an installation of banners that seems not to have a date but is considered "ongoing" – posed ominous queries like "who hopes? who fears?" to the commuting public. The familiarity made the whole ordeal lack the lustre I had expected based on precedent, but I am of the minority opinion on that point. Here, familiarity breeds not contempt but contentment. The sales were good, the art was good, the weather was grand – the first and last of which caught the most attention of the art world press, with a special shout out to the sunshine, which was notably absent the year prior. Many blamed the grey skies for Frieze LA's initial lukewarm reception, but the number of hot-ticket items on view this year and the dollar signs that sprang from the tent with every purchase seemed to have righted the lingering wrongs.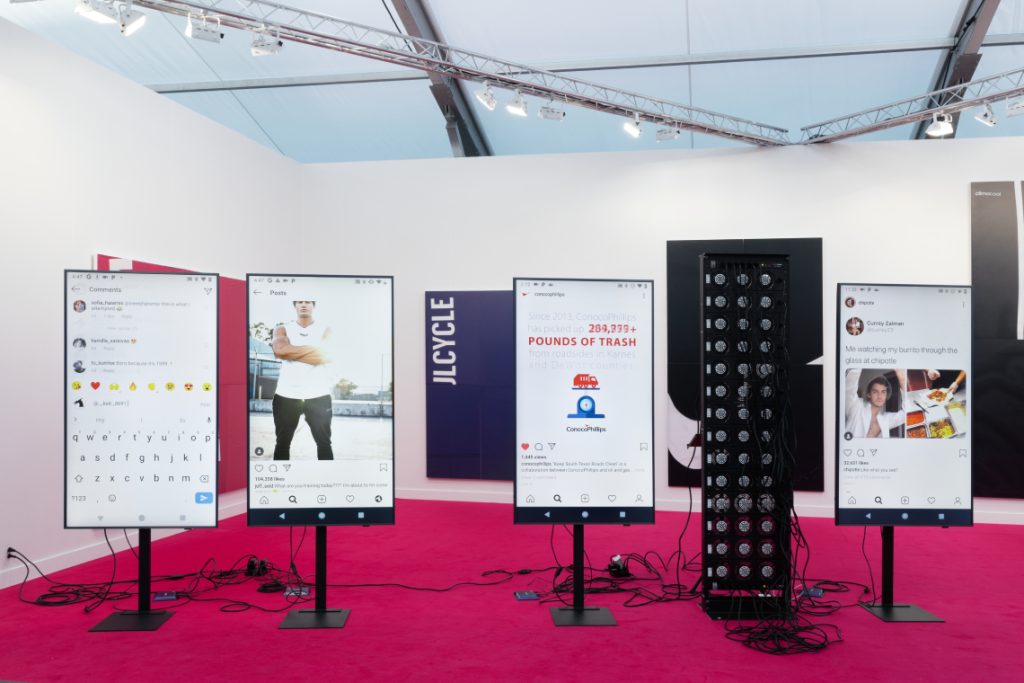 In all fairness though, the participating galleries turned out their finest wares. Among said hot-ticket items was a headlining presentation of new paintings by Avery Singer at Hauser & Wirth's stand. Singer, the rising art star who cornered the market on the conceptual-plus abstract plus-figurative trend in contemporary painting, created new works in similar fashion to those upon which she built her reputation: a combination of industrial airbrush techniques and computer software that results in imagery smoother than a windscreen.
The largest work of the three on show, Jordan (2019), measures a monumental 254.6 x 305.4 x 5.7 centimeters and depicts a young woman slumped on the floor with a bottle in hand, a cigarette between her lips, and a look of millennial disaffection. She is also wearing a beret, by which we are apparently to surmise that she is an artist. Phantom images of her inebriated self or substitute inebriated youths surround her while static raindrops and graffiti add despondency to the scene. The work engages the tortured,hard-drinking artistic genius stereotype, but for anyone who has ever visited Berlin, ground zero for artists at their most tortured and drunk, it resembles a regular Tuesday night on the U-Bahn.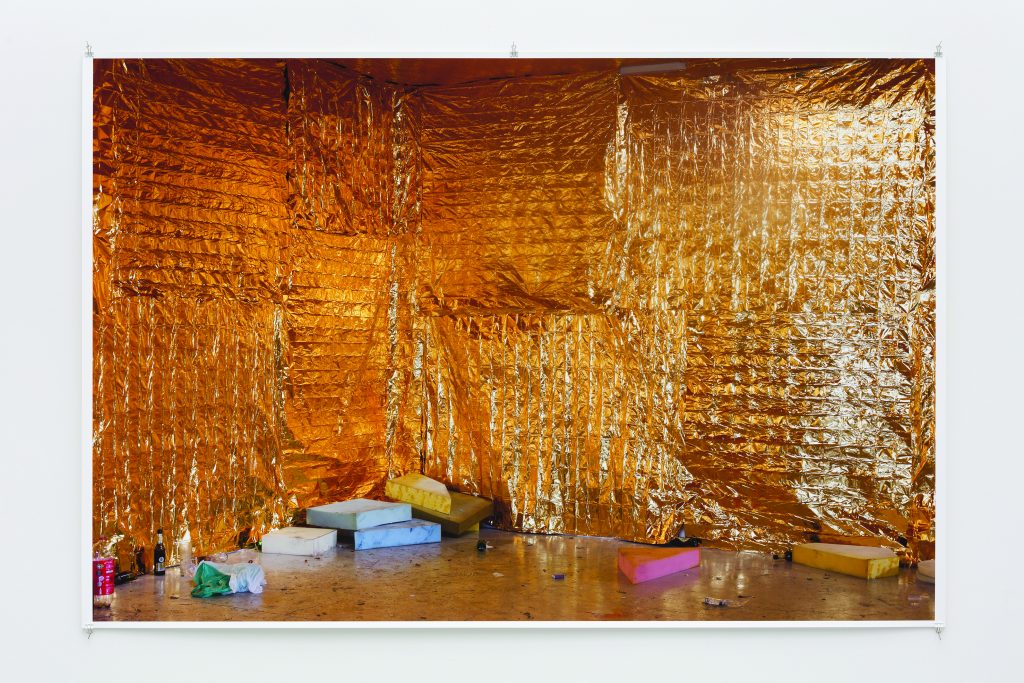 Down the corridor, Cory Arcangel – Mr. Satire himself – transformed Greene Naftali's booth into something akin to a deconstructed, shopping mall kiosk with his solo presentation of videos and scanner paintings.
Arcangel's "banaLOL" humour scores a comic rimshot in the latter, which comprises scanned athleisure-wear patterns printed onto IKEA Linnmon table tops, and he draws out the punchline on late capitalism in the former, which document web bot performances on Instagram. In the single-channel Disclaimer: (2020), a bot runs through the oil company ConocoPhillips's Instagram account, systematically "liking" each photo of smiling rig workers in hardhats amid virgin wilderness and refinery sites. Likewise, Risks in Business/The King Checked by the Queen (2019), which is a sly homage to Marcel Duchamp, documents two bots playing chess across Insta accounts of famous, corporate, and everyday users via chess notations in tagged comments (i.e. one bot describes a move in a comment and tags its opponent, who responds in kind until the game ends).
The real winner of Frieze 2020, however, was Focus LA, a selection of less than 15-year-old LA-based galleries curated by Rita Gonzalez, which showcased the most exciting new work – home-court advantage notwithstanding. Noteworthy examples include the two-person show of xenomorphological sculptures by Young Joon Kwak and Oren Pinhassi at Commonwealth and Council; the technicolour and glitter laden, autobiographical paintings of Jaime Muñoz at The Pit; and Sayre Gomez's PoMo-SoCal scenography at François Ghebaly.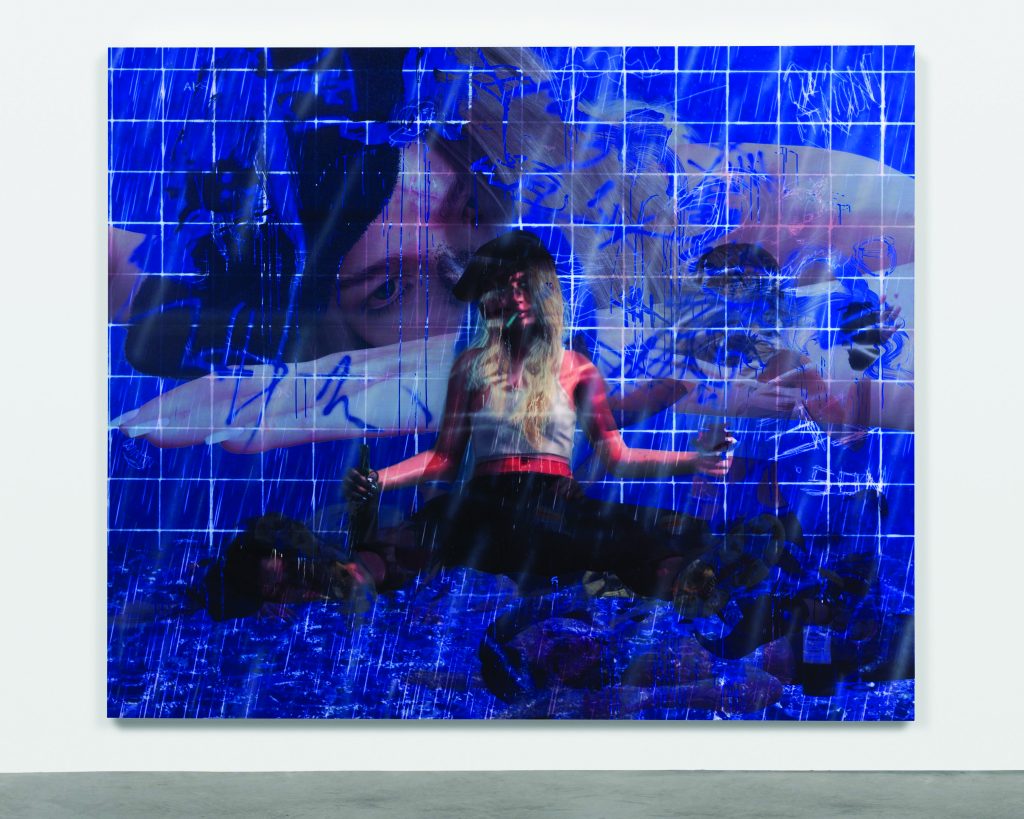 Gonzalez also curated, along with Pilar Tompkins Rivas, the specially commissioned Frieze Projects in the Paramount backlot, where Gomez erected a sculpture of a downsized palm tree cell phone tower that flawlessly mimicked its source material in all but scale. Jibade Khalil Huffman's sculpture Mayday (2019), presented with LA gallery Anat Egbi, placed black female power front and center with an enlarged still from the Bond film A View to Kill (1985) that depicts Grace Jones as the character May Day, lifting a grown man above her head without breaking a sweat. Whereas the film version portrays May Day as a villain, Huffman's reappropriation jettisons the dastardliness (and the men) and affords Jones/May Day the perennial glory traditionally reserved for 007.
Nearby, NaamaTsabar's Untitled (Double Face) (2019) performance for two players on a double-necked, double-bodied chrome guitar subverted the male-dominated tradition of the rock god by pluralizing and obscuring the singularity of the phallocentric guitar solo. Locating moments of reprieve from the unabashed commodification of art at an art fair is a daunting task, but thanks to the efforts of Rita Gonzalez, Pilar Tompkins Rivas and the artists with whom they worked, Frieze LA 2020 felt not so frigid. Their rejuvenating presence, I would argue, rivaled the sunshine. It remains to be seen whether the 2021 edition has the chutzpah to rival all that came before it.