In collaboration with artist Mona Hatoum, global coffee brand illycaffè has presented the latest illy Art Collection and matching decorated cans as a contemporary interpretation of the shapes of the East.
Words by Joel Padayachee
---
From a central role in religious practices and the Age of Enlightenment to being central in teetotalling Islamic civilization in the Middle East, coffee is not only a basic household staple but also a ritualistic practice that many begin each day with. However, its significance doesn't end there, as coffee has evolved into a culture of its very own.
Coffee is deeply rooted with in Middle Eastern and Arab cultures and traditions. With Arabica now one of the most popular blends brewed in the Middle East, illycaffè's latest collection is one that is bound to appeal to the region as well as international coffee lovers alike. Launched in the fall of 2021, illycaffè presented its latest illy Art Collection in collaboration with visual artist Mona Hatoum at Frieze London, Fiac Paris and Artissima. "Mona Hatoum is a sophisticated and thoughtful artist who has successfully dared to create a very authentic interpretation of the illy Art Collection project, explains Massimiliano Pogliani, CEO of illycaffè. "Through her characteristic geometric style, Hatoum has represented the social function of coffee, an elixir that has transformed the coffee break into a ritual able to connect the world". The collection – along with the limited-edition coffee cans – are inspired by the distinctive pattern of the traditional Arab headscarf, the keffiyeh. The collection is decorated in the traditional keffiyeh colors of red, black and, in an added twist, silver in motifs of the fishnet grid and olive leaf pattern of the Arab scarf, which is a symbol of Palestinian nationalism and of the country's struggles and resilience.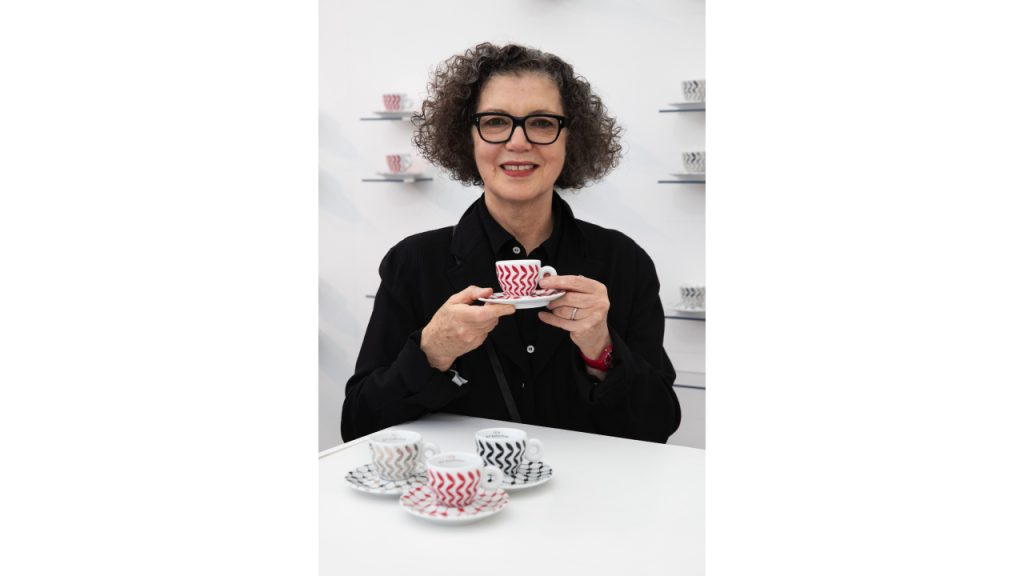 "illy coffee being a 100 percent Arabica blend made me wonder what could be considered a 100 percent Arab object or symbol" added Mona Hatoum. "The keffiyeh came to mind as I have often referred to it in my work, either directly or indirectly. The fishnet pattern with knots is often seen as the joining of hands and therefore symbolizes the connection between people, and the olive leaf pattern along the border can be seen to stand for peace. So, this is not just a beautiful abstract pattern but also has an interesting symbolic meaning. And, of course, the keffiyeh has become a potent symbol of the Palestinian cause."
The design is one that is deeply personal to Hatoum, as the distinctive pattern of the keffiyeh has featured in various forms in her work, from human hair to chain links, and now cups. While the pattern is symbolic of many facets to Palestinian culture, it also references a duality, at one end referencing conflict and war and at the other, interconnectedness and peace. It also speaks to the artist's relationship with minimalism, as Hatoum aims to get away from the purely descriptive and narrative and instead create abstractions for the work to look impersonal, neutral and beautiful while still reverberating with conflicting meanings and emotions. This ethos has been adapted in many of her previous works, especially with objects.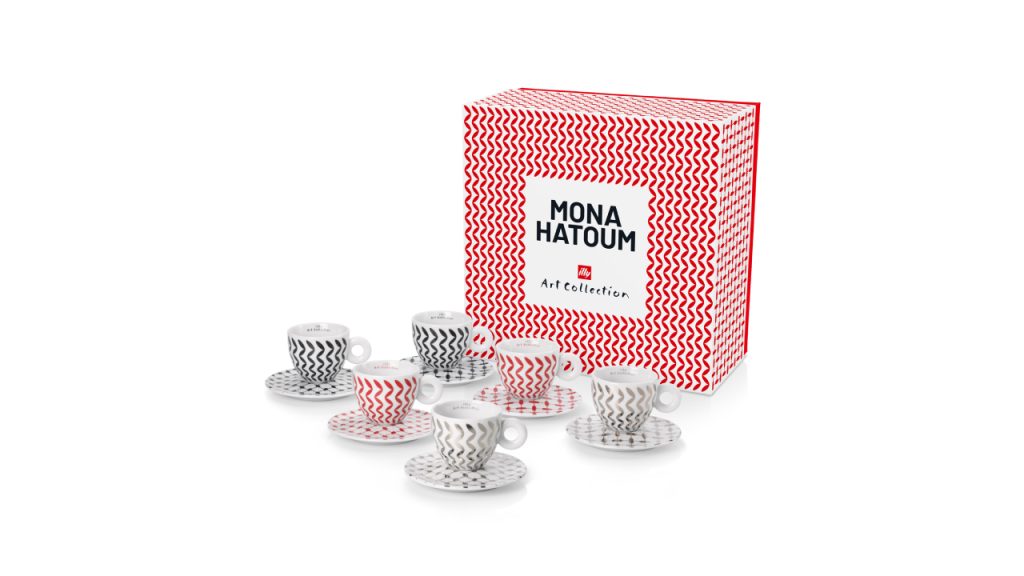 Hatoum's poetic and political work incorporates installations, sculpture, video, photography and works on paper. She began her career in the 1980s, producing a series of performances and video works that were intensely focused on the body. Later on, her work shifted towards large-scale installations and sculptures in which she transformed everyday items into something foreign and dangerous – the aim being to engage the viewer in conflicting emotions wrought of desire and revulsion, fear and fascination. Internationally acknowledged for her work, Hatoum has participated in numerous important international exhibitions, including the Venice Biennale in 1995 and 2005 and two iterations of Documenta, in 2002 and 2017. She also has a long list of international distinctions and awards to her name, among them the Joan Miró Prize from 2011, the 10th Hiroshima Art Prize in 2017 and the Praemium Imperiale in 2019.
Hatoum's deeply individual sense of beauty aligns to illycaffè's own culture of beauty, a founding principle of the brand. This philosophy has materialized into infusing the brand's offering with that of contemporary art, expressed through the illy Art Collections established in 1992. The collections have featured numerous internationally renowned artists, including Marina Abramović, Michelangelo Pistoletto, Louise Bourgeois, Mark Quinn and Ai Weiwei. Everything that is made in illy is about beauty and art, reinforcing the idea behind their collections: take an everyday object and reinterpret the experience beyond functionality.