Publisher: Skira
Publication date: 2019
Pages: 168
Price: $38.25
skria.net
Canvas rating: ***
---
Favoured for its aniconic elements, geometry in Islamic art has been used as a way to access the divine. A new title by publisher Skira, Geometry and Art in the Modem 'Middle East, explores sacred geometries in modern and contemporary art from the region. Editors Roxane Zand, Sotheby's Deputy Chairman and Middle East art expert, and Dr. Sussan Babaie, professor of Islamic arts at the Courtauld Institute of Art of the University of London, bring together 24 artists whose practices are linked by Islamic art techniques. The volume contains brief statements, often written by the artists themselves, that explain their first investigations into geometry or how their works are uniquely defined by it.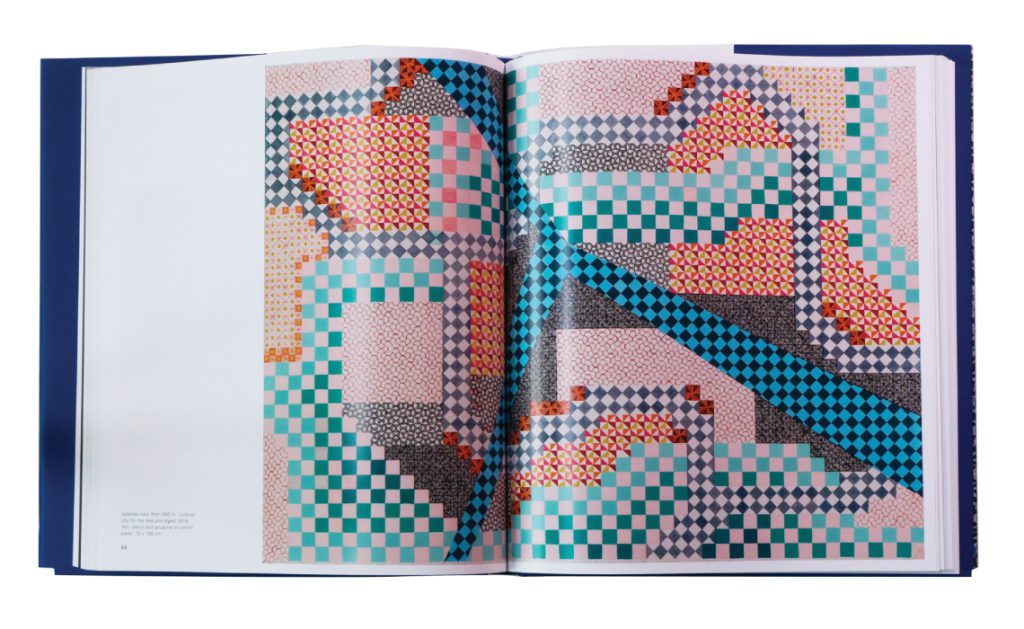 Wonderfully accessible, the book offers a refreshing perspective on how to look at these artists, whose backgrounds are seemingly so disparate — traversing generations, nationalities, mediums, and influences — yet are tied together thematically. The selection is wide-ranging and well-studied, from Anila Quayyum Agha's orate aesthetic to Rana Begum's urban vernacular forms, from Kamal Boullata's soft painterly canvases to Nima Nabavi's precise pseudo-psychedelic lines. Though the book's primary selling point is being able to read about these artists' works in their own words, this approach has Its weaknesses. Some individuals are simply better at expressing themselves in writing than others, whether in terms of clarity or style, and the inconsistencies become more evident as you go from page to page.
The visuals bear a dialogue that unfolds with each artist, but without a critical voice to ground and connect these practices in a cohesive way, the text feels like a mixed bag and loses its authority to assert or develop an argument. In her opening essay, co-editor Dr. Babaie acknowledges this lack of interpretative analysis and underlines it as an intention. Not to say that this discredits the book altogether — it is still a well-devised volume with a strong selection of artists and offers new ways of considering the aesthetics of geometry beyond Its traditional framing of Islamic art.