The Turkish artist's new exhibition in New York depicts inspirations from her Vermont life, based on a language system she has established to open new creative horizons.
---
Hayal Pozanti makes paintings speak – not only through the chromatic vocality in her ongoing solo exhibition, The World For a Mirror, at New York's Timothy Taylor, but also because of her experience with crafting a language of her very own.
Pozanti's most recent paintings at the London-born gallery reflect her daily sightings and musings of the New England flora and fauna that surround the Vermont-based Turkish painter's home studio. Forms burst with eruptive shades of blue, red, green or yellow. Liquid and sinuous, her flowers wear their petals like crowns and trees resemble gushing rivers with their gently twisted trunks.
While flirting with abstraction's whimsical promise, the generously sized oil works do not hide their pastoral inspirations, saluting the romantic tradition of painting en plein air through a contemporary sensibility towards color, scale and energy. Off To Dream Farther Away (2023) looks like a warped dream, a suspended instant in a fantasy state with towering mountains and oozing clouds bubbling altogether. The Ever Returning Roses of Dawn (2023) conveys the flower as fiery, a flaming medley of orange, pink, red, and yellow in a curvaceous robustness.
Pozanti's universe largely relies on stick painting, for which she applies pigments directly onto the surface. The immediacy of touch – the heat of the paint-dipped fingerprint and its smeared mark on linen – is the catalyst in the artist's construction of a particular permanence, a constellation of its own landscape where nature's beauty is heightened and a multi-coloured euphoria lingers.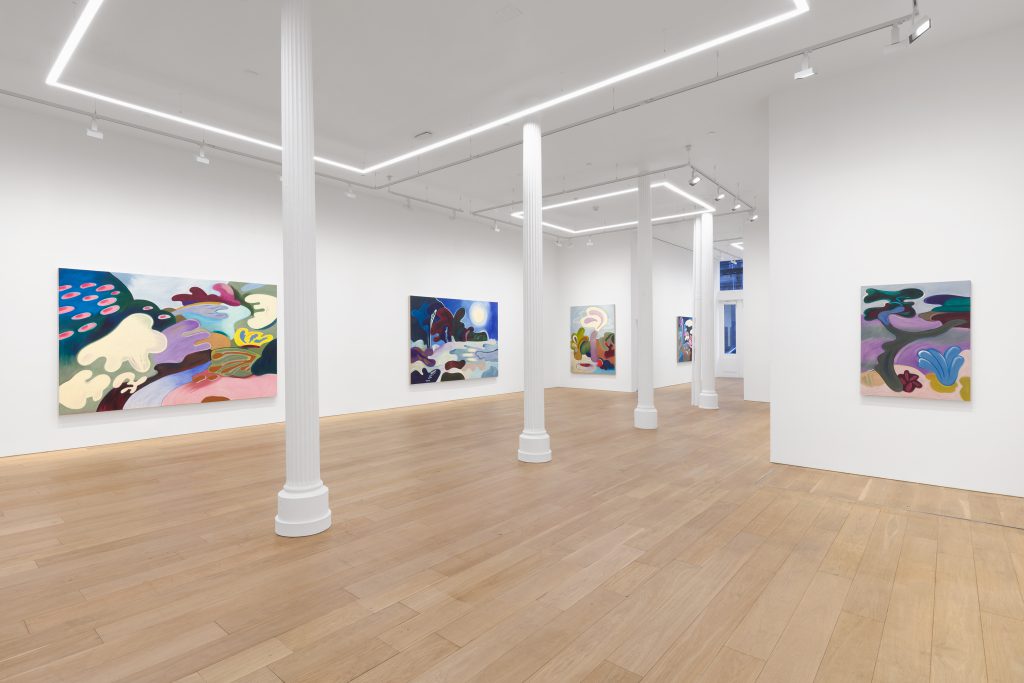 Touch, however, extends to a grander metaphor for Pozanti. The finger's constant beating of the computer keyboard or scrolling over the phone screen is a hint, never figuratively visualized but rather deeply explored in her decade-old practice. She graduated from the MFA program at Yale University in 2011, when internet and art were nearing the maturity state of their entangled relationship. English – her second language, rather than her mother tongue, which is Turkish – became not only an inspiration but also a code to build an alternative to the digital sphere's own ever-transforming codings.
Pozanti has also embarked on the pursuit of a different relationship between the tactility of paintings and the cyber universe. She concocted an order she called Instant Paradise, a language of 31glyphs, each one corresponding to a letter in English alphabet and one of globally used Arabic numerals. Striped of the familiarity in an organised language, the symbols translate the function in semantics into a poetry of optic possibilities.
So far, she has created a body of work in which endless versions of her alphabet have coalesced to illustrate a fleeting memory or a capricious thought. Chunky abstractions in vivid, almost translucent, colours have economically alluded to panoramic views: generous blue washes of paint resemble the sky, while brown strips seem akin to desert horizons. Circular yellows have occasionally hovered over a top corner, not unlike the bright noon sun. The most ambitious fruit of Pozanti's venture sits on the soaring ceiling of New York Public Library's Stavros Niarchos Foundation Library in Manhattan, where her 85 x 17-feet mural includes 95 medium-density fibreboard motifs.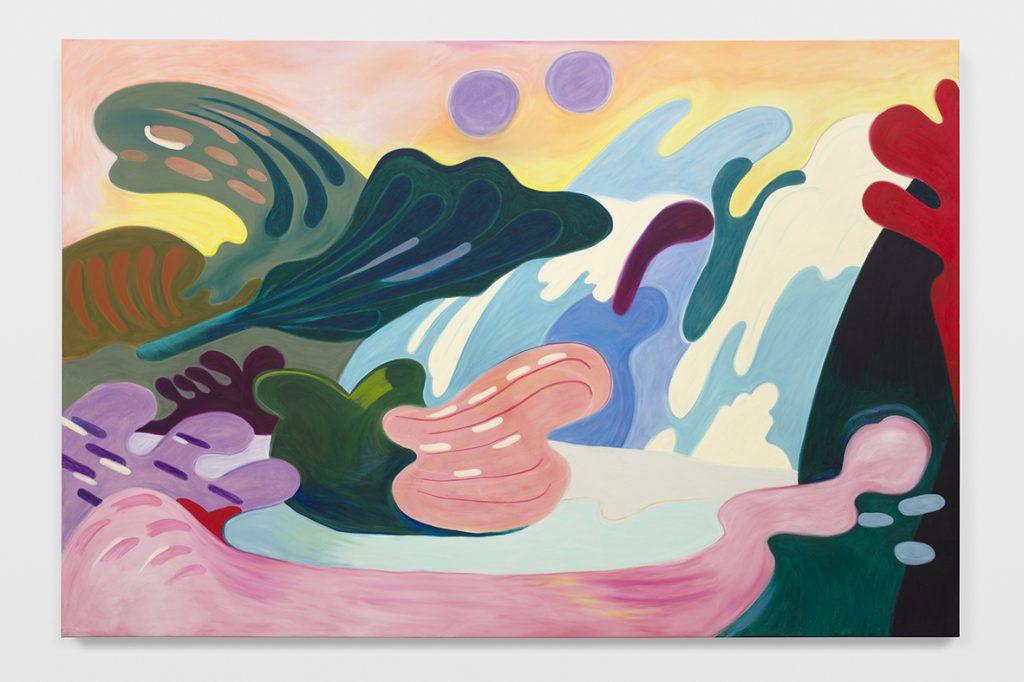 Back in the show, Pozanti's next step looks outside, through the window of her home into the lush plethora of plants, trees and sky. In this new series, she filters her sketches of nature into plants, creating paintings through a freed rush of the subconsciousness rather than the order of her alphabet. Yet, similar to her former work, a language – a particular one, instead of those she was born into or learned in her new country – speaks throughout the landscape.
Trained in speaking their own alphabet, her hand and mind conduct a visual dynamism that crescendoes in a sumptuous blend of abstraction and nature. A Glimmer To Build Your World On (2023) is dotted with flowers: a trio of modestly sized purple blooms occupy the right bottom corner, while pink and yellow plants are spread across the opposite side. Next to them, a group of stars shoot in the nocturnal sky, and Pozanti's hand gesture becomes traceable in their meteoric trails that seem to rain onto a green puddle, perhaps the lush grass.
The World For a Mirror runs until 27 May 2023