Reflective and layered, the inaugural Islamic Arts Biennale explores the role and impact of Jeddah as a portal for exchange and connectivity.
---
Five times a day, the earthen floor of syn architects' austere musalla is raked. With walls made from palm fronds, Anywhere can be a place of worship (2023) suggests the makeshift prayer spaces once erected along pilgrimage routes, and which might now more commonly be found in the mall, airport or workplace. Across the tented canopies of Jeddah's Western Hajj Terminal, Yasmeen Lari's gorgeously dappled trio of bamboo mosques offer a sustainable alternative to the temporary concrete ones built on construction sites – with deconsecration verboten, the structures are left to deteriorate. These installations encapsulate the ethos of the inaugural Islamic Arts Biennale (IAB). Marking time, marking ritual, coming together; coming home.
Curated by Sumayya Vally, Saad Alrashid, Omniya Abdel Barr and Julian Raby, and organised by the Diriyah Biennale Foundation (DBF), the exhibition is themed Awwal Bait (First House), in reference to the Ka'aba. It is divided into two sections. The first, titled Qiblah: Sacred Direction, unfolds across six subsections that explore the daily rituals of being Muslim, from the call to prayer and ablution to individual and congregational prayer, mortality or a person's allotted lifespan, and finally the House of God. Put another way, the works in this section explore how Muslims orient themselves towards Makkah, and towards each other, all at a very human scale. Outdoors, a second section, named Hijrah: Migration, features larger works that more directly invoke specific geographies, specific stakes, and which will host community-oriented events for the duration of the show. If the first section presents us with an intimate look at some of Islam's foundational pillars, the second shows us the many houses they have built.
It's a bit of a misnomer to call this the world's first Islamic Arts Biennale, given the already well established circuit of Islamic art events, like the long-running Sharjah Islamic Arts Festival. While encouraging material and formal experimentation, these exhibitions tend to espouse a kind of more-is-more Subhanallah maximalism that is largely absent here. Like syn architects' installation, the biennale feels like it is raking and watering new ground even as it works more overtly to revitalise the city's art scene. Not sowing anything, not yet, but preparing it all the same for a radically expanded field of how we might understand Islamic art.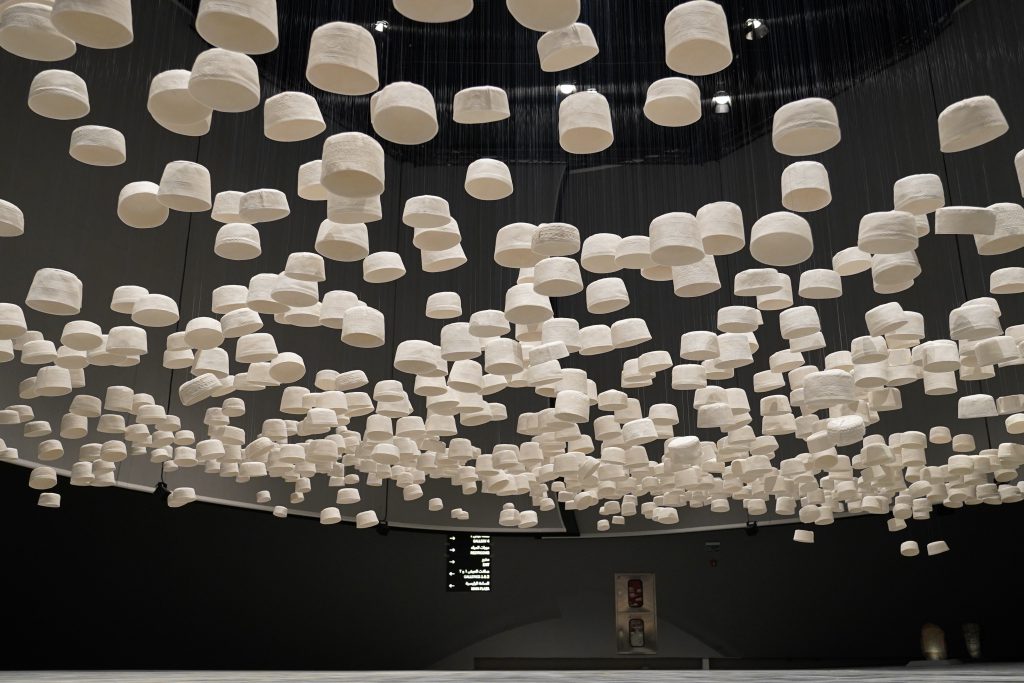 "I understood this as a responsibility, and also as an immense opportunity, to be able to define Islamic art from our image, from our voices, and from a perspective that's resonant with our life experiences, with our daily rituals, with things that are familiar and everyday, but at the same time transcendent, spiritual, universal," Vally explains. "To be able to construct belonging felt really important because I think that that's something that's resonant with Muslims from around the world."
The IAB lineup is refreshingly contained, particularly at a time of post-pandemic biennial bloat: 44 contemporary artists from across the Islamic world, not all of them Muslim. These works, largely new commissions, are joined by 280 historical pieces that are mostly housed in two small Makkah- and Madinah-themed pavilions, as well as in an expo-like auxiliary gallery that displays twelve collections from as far afield as Mali, Azerbaijan and Uzbekistan. Works feel siloed in these satellite galleries even as they ostensibly form an integral part of the show, suturing Islamic art past and present. In the main galleries, historical pieces are rather better integrated, even as they tend to function as showstoppers: a golden Ka'aba door (the first Saudi one, commissioned by King Abdulaziz in 1944), a gorgeously tiled mihrab, so many illustrated manuscripts.
"I was really intent on collapsing the distinction between contemporary and historic and placing them in conversation so that we understand them not only for the aesthetic virtue, but really as resonance and value relevant for our contemporary experience. I hope that it will be an opening for different discourses about Islamic art and the potential of what Islamic art can be," Vally explains. Yet the biennale doesn't ask the visitor – whether practicing Muslim or not – only to reconsider Islamic art but Islam too. "It's an invitation for people to learn about Islam," she adds. "Could one person learn more about Islam? Our work as a biennale is done."
More than anything, this reads as an architectural biennial in the way it spatialises ritual practice and da'wah. Some of this is down to its architectural lineage, from its Skidmore, Owings & Merrill-designed site, which won an Aga Khan award in 1983. Additionally, artistic director Vally of Johannesburg-based studio Counterspace and co-curator Abdel Barr are both architects, as are many of its participating artists. Vally relates being excited as an architect during site visits, but also "being flooded with memories of being here as a 14-year–old pilgrim, seeing people gather through food, through sound, through just being gathered under this canopy structure for a common purpose, seeing people from around the world. That energy was something that was very, very present."
This twinned sentiment is strongest in the indoor scenography, designed by Dutch firm OMA, which is as heavy-handed as it is effective. The four main galleries are coated in thick, hanging felt that, coupled with dim lighting, creates a woozy, too cozy feel. Wall text is printed onto felt flaps too, a nice tactile touch. To move through this section is to be reminded that you have a body. The narrative progression of the scenography mirrors the section subthemes, getting progressively brighter and lighter, moving from black felt to beige until the final, bluish-white cube of the House of God section, where walls are covered in white paper. It's a signature DBF move – fasten your seatbelts, we are now entering a new Saudi – that was mirrored in the final gallery of the inaugural Diriyah Biennale. At IAB, it means that the scenographic magic only holds at night, when the flow between galleries isn't interrupted by blinding daylight in between.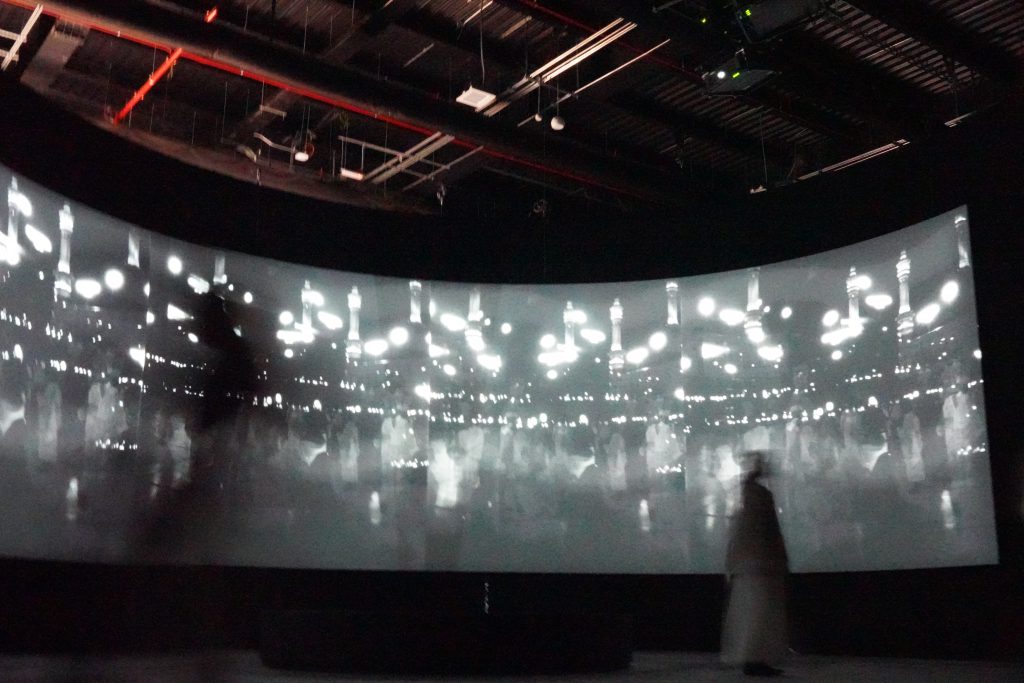 The show opens with Joe Namy's sound installation Cosmic Breath (2023), a semicircle of 18 loudspeakers playing various azans (calls to prayer) across time and space, including the earliest known recording, from Makkah in the late 19th century. It is joined by azans that reflect the melismatic multiplicity of Muslim life – there's a sense of cultural phase shifting – from Kaga and Maguindanao to Al Quds, Durban, Detroit and Tbilisi. Around the world, there are so many arrows pointing to Makkah: sonic, in the form of these calls to prayer that invite the listener to turn their bodies towards the Ka'aba, and visual in the form of hotel room Qiblah markers or apps, which find their historical analogue here in a vitrined golden Savafid astrolabe. Similarly, Namy's speakers face Nora Alissa's spectral, superimposed projections of images shot through her abaya at the Masjid Al-Haram.
It's a remarkable opening run that also includes Basmah Felemban's Wave Catcher (2023), a three-dimensional graphic score rendered in flattened, ovular teak wood paired with a pelagic soundscape redolent of both the soundwaves of the azan and the ocean waves that once carried pilgrims and future Jeddawis alike to these shores. Kamruzzaman Shadhin extends the migratory theme with knotted jute textile works that pool from the ceiling, with coloured threads and bronze disks that index both the colour of water at different points along a river route and the stories of displacement they hold.
Two other installations speak to life and resistance under South African apartheid, complicating the implicit line drawn between the Ummah and the West. Salat al-jama'ah (2023) by Igshaan Adams takes 52 prayer rugs – a year's worth of Friday prayers – from Black and Coloured family and friends in his Cape Town district of Bonteheuwel, using them as templates for new textile works. Beautifully beaded and embellished, they are especially moving in the patches worn out from their former owners' daily salat: forehead, palms, knees and toes. Nearby, Haroon Gunn-Salie reanimates the funeral of his namesake Abdullah Haron, an imam and civil rights activist murdered by the South African police in 1969. A thousand kufi caps seem to float on an diagonal plane, recreating the mourners gathered at a sloping cemetery at the foot of Table Mountain. Both works typify a pervasive tendency of this biennial, where monumentality is achieved not through scale but via serialised repetition and accumulation.
Outdoors, OMA has designed a permanent arid landscape intended to suggest the Prophet's migration from Makkah to Madinah. Apart from a particularly attractive conversation pit of an amphitheatre, it mostly feels like there is always a compacted, sandy incline in your way. A little too realistic, perhaps. In this section, Civil Architecture's inverted sundial tracks tides, moon phases and several events on the cultural, lunar, and agricultural calendars, via an oculus in the teflon-fibreglass canopy. Haroon Mirza's meteorites meanwhile respond to lunar phases even as they store up solar power to play a sound piece whose duration reflects the hours of sunlight that day. Both pieces reconfigure our relationship with time, even as they remind us of how Islam marks the passage of both the sun – in the form of angles on the horizon for prayer times – and the moon.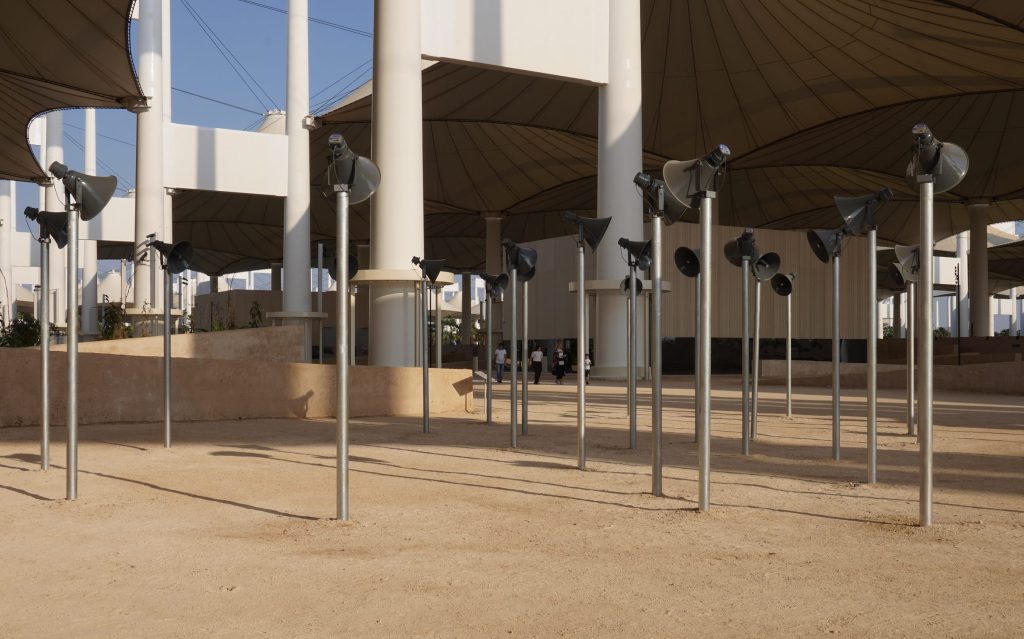 Highlights in this section include the nervy pairing of Wael Shawky's mechanised, leaning streetlights based on a childhood experience at Muzdalifah with Noura Al Sayegh-Holtrop's blaring, often overlapping installation of Friday sermons, creating a rare moment of tension in a biennial that tends towards an affective orchestral swell. Especially lovely is Dima Srouji's elegy to the stained glass windows of an Al Quds mosque destroyed by Israeli forces, a testament to the enduring regional history of craft as a patient, faith-suffused practice. In Palestine, the windows would take 15 years to repair – if the state permitted – but here, the sunlight shines through.
Hajj and Umrah pilgrimages begin all over the world, but they all pass through this city, sometimes termed the 'Bride of the Red Sea'. Its development has been inextricable from transit infrastructure, from its 1377-year old port to its first airport, to the later one that houses this biennale. In Jeddah, as elsewhere in the show, migration, displacement and sanctioned decay go hand in hand. One casualty of the most recent boom was the late 1950s Air Pilgrims Accommodation, built in 1958 to house pilgrims arriving by plane, demolished last December and partially reconstructed here by Bricklab. The scaffolded structure houses doors, windows, and printed matter – Malay, Bahasa Indonesia and Urdu predominate – salvaged from the site, and a projected oral history highlights its parent complex's effects on community and mercantile exchange. There are many valencies of homecoming in this biennial, mostly directed towards Makkah, Madinah and the Ummah: Jeddah as gateway and not a city in its own right. In an exhibition full of beautiful, polished works it feels especially vital in its lack of aestheticisation, a love letter to an older Jeddah that's in danger of quietly becoming extinct.
The Islamic Arts Biennale has been extended until 23 May 2023