A new exhibition by Ahmad Ghossein at Marfa' Projects in Beirut chronicles Lebanon's enduring crises and what they mean for senses of community and reality.
---
In a new solo show at Beirut's Marfa' Projects, Ahmad Ghossein presents Serotonin, Benzine, and a Renegade Body – a series of works fuelled by Lebanon's systemic collapse over the last three years, from the 2019 protests and economic downfall to the daily challenges and surreal events that have come to define the country and the lives of its people.
The show features seven works, ranging from film to sculpture and alluding to the mental turmoil and disbelief many have experienced throughout the ongoing crisis, with a touch of dark humour thrown in. The exhibit is intimate and personal, outlining Ghossein's own mental battle with the country's daily instability, from losing savings to illegal bank lockdowns, navigating the black market during severe petrol shortages and experiencing panic and helplessness as everything fell apart.
"I think the main theme is the uncertainty of not knowing what's happening for so long, at the same time as having to tackle all these issues and deal with the impact they leave on your body and even your individuality," Ghossein tells Canvas. "What I'm trying to say in the exhibition is that, with this systemic collapse, instead of finding a way do something about it, everyone is busy acting for themselves, just trying to find a way to survive. Everyone becomes individualistic in order to digest the breakdown and to find a way to keep going.
The artworks on show are almost documentations of the events witnessed, loosely divided into before, during, and after the onset of the crisis in 2019. On entering the show, the seven resin A Sealed Gallon (2023) pieces are immediately eye-catching. They reference the 2020 summer petrol shortages, which saw people line up for hours outside petrol stations or purchase suspect petrol from black market dealers, sold in 10-litre plastic water gallons.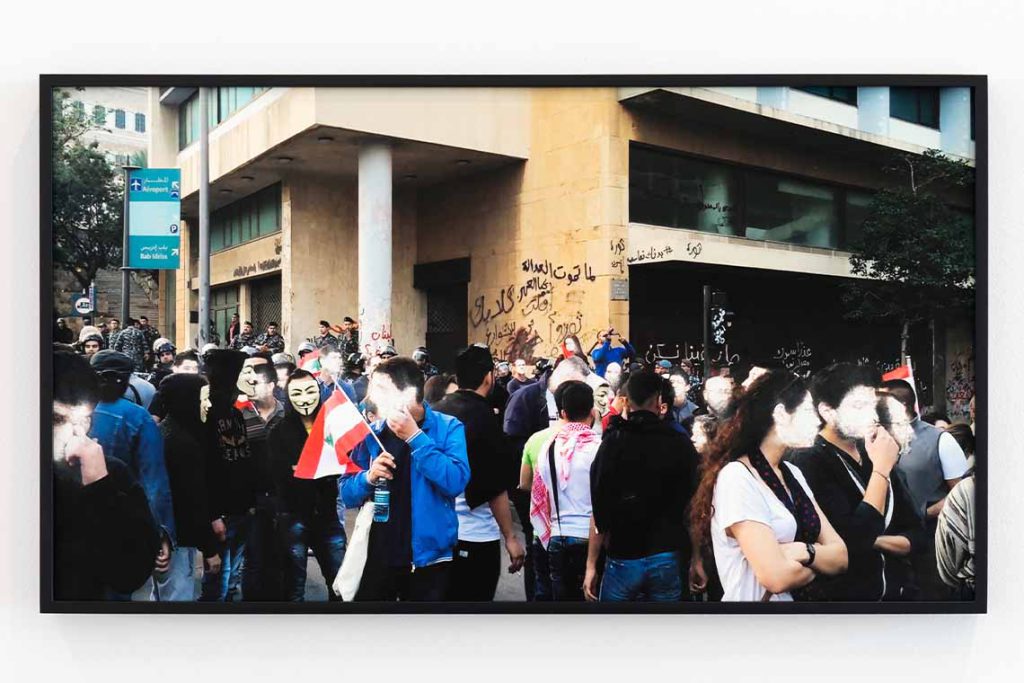 "As usual in this country during the various crises, every material ends up having a different function. It's a sight that everyone will relate to and everyone will have done," he says. "But at the same time, there's this irony or black comedy with the little gold-coloured sculpture of the petrol funnel, made from a plastic bottle cut in half and which became more valuable than gold during the fuel crisis."
The photo series The Intelligence and His Camera (2023) shows snaps from the 2019 protests, but with all the faces rubbed out, symbolising the erasure of the protest movements when the country's dire situation took over everyone's priorities and worries. Filming Him, Filming Me (2023) uses cut-out bits from protest photos, taken when Ghossein became interested in the cameras being used by other photographers to document the protests.
As the financial collapse deepened – with the Lebanese lira eventually losing over 90 per cent of its value against the dollar – many people lost decades' worth of savings to the banks. This travesty was the inspiration for How to Make your Money Sell (2023), made from sliced-up bills of 1,000, 5,000, 10,000 and 20,000 Lebanese lira, which now hold practically no value. The cut-up bills are pasted onto four wooden columns, forming colorful mosaics that are likely now worth more as artwork than as money.
"I recall a friend, who advised me repeatedly to set up a saving account for my retirement. He was obsessed and terrified by the idea that we, the self-employed, have no social security or protection for our old age," Ghossein says. "He would put away a monthly sum and deposit it at a bank that convinced him into thinking his retirement was safe with them. He lost all his money, cheated by the perfidious bank." This sad episode prompted the artist to respond creatively. "I spent hours looking at my own bank account statements, calculating the dwindling value day by day," he adds. "So I decided to turn my money into an artwork, dedicated to my friend whose lifespan was practically halved by his banker."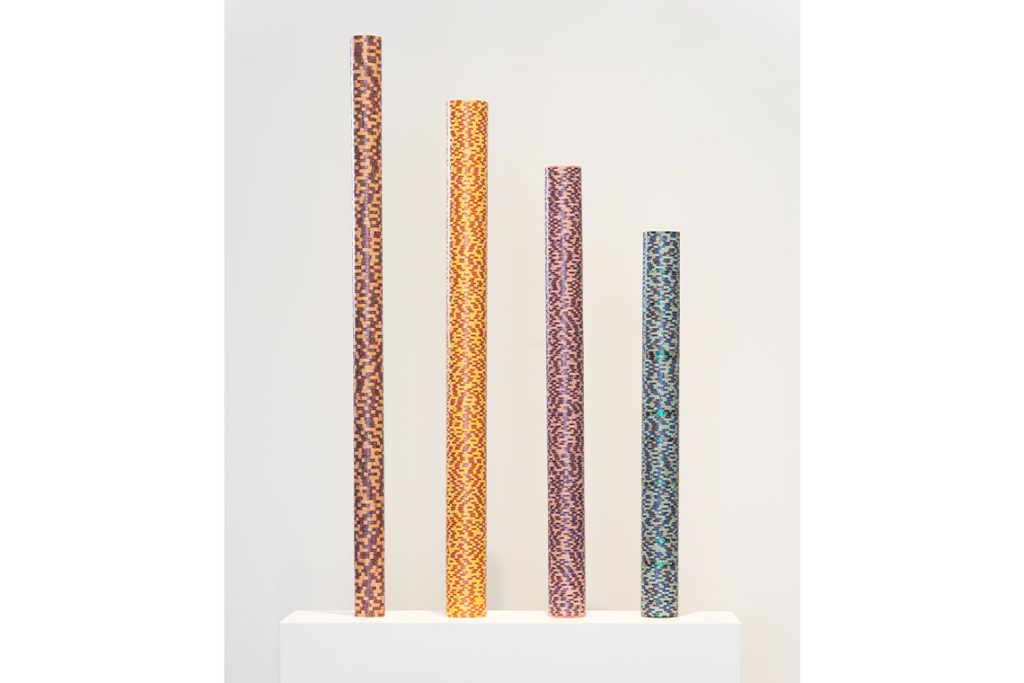 Also featured in the exhibition is Fragments from Beirut 2019… (2023), a work in dialogue with artist Marwan Rechmaoui's 2004 rubber map of Beirut titled Beirut Caoutchouc. Ghossein's own rubber map of the Lebanese capital compares the two and wonders how the reality of Beirut today has impacted the cultural landscape. "What kind of art and language do we want to establish after this big collapse, and what's left of the old practice?" he muses.
The 26-minute video piece So your heart aches, huh? or The Pit (2023) acts a focal point for all the themes explored in the exhibition. It is presented as a performative piece in which Ghossein narrates his obsession with increasing his level of positive hormones – like serotonin, dopamine and oxytocin – whilst witnessing the chaos and madness of Lebanon on a daily basis.
"I was obsessed with collecting very surreal news items and comparing them with what's going on with my own body and my journey in this city," he says. "One morning, I woke up to the news that the Minister of Education was suggesting hauling loudspeakers onto cars which would then roam around the city streets delivering classes for kids locked in their homes during the quarantine." Other news snippets were equally bizarre. "There was the journalist who claimed to smell the natural gas stored hundreds of kilometres below the sea's bedrock," he adds, "then the arrival of a new self-proclaimed prophet, the generator owner who cut off the power supply to a police station because the bills had not been and the US embassy recalling 16 police dogs it had donated to our national police, because they had become under-nourished. I collected all of this news, stories that are not imagined or invented but real." Through such unlikely routes the artist seeks to protect and define his own sanity – and potentially that of all those enduring Lebanon's endless states of crisis.
Serotonin, Benzine, and a Renegade Body runs until 7 December 2023