Seamlessly weaving fine art, architecture, theatre design and performance into his oeuvre, Issam Kourbaj marks the agony of his native Syria and the plight of wider humanity. He talks to Canvas about the cycle of life and why every experience is an opportunity.
---
England has been your home for over three decades, but where did your journey start?
Issam Kourbaj: I come from near Suweida in the south of Syria, the volcanic mountain area near the Jordanian border. It's where the Druze minority live, and the local people have a reputation for being tough – the great Syrian revolution against the colonial French first started there in the 1920s. Ours was a very basic life, rather organic actually. As kids we used to help with harvesting the wheat and picking fruit, and so agricultural life is very much part of my personal landscape. There was a rich essence to my childhood that a big city life just would not have given me. We had little money, which meant we had to be very resourceful. I used to make my own toys, which looking back now was a trigger for what came later in my art. Recycling was part of everyday life. My uncle, who I never met, was very interested in finding what remained from the time of the conflict with the French, such as leftover weapons, from which he used to make spoons. I remember eating from those spoons.

How did you first connect with art?
My elder brother was a calligrapher, and when we were young I was his technician, carrying the pots and brushes etc. I used to observe him, and can say that my first attempts at making marks on paper were through calligraphy. I don't consider myself a calligrapher, but the ability to make a mark in the Arabic language is how things started for me. I had a wonderful art teacher at school who suggested that I went to study at an art centre in Suweida. My first painting was in oil, using my thumb – I didn't have any brushes – on a piece of cardboard. These small memories have become such a rich personal archive for me.

You subsequently went to study in Damascus.
Yes, at the Institute of Fine Arts during 1980-84. I studied under many great artists, including Fateh Moudarres, and I also met Marwan Kassab-Bachi while studying. Damascus was very different to my home in the south, offering exposure to so much art and culture, including poetry, cinema and theatre. I was also artist-in-residence for two years at the Soviet Cultural Centre there.

Did that prove to be an important connection?
Absolutely. I came first in my graduate year, but because I was not one of the 'establishment', there was no possibility of any scholarship or support to go any further, even to do a Masters. These were very charged times politically, and you felt that you could just disappear at any time. But the Soviet Cultural Centre offered me a scholarship to study in the USSR, and I managed to get a tourist passport to Azerbaijan and eventually made my way to St Petersburg – then Leningrad, of course – where I studied architecture. It was the time of Gorbachev's perestroika and proved to be a very important chapter in my life, learning Russian and being immersed in the wonderful cultural life of that city. I had a group of underground artist friends, who were very avant-garde and didn't 'fit' in the Soviet system. I felt close to them, as I didn't fit in Syria.

It's as though you had a series of springboards that enabled you to expand your personal and artistic horizons.
I would say that it was a fluke of luck that took me away from such a difficult time in Syria. But more widely, I see these episodes not so much as a lens that focuses as one that converges, where things come together serendipitously. I am grateful that each place I've been to has given me the chance to sow new seeds in its soil, so to speak.

When did you start identifying what and how you needed to express yourself?
Although I was studying architecture, I knew I wasn't going to be an architect but the course was very wide-ranging and multidisciplinary, so it suited me. I was sharing one small room with three other people at that time, so it was difficult to work. I used to cover my bed with newspaper, put out a very big canvas and I'd be practising throughout the night, experimenting with different media. I wanted to rebel against the academic drawing and painting that had been so much of my training, particularly after seeing the work of the Constructivists, which was hidden for 70 years. So I created works where you could see elements of my academic training, but which were more abstract than anything else.

You then came to England. How easy was it to adjust?
I didn't have the right papers at first, so I had to keep under the radar. It wasn't easy at all, being a foreigner, an artist and not speaking English, but sometimes taking a risk on something is the only way to develop yourself. I used to think of my friends in Syria, who were unable to leave, and I thought that whatever I had the chance to do would be in the name of all the people I care for. I still feel that today. Another 'springboard' moment came when I was invited to exhibit my drawings in Cambridge alongside artists like Elisabeth Frink, Sir Eduardo Paolozzi, John Piper and Claes Oldenburg. A collector bought several of my works. I then decided to make Cambridge my home and started teaching in my studio.

Did you return to Syria at all during this time?
No, I couldn't. If I had gone back, I would have had to do military service and who knows what might have happened. I didn't have a valid passport anyway. These years were really tough. So I survived by teaching and doing exhibitions in my studio. In 1997 my sketchbook was acquired by the British Museum, which later – in 2008 – collected my artwork Sound Palimpsest, about the bombardment of libraries in Iraq.

The BM also acquired one of your most powerful and celebrated works, Dark Water, Burning World (2017), with its tiny boats.
Yes, the miniature boats are made from repurposed bicycle mudguards and serve to highlight the plight of refugees. I first became interested in refugees on a visit to Cuba, where I encountered people who were taking pieces of furniture from their homes and trying to make boats from them, so desperate were they to leave. This also further inspired my interest in found objects, and in recycling discarded or 'excavated' items to make sculptures. Dark Water, Burning World was chosen as "The 101st Object" for the British Museum and BBC Radio 4 programme A History of the World in 100 Objects.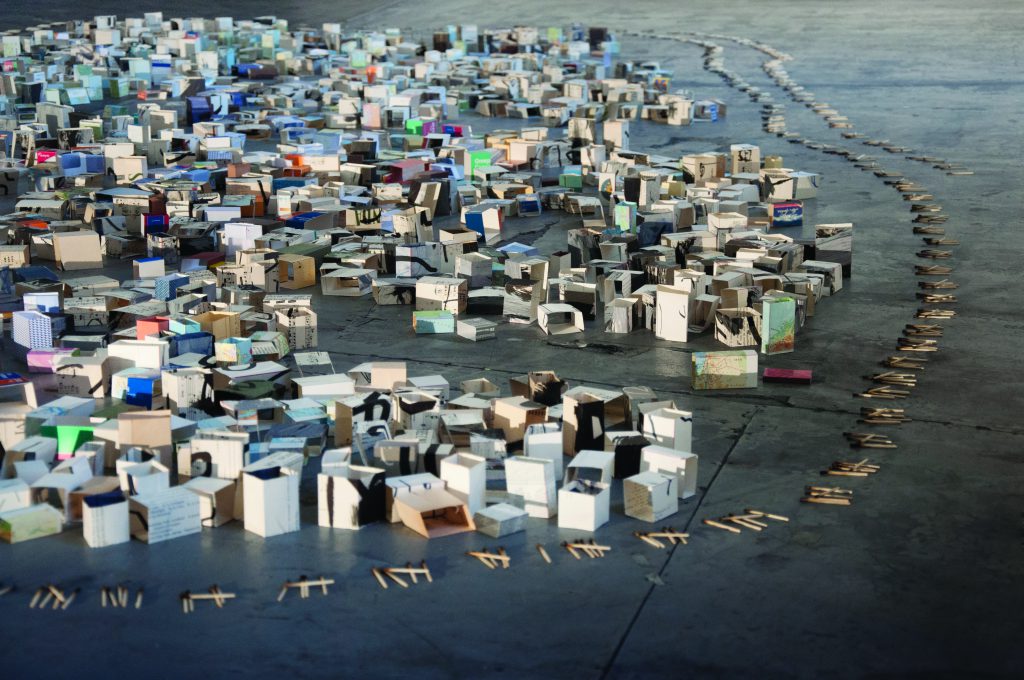 What about your response to the Syrian crisis?
I knew when I left Syria in 1985 that it wouldn't be easy for me to see it again, but since 2011 I have not been able to think of anything but Syria. It took me about two years though to work out what to do. The first work I did was Excavating the Present (2013), which comprises X-ray images and deals with the desperation of Syrian mothers who had to collect different body parts of their lost children so they could mourn them. I really wanted to be blunt, especially as the material from Syria is so disturbing and painful. Art is the only tool I have, so I am using it.

Some of your most dramatic installations have been in non- traditional venues, such as those used in London for Another Day Lost (2015), where you created miniature refugee camps from waste materials.
Yes, I made the camps from old medical boxes and books and set them within a 'fence' of used matches, with each match representing a day lost since the Syrian uprising. Every day I went to each of the five locations, which included two churches, to light a new match. The venues mirrored the location of real camps around Syria. This installation has since travelled around the world to 12 sites, each offering a new meaning but all striving to raise awareness of the ongoing crisis in Syria and the plight of the many refugees.

You currently have a show in Amsterdam called Fleeing the Dark. How is it different from your previous exhibitions?
I was honoured to be invited by the Tropenmuseum (Dutch National Museum of World Cultures) to curate an art intervention, which was triggered by my encounter with an unassuming clay bowl from Aleppo which is held by the museum and depicts the seed–flower–fruit–seed lifecycle. I was able to select objects from the museum's permanent collection, as well as Rauwolf's Herbarium from the collection of Naturalis Biodiversity Center in Leiden, and curate them alongside my own pieces to create a response. Some of the artwork takes the form of an alternative calendar, marking time by counting the days, weeks and months lost to the devastating Syrian crisis.

One especially interesting living element of the exhibition has been the cultivation just outside the museum of Syrian wheat – ten different varieties in total, to mark the 10th anniversary of the Syrian crisis – grown from seeds from the Svalbard Global Seed Vault. Part of the trauma of Syria has been the destruction of so much farmland. This wheat has now been harvested, ground to flour and will be made into bread. Somehow this serves to complete the cycle of life, both in terms of the exhibition and perhaps also with regard to my own journey from the fields of Syria.